OPA opens investigation into Inauguration Day protest arrest
Witnesses and pictures from the arrest of a black clad man show an SPD officer with their knee on his neck.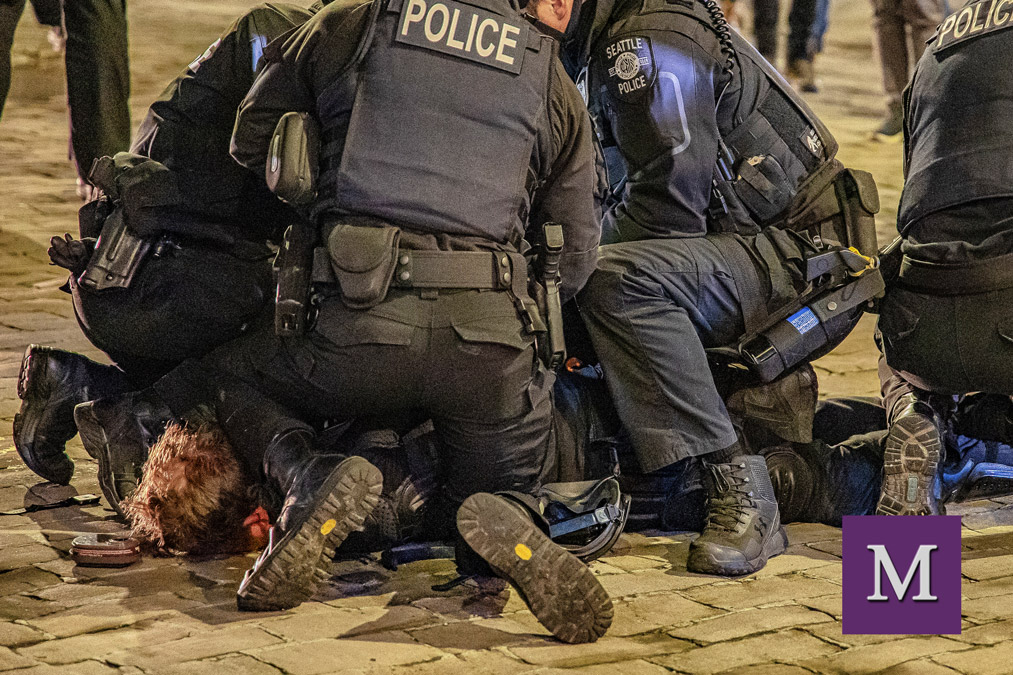 Protesters in Portland and Seattle broke windows, sprayed graffiti, and engaged with police officers on Inauguration Day leading to arrests in both cities. Malcontent News has learned that the Office of Police Accountability (OPA) is investigating police officer conduct for one of the arrests.
On Wednesday, January 20, a smaller group of protesters splintered off from a peaceful group and broke windows at a Chase bank, a courthouse, and a Starbucks location in historic Pike Place Market. Seattle police took a person into custody, and during the arrest, a police officer was observed and photographed with their knee on the neck of the suspect.
Additionally, during the arrest, an officer energized a taser, holding it close to the face of the suspect. The taser was not used on the suspect, and Seattle police defended the action as a de-escalation technique. In an interview with Brandi Cruze on Fox Q13 today, Chief Adrian Diaz indicated that the individual was facing a misdemeanor charge, although did not state the specifics.

The OPA reached out to Malcontent News indicating an investigation has been opened up over the conduct of officers during the arrest and requesting additional video content if it was available. The available video and photographs of the arrest are fully published, and that was indicated to the OPA.
The opening of this investigation is in addition to five officers being investigated for their involvement during January 6, 2021, insurrection, and SPOG president Mike Solan under investigation for his Twitter behavior.
Like, Share, Follow, Support