Shut down by the FTC for illegal debt collection practices, they turned to the COVID testing money train
Fined millions for illegal debt collection, Omar Hussain, Gaurav Mohindra, and Hirsh Mohindra found gold in COVID testing.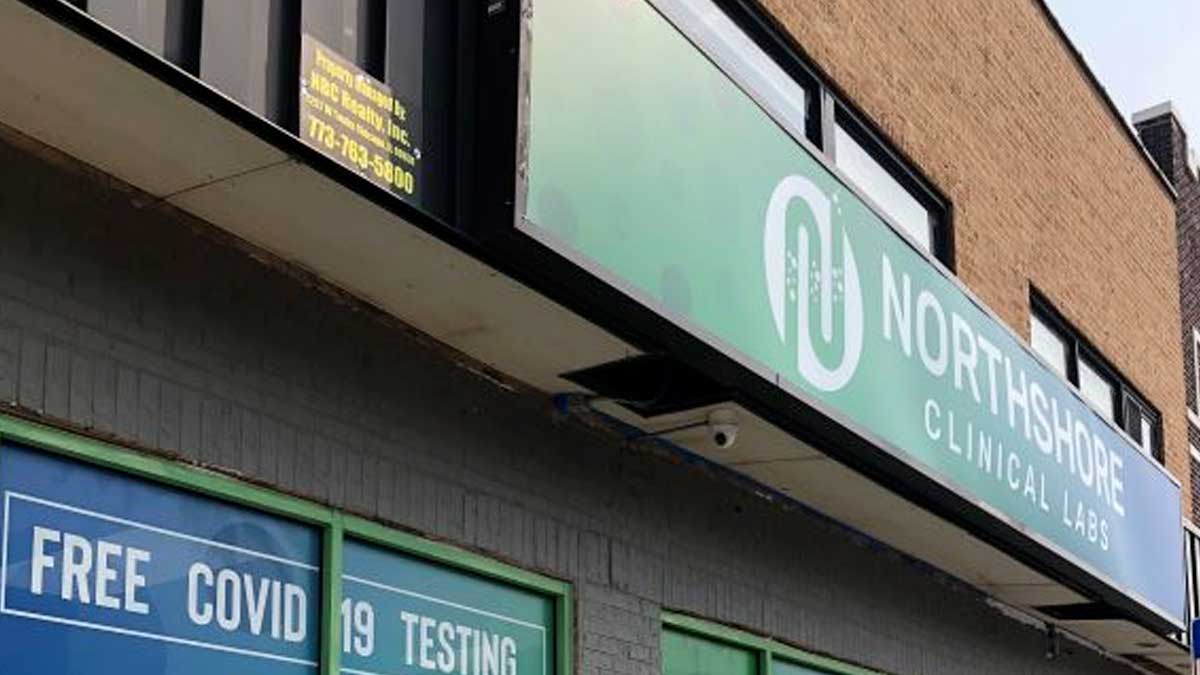 Editor's Update: Since the publication of this story, NorthShore Clinical Labs has fallen under investigation by officials in the states of California, Nevada, and Illinois, and received a rating of "imminent jeopardy" in three categories in a CMS audit completed on December 29, 2021. Several of their Chicago area test sites have been closed and the Illinois Attorney General has received over 40 complaints.
[CHICAGO, Il.] – (MTN) The Center for COVID Control became a household name on Jan 13 for all the wrong reasons, with multiple investigations at a state and federal level opened against the company. Another Chicago-based COVID test facility, Northshore Clinical Labs (NCL), faces similar allegations. In addition to using a shell company called Curis Healthcare, senior leadership at NCL appears to be affiliated with a third testing lab in the Chicago suburbs.
NCL was incorporated in 1995, initially on West Birchwood Ave in Chicago. The company was run by Masood Siddiqui, who also goes by the last name Siddique. According to Dun and Bradstreet, NCL generated $1.81 million in revenue as a small but stable lab providing medical testing.

In February 2020, Siddiqui sold her business to Omar Hussain, funded by Meena Mohindra. Mohindra was listed as the President and CEO of NCL on Nov 18, 2021. In a story published by Inquirer Los Angeles, Hussain explained the connections to Meena, who is related to the leaders of NCL.
"The investors were not ready to put their money, given the situation of the lab back then. That is when Mr. Hussain and his friend bootstrapped to start the lab. His friend's mom invested the most money in the project, and she is currently the president of the Northshore Clinical Labs."

– Omar Hussain talking to inquirer los angeles
The website for NCL connects to an unused Twitter and Instagram account and a sparsely used Facebook page. The handful of posts is peppered with comments from frustrated clients complaining they never received test results and could not reach anyone at the lab.
The principals behind NCL are Gaurav "Kumar" Mohindra, Hirsh "Kumar" Mohindra, and Hussain. The trio has a dark past in debt collections ending in massive fines and lifetime bans by the Federal Trade Commission (FTC).
Gaurav "Kumar" graduated from the University of New Hampshire with a JD in Legal Studies in 2007. In 2008 he passed his bar exam and received his license to practice law in California. Online records show his license lapsed in 2014 due to non-payment.
Gaurav and Hirsh were part of a series of companies operating under the umbrella of Stark Law performing "phantom collections." On Mar 21, 2016, the FTC and the State of Illinois filed a complaint seeking a permanent injunction and other equitable relief against Hirsh, Gaurav, and Preetesh Patel.
According to the suit, Stark Law used a host of business names to target consumers who obtained or applied for payday or other short-term loans, sometimes to pay off fake debts. The firm would threaten and pressure the victims into paying the debts with exorbitant interest rates. Stark Law allegedly called consumers and demanded immediate payment for supposedly delinquent loans, threatening consumers with lawsuits or arrest, falsely claiming they would be charged with "defrauding a financial institution" or "passing a bad check."
Three months later, using his middle name of Kumar, Gaurav became associated with Swap Motors as the head of corporate development and project management. Swap Motors, located at 4850-4852 Main St, in Skokie, buys and sells cars – including exotic cars. The same type of cars that Akbar Ali Syed, co-founder of the Center for COVID Control, spent millions on this past summer.
Malcontent News has preserved all the social pages and editable content for this story as an archive
On Oct 27, 2017, Gaurav, Hirsh, and Patel agreed to a stipulated final judgment and order for permanent injunction with the FTC and the State of Illinois. The FTC fined the trio a total of $47,220,491. Additionally, each was ordered to pay the FTC $85,000 directly. Gaurav and Hirsh were ordered to give up a one-kilogram gold bar stored at a safe deposit box at a JPMorgan Chase Bank in Hinsdale, Illinois. Gaurav and Meena were also ordered to sell their family home in Burr Ridge and a condo in Chicago.
For the next 20 years, the trio must submit a compliance notice within 14 days if they take up a title or role in any business activity, whether as an employee or other entity, including an ownership interest.
Just days before agreeing to the stipulated final judgment, Gaurav and Meena sold the Chicago condo for $485,000 to a trustee. According to Zillow, on Jul 7, 2018, they sold their 8,097 square foot five-bedroom eight bathroom house for $1.8 million.
It's not clear how Hussain became connected to the Mohindras, but he too fell afoul of the FTC for phantom collections and predatory practices. Founding Cedar Rose Holdings, LLC in 2014, the FTC filed for a motion for a temporary restraining order with an asset freeze and an order to show cause against the firm on Feb. 4, 2019.
According to the FTC's complaint, Global Asset Financial Services Group, LLC, doing business in North Carolina and New York, falsely claimed to be attorneys or affiliated with attorneys to pressure consumers into making payments on debts they did not owe. Like the Mohindras, Hussain's company threatened to take legal action against consumers if they did not pay.
The FTC's complaint named ten companies and six individuals as defendants, including Hussain.
On Dec. 6, 2019, Hussain and the other defendants entered into a stipulated final order for permanent injunction with the FTC. The defendants were blocked in engaging in any debt collections, or financial services activity in the future, and agreed to pay $8,877,564 in fines. Hussain also agreed to submit a compliance notice for the next five years, similar to Gaurav and Hirsch's agreement in 2017.
In February 2020, with the help of an unnamed associate and the financial backing of Meena, Hussain bought Northshore Clinical Labs from Siddiqui. It appears Siddiqui is still associated with the company in the capacity of a manager. Siddiqui was listed as the NPI number authorized official until Oct. 18, 2021. On Oct 19, Meena became the authorized official according to HIPAA Space.
A review of LinkedIn shows Hirsh Mohindra listing himself as the Director of Operations at NCL in February 2020, using an alias or middle name of Kumar as his last name. In a Dec. 20 press release, Hirsh and Gaurav extolled the values of NCL. The article on GlobeNewswire, exposed Hirsh using Kumar as an alias for his last name.
"To support the increasing positivity rates in local communities, as well as supporting testing during the emergence of the Omicron variant, we're expanding hours at our clinics and supporting outbreaks that our clients are experiencing with more frequent testing at their locations. Those locations can range from airports to private businesses. We're going to support the 24/7 schedule as long as we need to."
Just outside their doors, another reality was unfolding. Clients weren't receiving test results and couldn't reach anyone in customer service. Phone messages were left unanswered. The complaints against NCL, and the Chicago-based Center for COVID Control, caught the attention of the Chicago Tribune.
Employees wore mismatched cloth masks that appeared to have been brought from home, according to the report on Jan 5.
"It just seemed to me like total incompetence," Aaron McManus told the Tribune.
To make matters worse, ten days later, he still hadn't received his test result.
Hussain worked to keep up appearances as operations started to crumble at NCL. On Dec. 13, he moved forward with restauranteur Matt Deichl and the 9th Annual Coat Drive and Holiday Party. Deichl's Instagram showed himself and Hussain between Santa Claus during the gala.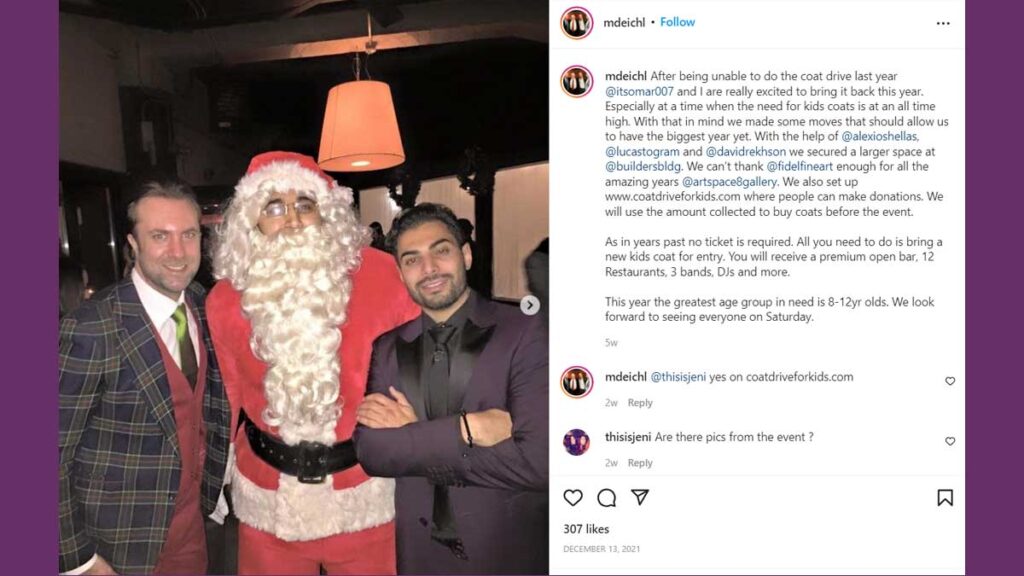 Diechl wrote, "After being unable to do the coat drive last year @itsomar007 and I are really excited to bring it back this year. Especially at a time when the need for kids [sic] coats is at an all time [sic] high."
Between Dec 14 and Jan 16, Hussain purged his social media, including his Instagram account tagged in Deichl's post. However, Hussain missed his abandoned LinkedIn account, which shows the former president of Cedar Rose Holdings, LLC, shut down by the FTC in 2019, is the same Omar Hussain who organizes the Children's Annual Coat Drive and Holiday Party since 2012.
Hussain's connection to the restaurant industry is more than coincidental. He is listed as a member of the Illinois Restaurant Association under the company Curis Healthcare. Curis was incorporated on Jan 9, 2020, days before the acquisition of NCL, and shares the same street address in Chicago.
A visit to NCL website on Jan 17 revealed a pop-up message indicating that all third-party operations had been suspended.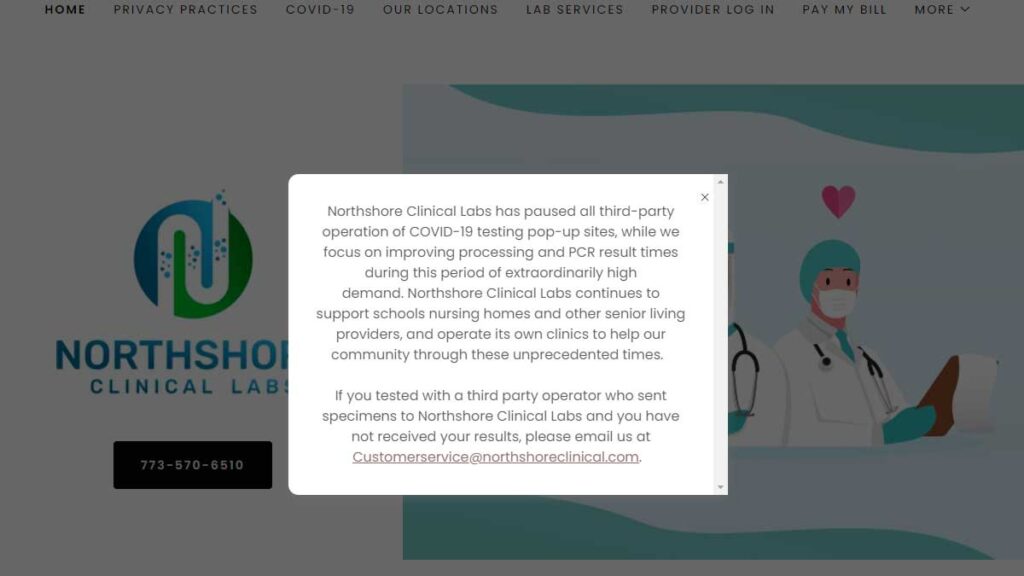 "Northshore Clinical Labs has paused all third-party operation of COVID -19 testing pop-up sites, while we focus on improving processing and PCR result times during this period of extraordinarily high demand. Northshore Clinical Labs continues to support schools nursing homes and other senior living providers, and operate its own clinics to help our community through these unprecedented times"
"If you tested with a third party operator who sent specimens to Northshore Clinical Labs and you have not received your results, please e-mail us at customerservice@northshoreclinical.com."
Gaurav has a larger-than-life personality across social media, carefully wording his Twitter account to imply he writes for the Chicago Tribune for those without a keen eye for grammar. His Twitter account has had no activity since April 2021, but on Oct 12, he wrote a blog that allegedly was picked up by MarketWatch. The link on MarketWatch comes back with a 404 error, page not found, but the story itself is on his personal blog.
Like his Twitter account, the blog is titled carefully to imply he writes for the Chicago Tribune. The Oct. 18 entry titled Covid Tests for Schools and Camps plugs for Northshore Clinical Labs.
"Regular testing, specifically, allows us to monitor any growth or decline in the spread and to implement effective management of the pandemic to efficiently combat any potential spread," says Gaurav Mohindra of Northshore Clinical Laboratories."
"We have demonstrable data showing that an effective COVID-19 testing campaign can reduce the spread of COVID in workplaces and schools", continued Gaurav Mohindra."
Without much digging, there is significant evidence that the Mohindras and Hussain are running a group of shell companies to try and obfuscate their operations. The use of middle names as last names, shifting addresses, and other attempts to obscure the cross-connections between Northshore Clinical Labs, and Curis Healthcare, is sloppy at best and only adds to the suspicion around the operations. The warning lights grow brighter when you consider the fraudulent history of the principals involved and their prior court cases with the FTC and the states of Illinois, North Carolina, and New York.
Aleya Siyaj and Akbar Ali Syed have expressed their own school choice views. On an archived webpage offering free maskless in-home daycare, Siyaj publicly states she pulled their children from school over mask mandates.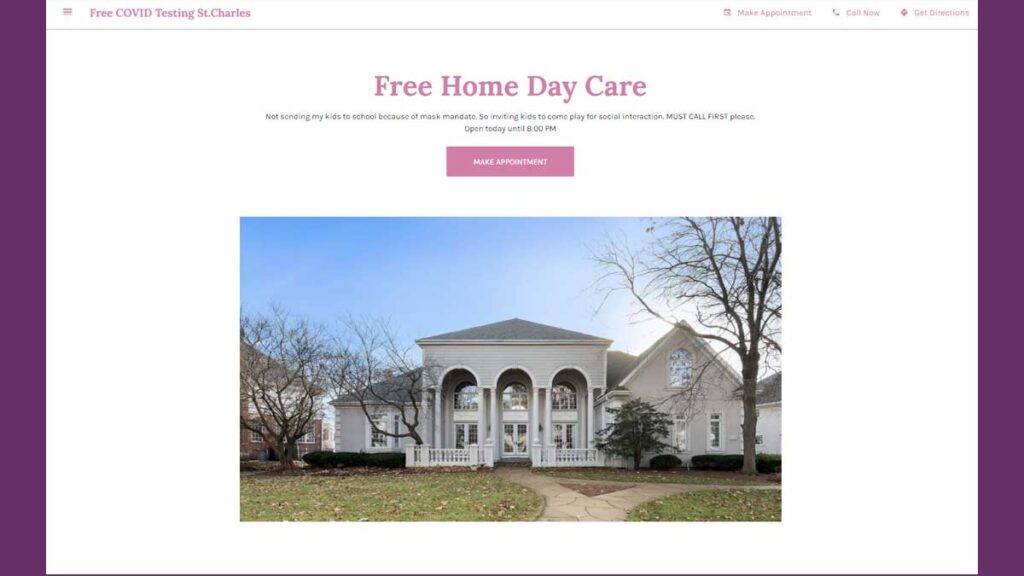 As the community turned against the Center for COVID Control, they hired Russ Keene of the Crossnore Group in Texas to handle their public relations. Keene founded Crossnore with his wife and the company only has four employees. The Keene's are deeply politically connected, and Greg Talley who works for the group is a development associate to the American Federation for Children (AFFC), an organization that former Secretary of Education Betsy DeVos chairs.
On Aug. 31, AFFC released a statement on mask mandates, urging that it is a "parental choice" issue. The same views are shared by Siyaj, and Syed and apparent benefactors of the federal COVID testing money train.
There is nothing beyond circumstantial evidence that connects the Crossnore Group to Northshore Clinical Labs or Curis Healthcare. It is quite possible that Siyaj and Syed are flush with cash and could afford the hired guns offered by Crossnore, along with the political connections. Nothing indicates that Diechl has any connection to these operations, beyond being involved with a charity trying to provide coats for children.
During this ongoing national crisis, finding a timely and accurate COVID test is a massive problem for millions. Chicago appears to be a hotbed for questionable activity and unbridled access to federal funds. The American taxpayers should be asking the question with record hospitalizations crushing the medical system, where is the oversight, and how did this cast of characters get easy access to these resources?
Like, Share, Follow, Support