A New COVID testing company emerges from the ashes of the Chicago testing labs scandal
Testative opened on January 22 and is possibly using the same infrastructure as FCTS and Northshore Clinical Labs as they rapidly expand.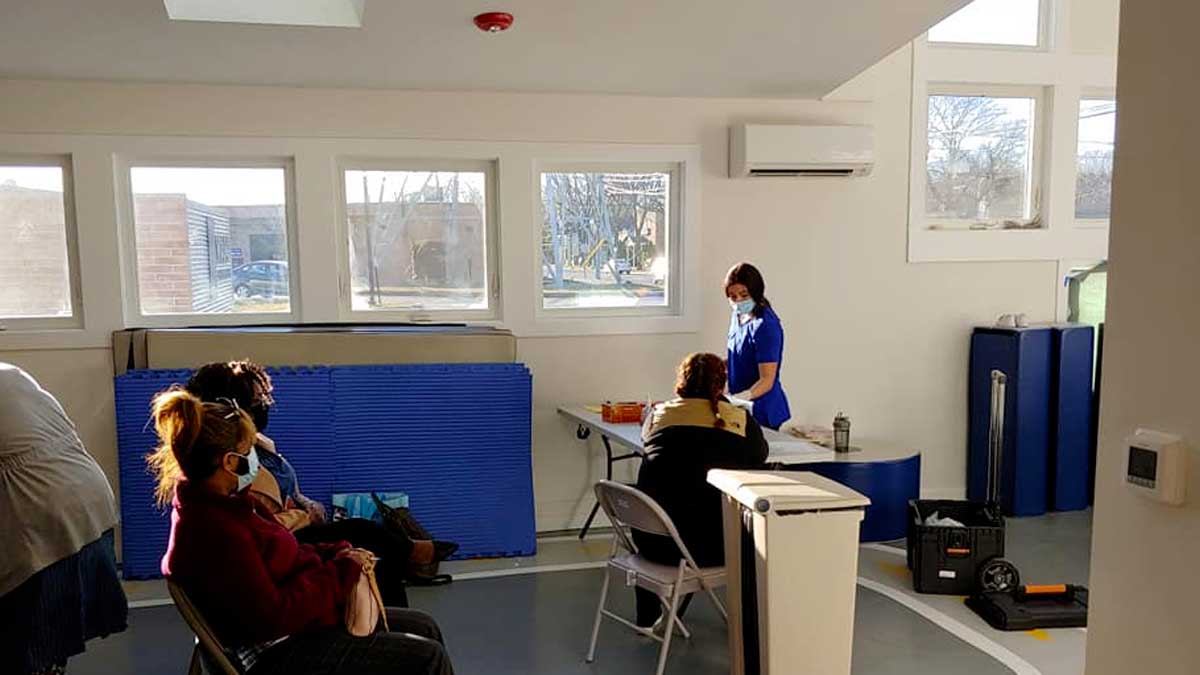 [CHICAGO, Il.] – (MTN) State and federal investigators made January a rough month for the Center for COVID Control, Doctors Clinical Laboratories, Northshore Clinical Labs, FCTS, and O'Hare Clinical Lab Services. Dozens of consumer complaints, serious deficiencies uncovered in CMS audits, and multiple investigations at a state and federal level have forced the cadre of Chicago-based companies to terminate contracts and shutter COVID testing locations. Just days after Northshore Clinical Labs shut down FCTS in mid-January, it appears the testing sites are reorganizing under a new business name.
An investigation by Malcontent News has discovered that the Chicago COVID testing machine is possibly being reborn as Testative.
Before the shuttering of the FCTS website, Northshore Clinical Labs and FCTS jointly marketed COVID testing to the public. They maintained a transparent relationship between test sites and the embattled lab, now under multiple investigations.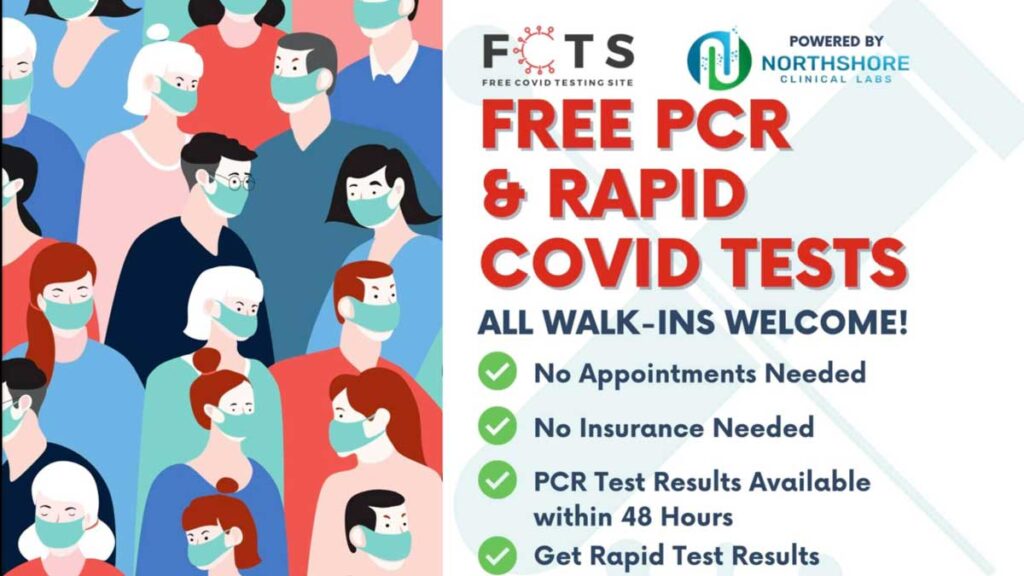 A Jan. 5 Chicago Tribune article reinforced this transparent relationship. The newspaper visited a testing site operated by NorthShore Clinical Labs using the FCTS name at 321A Harlem Ave in Forest Park, Illinois on Jan. 4. The Tribune was investigating allegations of delayed and missing COVID test results.
The first domino to fall for the Chicago COVID testing cadre was the Center for COVID Control (CCC) and Doctor Clinical Laboratories. A story on Jan. 10 by WINK in Ft. Myers, Florida raised questions about the operation and caught national attention. On Jan. 14 CCC suspended its test sites for retraining. On Jan. 20 they pushed backed their reopening date and after the FBI opened a criminal investigation, the company announced it was closing its doors on Feb 4.
On Jan. 17, the website for Northshore Clinical Labs announced it was terminating all "third-party operation sites" relationships. At the same time, the website for FCTS, freecovidtestingsite.com, was reduced to a single page declaring the site is under maintenance.
The remains of the FCTS website are still available on the Internet Archive, through scans completed from Dec. 20 to Jan. 5. The contact information for FCTS lists Northshore Clinical Labs of Chicago, Illinois, as the parent company.
Using online social intelligence, researchers searched using the FCTS phone number listed on the now-shuttered website – 888-452-3287. Instead of the phone number resolving back to Northshore Clinical Labs or FCTS, it is connected to a new company – Testative. The number is also attached to a COVID testing site in Elkton, Maryland, at 1653 Elkton Road. The previous FCTS site was at 1657 Elkton Road, in the same parking lot as the new Testative location. The photos associated with the Testative site are for FCTS.
Similar results were found for a former FCTS testing site at 3751 Island Ave, in Philadelphia, Pennsylvania. The phone number listed for the site is for FCTS, but the website is listed as Testative. While our research team was reviewing the information, a potentially fake review was added to the location by someone using the alias of YZ Hatim. Two hours earlier, the same person left a five-star review for Testative in Milwaukee, Wisconsin. The Milwaukee location has two reviews, left almost simultaneously, by YZ Hatim and Belaal L.
A researcher with Malcontent News called the legacy phone number for FCTS. The number was answered with "customer service" and did not identify the company. Our researcher told the person they were waiting for test results from Northshore Clinical Labs. The representative stated rapid results could take up to two days and a PCR test could take up to five days. Our researcher responded they had waited for nine days already. The representative said they would find a supervisor who could help and put the researcher on hold. After a 25 minute wait, the researcher hung up.
Within a minute of hanging up, a call came in from a different phone number, 800-365-3438. The caller didn't leave a voicemail, but a text from the same number arrived seconds later.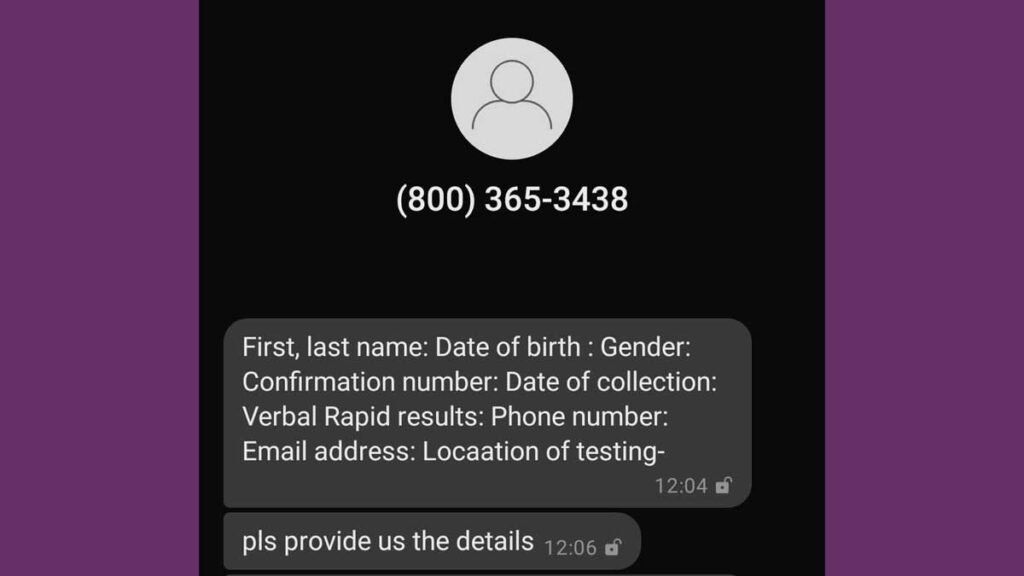 Researchers used online social intelligence using the phone number 800-365-3438, and uncovered it is the phone number for Testative. The same number is listed at multiple testing locations for Testative on SolvHealth, Google Maps, and the Testative website.
Reviewing the FCTS and Testative websites found more in common than potential links to Northshore Clinical Labs and a common phone number. Much of the text and claims on the website are identical. For example, the descriptions for Rapid Testing, PCR Testing, and Workplace Testing (called Corporate Business Testing on the FCTS website archive) are for all intent and purposes the same, with only the company name changed.
"Testative offers easy employee testing services for any size business. We are partnered with over 1000 businesses around America. Our goal with this type of testing is to ensure workplace safety, and making employees feel comfortable coming to work. Testative will bring PCR Testing kits to businesses and test all your employees. Our process doesn't disturb the workflow."

The language for PCR testing states, "Our process is easy. Just walk in, or drive up to any of our locations, and give us a call. Test results are typically available online via email within 24-72 business hours of taking the test."
While rapid testing also shares the same description, "Rapid testing is a quick process and gets you results almost instantly. The rapid testing process isn't 100% accurate, so we would highly recommend getting a PCR Test done as well. Get your Rapid testing results as quick as 15 minutes verbally."
Malcontent News has archived web pages and social media sites highlighted in this story as a permanent archive
The Testative website is built on WordPress and has numerous technical issues and mistakes. The website has no listed privacy or HIPAA policy. The site goes to great lengths to obscure who owns and manages the website or the company's relationship with any test lab. A search on Open Corporates and the Illinois Secretary of State records found no corporate listing for Testative. An ICANN search identified GoDaddy as the DNS provider.
Another researcher called the phone number for Testative. The call went to a voicemail box, and the researcher did not leave a message. Less than a minute later, the number called back. The researcher told the caller they were trying to find test results from the Testative Milwaukee location. The customer support representative said they would send a text requesting additional information. A few minutes later, the identical text from the earlier interaction with the legacy FCTS phone number arrived.
Searching LinkedIn for Testative located a single employee – Khaalid Latifi. Latifi has listed himself as the Director of Operations for Testative since November 2020. Latifi's former employer is FCTS where he was also a Director of Operations. He describes his role at Testative as, "Worked with other team members to establish testing locations across America. Implemented an electronic HR system to efficiently establish 100+ employees."
It appears Latifi changed the name of his employer on LinkedIn instead of showing a change in employment, and indicates the time between both companies has run contiguously. A phone call to Latifi went unanswered, and there was no response when we went to press.
Latifi's Facebook page has not been updated in months and does indicate he is unemployed, in contrast to his LinkedIn page. It also shows he has a brother, Belaal Latifi, who coincidentally has the same first name and last initial as a person leaving positive online reviews for Testative on Google.
Our research team found other websites affiliated with the FCTS phone number 888-452-3287, including Texas COIVD Testing and UR1stop Medical.
Texas COVID Testing has a near-identical logo to FCTS and uses the same language as Testative and FCTS. The site claims Texas COVID Testing has Walmart, Starbucks, Trader Joe's, and ASM Global as corporate clients, claims to have 300 locations nationwide, lists the same phone number formerly used by FCTS, and is connected to Northshore Clinical Labs.
The site lists two locations in Houston on 3222 Hillcroft Street and 9730 Southwest Freeway. According to an archive of the Center for COVID Control website, the 3222 Hillcroft Street location was a planned site for the company before their testing suspension in mid-January. A former employee of the Center for COVID Control alleges that one test site briefly sent test samples to Northshore Clinical Labs. A company spokesperson for CCC denied that claim.
The UR1stop Medical website has identical language, blog entries, and errors the archived FCTS website has. The address is to a former electronics store under a similar name, and the FAQ on the UR1stop Medical website provides information on electronics and shipping.
Neither website has a relevant privacy or HIPAA policy posted, lists an NPI number, or provides a CDC CLIA number for the labs they are affiliated with. None of the test sites listed resolve to an archive of FCTS sites or current Testative sites.
Testative created a Facebook page on Jan. 22, five days after Northshore Clinical Labs pulled the plug on third-party test sites and FCTS. The Facebook business page is Testative FCTS, a Medical Lab, and uses the identical artwork and color scheme from Northshore Clinical Labs.
We attempted to contact Northshore Clinical Labs and inquire about their relationships with FCTS, Testative, Texas COVID Testing, and UR1stop Medical, but we received no response.
While Northshore Clinical Labs faced growing allegations of malfeasance by clients, municipalities, school systems, and regulators, the company continued expanding operations. The expansion went unabated even after a Dec. 29 CMS audit gave Northshore an imminent jeopardy rating in three categories.
On Jan. 10, Northshore Clinical Labs expanded into Portland and Grants Pass, Oregon. On Jan. 15, the company opened up a testing site in Lima, Ohio.
Prior to falling under the watchful eye of investigators, Northshore Clinical Labs used press releases to enhance its SEO and tout its continued expansion. By early January, the company shifted to a quieter approach. They used social media such as Facebook and promotion from local governments, companies, and schools. Although the approach lowered the public profile in the face of a growing scandal, the use of social media has left a trail of outraged clients waiting for test results.
The day after Northshore Clinical Labs announced they were ending all third-party relationships, it opened up a mass test site in Kissimmee, Florida, just outside the gates of Disneyworld. The location is backed by Osceola County and less than three weeks later, social media is filled with complaints about late, missing, and false rest results. The testing site is still operating today.
Additional locations Northshore expanded to after Jan. 17 include the Avoca School District in Wilmette, Illinois, Dynamic Diagnostics in Madison, Wisconsin, and the Florence-Firestone Chamber of Commerce in Long Beach, California.
On Jan. 22. Northshore opened sites in Las Vegas two weeks after opening tests sites in Reno, Nevada, including the University of Nevada Reno (UNR). The Nevada Division of Health and Human Services opened a formal investigation into Northshore on Jan. 24, after multiple complaints emerged in the Reno area. A report by KOLO 8 News indicated an independent review of approximately 200 negative PCR test results from Northshore were actually positive. Washoe County officials suspended PCR testing by Northshore but permitted the company to continue rapid testing. Other allegations include improper testing procedures, dirty test facilities, untrained staff, and reusing PPE such as gloves.
On Feb. 1, UNR terminated its relationship with Northshore, citing "the institution's dissatisfaction with Northshore's service in helping to conduct on-campus COVID-19 testing for students, faculty and staff."
In the midst of the ongoing investigations and quiet expansion, Northshore Clinical Labs told reporters and state investigators last week that earlier problems were due to unforeseen demand. In a statement to CBS Chicago 2, a spokesperson said, "No lab could have handled" the increase in cases they saw in December."
The company recently claimed it has processed over five-million tests, which would require more equipment and staff than it appears to possess. Block Club Chicago reported that Northshore has received more than $154 million in public funds from the CDC as reimbursement for COVID testing. If both figures are accurate, taxpayers provided Northshore with $30.80 for every test they provided. Reimbursement is done by the United States Centers for Disease Control (CDC) as part of the CARES Act passed by the Trump Administration in March 2020. This would be in addition to money billed to insurance companies, third-party partners, individual cash payments for expedited testing services, and workplace contracts.
Northshore Clinical Labs is in no way affiliated with NorthShore University Health System or North Shore Medical Labs. Testative does not have locations in Washington state at the time of publication, but a map on its website indicates they plan to expand into Western and Eastern Washington. Northshore Clinical Labs denies having any connection with Doctors Clinical Labs and Center for COVID Control. Washington State Attorney General Robert Ferguson sued the Center of COVID Control in King County District Court on Feb. 1 for providing invalid, false, and delayed COVID-19 test results to Washingtonians, or sometimes providing no results at all.