Chicago-based Lab Elite is supporting at least one Illinois Testative COVID testing site
A video made by Lab Elite shows multiple CDC guideline violations and patient intake forms are not HIPAA complaint.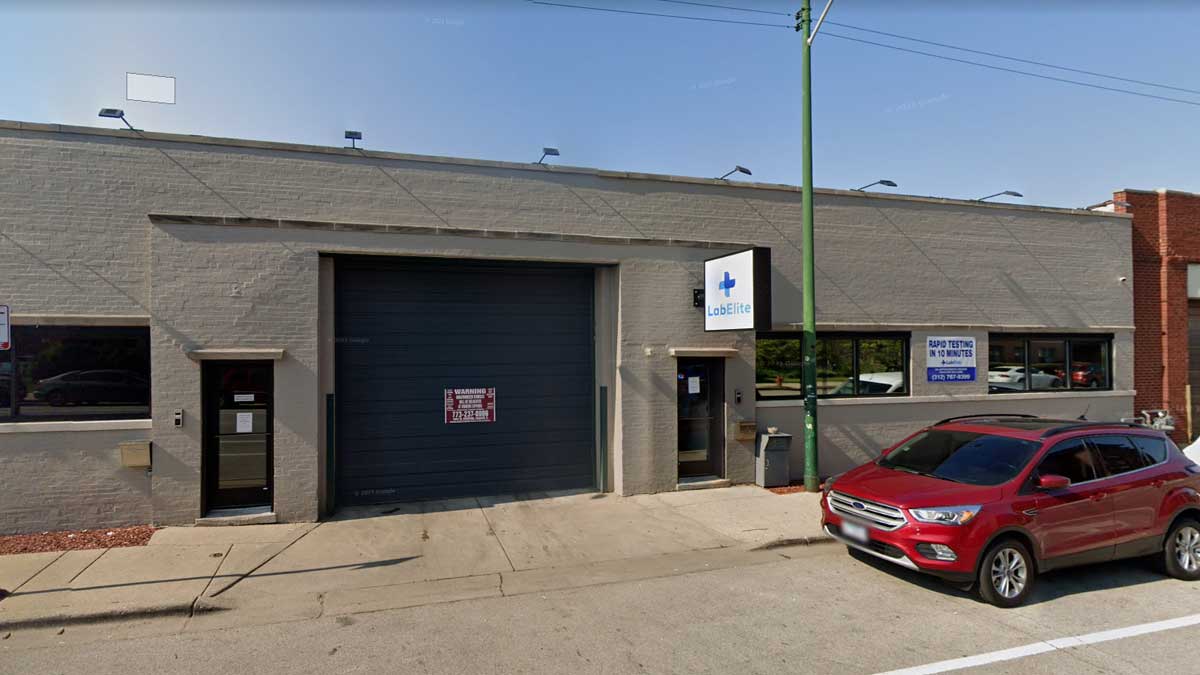 [CHICAGO, Il.] – (MTN) Embattled COVID testing labs Northshore Clinical Labs and O'Hare Clinical Lab Services continue to operate while under intense scrutiny from state officials. The publicly facing testing entities, Center for COVID Control and FCTS, shut down in mid-January due to multiple misconduct allegations. A new testing company called Testative started operations on Jan. 22, with strong indications they are connected to FCTS and Northshore Clinical Labs. At one Testative location in Illinois, the company has partnered with Lab Care, LLC., owned by Chicago-based Lab Elite.
Lab Elite (also listed as LabElite) was started by Nikola Nozinic and Zishan Alvi in late 2020. The company has a one-star rating with the Better Business Bureau and four complaints lodged against them. All four complaints claim they received PCR tests but never got results and have no response from the company on the status of their tests. LabElite also maintains two Facebook pages, one with 11 one-star reviews.
The same Facebook page has a promotional video showing operations at its Chicago lab located at 5820-5824 North Northwest Highway. The video was shot on Aug. 21 and shows multiple violations of United States Centers for Disease Control (CDC) lab and testing protocols.

According to CDC guidelines, labs that test COVID samples must adhere to Biosafety level 2 standards (BSL2). The first requirement is secured access to the test lab with an automatically closing door. The video shows the door to the lab open to the reception area. There are no sinks or handwashing stations in the video, and images on Google do not show any sinks in the lab area.
At least two unmasked workers are shown, including one person in a designated BSL2 area wearing no protective equipment. Inches away, a person appears to be handling COVID test samples. Another person is shown administering a COVID test without wearing eye protection and using an ill-fitting mask that is not N-95 rated.
LabProspects, a company that maintains a list of medical labs across the United States, indicates that Lab Elite can process 36,000 samples a month. The database also shows that LabElite is affiliated with O'Hare Clinical Labs, a company currently under state investigation. LabProspects does not indicate how the two labs are affiliated.
On Jan. 21, the government website for Itasca, Illinois, announced that free local COVID-19 testing was available through Testative at 127 North Walnut Street. The Testative website lists the Itasca address as one of its locations, and the test site is listed on SolvHealth under Testative.
The city's announcement reported that Testative is partnered with Lab Care, LLC, and listed the website labcarellc.com. Using online social intelligence and searching using the phone number for Lab Care LLC, the number is connected to a company called JNZ Medical, LLC. JNZ Medical has an NPI number of 1851056493 assigned to Nozinic on Nov. 8. The company also has a CDC CLIA number of 14D2242519 under the name LabCare. A search of corporate and LLC records through the Illinois Secretary of State shows that Nozinic, the co-owner of Lab Elite, acquired JNZ Medical on Mar. 14, 2020.
The websites for Lab Care, LLC and Lab Elite, are identical, beyond color changes and the company branding. Both companies use a non-HIPAA compliant version of Jotform to schedule appointments.
OCL LIS hosts the intake form for Lab Care, LLC. The Chicago-based company provides consulting services, automation, process and workflow, and payment services for labs through forms.oclsolutions.com. OCL LIS states they provide HIPAA Compliance, but a review of the Lab Care, LLC page source code shows the intake form was built using Jotform.
There is nothing to indicate that OCL LIS is operating in bad faith, and the initials OCL are coincidental. OCL LIS does not have any connection to O'Hare Clinical Lab Services or its OCL branded test locations.
The disclaimer for Lab Care, LLC uses identical language as the now-defunct Center for COVID Control, including requiring the waiving of privacy and HIPAA rights.
Lab Care has a presence on Facebook that has become more active in the last two weeks. It also has an Instagram account that hasn't been updated in almost a month.
Lab Elite, Lab Care LLC, and their co-owners Nozinic and Alvi are not under investigation by any state or federal authority. USA Today reported the company received over $80 million from the federal government for COVID testing and other services. Lab Care LLC operates under a different CDC CLIA number and business name and has not received federal reimbursement. The company has come under fire for questionable business practices and increasing consumer complaints.
In Philadelphia, pop-up testing sites appeared for Lab Elite with signage claiming the company was receiving funds from FEMA. People who stood in line to get tested reported staff asked for social security numbers. Nozinic told the Philadelphia Inquirer, "This is a complete s — show. We don't ask for Social Security, ever."
Nozinic blamed a subcontractor for the issues. Lab Elite closed the sites and stated they would not return to Philadelphia.
Residents of Berwyn, Illinois, are fuming online about Lab Elite's performance. The city initially hired Northshore Clinical Labs in 2020 to provide COVID testing and fired the company in December 2020. Lab Elite was contracted, and the test site has a 2.6 rating on Google. In Facebook groups, community members are questioning the amount of due diligence the city took in choosing both providers.
To say that the Chicago-area private COVID testing landscape has turned into the wild west would be an understatement. In the last 72 hours, several COVID testing companies have arisen or expanded, filling the vacuum created by the closures of the Center for COVID Control and FCTS.
United COVID Control and Chicago COVID Control, affiliated with the Chicago Medical Brigade, COVID-19 Collection Center, Apex COVID Testing, and Xpress COVID Testing, have started reopening Center for COVID Control and FCTS sites. None of these companies are under investigation, and the Center for COVID Control did not own United COVID Control or Chicago COVID Control. In some cases, the new operators are carrying the baggage of irate clients and negative reviews attached to Google Maps.
In addition to the expanding test providers, labs are growing too. Onsite Lab Corp and United Diagnostics Labs, LLC, which formed in June 2021, provide lab services for the expanding portfolio of Chicago Medical Brigade locations. The LinkedIn profile of Ike Khan, COO of United COVID Control and Chicago COVID Control, indicates that the associated lab can process up to 5,000 tests a day. Onsite Lab Corp shares space with Chicago Medical Brigade and is located in a 2,500 square foot former veterinary clinic in Evanston, Illinois.
With the official closure of the Center for COVID Control happening today, the rush to fill the testing gaps will continue. With it, an embarrassment of riches awaits for those with an NPI and CLIA number in what is now a more favorable business climate with COVID cases on the decline.