Maryland COVID testing site run by Testative ordered closed
After the closure order, the Google Maps listing was altered to show it is run by FCTS.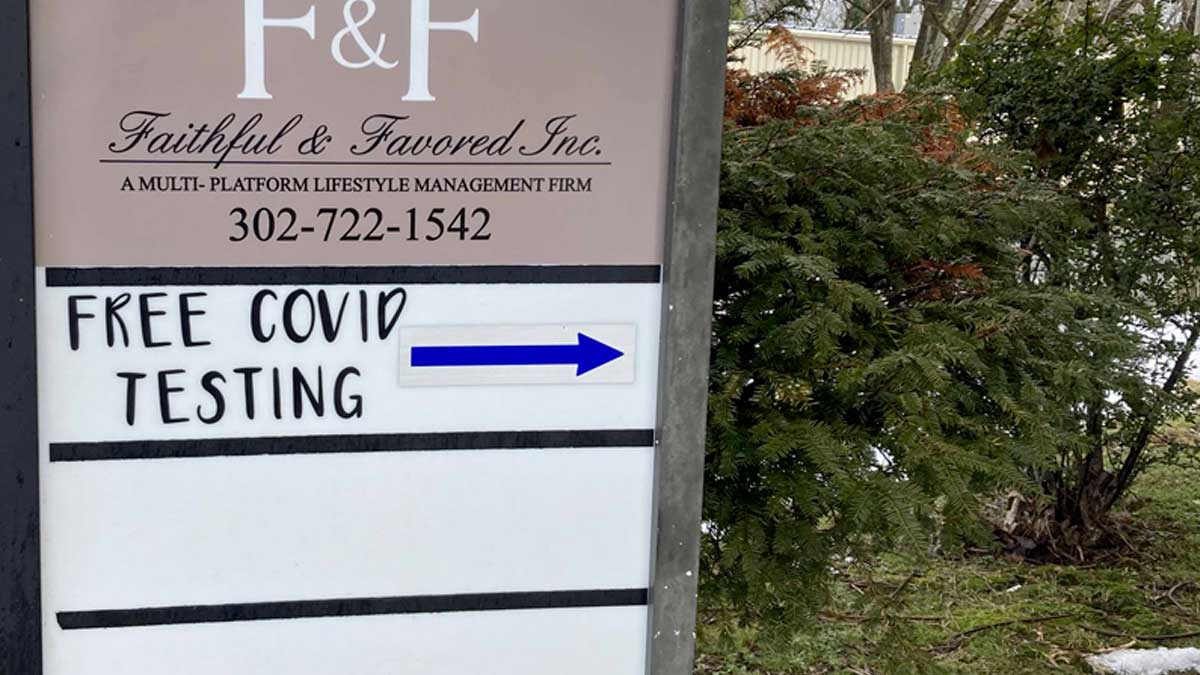 UPDATED: Feb. 5, 2022 8:45 PM PST: Additional information has been found implying Testative is attempting to purge their connections to Northshore Clinical Labs.
[ELKTON, Md.] – (MTN) A pop-up COVID testing site in Elkton, Maryland run by Testative was ordered closed on Friday according to local reports. An anonymous source reported the site had deficiencies including not having a Clinical Laboratory Improvement Amendments (CLIA) number. The closure order came in the early afternoon on Friday. The operators of Testative appear to have tried to cover up the closure, by making edits to the Google Maps listing.
Testative began opening COVID test sites on Jan. 21 in multiple states, just days after the Center for COVID Control and FCTS shuttered a nationwide network of testing locations. The Center for COVID Control is under multiple investigations by several state attorneys general, the FBI, and was sued by Washington state on Feb. 1. The company ended operations on Feb. 4 and laid off approximately 150 employees. Northshore Clinical Labs, which ran FCTS, is also the subject of numerous investigations.

On Feb. 2, the Google Maps listing for the Elkton, Maryland site listed it was run by Testative. The QR code scanned to start the testing process brought patients to a Lab Care, LLC intake page. On Feb. 5, the day after the closure order, the listing had been altered. Information claims the site is run by FCTS and lists freecovidtestingsite.com as the URL. FCTS has been defunct since mid-January and the URL goes to a page under site maintenance.
The phone number was not edited. In a story published on Feb. 2, researchers identified the phone number is used by Northshore Clinical Labs, Lab Care, LLC, and Testative. It was also connected to FCTS prior to its closure.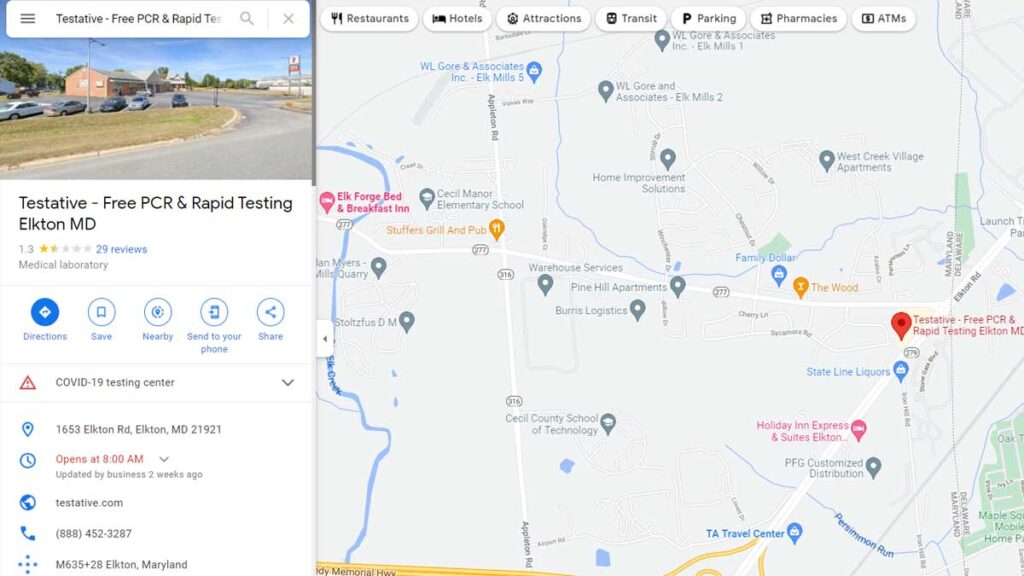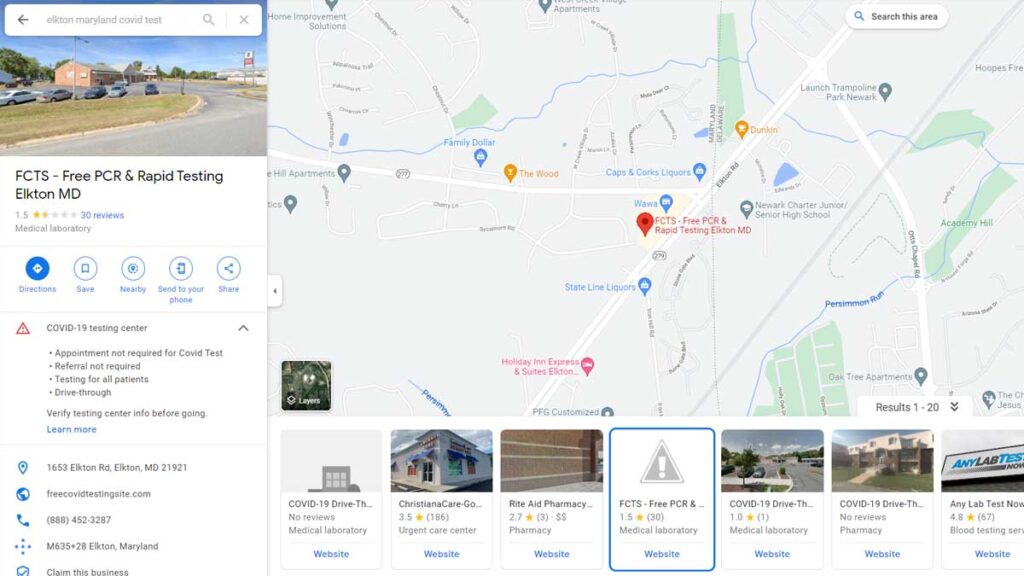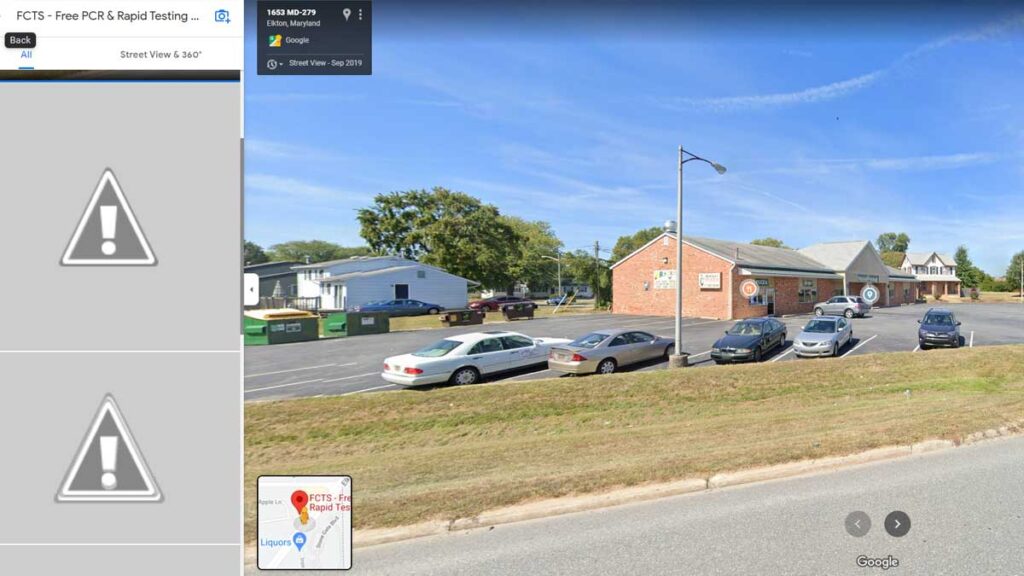 Several key management employees of Testative are linked to FCTS. Some have attempted to purge their social media and online history in what appears to be an attempt to conceal their prior connections. A number of employees involved have relocated to Newark, Delaware from the Chicago area, or maintain dual addresses.
On Jan. 22, Testative created a Facebook page listed as Testative-FCTS, which was included in the Malcontent News story on Feb. 2. Testative has since deleted the page, but the graphics are still available through Google Images. An image uploaded to Facebook on Feb. 2 has FCTS branding and logo.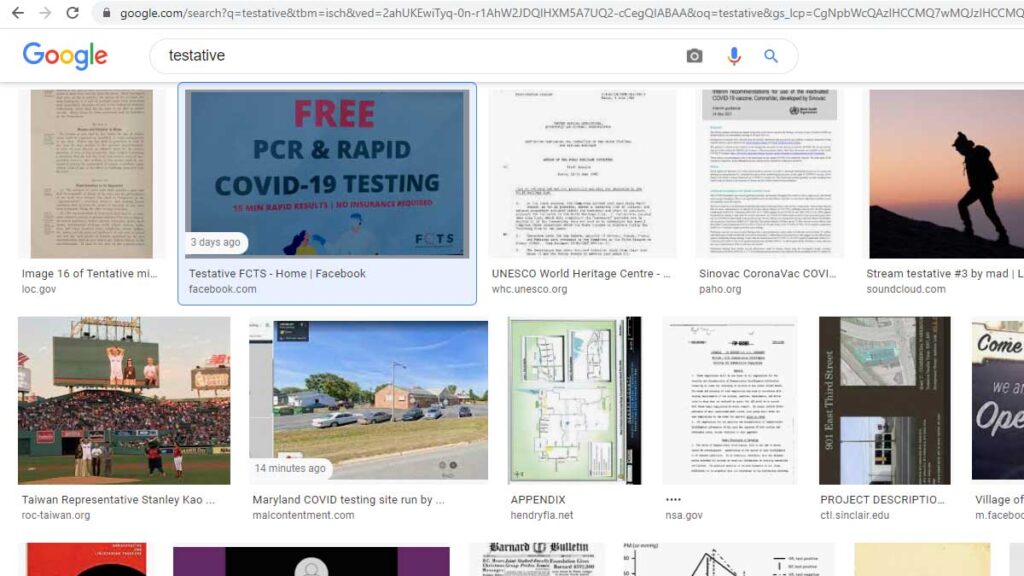 Testative has partnered with Lab Care, LLC to process COVID test samples. That lab is owned by Nikola Nozinic, the co-founder of Chicago-based Lab Elite. Lab Elite and Lab Care, LLC are not under any investigation.
Lab Elite and Lab Care, LLC use technology and registration services provided by O'Hare Clinical Labs Services, through a company called OCL LIS. Francisco "Frank" Perez maintains multiple LinkedIn profiles, including one for OCL Labs and an additional one for OCL LIS. The phone number of OCL LIS is the same number for OCL Laboratory Service, which provides in-home medical testing, while the fax number for OCL Laboratory Services is a legacy number for O'Hare Clinical Labs. O'Hare Clinical Lab Services, the parent company, is currently under investigation by the state of Illinois, and received a rating of "immediate jeporady" in three categories after the most recent CMS audit.
The CARES Act of March 2020 initially allocated $1 billion to provide COVID testing services to uninsured United States residents. Additional funds were added extending reimbursement for uninsured individuals to $2 billion. That fund was exhausted in September 2021, according to a report by the United States Government Accountability Office (GAO). Continued funding has come from the $178 billion Provider Relief Fund.
Private labs can bill $100 per PCR test processed and government reimbursement for diagnostic testing for COVID-19 is reimbursed at the published rate by the testing provider. The CARES Act put no limit on how much can be charged for the administration of a COVID test. The Health Resources & Services Administration (HRSA) has paused enrollment of new providers until Feb. 11. The COVID Uninsured Claim website says that enrollment is undergoing a "process review."
Over $500 million in reimbursements have been provided to the Center for COVID Control (Doctors Clinical Lab), Northshore Clinical Labs (FCTS), O'Hare Clinical Lab Services, and Lab Elite.