We shouldn't get involved, otherwise, it will start World War III
World War III started in 2012, we just didn't know it, and dozens of nations are already involved in Ukraine.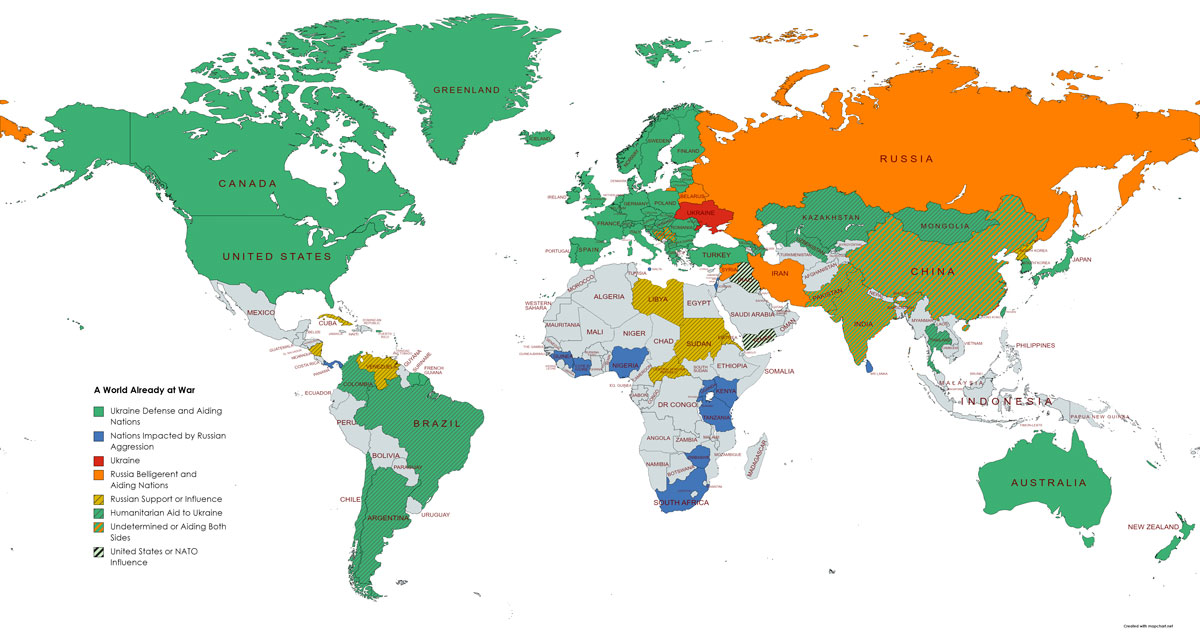 Many hands are being wrung online and privately on where the redline that triggers the beginning of World War III lie. A continuing narrative online is Russia has nukes, and they aren't afraid to use them. When you look at the world's involvement in Ukraine a clear picture emerges. World War III already started, and we're moving closer from an intense cold war to a broadening hot war.
Noam Chomsky created a firestorm over Easter Weekend with his published views on Ukraine. His position could be summarized as Zelenskyy has put up a great fight, but there is no possible way to win, he needs to accept that Crimea and Donbas belong to Russia, and accept their updated terms of surrender.
To accept this with everything we know would mean turning a blind eye to 500,000 forced deportations, mass graves, systemic rape as a terror tool, forced starvation in Mariupol, filtration camps, and plans for forced reeducation of children illegally taken from Ukraine. It means ignoring over 100 hospitals bombed, over 70 cultural sites destroyed, the intentional targeting of civilians, the use of antipersonnel mines, and cluster bombs intentionally targeting civilians. It means ignoring the documented FSB raids in the Kherson Oblast on April 14 – 15, alleged torture centers, and the undeniable satellite images showing the rapid expansion of graves. It is ignoring the evidence of extrajudicial executions on roadsides and the clear torture of prisoners of war, after the video of Aiden Aslin emerged.

Why poke an angry bear? That bear has 6,000 nuclear warheads! (1,588, but I digress).
The reality?
The hot war remains in Ukraine, with insurgency and special forces operations in Belarus and the edges of Russia. Mines or drones have arrived in Romania, Turkey, Croatia, Russia, and Poland regardless of blame.
Ships flagged or owned by Estonia, Malta, Panama, Dominica, and Sri Lanka have been hit by missiles or mines – with two sunk. Turkey closed the Dardanelles and Bosphorus Straights to all warships that don't have a homeport in the Black Sea on February 28.
Almost 100 cargo ships remain blockaded in the Black Sea, most carrying wheat and grain for Africa and the Middle East. As the blockade drags on, Egypt and Ethiopia (Tigray specifically) inch closer to a humanitarian crisis. The worst swarm of locusts in twenty-five years is devastating South Africa and Namibia. Namibia has been dealing with food insecurity issues since 2019 due to drought, corruption, and insect infestation. African and Middle Eastern students were trapped by Russian aggression, and students from Nigeria are still trapped in Kherson – completely forgotten by the world.
Countries worldwide have pledged direct military aid and humanitarian aid to Russia while sanctioning the nation.
Russia was forced to scrounge weapons from Iran, which recently showed up in Ukraine. It is not determined if these came from the Iranian government or militias.
Russia has its fingers in conflicts in Central and Eastern Africa, while the US and NATO have their fingers in conflicts in the Middle East.
India and China haven't picked a side to date. There is little evidence that China has sent military aid to Russian beyond potentially MREs – but that hasn't been proven. China has sent humanitarian aid to Ukraine. China hasn't bought discounted Russian oil and restricted some bank activity. On TV and social media, even Chinese state media appears to be playing both sides – with reporters embedded with Russian military units while other sources report Russian war crimes.
China is also dealing with its worst COVID-19 crisis since the outbreak started. It has to dedicate massive internal resources in an attempt to maintain a "zero COVID" policy. China's hospital system is too fragile to let COVID run its course as many other nations did from December 2021 to March 2022. Omicron and its growing list of variants are the most contagious viruses known to man, and the Chinese COVID vaccine works about as well as Russia's Sputnik-V (which is to say, using accepted health measures for vaccine efficacy, it doesn't work)
India has the world's third-largest military budget, ahead of Russia. The nation gets most of its military hardware from Russia and imports 80% of its oil (less than 3% from Russia). Over the weekend, India canceled an order to buy 47 Mi-17 military helicopters from Russia, claiming they are working on a domestic production program.
So far, India could be described as sympathetic but not engaged. India remains belligerent toward Pakistan, and both are nuclear-armed nations.
Pakistan, Bosnia and Herzegovina, and Serbia have significant internal political problems. For Pakistan, the change in a new ruling alliance was brought on by internal issues. In Bosnia and Herzegovina and Serbia, growing tension and problems appear to be brought on by Russian influence, fanning the flames of decades of hatred and conflict.
The world is already at war across every continent (except Antarctica). Globally, we are deep into Cold War II and the closest to a hot war, not a proxy war, since 1962. Internally, Russia is already messaging a population of 139,980,000 that they may have to declare war, and it is all NATO's fault.
The irony of this is if Russia had been successful in its original war plan, then Russia would be directly up against NATO nations. Further, Russian aggression in Ukraine has likely convinced Sweden and Finland to join NATO and accelerated the European Union applications of Ukraine and Moldova. 
This isn't war- or fear-mongering – look at the map. It is our reality. The world is already at war.