Russia-Ukraine War Update for June 28, 2022
Ukraine is blasted by Russian missile attacks and clings to Lysychansk in the eastern Donbas.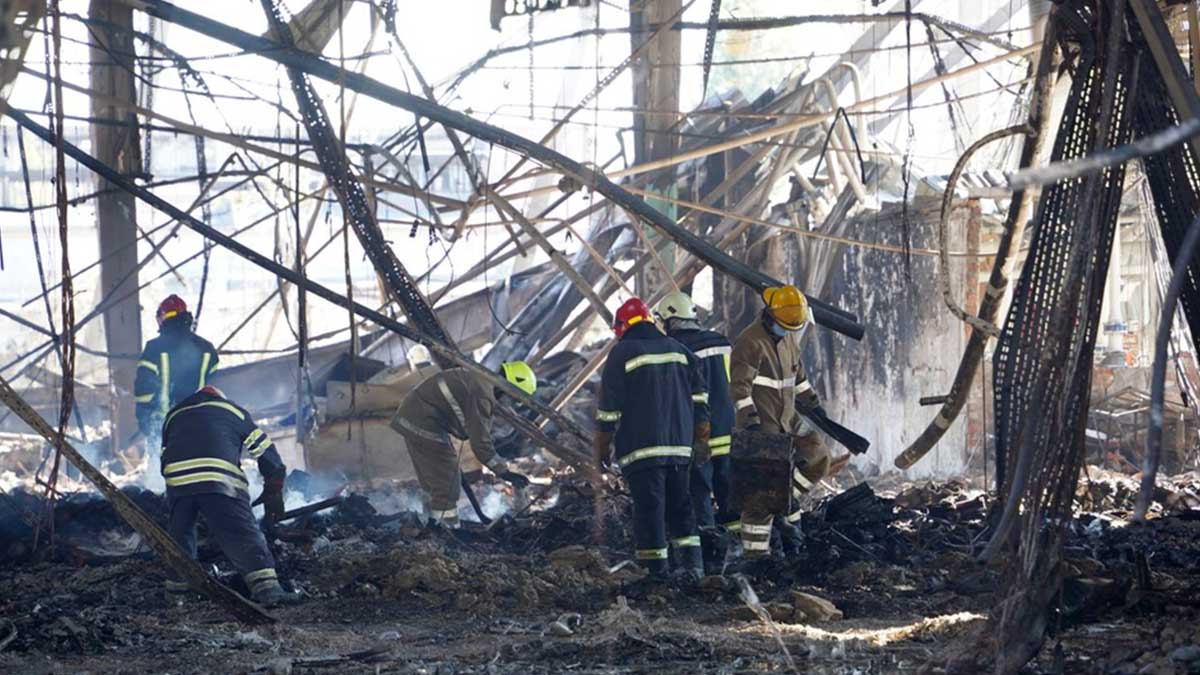 [KYIV, Ukraine – MTN It has been 3,042 days since Russia occupied Crimea on February 27, 2014.
The Russian Air Force fired two Kh-22 land-to-sea cruise missiles from Tu-22M3 strategic bombers at Kremenchuk, Poltava. Both missiles struck the Amstor Mall at 3:52 PM local time, with over 1,000 civilians inside. On Wednesday morning Ukrainian officials reported that 20 were dead, 59 were wounded, and 36 were still missing. Monday's attack is the worst since Russia destroyed the railroad station in Kramatorsk on April 8 with cluster munitions delivered by Short-Range Ballistic Missile (SRBM).
Lysychansk-Severodonetsk – Russian forces are holding a line that extends from Bila Hora to the southwestern corner of the rubber factory on the edge of Lysychansk. The line continues southwest to the gelatin factory, where fighting has been ongoing for four days.

Russian forces control most of Vovchoyarivka, with intense fighting continuing to control the settlement's northern part. Russian forces have reached the southeastern edge of the abandoned Verkhnokamyanka oil refinery, which is adjacent to the T-1302 Highway Ground Line of Communication (GLOC – supply line).
Bakhmut – Slovyansk – East of Bakhmut and north to the Popasna advance, Russian forces continue to try and take full control of the T-1302 Highway GLOC. Russian forces attempted to advance toward Klynove and Pokrovske but were unsuccessful. Russian forces likely reached the eastern edge of Klynove in heavy fighting but were pushed back to Midna Ruda. Russian forces also attempted to advance on Yakolivka but were unsuccessful.
Russian forces shelled Soledar, Bilohirivka [Donetsk], Berestove, Mykolaivka, Vesele [Dontesk, 48°44'38.5″N 38°08'56.5″E], and Spirne. Shelling of Berestove and Spirne was particularly fierce. Both settlements are west of the T-1302 Highway.
Two Russian ammunition depots south and east of Zymohirya [Luhansk] were attacked by NATO-provided High Mobility Rocket Artillery System (HIMARS) missiles. A coal mine was the closest target, 70 kilometers east of Bakhmut.
In the Svitlodarsk bulge, there were indications that Ukrainian forces shelled Russian positions in Semhirya, Dolomitne, and Myronivskyi.
South Donbas and Zaporizhia – In the south Donbas, Russian forces attempted an offensive against Ukrainian forces in Shevchenko [Donetsk 47°43'45.5″N 37°08'29.4″E] and were unsuccessful. With reports of further advances, Ukrainian forces continue to hold recent territorial gains.
Kherson and Mykolaiv – In Kherson, the Ukrainian counteroffensive continued. Ukrainian troops advanced from Soldatske to the western edge of Myrolyubivka. Russian and Ukrainian forces continued intense fighting to control Stanislav, Kyselivka, and Snihurivka. The United States Department of Defense and Ukrainian officials have hinted that "several" settlements were liberated between June 25 – 26 in the Kherson Oblast but have requested that the details be temporarily withheld to support Operational Security (OPSEC).
Kharkiv – North of Kharkiv, Russian forces launched an offensive to recapture Dementiivka, but they were unsuccessful. Skirmishes continued near Velyki Prokhody, Vesele [Kharkiv 50°10'26.3″N 36°31'59.5″E], and Rubizhne [Kharkiv]. Satellite data indicated that Ukrainian forces remain on the east bank of the Pechenihy Reservoir near Khotimlya.
Southeast of Chuhuiv, fighting continues along the M-03 and M-07 highways. The General Staff of the Armed Forces of Ukraine continues to request to honor OPSEC in this region. We will only share open-source intelligence in today's report. Sattelite data indicated fighting in Russian-controlled Nova Hnylytsya.
Izyum – On the Izyum axis, Russian forces shelled Mospanove but made no advances on the settlement. Russian forces attacked Dovhalivka and Zalyman from Savyntsi, suffered significant losses, and were forced back. We have also been requested to honor OPSEC in this region and will only share information available through open-source intelligence.
Sattelite data indicated intense fighting north, northeast, and north of Spivakivka, almost to Prydonetske. Sattelite images also confirmed the destruction of the Russian 20th Combined Arms Army command post in Izyum and the adjacent fuel depot.
Russian forces attempted to advance on Mazanivka from Dovehenke and were unsuccessful. Russian forces shelled Ukrainian positions in Dolyna and Bohorodychne. Ukrainian artillery interdicted the GLOC from Oskil to Sosnove with artillery.
Other Key Developments – Kremlin-backed hacker group Killnet launched a widescale DDoS cyberattack on Lithuania, disabling key websites and computer systems. Killnet says they will continue to attack the Baltic nation until trade restrictions to Kalinigrad are lifted.
Patreons get access to the Malcontent News Russia-Ukraine War Situation Report. The report provides analysis, maps, detailed information about all the axes in Ukraine, international developments, information about war crimes and human rights, and economic news. Just $5 a month provides you with insights and verified information about the situation in Ukraine. As an added benefit, you get access to flash reports, breaking news, and our Discord server.