Arsonist who attacked the East Precinct in February 2020 facing federal charges
Miraculously, the fire was contained moments before torching the block and required the evacuation of 50 people.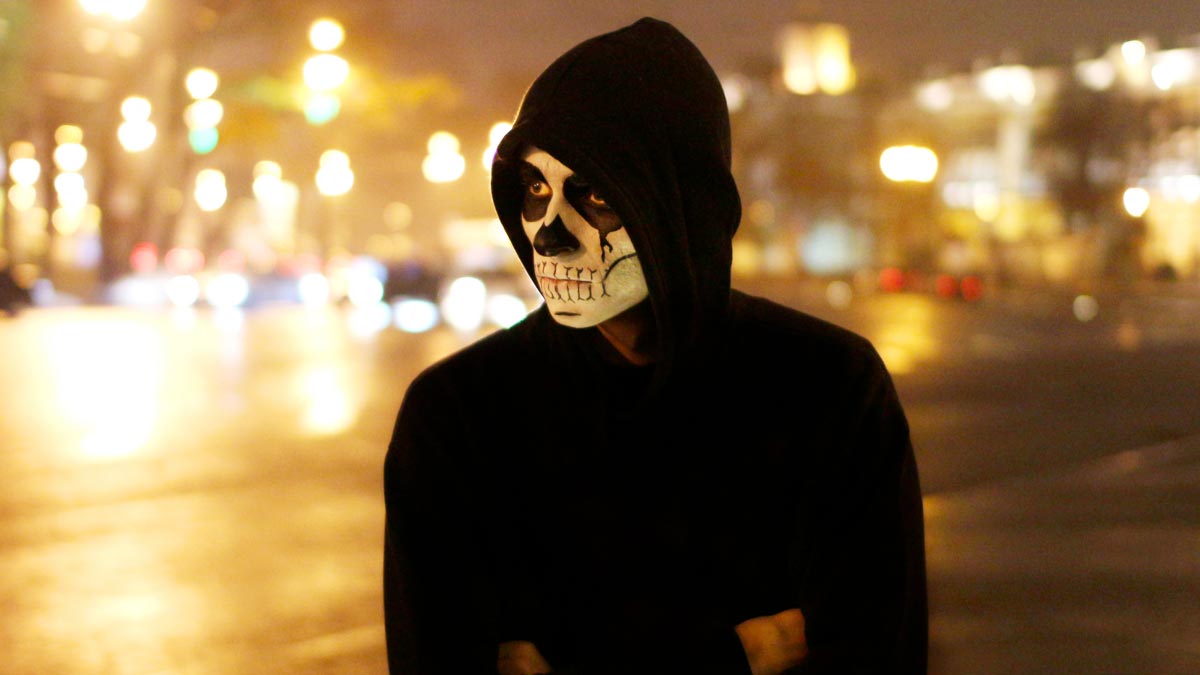 [SEATTLE] – (MTN) Federal officials charged Kalvinn Jay Garcia, 24, of Sedro-Woolley with arson for a fire he lit on February 24, 2020, in an alley behind the Seattle Police Department East Precinct building. Surveillance video from the East Precinct saw Garcia light the fire, and a dumpster exploding in flames. The fire climbed up the back wall of the alley and spread to Queer Bar, a gay bar and events venue that had 50 people inside at the time.
Seattle Police quickly apprehended Garcia as he tried to flee from the scene. He was originally charged in King County Superior Court and held at King County Jail. Due to Covid-19 protocols, he was released.
Despite the attempt to burn down the entire block that contains 100 apartments and the East Precinct, the right-wing "thin blue line" media has been silent about the arrest.

Just months after the arson as Seattle erupted into civil rights protests over the killing of George Floyd, Seattle Fire Chief Harold Scoggins warned of the dire risk if a fire were set at the East Precinct.
"The East Precinct sits in an old auto garage built-in 1926. Wood frame foundation shared walls with more than a hundred apartment units. If the precinct catches fire, the whole block goes up, Scoggins says. "No way I can stop it, and people will die."
Why would the right-wing media be so quiet about such a terrible attack on the Seattle Police just months before the formation of CHOP? If the reality of a fire in that area would be a disaster, why didn't that disaster become a reality three months earlier? Is this just another case of weak King County prosecutors letting another anti-police Antifa terrorist loose on the streets? Will Garcia simply get a slap on the wrist for his actions like all the other leftist Communist-Marxist pseudo-leftist terrorists in Seattle?
If you've read this far you've been manipulated using the same misinformation techniques of the right-wing media. Every keystroke above is factual. Garcia had his first court appearance on November 12. Garcia lit a fire in the alley shared with the East Precinct. The Seattle Police caught the arson on their surveillance cameras and captured a fleeing Garcia. Chief Scoggins on June 7 did tell officials that fire in that block would be unstoppable. Not one word typed above is "false," in a Rupert Murdoch sort of way.
Garcia's target wasn't the East Precinct, it was Queer Bar on the other side of the alley, which had 50 people inside and Garcia is also facing a hate crime enhancement for his actions. Garcia comes from a troubled family with convictions for heinous crimes across two states. However, the pedophilia connection card is only interesting when presented to QAnon followers.
Jason Rantz, Dori Monson, Dave Preston, Katie Daviscourt, Ari Hoffman, and Brandi Kruse would rather not talk about this incident. A hate crime against the gay community on Capitol Hill, a little more than three months before the Western Barricade and the Pink Umbrella Riot, in the same alley shared by the East Precinct, doesn't exactly play to their base.
Rantz is part of the LBGTQIA community while Monson was suspended for anti-trans social media activity. Kruse has quit the "mainstream media" so she can continue to dog out Governor Jay Inslee for "politicizing the COVID epidemic." Daviscourt's view on traditional marriage is well documented and you'd think Ari Hoffman would defend his LGBTQIA and BIPOC boss at the Post Millenial, but calling out one of their own for a hate crime doesn't play with the base.
Instead what we have is the glorious sound of silence. No questions on why Garcia was walking around a free man during this time? Local news coverage has been little more than regurgitating the Department of Justice press release. Not a whimper about a dangerous anti-police arsonist taken off the streets. That wasn't his intended target, it just "could have been," and now you're just manipulating the story. See how it works? Not the right-wing media ever plays the "could have been" card in their narrative.
The reality is fear sells and fear gets eyeballs and clicks. If the news plays to the primal emotions of a fear narrative, that your very way of life is threatened by an invisible yet perceived threat, then you can control an audience.
What does any of this have to do with Garcia wanting to burn down the East Precinct Queer Bar?
An example of the fear narrative is playing out right now. Jason Rantz got himself on Tucker Carlson after a 13-year old called 911 due to his father having a medical emergency. The apartment's address was wrongly flagged as being dangerous for Seattle Fire to enter, so they waited for the Seattle Police to arrive. SPD, always ready to let no crisis go unchecked, blames the vaccine mandate. The same mandate that had six officers go unvaccinated. Are we not going to mention the Seattle Police Department started hemorrhaging officers in 2019 under the careful guidance of union president Mike Solan?
Had the data on the address been correct there would have been no news story. Rantz's own story indicates 911 dispatched an aid car and not a medic unit, setting up emergency services for failure the second the call went out. Not that 911 made an error on the call, or that the 13-year-old in an impossible situation told dispatch his father was conscious and responsive. In the end, Seattle Fire entered the apartment without SPD, which is more aid than Lorenzo Anderson got on June 19, 2020 in CHOP.
An aid car was dispatched at 1:26 PM and medical personnel entered the apartment at 1:39 PM. In 2017, the national average response time for medics after a 911 call was eight minutes and the number was worsening across the United States.
According to the story by Rantz on MyNorthwest, "One medic explained that "had it been addressed early, his chance of survival would have been 60%."
No data has been released on the medical condition of the father due to HIPAA laws, however, if the father required CPR, the survival rate was nowhere near 60%. In an ideal hospital setting the survival rate is 32%, and outside of the hospital drops to 19%. Even when a patient reaches discharge post-CPR, many experience a lifetime of issues including cardiac damage and hypoxic injuries.
What about timely defibrillation? According to the American Journal of Emergency Medicine, the survival rate to discharge is 34%. The same report would put the man who died in "Group 3" in the study, right on the line of Group 2. The best survival outcomes are from zero to five minutes, which by the 911 records was an impossibility. While Rantz by proxy is trashing Seattle Fire and their response, the timeline data shows there wasn't much of a chance of a better outcome.
If the man needed defibrillation, his survival odds were statistically unchanged than CPR – if that is what the medical emergency was.
However, none of these facts, which could be confirmed talking to experts in emergency medicine to get an unbiased view, doesn't feed into the fear narrative of a city in crisis, a city that is run by anarchists and Marxists, and a city in flames. Rantz's "prediction" on September 6 of 200 or more unvaccinated officers getting walking papers didn't play out. Another key requirement of being in the right-wing media, never to admit you were wrong, shared bad information, or got played in your coverage. Just move the goalposts.
Yet when Capitol Hill was in flames in February of last year and the East Precinct was endangered by the actions of a hate crime, the right-wing went silent. When the Lumber Yard, a gay bar in White Center was targeted by arsonists, crickets once again.
Is the violent crime plaguing Seattle a unique liberal socialist-communist-Marxist-Antifa-homeless-drug-using-welfare-state problem? Data out of red Oklahoma, and red Tusla County, and red Tulsa says no. Tulsa was where Donald Trump launched his 2020 campaign in earnest on June 20, 2020, and it ended up costing Herman Cain his life. G.T. Bynum, the mayor of Tulsa? A Republican who served on the city council and has been running the city since 2016. Tulsa is on pace to set an all-time homicide record in 2021, after almost breaking the record in 2020.
I'm sorry, does that not fit the narrative that there are other issues causing a national spike in crime that began when Donald Trump was President? We are sorry to report, trying to burn 50 members of the LGBTQIA community and their supporters alive while toasting the Seattle Police and 100 apartment dwellers is not in alignment with the fear narrative of the week.
The Seattle Fire Department got bad information from 911 in the first place, dispatch sent the wrong fire crew, and they came through the door within national average (slow side, but average) time is the fear story of the day. Would this be a bad time to bring up Warren vs. District of Columbia, Supreme Court of the United States, 1991?
Instead, we have Jason Rantz politicizing Covid-19 on the same day that Brandi Kruse criticizes the politicization of Covid-19, and somehow this is all Jay Inslee's fault. Worst of all, they are using a 13-year-old child as a prop. Hey kid, dad might be alive if it wasn't for the socialist-communist-Marxist-Antifa-homeless-drug-using-welfare-state run by Jenny Durkan, Jay Inslee, Barack Obama, and George Soros.
Remember, the BIPOC, LGBTQIA, and religious minorities in the United States are not victims – white people are, and the scary dangerous evil awful blood drinkers are coming. Let me manipulate you with this story.