Russia-Ukraine War Update for June 29, 2022
Ukraine is blasted by Russian missile attacks and clings to Lysychansk in the eastern Donbas.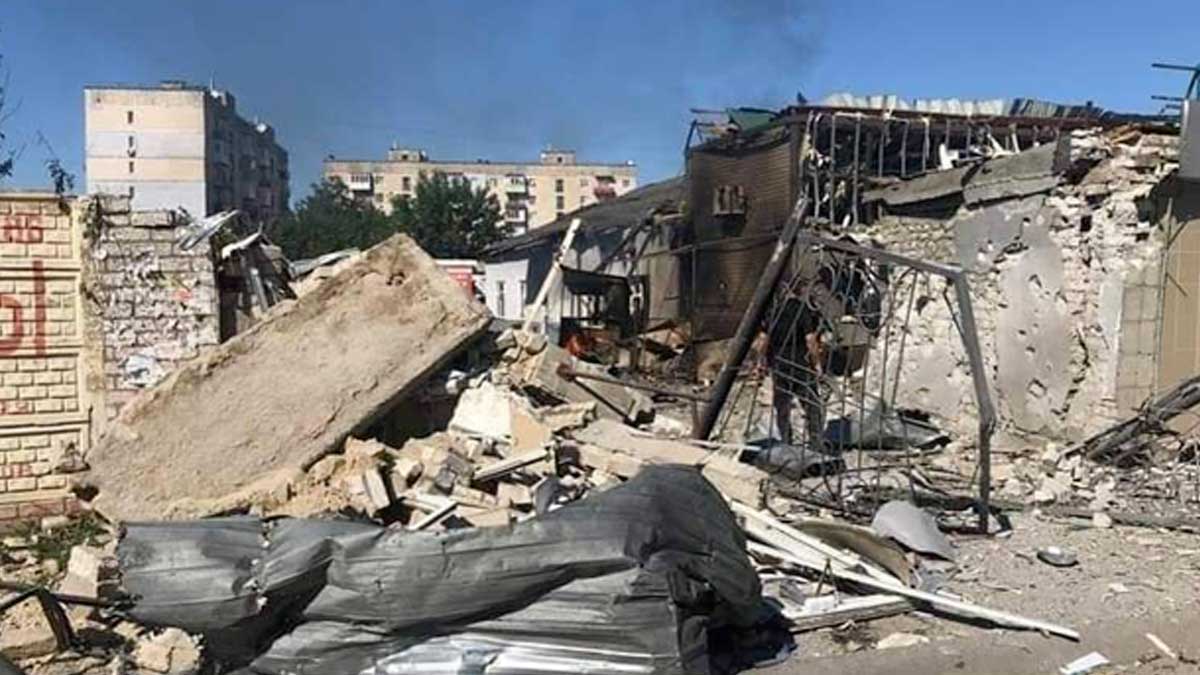 [KYIV, Ukraine] – MTN It has been 3,043 days since Russia occupied Crimea on February 27, 2014.
The situation in the Severodonetsk salient is deteriorating as Russian forces increase pressure on the Ukrainian Ground Lines of Communications (GLOC – aka supply line), including the Bakhmut-Lysychansk T-1302 Highway and the Siversk-Lysychansk route. The pattern of massive social media-driven disinformation campaigns from Pro-Russian accounts that occurred in Chernihiv, Mariupol, Sumy, and Severodonetsk is occurring again with the battle to control Lysychansk.
Severodonetsk-Lysychansk – Russian forces have pushed north from Bila Hora and have likely reached School Number 12 in the southeastern Lysychansk lowlands. Fighting continues at the rubber factory and the gelatin plant. Ukrainian forces have held the gelatin plant for five days.

Russian forces have secured Vovchyoyanka and reached the quarry at the northern tip of the settlement. Russian forces have advanced west from Vovchoyanka and are fighting at the southeast corner of the Verkhnokamyanka oil refinery but have not reached the T-1302 Highway GLOC.
There were reports, likely started by Igor Girkin, that Ukrainian forces had withdrawn entirely from Pryvillya and Russian forces had made a wet crossing at Kreminna. There is no information, videos, or pictures to support these claims. Given the continued Ukrainian resistance southwest, south, and southeast of Lysychansk, it is unlikely that a full-scale withdrawal has begun.
Russian forces crossed the T-1302 Highway west of Mykolaivka in an attempt to capture Spirne but were unsuccessful and pushed back to the original line of conflict.
Heavy shelling of the T-1302 Highway continued in Berestove and Bilohorivka [Donetsk].
Bakhmut – Russian forces attempted to advance on Klynove, east of Bakhmut but were unsuccessful. Russian forces shelled Bakhmut as well as Travneve.
In the Svitlodarsk bulge, Russian forces shelled Ukrainian positions in Novoluhansk and Travneve on June 28. Both settlements were previously coded as under Russian control. There is fighting for control of the power plant on the northern edge of the Vuhlehirske Reservoir.
South Donbas – Zaporizhia – In the south Donbas, Russian forces tried to recapture Pavilvka but were unsuccessful. Otherwise, there were only artillery exchanges and skirmishes.
Russian forces attempted to capture Dementiivka north of Kharkiv city again but were unsuccessful.
Izyum – On the Izyum axis, Russian forces attacked Dovhalivka and Zalyman again. This does not represent a new offensive and is an attempt to distract and redirect Ukrainian military assets, which are interdicting the Russian M-03 GLOC through Vesele [Kharkiv 49°23'16.6″N 37°11'52.8″E]. Russian forces made piecemeal attacks on Mazanivka and Dolyna in an attempt to advance on Slovyansk. The understaffed units suffered heavy losses and were unsuccessful.
Odesa – Black Sea- Ukrainian forces "shelled" Snake Island, reporting that several Russian military assets, including a radar station and a Pansir antiaircraft system, were destroyed.
Russia continued to launch Short-Range Ballistic Missiles (SRBM) and cruise missiles into Ukraine. Missile strikes hit Dnipro, Odesa, Mykolaiv, Kremenchuk, and Kharkiv.
In all other regions in Ukraine, there was no change in territorial control and only positional battles.
Patreons get access to the Malcontent News Russia-Ukraine War Situation Report. The report provides analysis, maps, detailed information about all the axes in Ukraine, international developments, information about war crimes and human rights, and economic news. Just $5 a month provides you with insights and verified information about the situation in Ukraine. As an added benefit, you get access to flash reports, breaking news, and our Discord server.