The Most Successful Russian Military Leaders are Demoted, Detained, Dismissed, or Deceased
Eight Russian military leaders led successful campaigns in Ukraine and it ended their careers.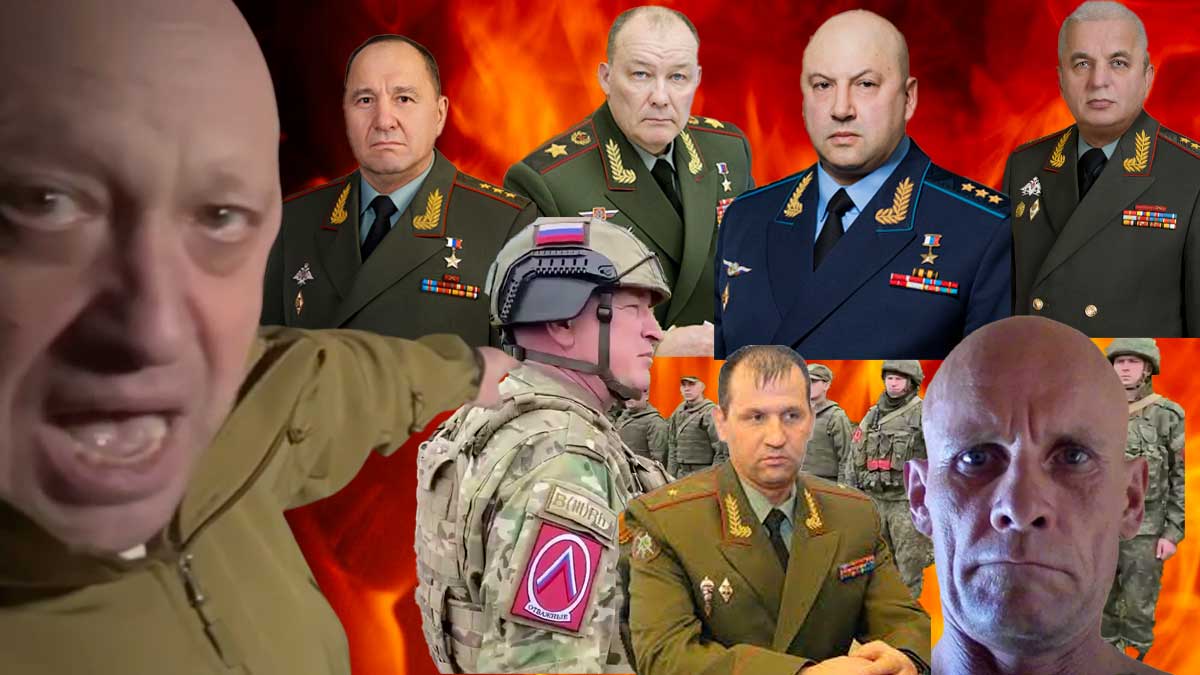 Since Russia expanded its war of aggression against Ukraine on February 24, 2022, The Russian Federation Armed Forces have only had a handful of operational successes turn into strategic victories. While Minister of Defense Sergei Shoigu and Chief-of-Staff Valery Gerasimov have maintained their stature in the Kremlin despite repeated failures, there is a common thread among the men who have been able to achieve victories. Without exception, they are either demoted, detained, dismissed, or deceased.
Colonel General Mikhail Mizintsev
Accomplishment: The Capture of Mariupol
General Mizintsev is known as the Butcher of Mariupol and is responsible for 25,000 to 100,000 civilian deaths caused during the 86-day siege of the city. He is accused of setting up the filtration camp structure and ordering attacks on mutually agreed green corridors. On September 24, 2022, the future looked bright for Mizintsev when he was reassigned to Deputy Minister of Defense and charged with overseeing logistics.

Within the Kremlin, Mizintsev was already known to be an ally of Private Military Company Wagner Group leader Yevgeny Prigozhin. In September, this wasn't viewed as a liability, but as tension between the Kremlin and Prigozhin reached a boiling point, there were signs that Shoigu was leading a quiet purge of Wagner allies. Mizintsev was dismissed by Russian President Vladimir Putin on April 27, 2023, with no official reason given. There was immediate speculation that Mizintsev had been leaking information to Prigozhin for months about how the Minister of Defense was actively interfering with ammunition and weapons shipment to PMC Wagner. Additionally, there were unsubstantiated claims that Mizintsev had used his position to increase the Shoigu-restricted allocation of munitions to Wagner mercenaries in Bakhmut.
A week after being dismissed, Mitzintsev joined Wagner Group's Council of Commanders and, on May 3, did a frontline inspection of supply, logistics, and Wagner mercenaries in Bakhmut. A day after his inspection, Mitzintsev reportedly briefed the Council of Commanders as the siege of Bakhmut entered its ninth month. Hours later, Prigozhin announced he was withdrawing from Bakhmut by May 10 due to a lack of ammunition and the failure of Russian military units to protect his flanks.
The status of Mizintsev is unclear. There were unsubstantiated claims that he was detained after the Prigozhin Insurrection of June 23 and has not been seen publicly since the failed revolt.
---
Lieutenant General Mikhal Zusko
Accomplishment: The capture of Kherson, the only large Ukrainian city captured intact
General Zusko led the 58th Combined Arms Army, which advanced from Crimea on February 24, 2022, and captured the city of Kherson on March 2 with the loss of less than 300 soldiers. The 58th CAA had assistance from Russian-aligned collaborators in Crimea and Kherson, who helped set conditions for the lightly contested advance. Shortly after capturing the critical Antonovskyy Bridge and occupying the city of Kherson, Zusko's forces continued to advance, reaching the outskirts of the city of Mykolaiv and passing the administrative border of Kherson-Dnipropetrovsk, where Ukrainian forces established an effective defense. Zusko was rumored to have been arrested on March 31, 2022, accused of dereliction of duty due to mounting losses. It wasn't verified until June 2022 that Zusko had been arrested for failing to capture Mykolaiv and was accused of providing Ukrainian military leaders with information on Russian positions due to his alleged use of unsecured communication channels.
---
General of the Army Alexander Dvornikov, Colonel General Gennady Zhidko, and Colonel General Alexander Lapin
Accomplishments: The capture of the Luhansk Oblast, including Severodonetsk and Lysychansk
The story of the three generals is intertwined due to their overlapping commands from April to October 2022.
The Kremlin ended its group command structure after Russia suffered strategic defeats at Kyiv, Chernihiv, and Kharkiv in late March 2022. On April 8, it named General Dvornikov the first theaterwide commander of Russian forces in Ukraine.
Reportedly, Dvornikov was ordered to capture the remainder of the Donbas – Luhansk and Donetsk Oblasts – by May 9. What the Kremlin got on May 8 was news of a disastrous wet crossing attempt at the Siverskyi Donets River near Bilohorivka. At least 500 Russian troops were killed, and over 80 military vehicles were lost, mostly due to artillery. On the same day, Russian troops supported by the Private Military Company Wagner Group captured Popasna. The crossing at Bilohorivka was supposed to create the second part of a pincer surrounding Ukrainian forces defending Severodonetsk.
With the pincers broken, Dvornikov started a brutal war of attrition on May 10, which led to the capture of the Luhansk Oblast at the expense of the 1st and 2nd Army Corps of Russia, Syrian volunteer groups and Chechen Akhmat forces, which were all combat destroyed by the beginning of July. Chechen Akhmat and the 2nd Army Corps of the so-called Luhansk People's Republic, now officially part of the Russian Ministry of Defense, never recovered.
Dvornikov fell out of public view in the third week of May, and between May 26 and June 22, Russian President Vladimir Putin dismissed him as theaterwide commander, ending his 44-year military career. Although the capture of the Luhansk Oblast didn't happen while he was the theaterwide commander, his tactics, which closely resembled World War II Russian Marshal Georgy Zhukov's, did.
General Zhidko was named the new theaterwide commander of Russian troops, but it is unclear when his command officially started and ended. The first proof that Zhidko was the new theaterwide commander was on June 22, when he appeared with Shoigu. Zhidko was reportedly dismissed on July 12, but the Kremlin didn't publicly name a new theaterwide commander until October 8. While he likely started theaterwide command around June 1, based on the official Kremlin announcements, Zhidko's tenure as commander of all Russian troops may have been as short as 17 days. There were reports that he was dismissed from command due to a sharp increase in health issues related to chronic alcoholism. Zhidko, age 57, died on August 16, 2023, after a "long illness."
Intertwined with Dvornikov and Zhidko was General Lapin. Lapin was the commander of the Central Military District of Russian Forces, serving as an area commander through April 8, 2022, before becoming a subordinate of Dvornikov, followed by Zhidko. On July 4, one day after Russia announced it had captured the Luhansk Oblast, Lapin was awarded the title of Hero of Russia by President Putin.
WBHG News analysts concluded in early June that Russia could capture the regions of Luhansk and Donetsk in the short term but lacked sufficient forces to hold territorial gains. As Russia's combat potential decreased due to the nature of attritional warfare and the June arrival of NATO-provided guided multiple launch rocket systems (GMLRS), better known as HIMARS, Dvornikov or Zhidko pulled reserve forces of the Central Military District from Kharkiv and Donetsk into Luhansk. By early August of 2022, the units under Lapin's command were exhausted, and near Izyum, equipment and ammunition shortages continued to worsen.
When Ukraine launched the Kharkiv Counteroffensive on September 5, Lapin was accused of abandoning his forces and incompetence by Chechen Colonel General Ramzan Kadyrov and PMC Wagner leader Yevgeny Prigozhin. On Telegram, Kadyrov wrote, "If I had my way, I would demote Lapin to a private, deprive him of his awards and, with a machine gun in his hands, send him to the front line to wash away his shame with blood." The Chechen warlord, who has never stepped foot in Ukraine, also accused Lapin of cowardice for commanding from the rear.
A divide within the Kremlin spilled out into public view. Some military leaders and analysts accused Kadyrov and Prigozhin of playing politics and positioning themselves to gain deeper control of the Ministry of Defense. Kadyrov and Prigozin leveraged Wagner Group's bot farms and faux news organizations, a network of Russian milbloggers, and their own social media channels to run an organized smear campaign against Lapin and to advocate for General of the Army Sergey Surovikin to be named the new theaterwide commander. Although Lapin was never the theaterwide commander, Zhidko's unclear status created a vacuum, contributing to Lapin receiving an oversized portion of the blame for the failures in Kharkiv, at Izyum, and the Russian retreat from Lyman.
On October 8, 2022, Surovikin was named the theaterwide commander, and on October 29, Lapin was dismissed by President Putin. The only commander to still have a career after his fall, the Gerasimov-connected Lapin was named the chief of staff of the Ground Forces of the Russian Federation on January 10, 2023.
---
General of the Army Sergey Surovikin
Accomplishments: Successful retrograde operation from western Kherson, building the defensive structures in occupied Crimea, Kherson, Zaporzhzhia, and southern Donetsk, instilling basic discipline into Russian troops
On the same day General Surovikin was named the commander of all Russian forces in Ukraine, the Security Service of Ukraine (SBU) blew up the Kerch (also known as the Crimean) Bridge. Two days later, Ukraine requested a total communications blackout in Kherson, and the second phase of the Kherson Counteroffensive started 48 hours later.
During his ascent, Surovikin negotiated to execute three campaigns: first, the withdrawal of Russian forces west of the Dnipro River in Kherson; second, executing the same air campaign he ran in 2017 against Syrian civilians, targeting Ukraine's energy infrastructure; and third, taking the forces that withdraw from Kherson and achieving a strategic victory on another axis by December 31. In the public information space, state media started setting conditions with the Russian people to accept a withdrawal from Kherson as both a goodwill gesture and a move to more strategically advantageous positions.
On October 10, the first widescale Russian missile attack against Ukraine's energy infrastructure was launched. Between November 8 and 11, Surovikin executed a masterful retrograde operation from Kherson, preserving up to 25,000 Russian troops and their equipment, slipping across the Dnipro River and suffering less than 500 casualties.
The biggest legacy of Surovikin's command was ending the Kremlin policy of sending mobiks with no training to the frontline and instilling military discipline among the Russian troops in Ukraine. This was accomplished by brutally enforcing existing military rules and protocols and creating busy work. Thousands of mobiks were involved in constructing the Surovikin Line, a network of defenses with up to three echelons 35 kilometers deep across occupied Crimea, Kherson, Zaporizhzhia, and southwestern Donetsk. The static defenses have stymied Ukraine's summer offensive, forcing Kyiv to change tactics twice since June 4 to overcome the Russian network of minefields, antitank traps, trenches, tunnels, and bunkers.
Surovikin also tried to end sending untrained and ill-equipped Russian troops to the frontlines. The quality of Russian forces had improved significantly, as have their tactics, but since August, there appears to be a return of sending poorly trained, mobilized soldiers into battle.
During his tenure as commander of all Russian forces in Ukraine, Surovikin kept his "day job" as commander of the Russian Aerospace Forces (VKS), which included air defense. On December 5, 2022, the Engel-2 and Dyagilevo military airfields deep within Russia were attacked by Ukraine. Two Tu-95 strategic bombers and one Tu-22M3 bomber were damaged, and up to six Russian servicemembers were killed. On December 26, Engels-2 was attacked for a second time. During this period, the relationship between the Kremlin and Prigozhin had become toxic, and Russian troops had been in retreat for months except at Bakhmut, where daily advances were measured in the 10s of meters. It had become clear there would be no major victory for Russia for New Year's celebrations.
On January 11, 2023, Surovikin was relieved of command and named a Deputy of Russian Chief of Staff Valery Gerasimov. The next day, PMC Wagner claimed they had captured Soledar, with the Russian Ministry of Defense not crediting the Wagnerites in their daily morning report.
Surovikin's alignment with PMC Wagner was well known, and the relationship between the Kremlin and Prigozhin was already souring in October 2022. In May 2023, when Priogzhin threatened to leave Bakhmut by May 10, there were accusations that Surovikin was warning Wagner's leader that the Kremlin was actively working to dismantle his company.
During the failed Prigozhin Insurrection on June 23, 2023, Surovikin made a video appeal to Prigozhin to stop his actions while holding a submachine gun on his knee. Shortly after, Surovikin was arrested, reportedly briefly held at Lefotovo Prison, before being transferred to an apartment where he remains under house arrest. On August 22, 2023, he was officially dismissed as the commander of the Russian VKS, and his future is unclear.
---
PMC Wagner Group Leaders Yevgeny Prigozhin and Dmytry Utkin
Accomplishments: The capture of Popasna, Soledar, and Bakhmut and proved Russian penal units could be useful in battle
Private Military Company Wagner Group was asked to support the expansion of Russia's war of aggression against Ukraine in March 2022, and up to 1,000 mercenaries arrived on March 19. Wagner Group's first action was in the Hirske-Zolote region and took a leading role in the capture of Popasna. That Russian advance ultimately severed the T-513 Highway between Lysychansk and Bakhmut in early June 2022, strangling Ukrainian logistics.
Also in May, Wagner's mercenaries joined the Russian forces advancing in the direction of Bakhmut and Soledar from the Svitlodarsk Bulge. In early June, Prigozhin convinced Russian President Vladimir Putin to allow him to create a battalion of penal soldiers assigned to PMC Wagner. One thousand convicts were recruited from Russian prisons and deployed east of Bakhmut in late June. The initial group suffered catastrophic losses of up to 90% killed and wounded, but the Kremlin believed the program was successful. Project K was born, and Prigozhin was given open access to Russia's 335,000-plus prisoners. From July to December 2022, 49,000 criminals were recruited into the ranks of PMC Wagner. Recruiting of penal mercenaries peaked in October, but the numbers dropped sharply in November as word spread through the prison population of poor training, heavy losses, and penal units used for human wave attacks. In June 2023, the Council of Commanders reported that from March 2022 to May 2023, Wagner's casualty rates were 82.5%.
While the September 2022 information war against General Lapin led by Prigozhin and Kadyrov was successful, politically, it was costly. The crumbs of goodwill between Prigozhin and Shoigu blew away like dust in the wind. Prigozhin was furious after the Russian Ministry of Defense snubbed Wagner Group in January 2023 and did not credit his mercenaries for the capture of Soledar. Hours later, the Kremlin released a clarifying statement, acknowledging that the ground fighting was accomplished by PMC Wagner and not just "volunteers."
The political fallout was swift, and it became clear that President Putin was pulling away from his former caterer turned warlord. Shoigu effectively ended Project K, blocking PMC Wagner from further recruitment at Russian penal colonies. Wagner Group was already facing a recruiting crisis among its regular ranks because the pool they would normally recruit from – Russian soldiers – were dying at an alarming rate, didn't want to return to Ukraine, and were facing stop-loss orders from the Kremlin, which was extending their service contracts. Days later, Shoigu created his own penal unit PMC called Storm-Z.
In February 2023, Prigozhin infamously threatened to leave Bakhmut, releasing a video with dozens of dead Wagnerites in the background, claiming their deaths were caused by the Russian Ministry of Defense withholding ammunition. Reactions in the Russian information space were mixed, with some Russian commanders claiming that Wagner was not being singled out for special treatment, stating that ammunition shortages were an issue theaterwide. Others criticized Prigozhin, asserting that PMC Wagner had been given preferential treatment at the expense of other axes and that the successes in Bakhmut were not due to superior training and tactics but an excess of ammunition that had been normalized. Others defended the mercenary leader, pointing out that the Wagnerites were the only force achieving operational success in Ukraine.
Prigozhin and Kadyrov hinted that the Chechen military leader provided some ammunition to Wagner Group in mid-February. In late February, the stalemate appeared to break when a lull in Russian artillery fire missions in the Bakhmut and Soledar areas of operation ended.
On May 5, Prigozhin made another video again standing in front of dozens of corpses, claiming they were Wagner mercenaries unnecessarily killed. He infamously growled, "Shoigu! Gerasimov! Where's the fucking ammo," claiming the Kremlin had cut off his ammunition supplies and that elite Russian forces who were supposed to defend his flanks in Bakhmut were doing nothing. Prigozhin declared that if he didn't get sufficient ammunition within 48 hours and Russian forces defending his flanks didn't rejoin the battle, he would withdraw his forces.
WBHG News analysts noted that the April deal between the Russian Ministry of Defense and PMC Wagner, which transferred the defense of the flanks to Russian units while Wagnerites continued fighting within Bakhmut, was meant to destroy Wagner. The Kremlin only tasked Russian forces to hold the existing defense lines and focused on using artillery to protect themselves as Wagner mercenaries fought house-to-house in bloody attritional warfare. Moscow was repeating its policy of using indigenous and proxy forces to fight in the most difficult areas while preserving their own units, and Prigozhin could not or refused to see the true nature of the agreement.
It is also important to note that unlike in February 2023, when there was a noticeable decrease in Russian artillery fire, there was no such decrease in May. Prigozhin wasn't facing an ammunition shortage. He was facing a staffing crisis caused by an appalling casualty rate and his inability to recruit new penal mercenaries.
The mercenaries that joined the ranks of Wagner Group in October and November who weren't dead or badly wounded were reaching the end of their six-month contracts. While some analysts believed that Prigozhin would arbitrarily extend their contracts beyond six months, the team at WBHG News accurately predicted that would not happen. Prigozhin was a former convict who deeply believed convicted criminals could create a new life after prison. Prigozhin understood that if he didn't honor his contracts with the penal mercenaries he always called "his boys," he would break one of the foundations of the unwritten Russian convict code.
After Prigozhin's May 5 video, General Kadyrov, who days earlier had called Prigozhin "his good friend" and said that the pair had planned surprises for Ukraine, lashed out at his former partner and questioned his loyalty to Russia. Two days later, while taking another swipe at Prigozhin and his "ego," Kadyrov claimed that the pair had agreed for Chechen Akhmat to take over the offensive in Bakhmut. In a video posted on his Telegram channel, Kadyrov showed his letter to the Kremlin sent on May 7, which Moscow rejected.
On May 8, Prigozhin announced that the Russian Ministry of Defense told him that if his forces left on May 10, he and his mercenaries would be arrested for treason. Trapped militarily, legally, and politically, he announced the Wagnerites would stay until Bakhmut was captured. At the time of his capitulation, Wagner Group controlled 93% to 95% of the city. On May 20, Prigozhin announced the mission was accomplished, even if the victory claim was dubious. There has never been a picture of Russian troops in the Litak region of Bakhmut, the last Ukrainian stronghold in the southwest corner, and very few pictures and videos from Russian state media, troops, or Wagnerites west of the railroad tracks that split the city.
On June 1, Wagner started its withdrawal, and on June 10, the city was handed over to Russian forces. The Kremlin announced that all Private Military Companies would no longer be commanded independently and would have to sign contracts with the Ministry of Defense by June 20, accepting to be under the command of the Russian Federation Armed Forces effective July 1. Up to two dozen PMCs fighting on behalf of Russia had been created since the start of 2023, and the mandate also impacted General Kadyrov. Kadyrov made a clean break from Prigozhin politically, throwing his loyalty back to Shoigu as he announced he was the first leader to sign a transfer of control with the Kremlin.
Prigozhin refused, and as the June 20 deadline passed, it was clear that a clash between PMC Wagner and the Kremlin was inevitable. Late on June 21, he released a rambling video accusing the Kremlin of lying about attacks on civilians in the Donbas, claiming the war against Ukraine was escalated so that oligarchs had more access to natural resources and that the entire invasion of Ukraine was based on a lie. If Prigozhin was the leader of a nation, his words were tantamount to the breaking of diplomatic relations and a prelude to a declaration of war.
On June 22, Prigozhin made a dubious claim that his camps in occupied Luhansk were attacked by Russian missiles, causing over a thousand casualties. A video released as proof across multiple Wagner Telegram channels did not support his claim. Twelve hours later, Prigozhin and Wagner founder Dmitry Utkin led an insurrection specifically targeting Shoigu and Gerasimov while pledging their loyalty to President Putin.
Wagner mercenaries took control of Rostov-on-Don and surrounded the Southern Military District headquarters, barely firing a shot. Utkin led a brigade of Wagnerites in a convoy that advanced 670 kilometers in 12 hours toward Moscow. The so-called "March for Freedom" ended as quickly as it started, with Prigozhin asking his followers to stand down on June 24.
In the end, 15 to 22 Russian soldiers died, and seven helicopters and an Il-22M command and control plane were shot down. Part of a refinery was in flames, one highway bridge was destroyed, and at least three civilians were killed on June 24 when the Russian VKS started to bomb highways indiscriminately.
President Putin was invisible through the insurrection, but after it ended, he called the attempted rebellion treason and promised swift justice. Just 48 hours later, it was announced that Prigozhin would not face criminal charges, and two days later, Belarusian dictator Alexander Lukashenko announced he had created a peace deal between himself, Prigozhin, and Putin. PMC Wagner would relocate to Belarus, where Prigozhin would live in exile. WBHG News analysts never believed this was a firm deal and warned that previous history shows that anyone disloyal to Putin had ended up imprisoned, dead, or hiding after surviving an assassination attempt. Even among Putin's former closest allies, there had never been an exception to this, and in 2018, Putin told a reporter that "betrayal" was unforgivable.
In early July, a camp to accommodate up to 8,500 Wagner mercenaries was built in Tsel, Belarus, and on July 15, Prigozhin posted a selfie showing himself in his underwear at the Belarus encampment. On July 19, PMC Wagner released a video showing Prigozhin and Utkin addressing a group of Wagnerites about the organization's future, with the media-shy Utkin declaring in English, "Welcome to Hell!"
But just under the surface, the claims that 25,000 Wagner mercenaries would occupy Belarus to supplement Lukashenko's army were questionable, and by mid-August, it was clear that if there ever was a three-way deal, it was over. All recruiting was suspended on July 30, with Prigozhin claiming they had "plenty" of mercenaries in their ranks. Wagnerites that had arrived two weeks earlier were leaving Belarus due to deployments in Libya, recruitment efforts by other PMCs, or a lack of pay as Wagner's finances fell apart.
Prigozhin also stunned analysts and his detractors when he appeared in St. Petersburg, Russia, on July 28 at the periphery of the Russia-Africa Summit. The sting of the non-response from the Kremlin over the dead Russian airman was barely a month old, and some publicly wondered how Prigozhin, who was supposedly exiled, could be walking around in St. Petersburg as a free man.
On August 23, just hours after General Surovikin was formerly dismissed as the commander of the Russian VKS, Prigozhin's Embraer Legacy 600 private jet was either shot down or destroyed by an explosive device over the Tver region of Russia while it was en route from Moscow to St. Petersburg. It is reported that Prigozhin, who carefully guarded his travel plans, decided at the last minute not to swap to the second private jet operated by PMC Wagner, an Embraer Legacy 650, that was also bound for St. Petersburg.
Ten people were killed, including the pilot, co-pilot, and a flight attendant operating on a one-day contract because she needed to travel to St. Petersburg. Among the seven members of PMC Wagner that were killed,
Yevgeny Prigozhin – figurehead and leader focusing on media, social media, psychological operations, and commercial catering
Dmitry Utkin – creator of the name "Wagner," known white nationalist, and the military leader of PMC Wagner
Valery Chekalov – Head of logistics operating under the title of "business advisor"
None of the dead have been officially identified, but President Putin referred to Prigozhin in the past tense in a formal statement, as did Kadyrov. The Wagner Group's Council of Commanders declared they would not make a formal statement until after the Kremlin provided its official reason for the downing of the airplane.
Of the eight Russian military and mercenary leaders who achieved key objectives since February 24, 2022, three are dead, two are held in custody, one is missing, one was dismissed, and one, General Lapin, was reassigned. Putin's protection of Shoigu and Gerasimov is unwavering despite their unwavering loyalty, despite the documented corruption and repeated mistakes. For any other Russian or Russian-aligned senior military leader who finds success on the battlefield in Ukraine, it comes with the occupational hazard of falling out of favor or, worse, from the sky.