A Russian Disinformation Empire in Oak Harbor, Washington
Donbass Devushka claims she's from Luhansk, Ukraine. In reality she's a Navy vet born in New Jersey.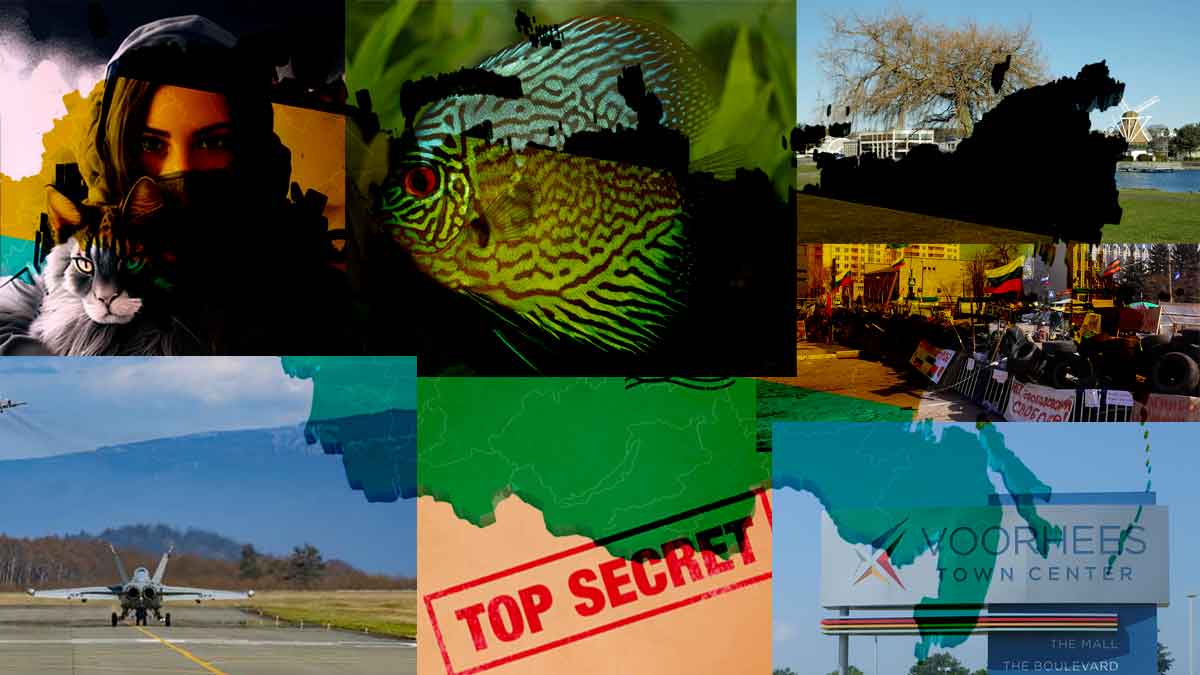 Updated April 16, 2023 – Sarah Bils Naval NOS and rank were verified.
Updated April 17, 2023 – NAFO involvement in this investigation was clarified. Story has been lightly edited for clarity.
In late 2021, a nascent social media influencer based in Oak Harbor, Washington, embarked on a clandestine career spreading Russian propaganda. Starting on Twitter under the moniker Donbass Devushka, they would eventually expand to Telegram, a podcast, and a YouTube channel. Donbass Devushka gained a much larger following after the full-scale invasion of Ukraine on February 24, 2022. The person behind the social media account made incongruous claims. They were born in Russia. They were born in the Ukrainian city of Luhansk during the Soviet era. They were born in Gaza. They immigrated to the United States at a very young age. None of it was true.

Things started to unravel for Donbass Devushka when reputable members of the pro-Ukrainian online movement "NAFO" collaborated with reporters from Malcontent News. Our investigation into Donbass Devushka included analyzing open-source material, conducting interviews with multiple sources, and obtaining public records. We confirmed the true identity of the mysterious woman born in three places: former United States Navy Legal Clerk Sarah Bils. She was recently released from active duty.
Bils was born not in Russia, Ukraine, Gaza; less exotically, she was born in the United States. Nor were her parents abroad; they grew up in South Philadelphia. Bils now lives in Oak Harbor, Washington, in the shadow of Naval Air Station Whidbey Island where she once served. According to public court records, she legally changed her name to the more Russian-sounding "Lyudmila Mikhailova Karakova" on March 31. Bils could not be reached for comment at the time of publication.
A Make-Believe Past and Present Masks a Strange yet Mundane Reality
A March 2011 marriage license shows that Bils was born in Voorhees, New Jersey, a world away from the Soviet Union. In a phone conversation, Bils's mother denied any knowledge of her daughter's online activity and was unaware of her recent name change. Her parents also refuted they were from Russia, or that Bils had any national connection to the former Soviet Union, the Russian Federation, Ukraine, or the so-called Luhansk or Donetsk People's Republics.
Bils enlisted with the United States Navy in November 2009, according to the Department of Defense's Manpower Data Center (DoDMDC). In November 2022, her active duty status with the Navy ended, but the DoDMDC did not list a discharge date. An archive of her LinkedIn page listed her Navy Occupational Specialty (NOS) as Legal Clerk, but did not provide her specialist code or additional details.
Update – A reader shared documentation that shows in Fiscal Year 2021, Bils was promoted to the rank of Chief Petty Officer with a NOS of ATC – Chief Aviation Electronics Technician. We have been advised this role would still require a security clearance.
Bils's social media persona claimed that in 2014, she traveled between the Russian city of Rostov-on-Don and the Ukrainian city of Luhansk "while Kyiv dropped shells and sponsored Nazi marauders." Bils was certainly in a conflict zone, but it wasn't in the Donbas. Instead, it was in an Oak Harbor courtroom where she was embroiled in a domestic court case with her husband of three years.
While serving with the Navy on Whidbey Island, Bils ran Cascadia Aquatics, selling tropical fish and specialized food imported from Poland. By 2018, within the tight-knit community of freshwater tropical fish enthusiasts, Bils's had cultivated a reputation for being knowledgeable and trustworthy. COVID isolation and her prior interviews for Cascadia Aquatics would allow Malcontent News, years later, to expose her other side hustle: a Russian propagandist targeting a Western audience.
As a Legal Clerk, Bils would have been required to hold a security clearance and was obligated to report foreign contacts, including online friendships through social media and even her business contacts in Poland for the specialized fish food. It is unclear if she made the proper security disclosures to her chain of command.
In June 2020, she appeared on a since-deleted episode of the Aquarium co-op Podcast. Recorded over Zoom, the video showed her face, voice, and accessories in her home. Open-source intelligence shared on Twitter would zero in on all three of these details. The accessories in her former home match the home décor to her current apartment. Bils's face and voice match the face and voice of her alter ego. These three details outed Bils as the person behind a spreading and influential social media footprint.
On the morning of September 14, 2021, the Washington State Patrol reported that an Audi SQ5 driven by Bils at a high rate of speed rear-ended a Ford Econoline van as it attempted to turn onto Highway 20 in the sleepy town of Coupeville. Bils and the male driver of the van were injured and taken to the hospital.
In a Twitter Space with No Experts on Ukraine, a participant alleged that a former Navy co-worker claimed Bils was dismissed due to a drunk driving incident related to the 2021 crash. In a phone conversation, her mother denied that Bils faced drunk driving charges. A review of court records did not show a previous criminal case in Island County Superior Court for Bils under any of her current or previous names. Her mother added that Bils had suffered significant injuries, and she traveled to Washington to assist her while recovering.
Bils claims she was "kicked out" of the military due to her "leftist views." Former associates expressed concern about Bils' mental health and described her as a habitual liar. In talking with her mother, she indicated that her daughter frequently made up stories and that she was somewhat disconnected from Bils.
After the car accident, Bils started to express anti-American views more publicly, embracing a pro-Russian persona and claiming to be from the Donbas region of Eastern Ukraine. She presented herself as an expert on geopolitics and history, maintaining a profile on ResearchGate. Although the website is used for tracking academic publications, no publications to her name are listed. Bils' profile, still active on publication, displays her photo, and claims she attends Arizona State University's School of Politics and Global Studies. Her social media persona claims to hold two additional degrees, with her archived LinkedIn profile listing one degree earned while with the Navy. However, she was never promoted to the officer corps.
From Fish Food and the Navy to a Western-Facing Russian Propagandist
When Russia expanded its 2014 invasion on February 24, 2022, Bils created multiple personas on Twitter and, starting in April, added Telegram. By the summer of 2022, despite only having an audience in the tens of thousands, she started hosting a podcast that included Jackson Hinkle, Scott Ritter, Garland Nixon, and Russian state media journalist Fiorella Isabel as guests. Some of the interviews occurred while she was still on active duty with the Navy and would have required a foreign contact disclosure.
She cycled through several social media accounts on Twitter, which were reported and suspended for community guideline violations, before repurposing PeImeniPusha, created in July 2012. In a year, her small following grew into a small disinformation empire on Twitter and Telegram under her brand of Donbass Devushka: "a girl and a cat against the world."
Her Telegram channel shares more graphic and offensive content, including memes, doctored and misattributed images, and ultra-violence. Posts include celebrating the killing of a retired United States Marine who went to Ukraine as a foreign volunteer, graphic videos of dead Ukrainians, and defending a video that showed a Ukrainian POW decapitated by Russian mercenaries with the Private Military Company Wagner Group.
The activity across these accounts and access to people like Jackson Hinkle, Scott Ritter, and Russian state media journalists indicates that Bils is part of a larger and coordinated organization targeting a Western audience with Russian disinformation, antisemitism, and racism. It is highly unlikely that one person could conduct all of this work independently.
A co-host on her podcast is the person behind the former social media channel, AZ Geopolitics. On April 13, they deleted their Telegram and Twitter accounts, claiming their Telegram was being mass reported. On the same day, Bils announced that going forward, AZ Geopolitics would align with her personal brand.
In a tangle of posts, videos, and graphics, Bils has claimed that English is either her first, second, or third language. She has claimed she was born and raised in Russia, eastern Ukraine, and was an immigrant to the United States during her childhood. With social media users alleging she has misappropriated solicited donations to help support Russian causes for her own use, she insisted on April 15 she never made any financial requests and disclosed what little money was collected was for herself and her work. Yet numerous posts across her social media profiles show requests to transfer money to her through cryptocurrency, CashApp, and Buy Me a Coffee so that she can donate the funds to support Russia. We cannot confirm any allegations of financial misconduct on the part of Bils nor if any money was transferred to Russia.
For now, her supporters are standing by her.
A Leak of Pentagon Documents, Doctored Photos, and Frozen Fish Stick Heir Tucker Carlson
As early as January 2023, the U.S. government alleges that hundreds of secret and top secret documents were shared by Airman First Class Jack Teixeria of the Massachusetts National Guard on his Discord server, Thug Shaker Central. Teixeria, who federal officials arrested on April 13, appears to have shared the documents to chase Internet clout, despite knowing up to a dozen members of his private server were foreign nationals – including from Ukraine, Brazil, and Russia. It is unclear which individual or individuals leaked the information from Thug Shaker Central to a broader audience, and at least two people who are among his inner circle are cooperating with federal authorities.
An investigation by Bellingcat traced the spread of the documents from Teixeria's Discord to 4Chan, Telegram, and Twitter. Dueling versions of key documents were circulating, with one showing Russian losses far exceeded Ukrainian losses, and the other, poorly edited version showing the opposite. Bellingcat alleges the doctored versions originated on the Donbass Devushka Telegram channel on April 5, a claim Bils denies.
On April 13, Tucker Carlson, the host of the Fox News show, "Tucker Carlson Tonight," claimed that Ukraine was suffering a 7-1 troop loss ratio and was "losing the war." The doctored versions showing the 7-1 troop loss ratios for Ukraine were also amplified by other high-profile, anti-American propagandists such as Joe Flynn and Democratic Presidential candidate Robert F. Kennedy Jr., who was recruited by Steven Bannon to run as a spoiler in the upcoming 2024 election.
Bils's channel has also been endorsed by Russian milblogger Rybar. The leaders of Rybar are two former Kremlin information officers with an operating budget of over $20,000 per month. Rybar runs a social media empire documenting and praising Russian military activity around the world, including the Middle East and Africa.
In a series of Tweets and two long posts on Telegram, Bils confirmed some of the details of her past. She also claimed that an admin of her Telegram channel shared the top secret documents. She added that the images had been removed once discovered by her, and the person who posted them was "disciplined." However, on April 14, images of the documents, and a denial that she had edited them, were still on her Telegram channel.
Ironically, if the intent was to damage Ukrainian and United States credibility by editing the materials distributed by Teixeria, it created deep mistrust in the integrity of all the documents among the Russian milblogger community and the Kremlin. Publicly, the Kremlin has mostly dismissed the documentation as a psychological operation.
A Cloudy Future
It is unclear if any laws were broken by sharing the secret and top secret documents on the Donbass Devushka Telegram channel. If Bils was fully discharged from the Navy when they were posted, it is highly unlikely she would be subject to the UCMJ. Even if she never made appropriate disclosures to her foreign contacts while serving with the Navy, even the casual fish food business contacts back to 2018, typically, the punishment would be the loss of security clearance.
Experts we talked to said that if federal agencies investigate Bils, they will likely look at when the documents were acquired, her role in the distribution, and her broader connections in the anti-American and pro-Russian information space. There is no evidence of any direct links to Teixeria.
In Washington, D.C., a bi-partisan chorus of American politicians is asking how the lower ranks of the United States military can be so compromised after the revelation that an Air National Guard E3 had such easy access to sensitive information. In comparison, Bils's anti-American and pro-Russian work was out in the open while she continued to serve in the Navy and likely held a security clearance. The American justice system has determined that a military uniform does not negate Constitutional protections for Americans, but at least one legal expert we talked to who examined her content suggested that Bils may have legal exposure.
It is ironic that if Bils, now going by her new, more Russian-sounding name, had taken the same actions in the Russian Federation with Russian military plans, she would be charged under the so-called "don't say war laws," and would be facing criminal charges for discrediting the Russian Armed Forces. The sentence for this crime is up to 15 years in a Russian penal colony. The very freedoms she claims are part of a global conspiracy to take away freedom enables her to maintain her public illusion of just a girl and a cat fighting for her life in the Donbas.
Meanwhile, detached from Voorhees, New Jersey, or Oak Harbor, Washington, the Ukrainian people continue to fight for their existence, while the damage caused by the leaked Pentagon information remains unknown.