FBI Interviews Sarah Bils, the Donbass Devushka, as the DOJ and NCIS Probes Her Past
The DOJ and NCIS confirm that Bils is under multiple investigations, as details of a trouble past come to light.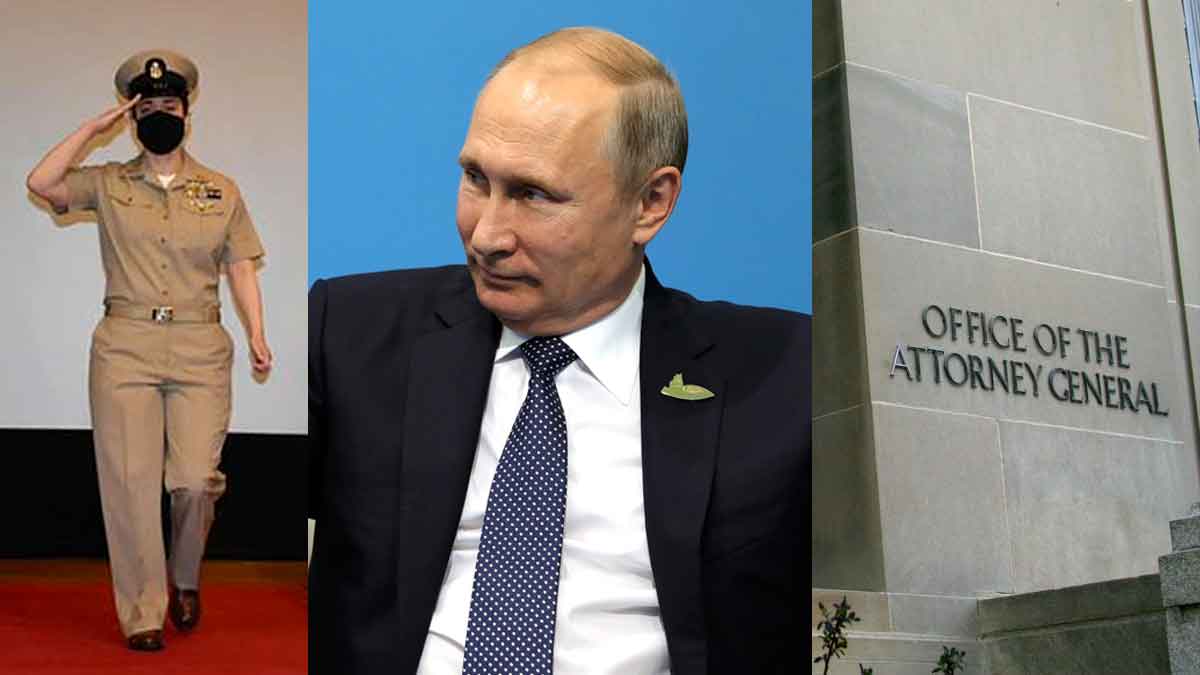 [Oak Harbor, Wash.] – WBHG/MTN – Former United States Navy Chief Petty Officer Sarah Bils, better known as the Russian propagandist Donbass Devushka, was interviewed by FBI agents at her Oak Harbor, Washington home on Sunday, according to a report by Newsmax, and is also under investigation by the Naval Criminal Investigative Service (NCIS).
An open-source intelligence investigation spearheaded by NAFO, a loosely affiliated group of pro-Ukrainian social media users who are united in their fight against Russian disinformation, identified Bils as the person behind a Twitter and Telegram disinformation empire that started in 2014 while she was in the U.S. Navy, and exploded after Russia expanded its war of aggression against Ukraine on February 24, 2022. Malcontent News was the first to report on Ms. Bils's alter ego and was able to verify the self-declared "Russian Jew" Donbas maiden was actually born in Voorhees, New Jersey, according to her 2011 marriage license.
On Monday, Bils told the Wall Street Journal, after an exclusive interview with the newspaper on Saturday, that she was "forthright and honest with the FBI and NCIS in regards to what my clearances were and what I had access to, which was literally nothing." The FBI interviewed her on Sunday.

In early April, investigators with Bellingcat determined the Donbass Devushka Telegram channel was the first to publicly leak edited secret and top secret documents from the Pentagon allegedly distributed by U.S. Air National Guardsman Jack Teixeria on a private Discord server called Thug Shaker Central. Teixeria, who has no connection to Bils, was arrested without incident by federal officials on April 13.
On Monday, an unnamed source with the U.S. Department of Justice said that "she is actively under federal investigation, but the circumstances of the content of the investigation is unclear at this time."
Deputy Pentagon Press Secretary Sabrina Singh was peppered with questions about Bils during a Monday press briefing. When asked if the Department of Defense was aware that the former Navy chief petty officer had been posting Russian propaganda since 2014 and if she had been under investigation prior to the revelation of the document leak, Ms. Singh replied, "Because this investigation is ongoing, I would refer you to the DOJ for that."
Ms. Singh did confirm that Bils had not been under investigation by the U.S. Navy "while she was in uniform," adding, "as far as I am aware," and referencing additional questions to the Department of the Navy. On Tuesday, an NCIS spokesperson told the South Whidbey Record that the NCIS "is continuing to work jointly on an investigation of her activities with the Department of Justice."
On April 5, four poorly edited top secret Pentagon documents were posted on her Telegram channel, with Bils claiming that she was not responsible for the post, that it was done by another admin who was "disciplined," and the documents removed. However, on April 14, the documents, which have since been deleted, were still available contrary to her claims during her Wall Street Journal interview.
Over the last two days, a clearer picture of Bils's life has started to form. At the end of 2020, she was promoted to E7, chief petty officer, which is a senior non-commissioned officer rank. But just under the surface, her life was falling apart. She was already involved in a bitter divorce battle over custody of her daughter, and in court papers reviewed by the South Whidbey Record, Bils declared she was suffering from depression, post-traumatic stress disorder (PTSD), and a "substance abuse disorder."
In 2021, court papers show the U.S. Navy sent Bils to a substance abuse treatment program in Utah. In September 2021, she was in a serious car accident where she rear-ended another vehicle while traveling at a high rate of speed. Drugs and alcohol were not a factor in the daytime crash, and Bils was cited by the Washington State Patrol for speeding. According to her mother, the Donbass Devushka was seriously injured in the crash, and she traveled to Washington to help her daughter recover.
Two days after the accident, Bils posted on Twitter that she totaled her car and lost custody of her child. She was honorably discharged from the Navy on November 27, 2022, with a demotion to E5, petty officer second class. In the U.S. Navy, a petty officer is a non-commissioned officer and would be equal to a sergeant in the Army, Air Force, Marines, and Space Force.
Bils had previously filed for divorce in 2014 and requested a temporary restraining order, which was delivered to her husband by the Island County Sheriff on June 13, 2014. The 14-day temporary order was not extended by the court. In 2016, Bils withdrew her petition for divorce.
Since she left the Navy, Bils has made various claims on why she was discharged, including telling the Wall Street Journal that she was suffering from PTSD, writing on social media it was due to her "leftist views," and, in another Twitter thread, claimed she stopped showing up for duty. In a series of Tweets on Monday, which are currently protected from public view, Bils, or one of up to 15 people that she claims helps run her social media empire, posted a Tweetstorm defending her actions, declaring that no laws had been violated, while calling out numerous news agencies for sharing and analyzing the top secret documents released by Teixeria. At the time of publication, the Donbass Devushka Telegram channel remained active, posting dozens of times a day.
The investigation by the FBI and NCIS comes at a time when the U.S. government appears to be cracking down on Russian influence in American politics. In a separate case, the DOJ announced on Tuesday that four U.S. citizens and three Russian nationals have been charged with "conspiring to covertly sow discord in U.S. society, spread Russian propaganda, and interfere illegally in U.S. elections." A federal grand jury alleges that Russian Federal Security Service (FSB) agents recruited, funded, and discredited U.S. political groups to act as unregistered Moscow agents. Omali Yeshitela, Penny Joanne Hess, Jesse Nevel, and Augustus Romain Jr. of St. Petersburg, Florida, have been charged with violating the 1938 Foreign Agents Registration Act (FARA), and each faces up to five years in prison.
Moscow resident Aleksandr Viktorovich Ionov was one of the three Russians charged with a FARA violation. He's accused of using foreign influence to "create the appearance of American popular support for Russia's annexation of territories in Ukraine."
Malcontent News's research for our initial report on Bils included potential legal consequences; a legal expert advised that an area of potential trouble for the Donbass Devushka lies with FARA.
FARA requires certain agents of foreign principals who are engaged in political activities or other activities specified under the statute to make periodic public disclosure of their relationship with the foreign principal, as well as activities, receipts and disbursements in support of those activities. Disclosure of the required information facilitates evaluation by the government and the American people of the activities of such persons in light of their function as foreign agents.

United states department of justice
Bils's social media work is endorsed by the Telegram channel Rybar, which has over 1.1 million followers and is one of the most influential Russian military-aligned social media brands on the planet. Rybar is led by computer programmer Denis Shchukin and former Russian Ministry of Defense press officer Mikhail Zvinchuk, according to Kung Chan of the Chinese thinktank ANBOUND. The pair are alleged to be connected to the FSB, although they insist that they receive minimal funding from the Russian government and have an operating budget of $20,000 a month.
On social media, the Donbass Devushka frequently praises and defends the Private Military Company (PMC) Wagner Group led by Russian oligarch Yevgeny Prigozhin. In November 2022, Prigozhin opened a new headquarters for PMC Wagner in St. Petersburg, Russia, which included plans for material and financial support for journalists and bloggers. Prigozhin has bragged publicly about interfering in the 2016 and 2020 United States elections and was using his company, Concord Management and Consulting, as early as 2014 to manipulate U.S. elections. 2014 is the same year Bils became more active in posting anti-Ukrainian and anti-United States content, and is the same year the DOJ alleges Ionov first violated FARA.
Bils has periodically complained about financial trouble on social media; for years she solicited donations of cash and cryptocurrency through CashApp and Buy Me a Coffee, claiming the money was going to support Russian causes. Online and in her interview with the Wall Street Journal, she claimed that no money went to Russia, and what little funds were raised went to cover her personal technology and equipment costs.
A critical question that the Department of Defense needs to answer is how an individual with a documented history of substance abuse, mental illness, financial problems, and a troubled marriage involving custody battles and restraining orders was able to maintain their top security clearance.
Bils has blocked us on social media and did not respond to a request for comment.
---
Mental illness and substance abuse are sensitive topics that can release strong emotions. If you are depressed, despondent, or having suicidal thoughts, there is help available. In the United States, you can dial 988 to reach the Suicide and Crisis Hotline. You can also call 800-273-8255 24 hours a day. If you'd rather not talk to a person, you can text 741741, and for U.S. veterans, you can text 838255.
Editor's Note: It is Malcontent News's editorial policy to use an individual's most current legal name. Sarah Bils changed her legal name to Lyudmila Mikhailova Karakova on March 31, 2023. Given the particular circumstances of this story, we chose to use her previous name for clarity.