New questions emerge about another Western Washington COVID testing provider
A tangled web of connections ties OnPoint Testing in Western Washington to CardMachineOutlet.com in Richardson, Texas.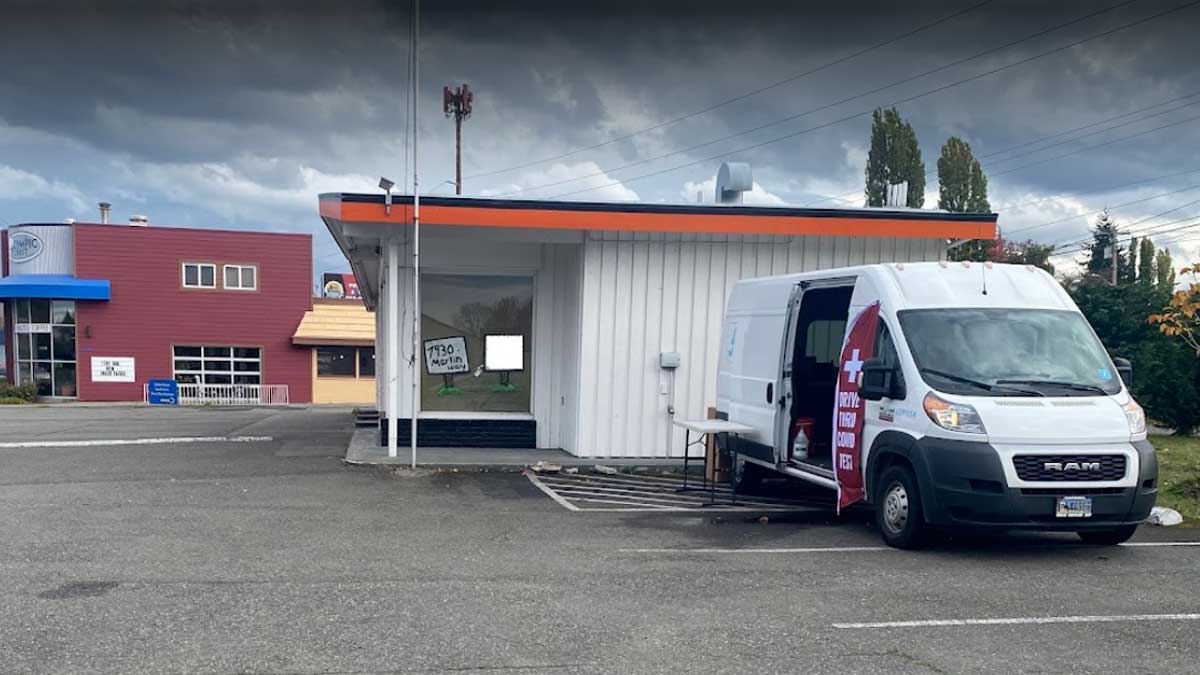 [LACEY, Wash.] – (MTN) Parked outside an empty auto repair shop in Lacey, a banner and a handmade sign declares COVID testing is available provided by OnPoint Testing. The company has 36 test sites in the Western United States, four in Washington and three in Oregon. Reviews complain about "free" tests requiring cash-only payments, unsanitary practices, delayed, inaccurate, or missing results. The owners of OnPoint went to great lengths to obscure their connections back to a Texas company that sells new and used credit card process equipment, and a "lab" connected to a strip mall in San Bruno, California.
A review of the OnPoint Testing website provided no information on the company, the owners, nor a privacy or HIPAA policy. Attempts to make connections to OnPoint to any lab, NPI, or CLIA were initially fruitless.
Searching locations and reviews on Yelp yielded another phone number for the company, attached to a testing location in San Bruno, California. The test site is located in a small strip mall on 650 El Camino Real, shared with Confidence Auto Rental and Sales. A call to the used car dealership went to voicemail and there was no return call. Google and Yelp indicate the dealership is still in business, but its URL, confidenceautos.com, redirects to ASNCars.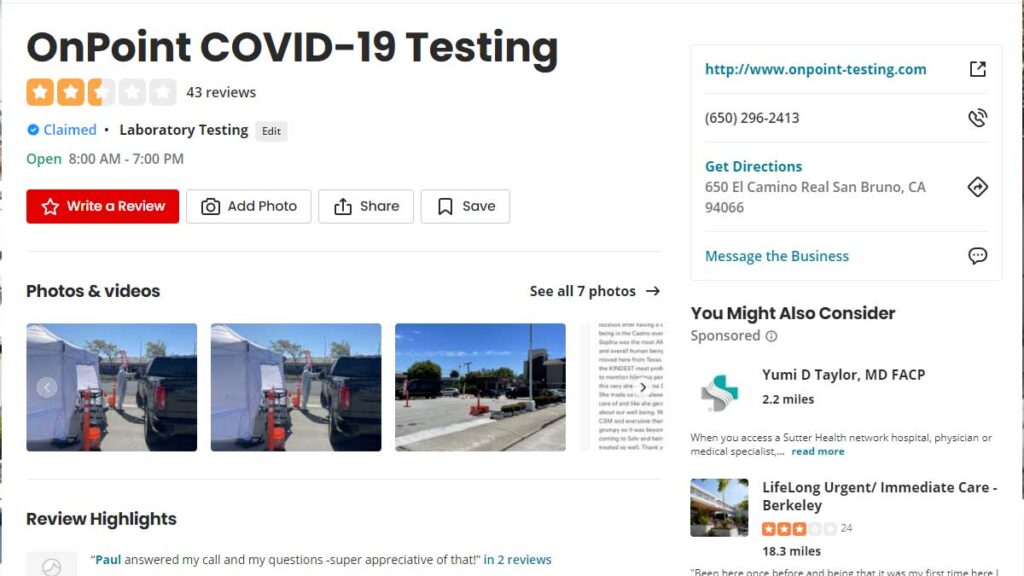 The phone number for OnPoint on Yelp did connect to customer service for the company and was answered after a brief hold.
Additional searching found a website for OnPoint Lab in Sugarland, Texas. This led researchers down another dead end. OnPoint Lab does offer COVID testing but is more focused on DNA and urine collection. A search on Open Corporates indicates the lab has been open since 2014. A call to their phone number was answered promptly. The person who answered indicated they had no connection to OnPoint COVID-19 testing.
Equipped with a repeating name, and with OnPoint COVID-19 Testing claiming they have an authorized lab, a review of CDC-approved labs yielded a result. OnPoint Testing CLIA number is 05D2244336 and the address for the facility is the same address as the testing site in San Bruno, California – 650 El Camino Real. The phone number for the lab is different from the 800 number listed on the OnPoint website, and the 650 number listed on Yelp.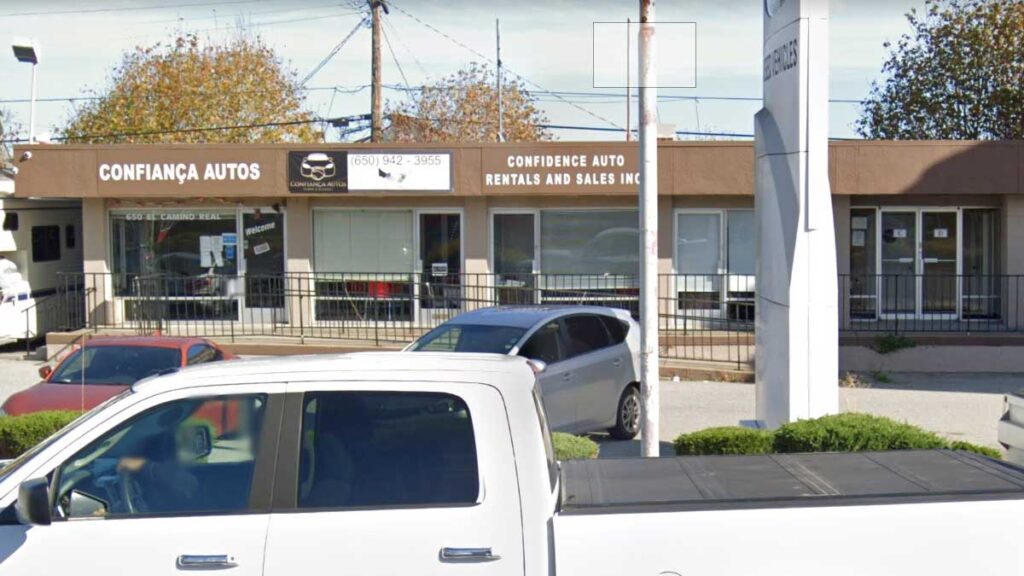 The third phone number connects to Jason A Kendall on the website for LabProspects in Atascadero, California. It also connects to ATOWN LAB, at the same address. ATOWN LAB has a sparse website hosted on Square, with an option for blood draws and COVID testing. The CDC CLIA number for that facility is 05D2211187, and connects to a company called US Health Laboratories, with an address in Sherman Oaks, California.
Calling the phone number associated with ATOWN LAB and US Health Laboratories went to voicemail for ATOWN LABS. In what was another apparent dead end, there is no connection back to OnPoint COVID-19 Testing, ATOWN LAB, or US Health Laboratories, beyond a shared phone number in the CDC CLIA database.
LabProspects, based out of North Carolina, is a web portal where companies can connect with approved medical labs for services. The company is not affiliated with any COVID testing or any of the people or companies listed in this story.
Running out of options, researchers took three final steps. A search on ICANN indicated that the domain for OnPoint COVID-19 Testing was registered in February 2021 with GoDaddy by a company or agent from Texas. Using Open Corporates, there was a company incorporated in Delaware in March 2021 using the name OnPoint Testing, Inc. A final search on LinkedIn for OnPoint Testing provided a new lead. Sherif Mohamed lists himself as the Co-Founder of Onpoint Testing, in San Bruno, California. The start date of the role on his bio is March 2021. Mohamed also lists himself as the Founder and CEO of Shoperr, DigitalShopper Global, and CardMachineOutlet.com. Although he lists Onpoint Testing in San Bruno, his profile on LinkedIn indicates he is in the Dallas-Fort Worth area. That provided an additional connection to the ICANN data, and where the website for OnPoint COVID-19 is registered.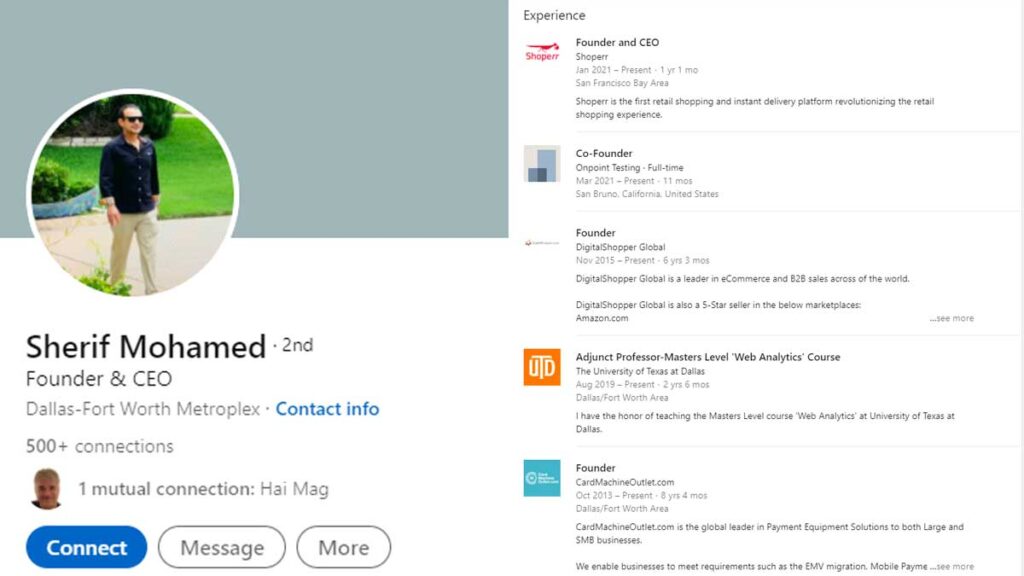 A social search on Twitter found Mohamed and his lightly used personal account, with retweets from CardMachineOutlet. Through Mohamed's account, the multiple retweets of Card Machine Outlet on Twitter have the same logo found on LinkedIn and indicate the company is located in Richardson, Texas.
A Sherif Mohamed is also listed as the owner of EZ Clinical Labs in New Jersey. The Instagram page has been deleted and the Facebook page has been inactive since August 2021. The website for the company lists three COVID test locations in New Jersey. The phone number is active and a person did answer the phone. Like OnPoint COVID-19 Testing, the website does not have a posted privacy or HIPAA policy, doesn't list a CLIA number, or provides information on who owns the lab. Malcontent News cannot verify that the Sherif Mohamed associated with EZ Clinical Labs is the same Sherif Mohamed who is the CEO of OnPoint Testing.
A search for Shoperr listed two addresses. One in San Mateo, California, and another at 740 E. Campbell Road, Richardson, Texas. Malcontent News does not claim that Shoperr is associated with OnPoint COVID-19 testing.
A search for Digital Shopper Global led to a dead website. The search also linked to an abysmal Better Business Bureau rating of the company and multiple allegations of fraud. The address listed was 740 E. Campell Road, Richardson, Texas, but with a different suite number from Shoperr.
That left a final option, Card Machine Outlet. The company website lists an address of 740 E. Campell Road, Richardson, Texas, with a different suite number as Digital Shopper Global. Like Digital Shopper Global, Card Machine Outlet has a one-star BBB rating with multiple claims of fraud. Open Corporate shows CardMachineOutlet.com, LLC was dissolved by the State of Texas on August 22, 2021, due to "tax forfeiture." A search on the Texas Comptroller of Public Accounts website indicated that as of January 27, the company remained "involuntary ended." The Comptroller site also listed a business address as 2435 North Central Expressway, Suite 440, Richardson, Texas, 75080. the contact us page for CardMachineOutlet lists both addresses connected to the company. A call to the number indicates the company is still operating.
To this point, all of the evidence that connects Mohamed to OnPoint COVID-19 Testing appears circumstantial, beyond the LinkedIn profile indicating that he is the CEO and co-founder. Searches for OnPoint led down multiple dead-ends with loose connections back to Mohamed, including OnPoint Logistics, and the CDC CLIA Lab in San Bruno, California.
Job listings for roles at OnPoint Testing indicate the positions are in Richardson, Texas. Indeed lists a job for a Supplies and Procurement specialist, also in Richardson, Texas at the 740 E. Campell Road address. The same job is listed on Glassdoor.
A review of the LinkedIn business page for CardMachineOutlet showed a single job listing on LinkedIn – for a medical assistant in Lacy [sic], Washington. OnPoint COVID-19 Testing has a location at 663 Sleater Kinney Road SE, Lacey, Washington, which has since moved to 4207 Pacific Ave SE.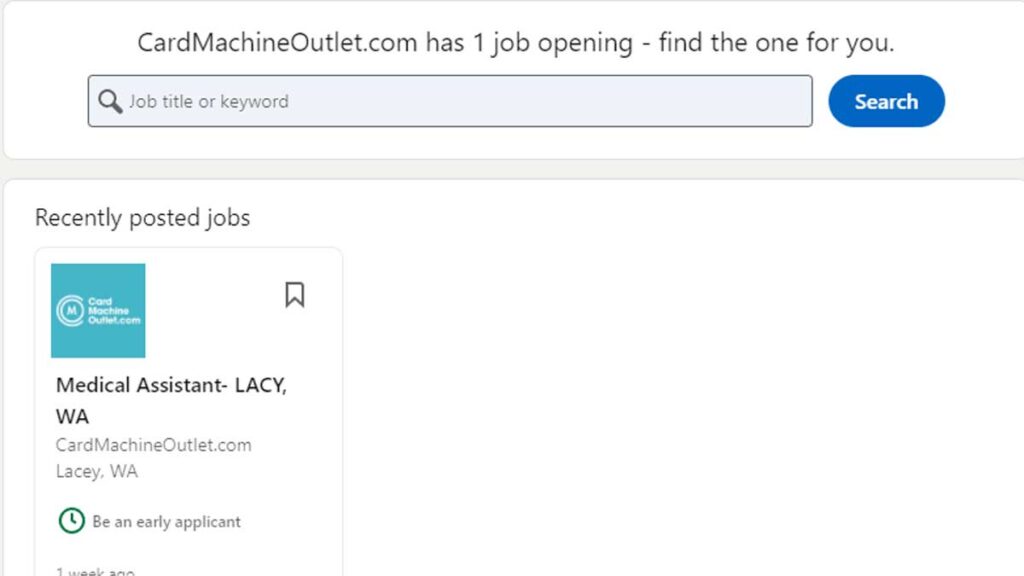 The same job is listed on Indeed and ZipRecruiter, under CardMachineOutlet.com.
Job Description:

Onpoint testing is looking to hire a full-time/part-time MA!

Your job responsibilities will include:
– Nose swabs
-Mouth Swabs
-Patient intake
-Patient checkout

We are purely a COVID testing site.

Company Description

CardMachineOutlet.com is the nation leader in credit card equipment and processing service

job description listed on Ziprecruiter for a medical assistant in lacey, washington working for creditcardoutlet.com
The job posting lists 4207 Pacific Ave SE as the address for the testing location. The picture of the mobile van used for testing on the OnPoint COVID-19 Testing website shows the vehicle located at the Pacific Ave SE address and matches the building.
Google is full of reviews complaining the test location was closed despite having an appointment, delayed test results, or receiving no results at all. People who got tested were required to pay $69 in cash. OnPoint COVID-19 Testing states on its website the company does not accept insurance or gets government reimbursement. A number of consumer complaints mention SDI Labs.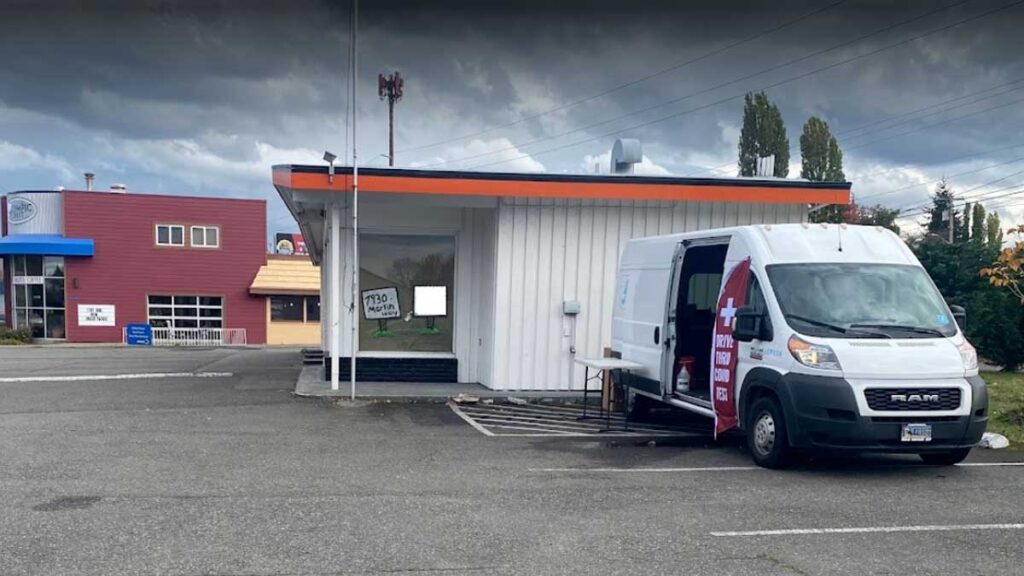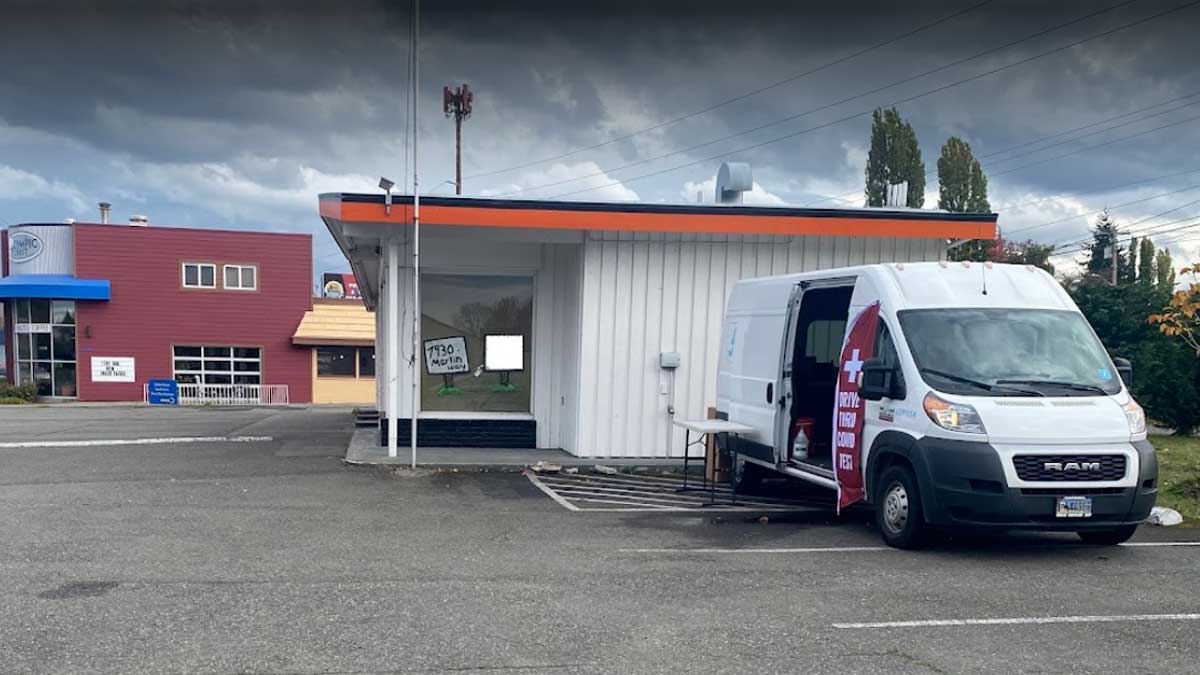 SDI Labs, Inc. CLIA number is 05D0642622 listed to an address in La Mirada, California. On April 10, 2020, the United States Food and Drug Administration (FDA) granted approval under the Emergency Use Authorization Act for the company to evaluate COVID test samples. The individual who requested the waiver was Ozman Modiuddin, CEO of Specialty Diagnostic (SDI) Laboratories.
OnPoint COVID-19 testing had images of sample test results showing SDI Labs, Inc., as the provider, but since removed them. The company has been in business since 1987, and a review of records found a single Better Business Bureau complaint not related to COVID testing. There is nothing that indicates that Modiuddin is connected to Mohamed or any of his current or previous business enterprises. Mohiuddin, nor SDI Labs have come up in any other research on other COVID testing facilities or processing labs beyond some companies sharing a registered agent. That wouldn't be unusual and is not proof of any impropriety.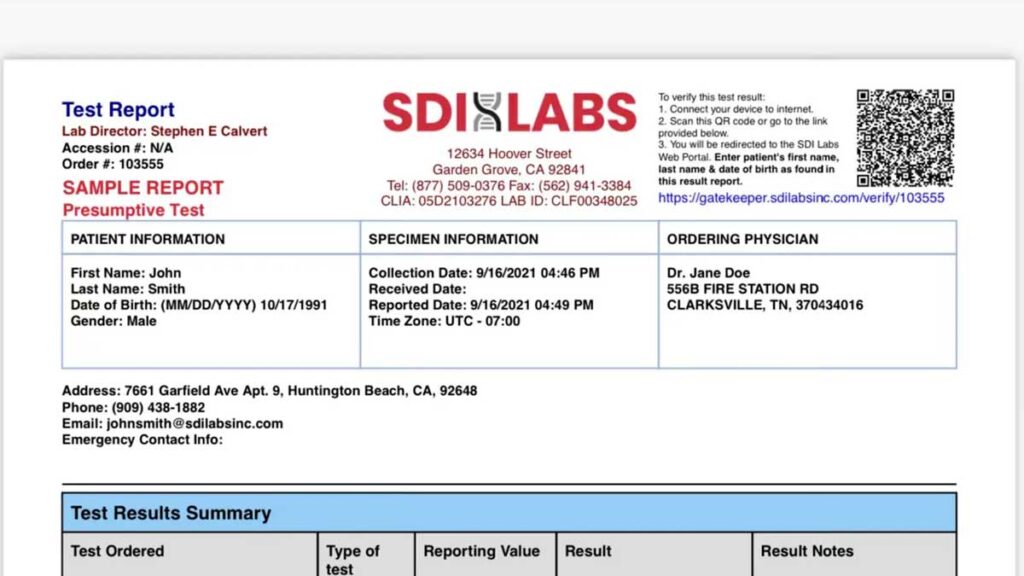 The Thurston County government website lists OnPoint as a testing location. Magen Johnson, Public Information Specialist with Thurston County, indicated the list is not an endorsement of any test provider by the county. The document is meant to be a resource for community members to be aware of possible testing locations. Johnson indicated that there would be a review of the information about OnPoint COVID-19 Testing.
Consumers have been advised to avoid mobile pop-up clinics. With so many people seeking COVID tests, desperation can take over for people who need testing for travel, work, or to visit family. People should carefully consider where they get a COVID test, and the requirements they put in place to get tested.