As COVID rages, what's next for Washington state
New cases may peak in Washington this week, but the surge in hospitalizations will continue through February.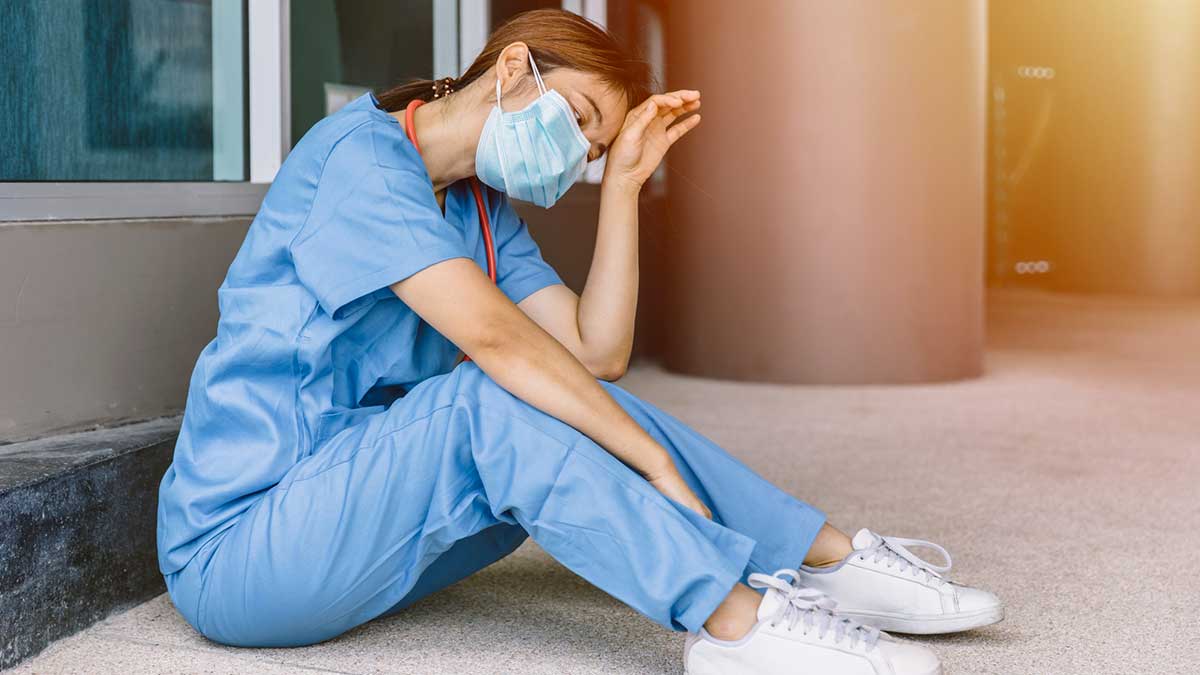 [KIRKLAND, Wash.] – (MTN) Washington state has set new records for COVID cases and hospitalizations, straining every aspect of life and leaving many to wonder, what is next?
Malcontent News has been tracking the Omicron wave in South Africa and the United Kingdom and using the data from these nations to build models for Washington. The path the current surge is taking aligns closely with the progression in South Africa.
New Cases
It took 28 days for the first SGTFs to show up in PCR tests in South Africa at a significant number, to the peak in cases. If Washington follows the same path, new cases in the state should peak on Jan. 17. The last update from the Washington State Department of Health (WSDOH) was supportive of an approaching statewide peak. An analysis of new case data indicated that the Olympic Peninsula, Central Puget Sound, the South Sound counties out to the Pacific Coast have already peaked. In Eastern Washington, many areas are still seven to ten days away.

In South Africa and Europe, cases declined rapidly. If Washington follows the same pattern, new daily cases will be 50 percent of peak by Feb. 2, and then drift to a plateau of 30 to 35 percent of the peak. The plateau will hold until Feb. 14, before starting to decline again.
Washington moved to test only symptomatic and close contacts on Jan. 4. Over the weekend Seattle Children's Hospital reported they were incapable of testing most pediatric cases for COVID at urgent care clinics, reserving the dwindling supply to only the sickest of patients. The University Washington Medicine is struggling to test staff and immediate family, in compliance with the United States Centers for Disease Control CDC) guidelines.
Clark County residents have appealed to the state for additional testing resources and more access to booster shots. Among the eight locations receiving National Guard support by Jan. 24 for additional testing resources, Vancouver, Washington was not among the locations.
The University of Washington Virology lab is struggling to provide test results to Washington, and some Oregon healthcare providers, processing 12,000 to 14,000 a test a day. On Sunday, 31.9 percent were positive, creating some doubt that a peak in cases has arrived.
Hospitalizations
Hospitalizations are a trailing indicator. We predicted on Dec. 26. that Washington hospitals would run out of available resources by Jan 15. Governor Jay Inslee deployed the national guard and suspended all non-emergency surgeries on Jan. 13, to support overwhelmed hospitals.
In South Africa, seven percent of new Omicron cases resulted in hospitalizations. The unvaccinated made up 82 percent of all COVID hospitalizations. That rate was between 22 and 31 percent of the earlier Delta wave. The exact difference is hard to track after South Africa changed its testing criteria on Dec. 24, testing only people who were symptomatic or had close contacts. Adjusting for South Africa's higher hospitalization rate versus the United States, and accounting for the lower hospitalization rate among Omicron patients, we initially estimated Washington would experience a 1.14 to 1.34 percent hospitalization rate. Currently, it is between 1.8 and 2.4 percent depending on the hospital region.
The single biggest factor that impacts the outcome of a COVID infection is age. In South Africa, only 5.7 percent of the population is over 60, while 34.1% is under 19. Although it is true that only 26% of the population is fully vaccinated, in Gauteng Province, which bore the brunt of the Omicron wave, 44 percent of the population is fully vaccinated.
In Washington, Stevens, Pend Oreille, Skamania, Asotin, Ferry, Whitman, Klickitat, and Columbia Counties have lower vaccination rates. According to the WSDOH on Thursday, 80 percent of all COVID hospitalizations statewide were unvaccinated – which mirrors the data released from South Africa on Sunday.
In South Africa, the surge of new hospitalizations peaked 10 to 14 days after the new cases reached a peak. If Washington follows that path, new hospitalizations will peak at the end of January.
Despite reports that many cases resulted in short hospitalizations, this was among vaccinated individuals. South Africa found that among unvaccinated individuals, the progress of illness was no different than prior strains of COVID.
The number of hospitalized COVID patients peaked in South Africa on Dec. 31 and remained almost unchanged through Jan. 6. Currently hospitalized coronavirus patients in the African nation are still at 83 percent of peak. The decline has been slow.
For Washington hospitals, this will be an insurmountable challenge. Although the governor announced a pause in elective surgeries statewide on Thursday, many hospitals had already voluntarily taken that step to expand resources. MultiCare reported ten days ago they were forced to implement CDC crisis staffing standards, having COVID positive workers who are experiencing mild to moderate symptoms continue to work.
An analysis of available hospital resources indicated that additional emergency staffing and converting PACUs to COVID wards added 60 to 75 acute care and 10 to 15 ICU beds statewide. With over 250 new COVID patient admissions a day, that added capacity was likely wiped out over the weekend.
If Washington follows the same hospitalization trend, by Jan. 26 the worst of the surge will be hitting our facilities. The number of COVID patients will peak on Feb. 4, and hold until Feb. 10. Although a decline will be accelerating by Feb. 20, a load of 83% of the peak would be unsustainable.
On Friday the WSDOH reported there were 2,135 COVID patients in Washington hospitals, an all-time record. Hospitalizations are increasing 50 percent every week. The IHME model projects almost 4,000 hospitalized coronavirus patients on Feb. 4, either in acute care or the ICU. If Washington follows South Africa, the number would reach 5,038 and then sustain at that level for two weeks before dropping to 4,000.
Last Monday patients were being transferred out of King County to Moses Lake, Richland, and Missoula, Montana. King County hospitals, University of Washington Medicine, and Harborview Medical Center are caring for a record number of COVID patients. In Spokane, Providence and MultiCare hospitals can't take transfers. Doctors reported angry and desperate phone calls from rural hospitals trying to move patients to larger facilities.
MultiCare and Providence hospitals on both sides of the mountains have deployed tents again. In Everett, Providence Hospital was treating patients in the emergency department waiting room and the halls are lined with patients waiting for beds.
Deaths
Looking to South Africa, the number of deaths from Omicron was significantly lower compared to Delta. The age of the population, a 66% vaccination rate for those over 50, a historically lower COVID death rate compared to Europe and North America, and more available resources contributed to the better outcomes. Additionally, it is summer in South Africa.
COVID-related deaths started to increase on Dec. 11. It is unknown if deaths have reached a peak yet, but on Jan. 16, the 7-day moving average was 105 deaths a day. All signs in South Africa indicate the Omicron surge is reaching its finality.
In Washington, the population is older and in poorer health. Vaccination rates are higher, but almost one-third of the entire population is not only unvaccinated but politically indoctrinated into the status being part of their identity. They not only dismiss vaccination but all proven public health measures such as indoor mask wear.
Unlike prior waves in Washington, Omicron overwhelmed the larger and better equipped Puget Sound region facilities first. Idaho is starting to surge with new cases and Oregon is straining under its own tidal wave of cases. COVID patients in Eastern Washington will have fewer options than ever before.
If Washington follows the same as South Africa, COVID-related deaths will start to peak in mid-February.
Services and Infrastructure
It is estimated eight to ten percent of all American workers are sick, caring for a sick family member, or quarantining. The United States was already dealing with a worker shortage in 2021, which has been made worse by Omicron. By early February, up to 25 percent of all Washington workers could be sidelined with COVID.
Some of the impacts have already rippled through the region. Empty store shelves, recently restocked after the mountain passes reopened, will struggle to stay full. Pharmacists are warning people to refill their medications now, unsure of their ability to serve the community and have an adequate supply of pills.
Postal workers are driving routes for 12 to 16 hours to fulfill deliveries, and school districts are looking for parent volunteers or moving to virtual learning. In some cities such as Seattle, students have staged walkouts due to high infection rates. In Lakewood, the Walmart Super Center was forced to close for three days for a deep cleaning after 63 workers became sick with COVID.
The day-to-day impact for everyone will include school and daycare closures, spotty store shelves, delayed deliveries, and businesses forced into short-term closures due to a lack of staff. The economic fallout could last for much longer.
Without a dramatic increase in support, state healthcare workers and Washington residents will face a brutal five to six weeks where only the absolute sickest individuals will be able to get medical services, and basic goods and services will require patience to find.