Death Toll Climbs to 26 in Chasiv Yar – July 11, 2022 Ukraine Update
Russian missiles also hit an apartment building and school in Kharkiv.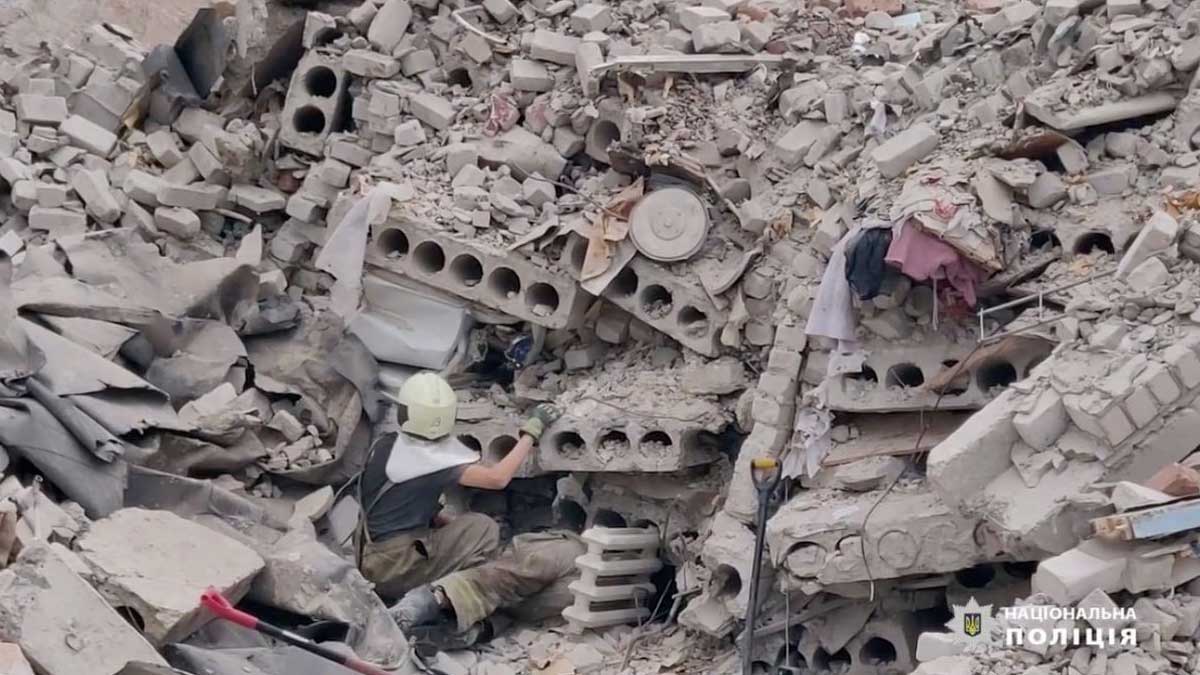 [KYIV, Ukraine] – MTN It has been 3,055 days since Russia occupied Crimea on February 27, 2014.
There were minimal ground combat operations through Ukraine today as the Russian operational pause continues.
Lysychansk – Severodonetsk – There are claims that Russian forces captured the settlement of Hryhorivka on the Luhansk-Donetsk border and had advanced to the edge of Serebrianka. The only source for this claim is the self-proclaimed Assistant Minister of the Interior for the Luhansk People's Republic (LNR), Vitaly Kiselev, in a Russian state media report on TASS.

"Our units took the settlement of Hryhorivka. There was a very large fortified area, but our units took it," Kiselev said.
Luhansk Regional State Administrative and Military Head Serhiy Haidai reported that "battles continue in Bilohorivka," later reporting that Russian forces "ran several times" from Bilohorivka but did not report the settlement was captured.
Haidai also reported that the Russian Ministry of Defense and Luhansk People's Republic (LNR) separatist militia started forced conscription in Severodoentsk, with recently "liberated" Pro-Russian residents already being sent to the front lines.
Northeast Donetsk – Fighting continued on the eastern edge of Verhhnokamyanske. On July 9, Pro-Russian accounts claimed their forces had occupied Spirne, approximately 10 kilometers from the Ukrainian stronghold of Siversk. The General Staff of the Armed Forces of Ukraine did not mention Sprine in their July 10 report indicating the settlement is likely under Russian control.
Bakhmut – The death toll in Chasiv Yar climbed to 26 after three Russian Short Range Ballistic Missiles (SRBM) struck two five-story apartment buildings at dusk on July 9. A video showed the third missile arriving several minutes after the first volley, as rescuers were arriving and dazed residents were leaving the buildings. Launching a second strike shortly after the first is called a "double-tap" and is meant to maximize casualties.
Ukrainian President Voldoymyr Zelenskyy condemned the attack in a national address.
"After such strikes, they will not be able to say they did not know something or did not understand something."
"Punishment is inevitable for every Russian murderer. Absolutely everyone. Just as for the Nazis."
"And they should not expect that their state will protect them. Russia will be the first to abandon them when political circumstances change."
East, and southeast of Bakhmut, Russian troops did not attempt any advances. The settlements of Kurdyumivka and Vershyna were shelled. Fighting continued east of Vesela Dolyna.
Southwest Donetsk – Zaporizhia – Pro-Russian bloggers, unaffiliated journalists, and former military leaders vocally complained about the now constant shelling and High Mobility Rocket Artillery System (HIMARS) attacks across the Donbas.
The former commander of the 1st Army Corps of the Donetsk People's Republic (DNR) and Russian FSB Colonel Igor "Strelikov" Girkin wrote on Telegram, "In the past 5-7 days over ten large artillery and other munitions stockpiles were hit, several oil depots, around ten command points and roughly as many personnel locations in our near and far rears. In addition to several air defense and artillery positions. This resulted in large [emphasis, Girkin's]losses in personnel and equipment."
He ended with, "When will the Russian Federation Armed Forces start fighting with full force?"
Girkin's assessment was echoed by other influencers and leaders across social media networks, adding tension to an already deteriorating relationship between the Kremlin and frontline war reporters.
Elements of the 1st Army Corps of the DNR attempted to advance from Novoselivaka Druha and improve tactical positions north of Avdiivka. They were unsuccessful.
Otherwise, there were scattered artillery exchanges from Horlivka to Donetsk city to Velyka Novosilka in the Donetsk oblast and Hulyaipole to Orikhiv in the Zaporizhia oblast.
Kherson – President Zelenskyy ordered the Ukrainian military to re-establish control over "coastal regions" in southern Ukraine. Oleksii Reznikov, Ukraine's Minister of Defence, told The Times of London, "We understand that, politically, it's very necessary for our country. The president has given the order to the supreme military chief to draw up plans. After that, the general staff are doing their homework and say to achieve this goal, we need XYZ."
Yurii Sobolevskyi, First Deputy Chairman of the Kherson Oblast Council, told civilians in the occupied regions to evacuate or prepare for coming hostilities. "Our people need to leave," he warned.
"Those who can't do it…should prepare for the fact that shelter [from artillery, bombs, etc.] will be needed again. It is necessary to prepare a supply of water and…food in order to survive the offensive of our troops. We understand that our guys will work as carefully and surgically as possible to save every life, but war is war."
Russian occupying forces are not making it easy. A bus ticket to Zaporizhia is 6,000 hryvnia/roubles. If a person wants to drive their car, there are a lot of challenges. An evacuee and their family need to have original passports, all required documents, no tattoos that could be connected to any pro-Ukrainian ideals or prior military service, phones that are wiped clean, and nothing that causes suspicion at any checkpoint. Additionally, they need proof of ownership for the car or power of attorney to prove they are allowed to take it out of Kherson. Ukrainian forces struck Russian barracks in the critical transit and logistics hub of Nova Kahkovka. It is common to have to bribe checkpoint guards 5,000 to 10,000 hryvnia/roubles to pass.
Ukrainian forces struck Russian barracks in the critical transit and logistics hub of Nova Kahkovka. There were unconfirmed reports of Russian casualties.
Kharkiv – There was no change in the line of conflict northwest and north of Kharkiv, and neither belligerent engaged in fighting. A Russian Iskander-M missile hit a six-story apartment building in the Osnovianskyi District of Kharkiv, causing significant damage. Two other missiles hit the city, destroying a school and a warehouse.
Izyum – Russian forces fired artillery and used MLRS to attack Ukrainian positions across a broad area west and south of Izyum, but did not attempt to make any advances.
Daily Assessment
Ukrainian capabilities to strike targets accurately well beyond the line of conflict are creating unrest among the Pro-Russian community and lowering morale.
We maintain that Siversk is the most likely location for major fighting in northeastern Donetsk.
The Russian Ministry of Defense continues to target civilians using precision weapons increasingly in short supply.
It is unclear if Ukraine will take the initiative in the immediate future – statements from Ukrainian officials indicate that the effort to retake southern Ukraine is in the planning stages.
To read the rest of our report, become a Patreon! For as little as $5 a month, you get access to the daily Russia-Ukraine War Situation Report. The report provides analysis, maps, detailed information about all the axes in Ukraine, international developments, information about war crimes and human rights, and economic news. As an added benefit, you get access to flash reports, breaking news, and our Discord server.