Kherson Cut Off – July 27, 2022 Ukraine update
The seaside town of Zatoka was decimated by a Russian cruise missile attack with over 155 homes damaged or destroyed.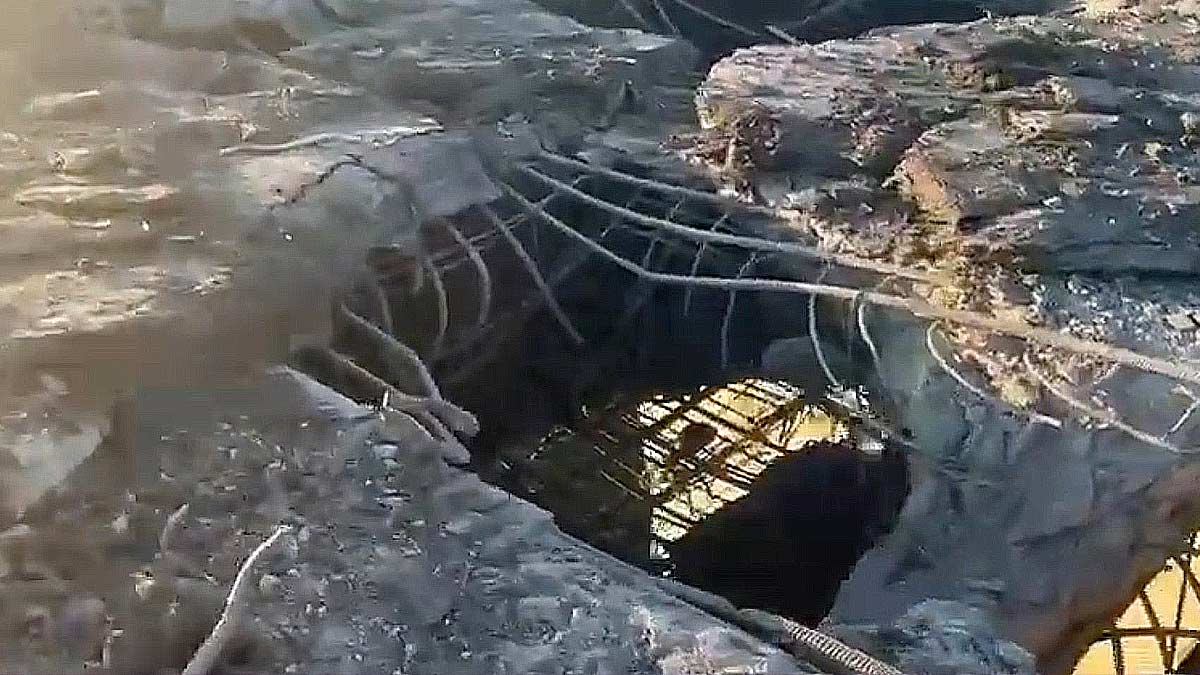 [KYIV, Ukraine] – MTN It has been 22 weeks since the start of the Russia-Ukraine War and 3,072 days since Russia occupied Crimea on February 27, 2014. Here is our latest update.
Luhansk – Russian forces remain blocked at the Verkhnokamyanka oil refinery. Another attempt to advance on Verkhnokamyanske was made, and it was unsuccessful. Russian forces also attacked Hryhorivka, supported by airstrikes, but could not break through Ukrainian defenses.
Northeast Donetsk – Positional battles continued in Spirne and Ivano-Darivka with no change in territorial control. On the morning of July 25, Ukrainian forces reported they had liberated Berestove. Late on July 25, it appeared Russian forces had recaptured the settlement for the second time Early on the morning of July 27, Ukrainian forces recaptured the town. The village is completely destroyed from months of fighting, and the T-1302 Highway is badly damaged.

Bakhmut – East of Soledar, Russian forces occupied Stryapivka temporarily. They likely attempted to extend too far into Soledar and were pushed back by Ukrainian forces. Fighting for control of the village continued.
Terrorists with the Imperial Legion affiliated with the Private Military Company (PMC) Wagner Group claimed to have fully secured Pokrovske, east of Bakhmut. Reports of continued fighting, artillery, and airstrikes indicate that gains have likely been overstated.
In the Svitlodarsk bulge, Ukrainian forces withdrew from the Vuhlehirskaya Power Plant and Luhanske on the evening of July 25. Ukrainian forces also withdrew from Novoluhanske to avoid becoming encircled. Terrorists with the Imperial Legion fighting with the Private Military Company (PMC) Wagner Group were confirmed to be on the power plant grounds. Russian forces attempted to advance from Roty to Semyirya to seal off retreating Ukrainian troops and were unsuccessful. Russian forces needed 62 days to advance 5.5 kilometers and secure the power plant.
Southwest Donetsk – Zaporizhia – Russian forces attempted to advance on Pavlivka and were unsuccessful. Otherwise, there were artillery exchanges from Hulyaipole to Orikhiv in the Zaporizhia Oblast.
Kherson – Ukrainian forces using High Mobility Rocket Artillery System (HIMARS) attacked the Antonovskiyy Bridge for the third time and the Antonivskyy Zaliznychnyy Mist Railroad Bridge. The Antonovskiyy Bridge is severely damaged with significant structural damage. Russian state media reported the Antonivskyy Zaliznychnyy Mist Railroad Bridge was damaged but did not provide further details. Russian forces in Kherson are now cut off from road and rail lines on the west side of the Dnipro River.
Russian forces have completed construction of a pontoon bridge adjacent to the destroyed Darivika Bridge over the Inhulets River. Due to poor operational security, it is likely the bridge will be a priority target in the coming days.
Operational Command South reported that Ukrainian forces destroyed a Russian ammunition depot in Bilohirka, indicating the settlement is still under Russian control. It was also reported that Andriivka [Kherson] and Lozove are liberated.
Visit our Russia-Ukraine War Map
The Malcontent News Russia-Ukraine War Map is updated as events occur. Map not appearing in your RSS Feed or Google News App? You can review the most up-to-date information by visiting our custom Google Map.
Mykolaiv – Russian forces fired S-300 antiaircraft missiles in a ground-to-ground role and Kh-59 cruise missiles at Mykolaiv. Up to eight missiles struck an already destroyed railroad bridge over the Inhulets River,  one missile hit the port, and another hit a thermal plant.
Kharkiv – Neither belligerent launched any ground offensives from July 25 to July 26 north or northeast of Kharkiv. Both sides fired artillery rockets from Multiple Launch Rocket Systems (MLRS), and fired from tanks.
Ukrainian forces used a Switchblade 300 kamikaze drone to attack a car at the Russian border checkpoint in Troebortnoe, north of Kharkiv. The Russian Ministry of Defense claims one person was killed, a Moldovian citizen, and two were wounded. Ukraine claims that two FSB agents were killed.
Izyum – Russian forces attempted to advance on Bohorodychne, were unsuccessful, and retreated. With reconnaissance in force, Russian forces attempted to advance on Chepil and suffered heavy losses.
There are unconfirmed reports that Russian forces withdrew from Yatskivka and Studenok. We had previously reported that Russian troops had been pushed entirely out of Bohorodychne. Additionally, between July 21 and July 25, the bridge between Russian-controlled Yarmivka and Studenok was destroyed. In Russian-controlled Borova, a HIMARS strike hit the railroad yard, where Russian military equipment was staged for transport.
The Exiled Borova City Council reported that Russian troops have been withdrawing from the Izyum axis since July 22. Troops are reportedly moving north, and the field hospital for wounded Russian soldiers in Borova was closed.
Sumy – Dmytro Zhyvytskyi, Head of the Sumy Oblast Military Administration, reported mortars and rockets fired by MLRS struck the settlements of Esman, Krasnopillya, and Seredyna-Buda.
Chernihiv – Viacheslav Chaus, head of the Chernihiv Oblast State and Military Administration, reported that Russian forces shelled the settlements of Leonivka and Hirsk.
Odesa – The Russian air force launched a massive attack on the village of Zatoka and the already destroyed Zatoka bridge. Up to 13 cruise missiles hit the village and the disabled span. The missile attack damaged or destroyed 155 buildings in the restive seaside resort town.
Daily Assessment
Ukraine has effectively severed all the Ground Lines of Communication (GLOC – supply lines) into the western part of the Kherson oblast and the eastern regions of the Mykolaiv oblast still occupied by Russian forces.
Russian forces appear to be continuing the operational pause in Izyum and could be redeploying troops to other axes.
We maintain that Russian forces cannot assemble adequate combat strength to launch significant offensive operations in Ukraine.
To read the rest of our report, become a Patreon! For as little as $5 a month, you get access to the daily Russia-Ukraine War Situation Report. The report provides analysis, maps, detailed information about all the axes in Ukraine, international developments, information about war crimes and human rights, and economic news. As an added benefit, you get access to flash reports, breaking news, and our Discord server.
Like, Share, Follow, Support