Not Your Model Minority rally in Seattle speaks out against Asian-Pacific Islander racism
People gather to stand up against growing violence and racism against the Asian and Pacific Islander communities.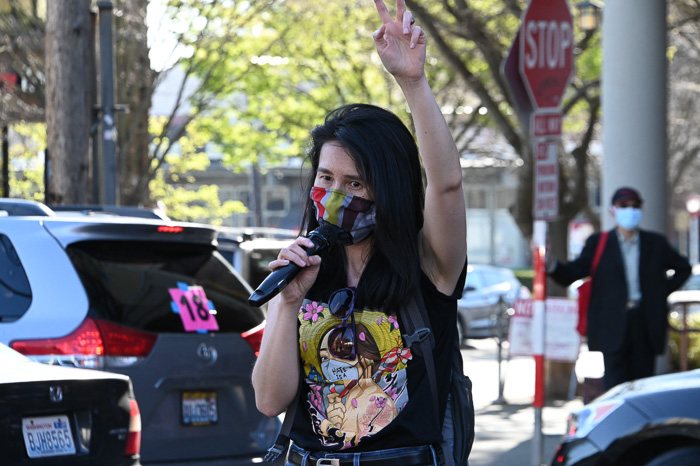 [SEATTLE] – (MTN) Approximately 200 people gathered in Hing Hay Park on Saturday to speak out against Asian and Pacific Islander racism and violence. Organizers of the Not Your Model Minority rally and march featured several speakers who are survivors of bias, racism, violence, and police violence.
Asians and Pacific Islanders are considered a "model minority." Races that try to blend in with white culture, achieve academic excellence, and are perceived as equally successful to whites. Even among Asian culture terms such as "banana" and "coconut" are used to describe someone who appears Asian on the outside, but thinks and acts white. In pop culture, Asians are typically stereotyped as either submissive or angry and impatient, and Asian women are fetishized.
Within the Asian-Pacific Islander communities, there are many races that are economically disadvantaged and have education rates as low as other Black, Indigenous, and persons of color communities. Asian-Pacific Islander mean household wealth is above other minority groups but is only half of white households. Additionally, some ethnicities such as the Hmong and Khmer Rouge experience racism from within the Asian community.

Speakers included Elaine Simons, the foster mother of Jesse Sarey. Sarey's family were Khmer Rouge immigrants who fled the killing fields of Cambodia. Sarey was shot to death by Auburn police officer Jeff Nelson on May 31, 2019. Nelson is awaiting trial for second degree murder and first degree assault, and is the first and only police officer in Washington to prosecuted under I-940.
An anesthesiology resident with the University of Washington told the audience how she has experienced racism and has been harassed since COVID arrived in our region in January 2020. The threats by strangers on the street reaching a point she expressed concern about being able to do things many take for granted like a last-minute trip to the grocery store or walking to her gym.
A couple of sex workers bravely spoke about their challenges including accusations of police misconduct, violence, and fetishizing of Asian women. Thunderous applause came from the audience when Seattle police were accused of ignoring the International District and the residents that live there.
Vendors provided Asixn and Pacific-Islander food and water was handed out due to the record-setting heat on Saturday. Lion dancers entertained the crowd while organizers prepared for the march.
The group then marched through the International District, chanting and stopping at historical locations to provide reflection and education. The Seattle police maintained an out-of-sight presence, observing the group from two to three blocks away.
The United States has seen a dramatic increase in violence against Asian peoples in 2020, with many cases going unreported. The most high-profile incident was in Atlanta when Robert Aaron Long targeted three Asian-owned businesses, killing eight, including six people of Asian ethnicity. Long was arrested after a high-speed chase almost 200 miles away, allegedly on his way to a fourth target.
Like, Share, Follow, Support