Three arrested in downtown Seattle protests
Post-election unrest went on for hours with Seattle police facing questions about conduct.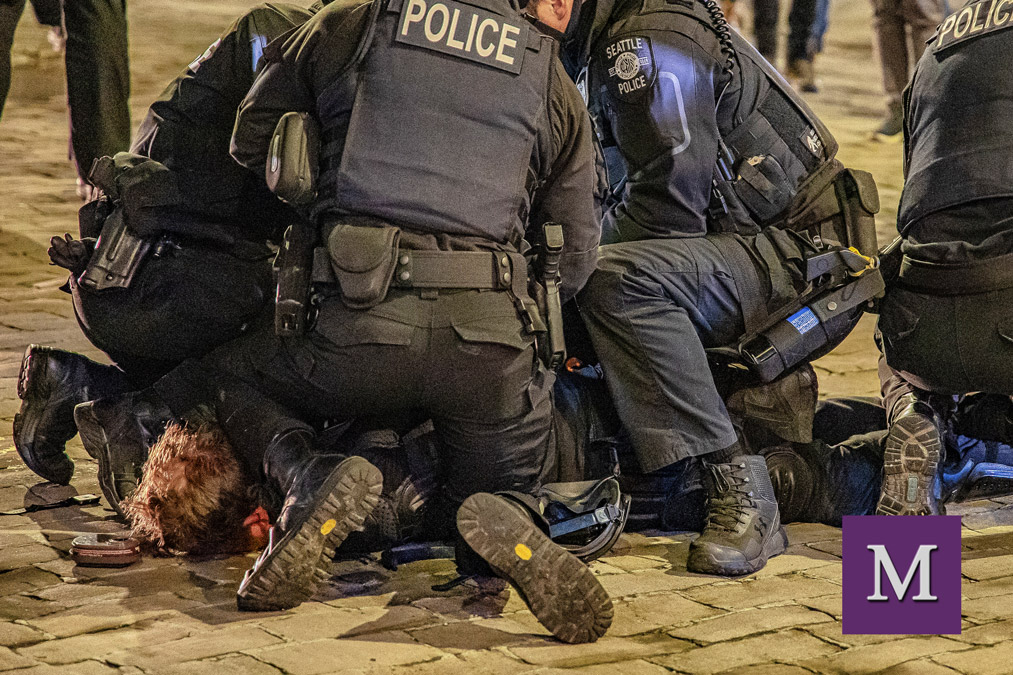 Approximately 100 protesters wound their way through the downtown core of Seattle yesterday, breaking windows, spraypainting graffiti, and burning American flags. The group had a mixed message of anti-capitalism, anti-government, and protesting the Biden election. Seattle Police declared an unlawful assembly and arrested three.
Protesters gathered in Occidental Park in Pioneer Square before marching toward Seattle Center and then back through downtown. At one point, several people burned American flags in the street. Windows at the Nakamura Courthouse on 6th Avenue were broken, sparking federal agents to gear up and make an appearance. The agents did not take any action against the protesters. Protesters went through Pike Place Market and broke windows at an iconic Starbucks, which is frequently misidentified as the "first" Starbucks retail location.
Three people were arrested through the night. In one arrest, the conduct of Seattle Police is being called into question. Witnesses reported the suspect was prone and compliant, with an SPD officer having their knee on the neck for over a minute. Officers threatened to use what appears to have been a Taser or stun gun, holding it next to the person's face and energizing it.

Seattle and Portland, Oregon, both saw election-related unrest yesterday. In Portland, federal and city officers fired pepper balls, rubber bullets, and tear gas for almost an hour straight. Federal officers employed a controversial teargas "fogger" and used outdated munitions that emit heavy metals. Protesters in Oregon broke windows, including those at the Democratic headquarters.