Ammunition Depot Destroyed in Nova Kakhovka – July 12, 2022 Ukraine Update
NATO-provided HIMARS rockets continue to shred Russian supply lines and ammunition depots.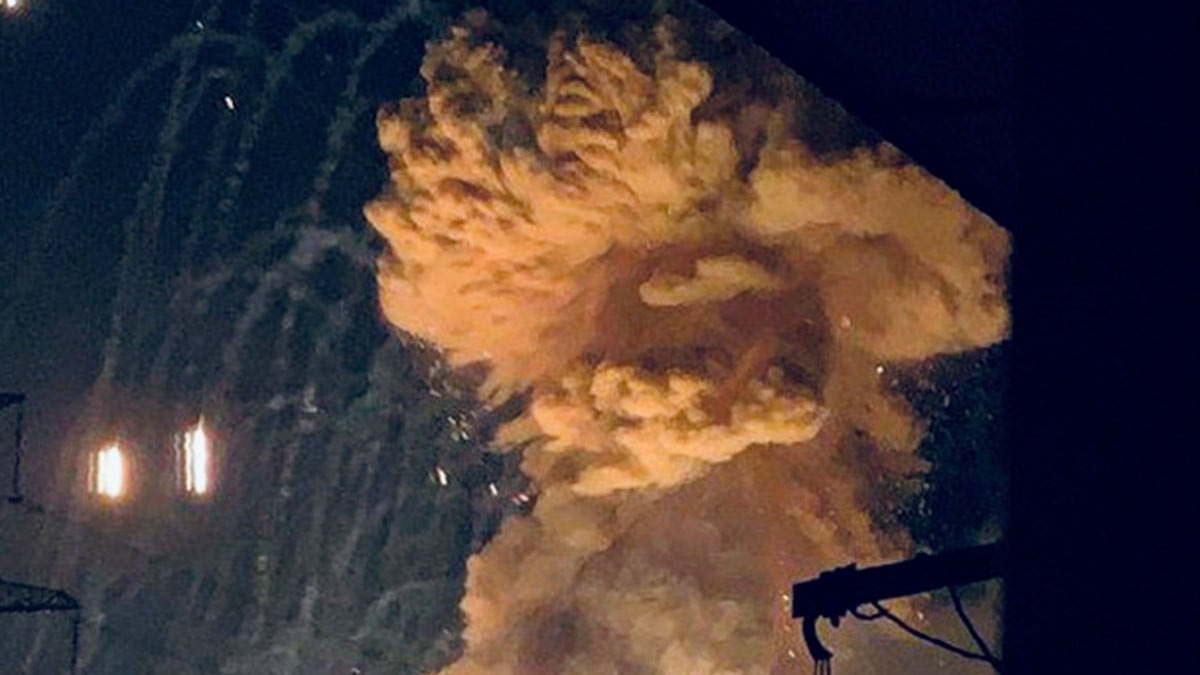 [KYIV, Ukraine] – MTN It has been 3,056 days since Russia occupied Crimea on February 27, 2014.
There were minimal ground combat operations through Ukraine today as the Russian operational pause continues. There weren't any new territorial gains or losses that weren't previously noted.
Luhansk – Russian Federation Armed Forces shelled Bilohorivka and Hryhorivka, indicating the claim from self-proclaimed Assistant Minister of the Interior for the Luhansk People's Republic (LNR), Vitaly Kiselev, that both settlements were under Russian control was false. Serhiy Haidai, Luhansk Regional State Administrative and Military Head, reported that fighting continued in Bilohorkiva.

Northeast Donetsk – Neither belligerent reported significant fighting along the T-1302 Highway east of Siversk or in the Bakhmut region. Russian forces shelled the settlements of Bilohorivka, Hryhorivka, Verkhnokamianske, Serebryanka, Siversk, Sprine, Ivan-Daryivka, Vyimka, and Zvanivka.
Bakhmut – There wasn't significant fighting near Bakhmut or in the Svitlodarsk bulge.
The search for victims of the Short Range Ballistic Missile (SRBM) attack on Chasiv Yar continued. Ukrainian officials have confirmed that 33 people have died in the Russian attack on two five-story apartment buildings on July 9. The attack on Chasiv Yar is the worst loss of civilian life since the April 8 missile attack at a Kramatorsk railroad station that left 59 dead.
Southwest Donetsk – Zaporizhia – Elements of the 1st Army Corps of the Donetsk People's Republic (DNR) attempted to advance on Marinka and were unsuccessful.
Otherwise, there were artillery exchanges and airstrikes from Horlivka to Donetsk city to Velyka Novosilka in the Donetsk oblast and Hulyaipole to Orikhiv in the Zaporizhia oblast. The recently liberated settlement of Mali Shcerbaky in Zaporizhia has been shattered by three months of fighting.
Kherson – Multiple reports indicate that on July 9, Ukrainian forces destroyed a key command post in Russian-controlled Nova Kakhovka using NATO-provided High Mobility Artillery Rocket System (HIMARS) munitions. There are unsubstantiated claims of up to 12 military officers killed between the ranks of Lieutenant Colonel to Major General.
Ukrainian forces destroyed a major ammunition depot in Nova Kakhovka on July 11. There were multiple secondary explosions near the hydroelectric plant and dam on the Dnipro River. The rebuke from Russian bloggers and unaffiliated RIA-approved journalists was swift.
Blogger Dimitriyen posted on their Telegram channel, "I often hear people surprised by the inability of the Russian command to adapt to new challenges – high-precision weapons or long-range artillery systems. It is necessary, for example, to disperse the equipment over different forests, move headquarters deep into the territory, and place ammunition in different locations. But that doesn't happen. Why?"
Russian and Ukrainian forces exchanged artillery, rockets, and airstrikes from Oleksandrivka [Mykolaiv] to Osokorivka.
Mykolaiv – At least 20 missiles hit Mykolaiv in the heaviest barrage against the city since the start of the war. There was no immediate information on targets or casualties.
Dnipropetrovsk – Russian forces struck the city of Radushne with three cruise missiles. Pro-Russian accounts claim that an ammunition depot was destroyed, but videos from the area did not show any secondary explosions.
Kharkiv – Ukrainian forces destroyed a Russian artillery battery and ammunition depot adjacent to the school in Hoptivka, near the Russian border.
Russian SRBMs and MLRS rockets hit Kharkiv and its northern suburbs through the night, leaving five dead and 31 wounded.
Izyum – Russian forces made another piecemeal assault on Krasnopillya, which was unsuccessful. Artillery and rocket fire was limited compared to yesterday, targeting Zakitne, Dolyna, Dibrovne, Mazanivka, Adamivka, and Kurulka.
Daily Assessment
Frustration over the success of NATO-provided 155mm towed and self-propelled artillery, M270 Guided MLRS, and M-142 HIMARS is boiling over in Russian-controlled areas, dividing the online community over how robust Russian military capabilities are.
The Russian Ministry of Defense is responding to the ongoing losses by targeting civilians and civilian infrastructure.
We maintain that Siversk is the most likely location for major fighting in northeastern Donetsk.
To read the rest of our report, become a Patreon! For as little as $5 a month, you get access to the daily Russia-Ukraine War Situation Report. The report provides analysis, maps, detailed information about all the axes in Ukraine, international developments, information about war crimes and human rights, and economic news. As an added benefit, you get access to flash reports, breaking news, and our Discord server.