Azerbaijan Starts Military Operation in the Disputed Karabakh Against Ethnic Armenians
What you need to know to understand the Azerbaijan and Armenia conflict in the Artsakh/Nagorno-Karabakh.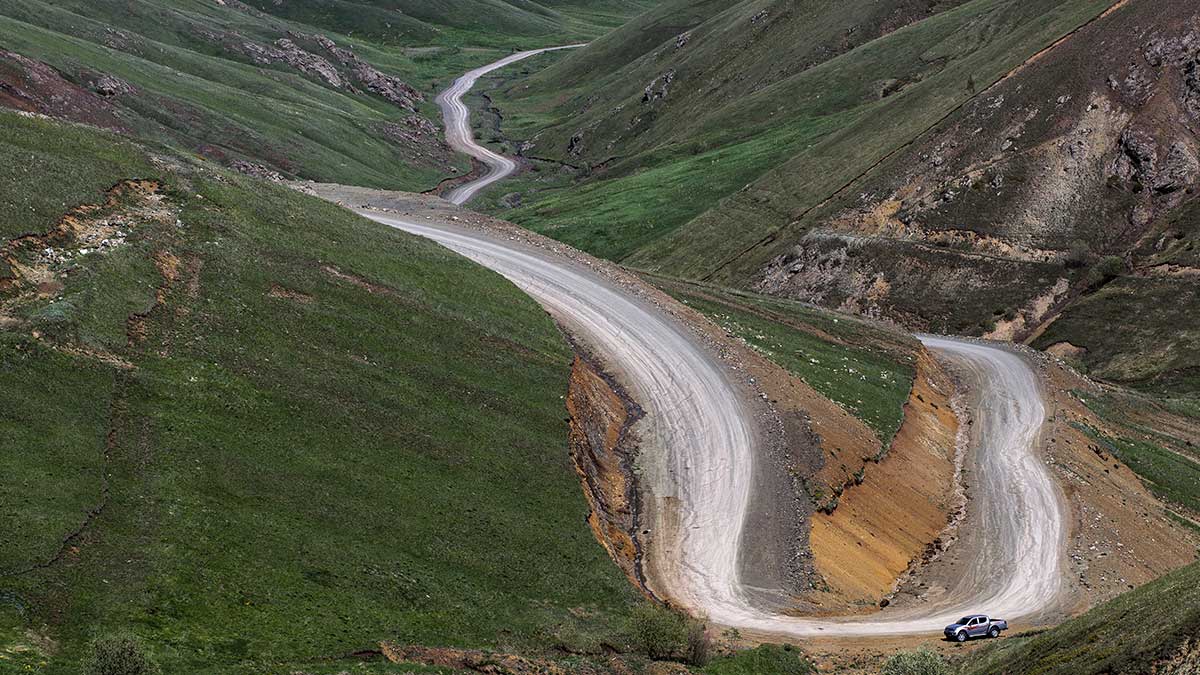 The Azerbaijani Ministry of Defense announced the start of a military operation in Karabakh following a series of alleged attacks by Armenia forces, with the aim of disarming the breakaway Republic of Artsakh.
Fighting has continued throughout the day, with 7,000 civilians being evacuated from the regions of Artsakh/Nagorno-Karabakh. At least 25 people have been killed in the fighting, with videos showing civilian areas being hit by artillery rounds and mortars.
The Azerbaijani Armed Forces released a series of videos showing Armenian air defenses, radar, and communication sites being destroyed by drones. Power in the city of Stepanakert was knocked out, with residents in panic as the sound of continuous artillery fire rubbled.

Azerbaijan officials claim that landmines placed on roads killed civilians and soldiers on September 19, sparking the "anti-terror operation." Armenia vehemently denies the claim.
At the start of the hostilities, the Azerbaijani Ministry of Defense released a statement saying, "In the last few months, the Armenian armed forces units in the Karabakh region of Azerbaijan systematically fired at the positions of the Azerbaijani Army from various calibers of weapons, continued mining of our territories, engineering improvements of the combat positions, as well as increasing the number of trenches and shelters, caused an increase in tension."
The Ministry claimed that a land mine killed employees of the State Agency of Zaerbaijan Highways, and in a separate incident, military personnel were killed and injured "as a result of a mine planted by the intelligence-sabotage groups," adding that Russia and Türkiye were notified about the military action.
The Ministry of Foreign Affairs of the Republic of Armenia released a statement saying that "Azerbaijan unleashed another large-scale aggression against the people of Nagorno-Karabakh, aimed at completing its policy of ethnic cleansing" that is "guided by a sense of impunity."
Armenian officials condemned the ongoing blockade of the Lachin Corridor, which has isolated up to 120,000 ethnic Armenians, bringing thousands to the brink of starvation. The Ministry accused Azerbaijan of conducting false flag attacks to justify large-scale military operations, adding, "the news about mining and sabotage operations are false and fabricated."
In the same statement, Armenia appealed to its international partners, the UN Security Council, and the Russian peacekeeping force in Nagorno-Karabakh to put "an end to Azerbaijan's aggression."
A History of Religious Violence and Genocide
Historically, the Artsakh/Nagorno-Karabakh region has been a homeland for ethnic Armenians. In 1805, Russian troops occupied Artsakh, annexing the territory from Iran in 1812. During the First Balkan War of 1912, Christian Armenians were accused of atrocities against Muslims, laying the foundation for future violence. A 1913 coup in the Ottoman Empire installed a one-party, fiercely anti-Christian government, which started a policy of forced relocations. Constantinople (now Istanbul) began "Muslimifcation" of the regions bordering Imperial Russia to disrupt what they believed was a growing separatist movement.
On October 29, 1914, the Ottoman Empire aligned with the Central Powers and entered World War I by attacking Russia's Black Sea ports. Ottoman armies invaded Russia through modern-day Azerbaijan and Armenia, and the offensive was a military disaster. Retreating Ottaman-Turks massacred Christian Armenians and burned towns to the ground. This started a two-year genocide that killed up to 1.5 million ethnic Armenians through executions, starvation, and forced labor.
A brief period of independence from 1918 to 1920 ended with the invasion of the Soviet Red Army, and in 1922, Armenia and Azerbaijan became part of the Soviet Union.
When Josef Stalin became the leader of the Soviet Union in 1924, he implemented policies that harshly repressed religion. A heavy hand with a crushing grip closed the fractures between Christians and Muslims, but the wounds remained unhealed.
For its historical part, Türkiye has never recognized the Armenian Genocide.
How Azerbaijan and Armenia Got to Today
As the Soviet Union crumbled, the first clashes over control of the region erupted in 1988. In 1991, the Republic of Artsakh, located in a mountainous region of the South Caucus, declared its independence from the Soviet Union. A regional ceasefire was negotiated in 1994, with the Artsakh/Nagorno-Karabakh continuing to operate as an independent region within the borders of Azerbaijan, heavily supported by Armenia.
Today, the Nagorno-Karabakh uses the Armenian dram as its currency, holds elections for an independent government, and is supported militarily by Armenian "volunteers." Despite these connections, the Armenian government has never formally declared Nagorno-Karabakh as part of Armenia territory.
In a series of skirmishes, clashes, and a four-day war in 2016, various peace agreements and annexations left Nagorno-Karabakh isolated from the internationally recognized border of Azerbaijan and Armenia. Access to the region is dependent on a single road – the Lachin Corridor.
The Second Nagorno-Karabakh War started on September 27, 2020, leaving 7,000 dead before a Russian Federation brokered ceasefire was reached on November 10. Part of the agreement placed Russian peacekeepers in Azerbaijan to act as observers, prevent further hostilities, and keep the Lachin Corridor open.
The geopolitics of the region is complex, with Azerbaijan backed by Turkey. Armenia is a member of the Collective Security Treaty Organization (CSTO), Russia's version of NATO, which includes Belarus, Kazakhstan, Kyrgyzstan, and Tajikistan.
The Beginning of the end of the CSTO Alliance
On September 12, 2022, Azerbaijan launched an unprovoked attack on Armenia, and on September 13, it shelled a base housing Russian Federal Security Service (FSB) peacekeeper troops, damaging barracks and vehicles. On September 14, Armenia tried to execute Article IV of the CSTO Alliance, requesting direct military intervention. The Kremlin rejected the petition and offered to send additional observers. From September 12 to 29, the clashes left up to 300 people dead, including civilians.
On the same day that Armenia requested assistance from the Alliance, CSTO members Kyrgyzstan and Tajikistan entered into a four-day border clash that left over 150 dead, including civilians, with both combatants accusing each other of war crimes.
With two members fighting, up to 90% of Russian ground forces fighting in Ukraine or supporting the Russian war of aggression in Ukraine, and Belarus entangled with Russia, Kazakhstan was the only CSTO member not already at war, supporting a war, or ready to fight a war with another CSTO member.
It was under this backdrop that Armenia hosted the CSTO Alliance Summit in Yerevan on November 23-24. At the end of the summit, Armenia refused to sign a draft declaration due to the absence of a statement addressing Azerbaijan's aggression.
Armenian Prime Minister Nikol Pashinian said, "Under these conditions, the lack of a clear political assessment of the situation and the failure to make the above decision may not only mean the CSTO's refusal from allied obligations but may also be interpreted by Azerbaijan as a green light from the CSTO for further aggression against Armenia."
With the CSTO leaders sitting at a round table and the signing ceremony broadcasted on live TV, Pashinian declared the summit over and walked out of the room. Russian President Vladimir Putin was so stunned the pen fell out of his hand.
Russia Wanted More from the 2020 Ceasefire
Moscow started flexing its political will in the region, fomenting the ethnic Armenians of Nagorno-Karabakh to declare independence and the desire to become part of the Russian Federation.
Following the same playbook used in Georgia and Ukraine, Russia started offering passports to Armenians, and on February 22, 2022, the first deputy chairman of the State Duma Committee on CIS Affairs, Konstantin Zatulin, said the same process used to create the illegitimate so-called Luhansk and Donetsk People's Republic in Ukraine, could work in Artsakh/Nagorno-Karabakh. He suggested that the pro-Russian elements of the Karabakh could form a People's Republic aligned with Moscow, which would facilitate future annexation.
On April 13, Russian propagandist and ethnic Armenian Margarita Simonyan, editor-in-chief of Russian state-controlled broadcaster RT, shared a post on Telegram supporting the formation of a so-called Karabakh People's Republic.
Russia's attempt to occupy Ukraine in February 2022 collapsed in a humiliating defeat, suffering the loss of tens of thousands of troops and hundreds of pieces of some of its best military hardware in just five weeks. To continue its war of aggression and reconstitute military units, Russia started drawing down its peacekeepers and military hardware from regions around the world, including Nagorno-Karabakh and the Lachin Corridor. In December 2022, Azerbaijan blockaded the mountain roadway.
What's the World is Saying
French President Emmanuel Macron called for an emergency meeting of the UN Security Council, and the European Council condemned the hostilities. In a separate statement, German Foreign Minister Annalena Baerbock accused Azerbaijan of breaking the 2020 peace agreement. United States Secretary of State Antony Blinken said there is "deep concern for the situation in Nagorno-Karabakh and underscored that the United States is calling on Azerbaijan to immediately cease hostilities and return to dialogue immediately."
The Foreign Ministry of Russia called for an end of hostilities. "In connection with the sharp escalation of the armed confrontation in Nagorno Karabakh, we urge the conflicting parties to immediately stop the bloodshed, stop hostilities, and eliminate civilian casualties."
The statement from Moscow falsely alleges that Yerevan has made a territorial claim to Nagoro-Karabakh. On May 25, in a televised address that included Azeri President Ilham Aliyev and Pashinian, Putin said, "In my opinion, on the whole, despite difficulties and problems, and there are enough of them, the situation is nonetheless moving towards a settlement," adding that, "officials from Armenia, Azerbaijan and Russia would continue to meet to ensure that "all unresolved issues will be cleared away."
During those talks, Pashinian offered a shocking list of concessions, including the ratification of the Armenia-Azerbajian border and recognition of Nagorno-Karabakh as Azerbaijani territory. Pashinian singular condition was security guarantees to the 120,000 ethnic Armenians in the region. As recently as August, Putin expressed hope a resolution would be reached and called for patience.
The Foreign Ministry of Türkiye said that Azerbaijan was left with no options, declaring, "As a result of its rightful and legitimate concerns about the situation on the ground that it voiced repeatedly not being alleviated in nearly three since the end of the Second Karabakh War, Azerbaijan was forced to take measures it deems necessary on its sovereign territory."
Another Genocide
The nine-month blockade has left Nagorno-Karabakh without food, fuel, and medical supplies. Residents line up for bread, with people standing in line for hours to receive one loaf per day. On August 15, 2023, Artsakh's Human Rights Defender, Gegham Stepanyan, reported the first person had died from malnutrition due to the blockade. The next day, the United Nations demanded that the Lachin Corridor be opened immediately to allow relief aid to pass, which Azerbaijan ignored. On September 11, the BBC independently verified that eight residents had died from hunger.
Because Armenia has never made an official claim that Nagorno-Karabakh is its national territory, for right or wrong, international law will likely view the ongoing fighting as an Azerbaijan internal issue.
Ominously, the Azerbaijan state news agency, quoting a presidential spokesperson, said, "Nevertheless, for the antiterror measures to stop, the illegal Armenian military formations must raise the white flag, all the weapons must be handed over, and the illegal regime must be dissolved. Otherwise, the antiterror measures will be continued until the end."
Azerbaijan forces did reopen the Lachin Corridor, but embattled civilians report the road is being shelled by artillery, making it impassable.
In a Facebook Live address, Prime Minister Pashinyan asserted that Armenia is not currently involved in the situation in Artsakh, sparking mass protests.
Armenia's Fragile Future
Thousands have gathered in Yerevan calling for the resignation of Pashinyan, despite his calls to remain calm and to resist "provocations aimed at destabilizing the nation."
Ignoring his request, tensions are rapidly rising, and Pashinian condemned protesters demanding a coup. Security forces have deployed flashbang grenades and potentially teargas.
Protesters also surrounded the Russian Embassy, demanding intervention in Azerbaijan as part of the 2020 peace accord, chanting, "shame," "killers," and curses at Russian President Putin and Foreign Minister Sergey Lavrov. The Russian Foreign Ministry urged the Armenian government to end the protest.
On social media, a flood of Russian disinformation has started, referring to Armenia as "temporarily occupied" and calling Pashinyan a CIA-installed puppet. There are hints that Russia is attempting to take advantage of the situation, with the Russian Deputy Chairman of the Security Council and former President, Dmitry Medvedev, writing, "One day, one of my colleagues from a fraternal country told me: 'Well, I'm a stranger to you, you won't accept me.' I answered what I had to: 'We will judge not by biography, but by actions.' Then he lost the war, but strangely stayed in place. Then he decided to blame Russia for his mediocre defeat. Then he gave up part of the territory of his country. Then he decided to flirt with NATO, and his wife defiantly went to our enemies with cookies. Guess what fate awaits him."
After Armenia requested Russia to honor the 2020 peace agreement, propagandist Simonyan wrote on Telegram, "Pashinyan demands (!) that Russian peacekeepers protect [Artsakh]. And what about NATO? Not? Doesn't protect?"
We had assessed the CSTO Alliance had reached the beginning of the end last year, with Russia's September 2022 refusal to provide military aid to Armenia, Pashinian's dramatic end to the CSTO Summit, and Kyrgyzstan and Tajikistan almost reaching all-out war.
In May 2023, Pashinyan declared Armenia would remain in CSTO, and Armenia has been accused of supporting Russia's war of aggression against Ukraine by being one of the main conduits for the transit of sanctioned goods. But Yerevan is keeping an eye on the West for its future.
In 2022, United States House Speaker Nancy Pelosi (D-CA) became the highest-level U.S. official to ever visit Yerevan on official business. On March 24, Türkiye and Armenia opened two border crossings that had been closed since 1993, and on September 11, Armenia and the U.S. launched a ten-day joint military exercise involving 85 U.S. troops. The Armenian Defense Ministry said the drills are meant to increase the interoperability of units participating in international peacekeeping missions and exchanging tactical skills.
Armenia has had a dedicated peacekeeping brigade since 2001. The 12th Peacekeeping has deployed to Kosovo, Iraq, Afghanistan, Lebanon, and Kazakhstan. In 2019, Armenia responded to a Russian request to deploy explosive ordnance disposal engineers, medics, and security officers to Aleppo, Syria.
Putin's Dilemma has no Good Answer, and Thousands Could Die
Militarily, the CSTO Alliance is the Russian Federation's might covering several other nations. Prior to 2022, this was a convenient relationship. The Kremlin could exert its power, and the CSTO members had a nuclear-armed force that the world perceived was still a global superpower. The price of entry was loyalty to President Putin.
Russian losses in Ukraine could be as many as 260,000 troops since February 24, 2022, and there is significant evidence that up to 45% of all Russian military land war hardware is damaged, destroyed, or needs extensive reconditioning due to neglect. The state of the Russian Federation Armed Forces was worse in September 2023 than it was in 2022 when it declined Armenia's Article IV request.
The bitter truth for Moscow is it can't intervene in Artsakh/Nagorno-Karabakh even if it wanted to, and the peacekeeping force it deployed in November 2020 has been impotent. Unable to project military power, the Kremlin is settling on a disinformation campaign that the NATO Alliance supports Armenia, and the country is being betrayed. Since President Putin rose to power, nations embedded in Russia's sphere of influence that have shown interest in broadening their alliances have been met with destabilization efforts and military intervention.
Complicating the situation for Putin, Russia's dismantling of Private Military Company Wagner Group is backfiring in Africa. The West African branch of al Qaeda, called Jama'at Nusrat al-Islam wal Muslimeen (JNIM), has recently launched a series of brutal attacks on the remaining Wagner mercenaries, the troops of the interim government of Mali, and non-Muslim civilians. PMC Wagner mercenaries have publicly accused the Russian Ministry of Defense of sabotaging military aircraft and sharing the mercenary group's tactical plans.
Russia appears to be preempting an Armenian Article IV declaration while ignoring its existing obligations to maintain a viable peacekeeping force in Azerbaijan. Putin is in an incredibly difficult position and could find himself trying to hold back an ongoing Ukrainian offensive while sinking into a Sahel and Caucus quagmire of his own making.
Regardless of the geopolitical swamp that has brewed for over 120 years and extends across three continents, thousands of ethnic Armenians are trapped in Artsakh and face starvation, repression, and death.