COVID cases are exploding in Washington as Delta variant spreads among the unvaccinated
Vaccination rate is 59.7% in areas with the lowest number of new COVID cases versus 41% in the areas with the highest.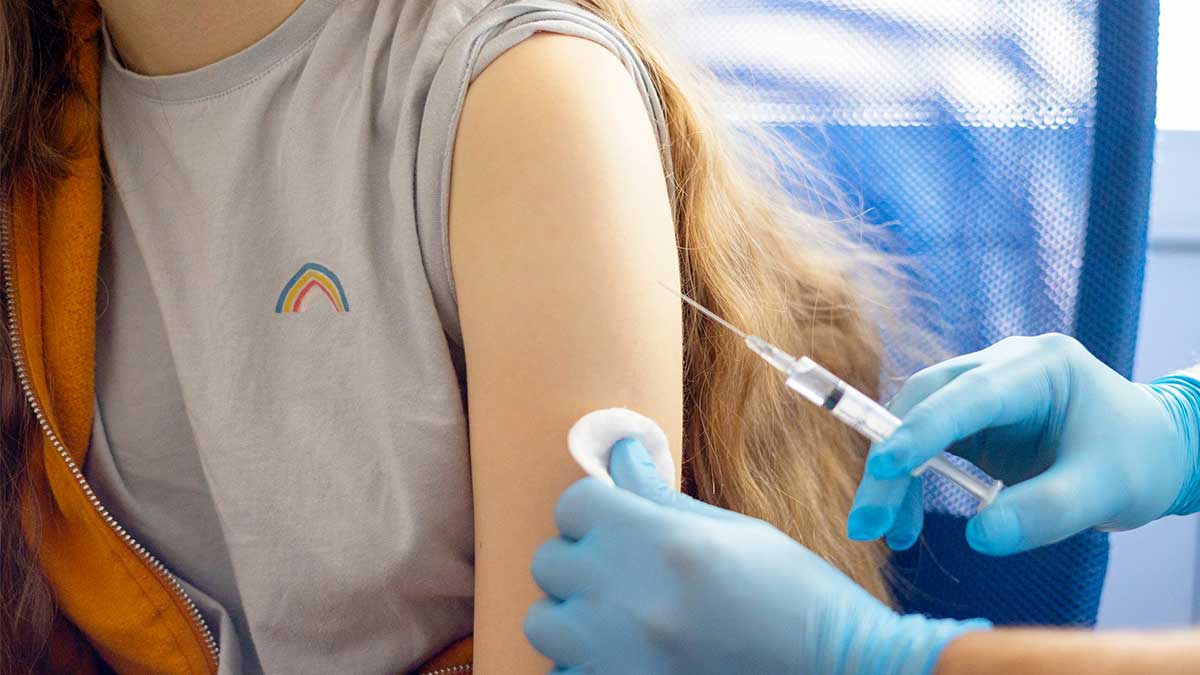 [OLYMPIA, Wash] – (MTN) New cases of COVID are exploding as the latest data from the Washington State Department of Health indicates under testing, high positivity rates, and a dwindling number of ICU beds statewide. Analyzing population, vaccination rate, and COVID positive rates in Washington's 39 counties shows that regions with lower vaccination rates are driving the increase in statewide numbers.
As of August 3, the 7-day rolling average of new coronavirus cases detected statewide was 1,788, up 510% from July 1. Hospitalization now exceeds the Third Wave April 27 peak. Washington state is down to 203 ICU beds statewide, and 17.4% of ICU patients are being treated for COVID. Persons under 65 now make up the majority of hospitalized patients.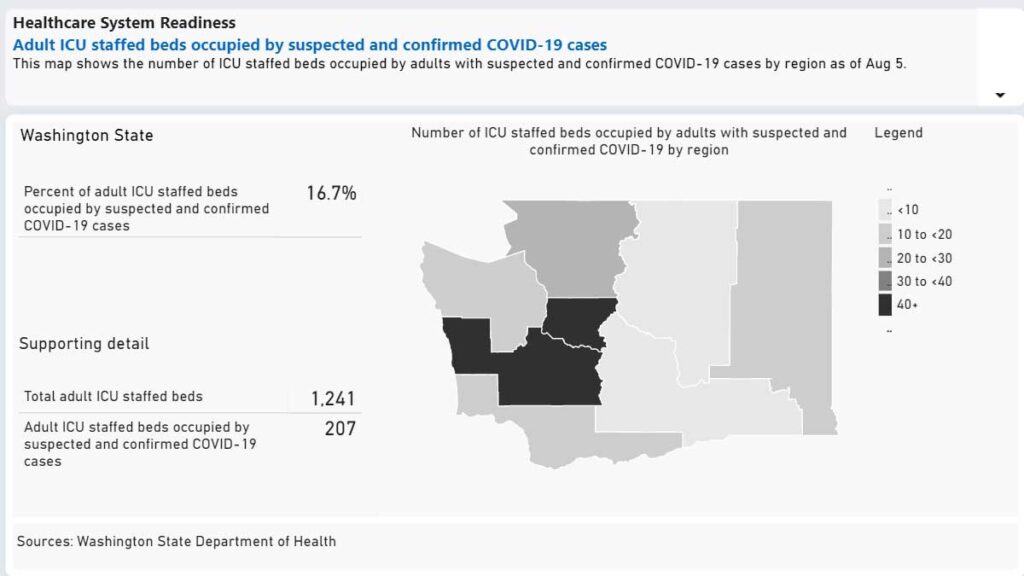 Malcontent News pulled the vaccination data from the Washington State Department of Health COVID Dashboard and population by county data from the United States Census. County-by-county COVID positivity rates were taken from the Washington State Department of Health website, using the most recent data available through July 29.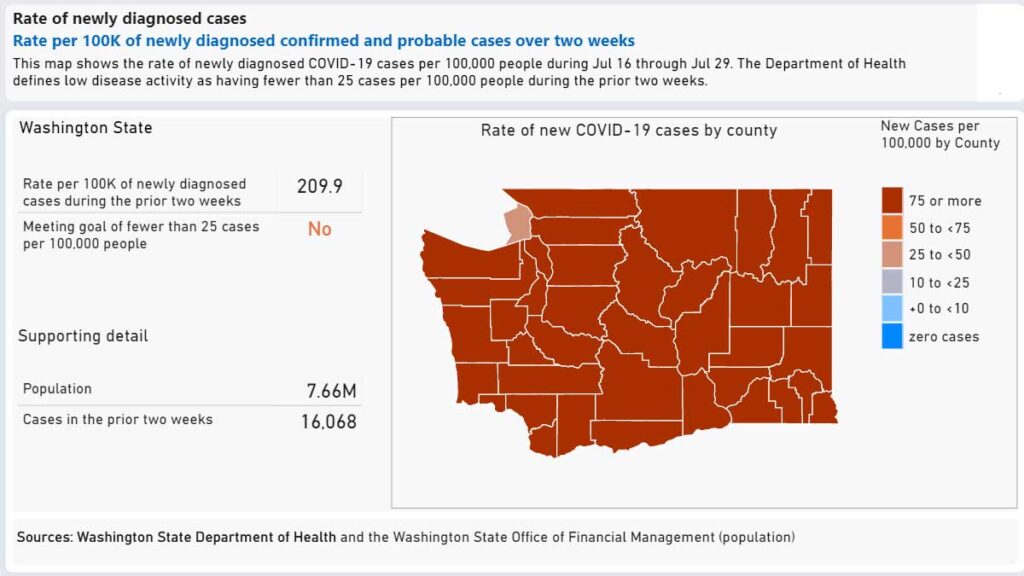 In the 24 Washington counties where more than 10% of COVID tests are coming back positive, 44.6% of the total population is fully vaccinated. For the remaining 15 counties where positivity is below 9.9%, the rate is 59.7%
There are currently six Washington counties where COVID tests are over 20% positive. In those counties, only 41% are vaccinated.
The Kaiser Family Foundation released a study on Friday that shows just how effective COVID vaccines are. The study showed unvaccinated residents are 67 times more likely to test positive for COVID and 60 times more likely to require hospitalization.
"Overall, the data showed that approximately 1 in 900 vaccinated people had breakthrough infections," the report stated. "Odds that would be comparable to dying in a motorcycle crash, according to data from the National Safety Council."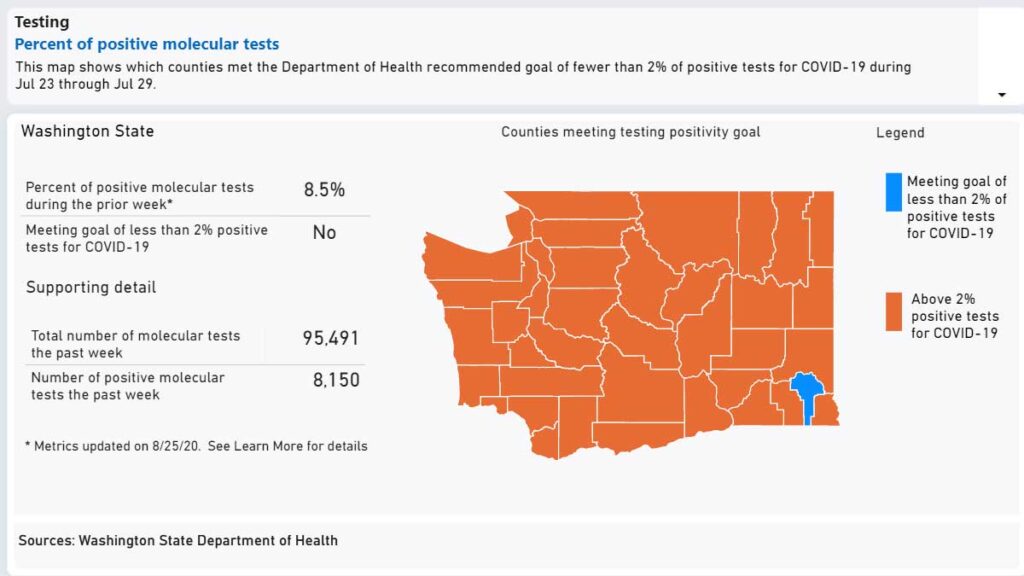 The statewide data paints a troubling picture for the potential for COVID hospitalizations to increase. Hospitalizations are a trailing indicator. The increasing number of COVID cases being detected indicates that hospitalizations will rapidly rise within the next two to three weeks. In a KOMO News article, Prosser Memorial Hospital in Benton County has run out of beds and is sending patients out of state.
There is some good news within the data. The spread of the Delta variant and increasing infections appears to be motivating unvaccinated Washingtonians to take action. Every Washington county showed a jump in those who have received their first COVID dose in the last two weeks.
King County Health and a number of medical facilities continue to provide COVID testing across King County.
COVID vaccines are free for anyone over 12 years old, and no appointment is necessary at most locations. Lyft and Hopelink provide free transportation, and KinderCare, the Learning Care Group, and the YMCA offer free childcare during vaccination appointments or recuperation.
For information on getting a vaccination in King County, you can visit the King County Department of Public Health website.
| | | | | |
| --- | --- | --- | --- | --- |
| County | Population | Fully Vaccinated | Partial & Fully Vaccinated | COVID Positivity – 14 Day Moving Average Through July 29 |
| San Juan | 16,788 | 72.86% | 77.92% | 4.50% |
| Jefferson | 31,285 | 68.18% | 71.24% | 7.60% |
| King | 2,195,502 | 66.04% | 71.21% | 5.90% |
| Whatcom | 220,821 | 58.03% | 63.48% | 6.20% |
| Snohomish | 798,808 | 55.85% | 60.99% | 8.00% |
| Chelan | 76,229 | 54.70% | 60.70% | 14.20% |
| Clallam | 75,392 | 55.14% | 59.22% | 7.50% |
| Skagit | 125,612 | 53.68% | 58.69% | 8.50% |
| Thurston | 279,711 | 51.82% | 56.43% | 9.80% |
| Island | 82,866 | 49.29% | 55.79% | 10.60% |
| Clark | 473,252 | 50.50% | 55.78% | 18.20% |
| Okanogan | 41,842 | 49.89% | 54.07% | 11.40% |
| Douglas | 42,023 | 47.89% | 53.36% | 10.20% |
| Walla Walla | 60,635 | 47.31% | 51.97% | 15.80% |
| Kitsap | 265,882 | 47.82% | 51.35% | 8.70% |
| Mason | 63,804 | 46.94% | 51.31% | 6.80% |
| Pacific | 21,688 | 46.33% | 50.63% | 15.50% |
| Grays Harbor | 72,779 | 45.81% | 50.62% | 7.30% |
| Cowlitz | 106,778 | 45.90% | 50.06% | 24.70% |
| Pierce | 877,013 | 44.96% | 49.93% | 13.30% |
| Spokane | 505,505 | 44.43% | 48.99% | 12.90% |
| Yakima | 249,697 | 42.76% | 48.50% | 15.10% |
| Kittitas | 45,897 | 44.82% | 48.41% | 11.20% |
| Benton | 197,518 | 41.55% | 46.75% | 26.50% |
| Wahkiakum | 4,268 | 43.06% | 45.78% | 27.30% |
| Grant | 95,502 | 40.66% | 44.69% | 8.90% |
| Klickitat | 21,721 | 41.02% | 44.68% | 20.90% |
| Adams | 19,594 | 40.04% | 44.52% | 9.60% |
| Lincoln | 10,574 | 40.43% | 43.16% | 20.50% |
| Lewis | 78,145 | 38.00% | 41.97% | 15.50% |
| Franklin | 92,009 | 34.24% | 39.35% | 26.00% |
| Ferry | 7,578 | 35.11% | 38.97% | 18.20% |
| Whitman | 49,213 | 34.78% | 38.10% | 13.20% |
| Columbia | 3,992 | 32.31% | 35.05% | 5.40% |
| Skamania | 11,753 | 31.76% | 33.70% | 14.30% |
| Asotin | 22,421 | 30.77% | 33.04% | 14.70% |
| Pend Oreille | 13,377 | 29.87% | 32.79% | 10.80% |
| Stevens | 44,655 | 26.46% | 29.01% | 13.50% |
| Garfield | 2,230 | 24.84% | 28.21% | 0.00% |
Percentage of the total population fully and partially vaccinated by county, with COVID positivity rate 14 day rolling average, through July 29, 2021