Local and national COVID update for August 18, 2021
Washington state brings back the mask mandate, teachers must get vaccinated, and ICU cases increase 72% in 24 hours.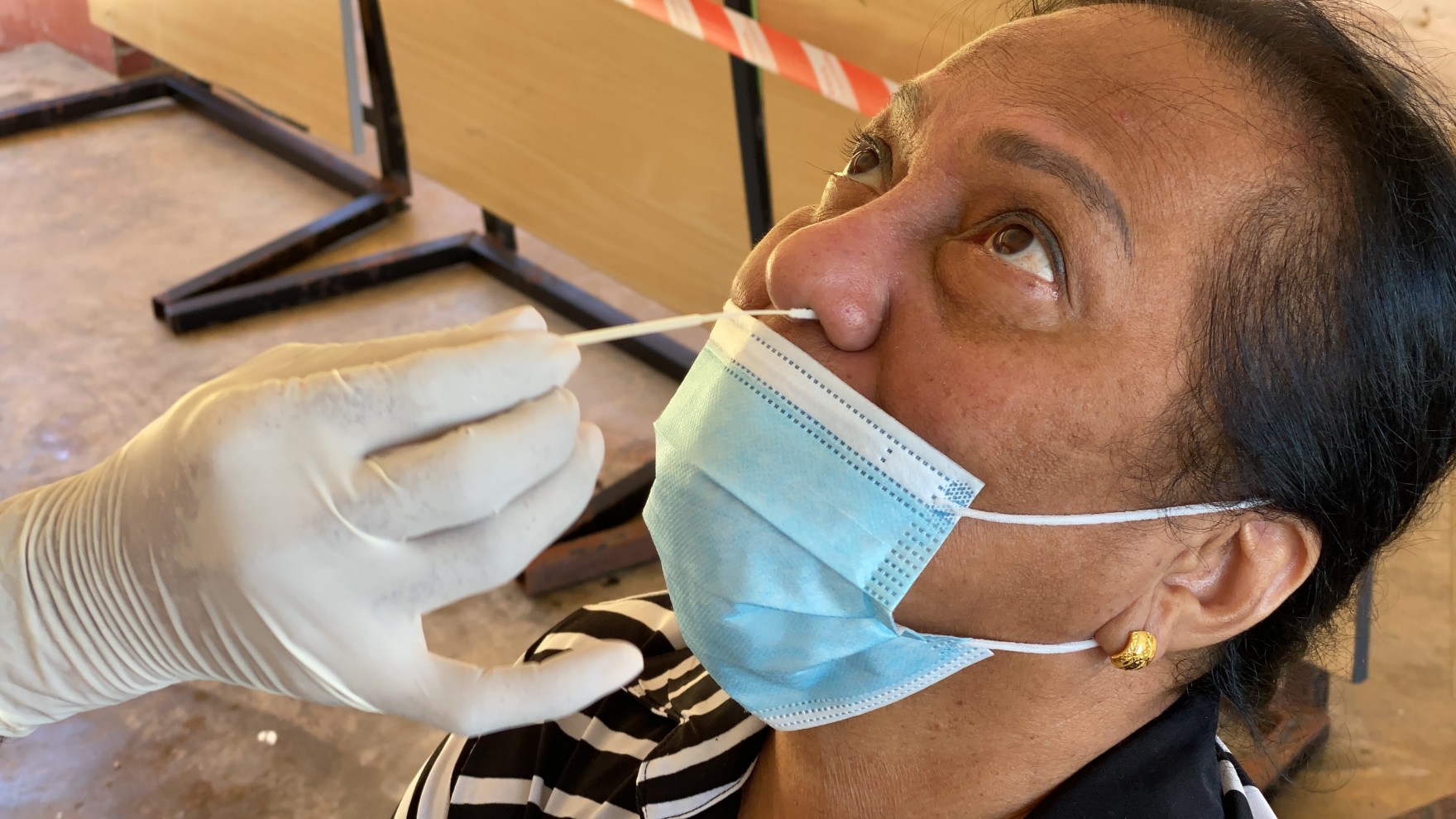 Knowledge is the best tool to fight against fear. A wise person chooses to be informed so they can make sound decisions. To join the fight against COVID misinformation, you can share this update through your social media platform of choice.
[KIRKLAND, Wash.] – (MTN) The Biden Administration announced guidance for COVID vaccine booster shots, Washington state renewed its mask mandate while requiring K-12 educators to get vaccinated, as the United States has its first day with 1,000 COVID related deaths since April.
The Washington State Department of Health has released the latest COVID data through August 17, 2021. COVID cases continue to rise through the state, and more hospital systems are curtailing or delaying elective procedures and closing their doors to visitors.

Washington State Update for August 18, 2021
Today, Governor Jay Inslee held a press conference in Olympia, announcing the renewal of the statewide mask mandate effective Monday, August 23, 2021. "We are requiring all individuals, including the vaccinated, to mask up inside in all public places," the governor said.
The mask directive applies to all individuals over the age of 5 in indoor public settings regardless of their vaccination status. Exceptions include athletes while engaged in active play or when people are eating or drinking. Additionally, persons who have a bonafide medical condition are exempt.
People who are fully vaccinated and work in places that don't face the public, such as computer programmers or machine operators, do not have to wear masks when working in those environments. For private events where everyone is vaccinated, masks are not required.
For the unvaccinated over 5 years old, masks are required in all indoor settings.
"There is a strong recommendation for crowded situations outdoors," said Secretary of Health Umair A. Shah, MD, MPH, adding, "There is no requirement." Dr. Shah's guidance was to wear a mask in densely crowded areas outdoors or in large group settings such as sporting events, fairs, or concerts. As of this writing, the new directive has not been published on the State of Washington Department of Health website. We will provide a link in our next update or when it is made available.
The number of COVID cases and rate of infection continue to deteriorate. Through August 10, the 14 day rolling average Washington is recording 419.2 COVID cases per 100K. This represents the highest rate of new infections since the December 2020 peak. New cases continue to grow exponentially, doubling every 7 to 10 days.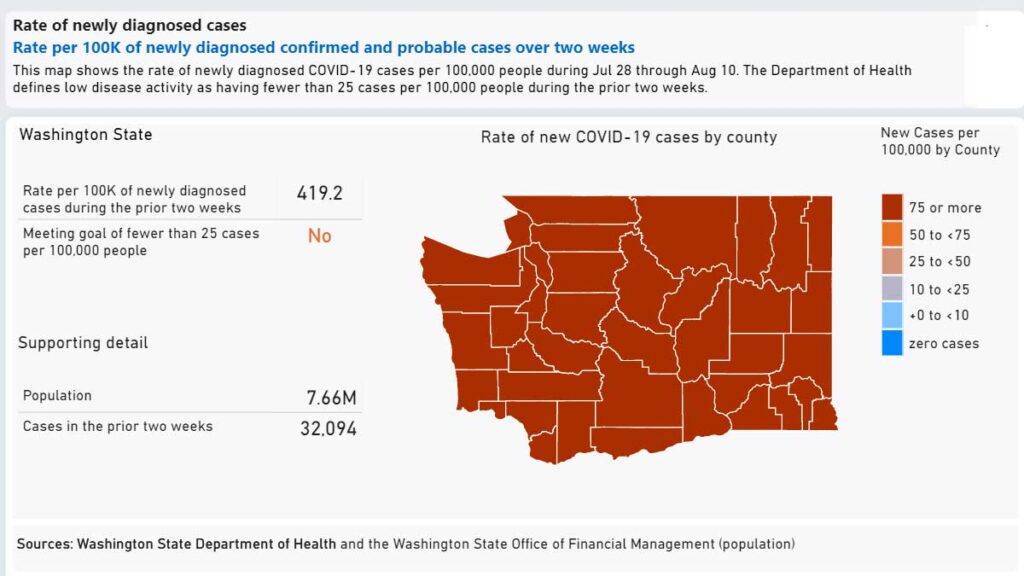 The Washington State Department of Health reports a data backlog for test positivity, with the published number 14 days old. According to Johns Hopkins University Medicine, the positivity rate for the last 30 days is 10.53%, and over the previous 7 days, 13.78%. Both of these numbers would indicate widespread community transmission and significant under testing of the population.
So far, COVID deaths remain very low, with a 7 day rolling average of 6 per day. It is important to note that fatalities are a trailing indicator that usually increases two to four weeks after hospitalizations begin growing.
In hard-hit Klickitat County, Sheriff Bob Songer reported he was infected with COVID in July and had a 5-day hospital stay. Sheriff Songer has been vocal in his position of not supporting COVID-related rules. He says he will continue to fight pandemic-related restrictions as he recovers at home and requiring oxygen. He dismissed his need for supplemental oxygen in an interview, stating he is a smoker with chronic pulmonary issues.
Washington state-based Alaska Airlines is said to be considering a vaccination mandate for their employees after three died from COVID in July. The deaths included Captain Eric Moss, a 53-year old pilot that would have likely not had any comorbidities. It is reported all three were unvaccinated.
EXTRA CREDIT: Airline pilots have to follow strict air medical standards to maintain flight status. The Aircraft Owners and Pilot Association can provide you with more information.
Vaccination
President Joe Biden announced that COVID vaccination booster shots would be available starting September 20 for anyone who has received their second mRNA vaccine dose at least eight months ago.
"Based on our latest assessment, the current protection against severe disease, hospitalization, and death could diminish in the months ahead, especially among those who are at higher risk or were vaccinated during the earlier phases of the vaccination rollout," top health officials said in a joint statement.
Unlike vaccines from Pfizer and Moderna, the Johnson & Johnson vaccine uses a disabled adenovirus to deliver the instructions. This adenovirus is in no way related to the coronavirus. It cannot give you COVID-19, nor can it spread COVID-19 to other people. The virus delivers instructions to the immune system on how to defeat coronavirus without giving it the ability to replicate.
Tik Tok creator hotvickkrishna made this video that explains how the Johnson & Johnson vaccine works and why only one dose is required.
The decision to start providing booster shoots is not without controversy. The World Health Organization advised against boosters today, in part because global vaccination rates remain low, and among the poorest nations, vaccinate rates are only 1.3%. The WHO added that boosters are not indicated as being needed "for now."
Yesterday, we reported that Texas Governor Greg Abbott, currently infected with COVID, received a booster shot. During an interview with Sean Hannity on Fox News, former President Donald Trump derided booster shots as a money-making scheme while falsly stating that vaccine developers said the COVID vaccine was forever.
FACT CHECK: On April 2, 2021, the CDC released a report indicating that the Pfizer and Moderna mRNA vaccines would be effective for at least six months. The study tracked 3,950 individuals from December 2020 to March 2021 under real-world conditions. Another study released in June 2021 from Washington University in St. Louis indicated the mRNA vaccines could be effective for years "so long as the virus and its variants do not evolve much beyond their current forms."
During Governor Inslee's press conference today, Dr. Shah reported seeing a "20% increase in vaccinations in the last two weeks" in Washington state.
Governor Inslee appealed to the almost 2 million Washingtonians vaccine eligible but have not gotten the jab. "Instead of shutting down businesses and schools, we are using tools to keep our businesses and schools open," Inslee said. "This isn't your grandpa's illness anymore, and 95% of the people sick and hospitalized today are unvaccinated."
Washington state is providing COVID vaccine booster shots for moderately and severely immunocompromised residents. People who received an mRNA vaccine are eligible for the booster. People who received the Johnson & Johnson vaccine do not require a booster at this time.
The group Find a COVID Shot WA can assist anyone who needs help making an appointment. The group of 75 volunteers has been operating since the beginning of 2021 and offers support in 20 languages.
Hospital Status
Governor Inslee stated, "our healthcare system is overwhelmed."
"We have [hospital] systems telling us: "We have staff shortages, we are fatigued, and we are back at this. Please help us."
In an interview with KING 5, Dr. James Town, medical director of the medical ICU at Harborview, reported, "We're seeing people from their 30s to their 50s, more than 90% of patients. In fact, I think all of the patients in our hospital now are unvaccinated patients."
Harborview Medical Center is Washington state's only Level I trauma hospital with 413 beds. As recently as August 11, the hospital had more than 500 patients, and the wait time for patients arriving by ambulance was up to 90 minutes long.
"We have broken our previous record for hospitalizations set in December, and we are witnessing exponential growth," Governor Inslee stated.
On August 17, 84.0% of available acute care beds in Washington state have patients. The data indicated there were 1,461 acute care beds available statewide and 314 in King County. The Northwest, West, Central, South Central, and East Regions were over 80% utilization. There are 1,174 COVID patients in acute care, an increase of 82 since yesterday. 12.8% of all hospitalized acute care hospital patients are being treated for COVID.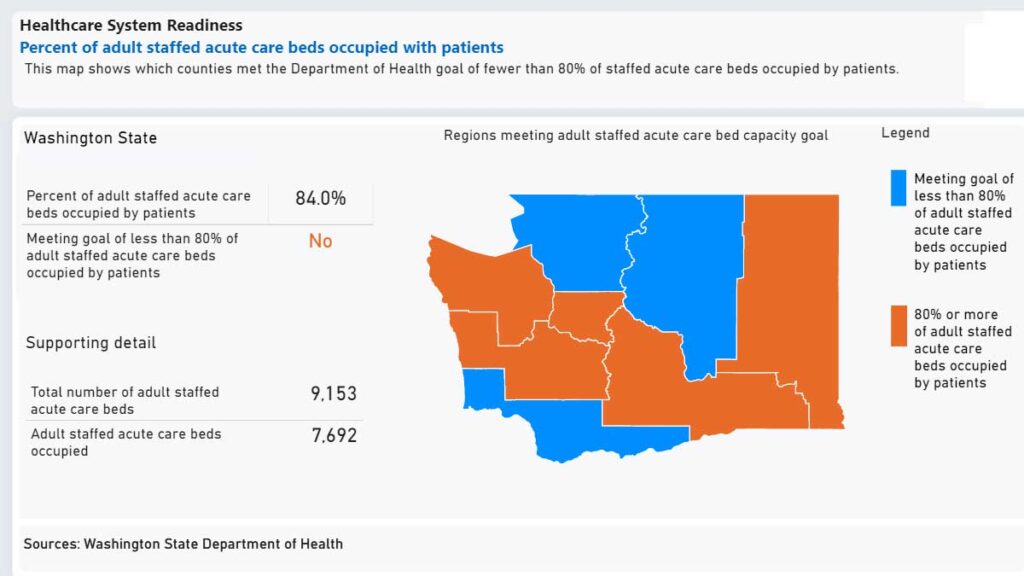 Statewide ICUs were 82.9% occupied with 211 staffed beds available. King County has 70 ICU beds available. Unfortunately, the number of COVID patients in the ICU jumped significantly from yesterday. The number of ICU patients increased 72% overnight, to 400 patients – almost 1 in 3 people in the ICU.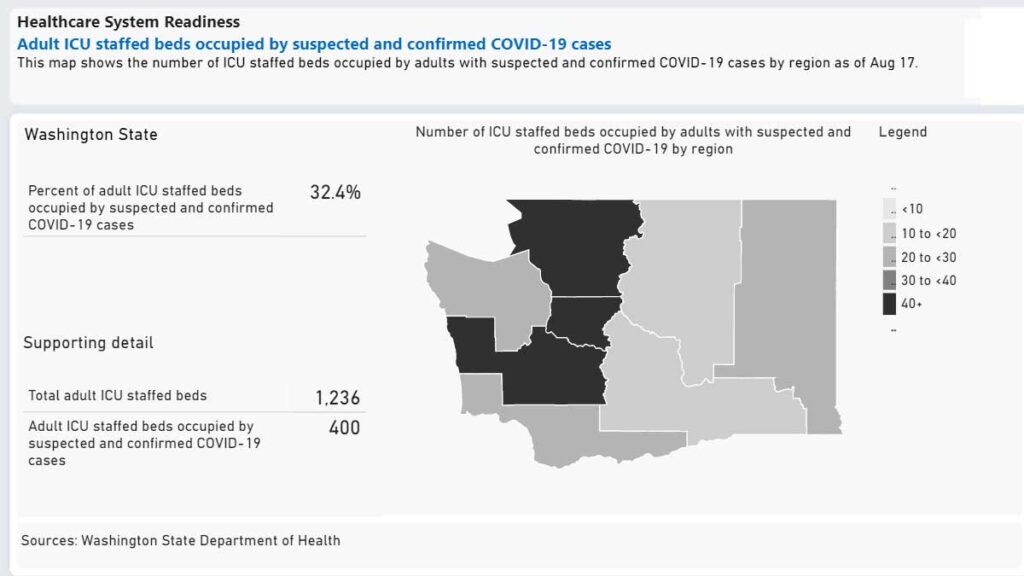 Washington state continues to have a critical shortage of blood, with a less than 24 hour supply for five out of eight blood types. The situation has deteriorated since August 3. There will be a blood drive in Kirkland on August 30 and 31. We will publish additional details when they become available.
The East Region, which includes Spokane, has 16 ICU beds remaining.
With the epidemiological curve doubling every 7 to 10 days, our hospital system is in danger of being overrun.
Today in Everett, anti-vaxxers protested out of Providence Hospital, where the first confirmed COVID case in the United States was treated. Hospital workers walked out during lunchtime, giving the middle finger to the crowd. One employee in scrubs said they felt "betrayed, hurt, and sad."
Back to School
Governor Inslee announced a directive requiring all employees and contractors working for private K–12 schools and public K–12 school districts, charter schools, and educational service districts to be fully vaccinated by October 18, 2021.
All staff, faculty, administrators, contractors, coaches, volunteers, and visitors must provide proof of vaccination, a bonafide medical exemption, or proof of sincerely held religious beliefs by the deadline or face termination of employment. If a school employee contracts COVID and is recommended to wait 90 days before receiving their COVID vaccination, they need to seek accommodation before the October 18 deadline.
The order does not apply to state-tribal education compact schools or to students.
"We are well past the point where testing can keep people safe," Inslee stated. "Before you leave your job, talk to your doctor. Don't listen to all this baloney on the Internet. Don't leave your career until you talk to your doctor about this vaccine," he continued.
"This is fundamentally a health and safety issue."
"Delta is not Alpha. It is impacting more folks, and it is more transmissible, Washington State Superintendent of Public Instruction Chris Reykdal said.
"Our goal here is safety first and foremost. Shutdowns have impacts. When 1.1 million kids are home, someone has to be there at home. Opening school is important. It matters to learning, it matters to our economy, and it matters to your families."
According to the Washington Office of Superintendent of Public Instruction, COVID cases have increased 79% for children ages 4 to 10, 59% for ages 11 to 14, and 66% for teens ages 15 to 19.
Employees must provide proof of vaccination by showing their vaccine card, certificate of COVID-19 vaccination, or Washington State Immunization Information System printout. Individuals cannot use attestation as proof of immunization, and school systems cannot opt out.
FACT CHECK: In 1905, the United States Supreme Court decided that the states have the power to mandate vaccinations (Jacobson v. Massachusetts, 197 U.S. 11 (1905)). Last week, Trump appointed Supreme Court Justice Amy Comey Barrett, denied an appeal from students at Indiana University to block the school's vaccine mandate. Because the Supreme Court was not in session, enabling Justice Comey Barrett to render a decision independently. A three-judge federal appeals court panel, including two judges appointed by former President Donald Trump, previously sided with Indiana University to require vaccinations.
To comply, employees need to have their second mRNA vaccination dose or the single-dose Johnson & Johnson vaccine by October 4, 2021.
Superintendent Reykdal stated that vaccination rates among current teaching staff are "well in excess of 70%."
In explaining why he passed the mandate, Governor Inslee stated, "The freedom from COVID is a freedom we are protecting here. We are protecting your freedom to be alive, go to school, and run your business."
Kirkland-Bellevue-Woodinville
Yesterday we created some confusion due to the wording in our story. The Lake Washington School District will not require students to provide a daily health screening/attestation. Parents are urged to keep their children home if they are experiencing COVID-like symptoms, have been directly exposed to COVID, or are sick.
National Round-Up
Johns Hopkins University reported over 128,900 new cases and 1,001 deaths. It is the first time the United States has reported more than 1,000 COVID-related deaths in a day since April. Nationwide, 11.45% of COVID tests are coming back positive.
Hospitalization of children infected with COVID has hit "the highest level ever seen," according to Dr. Cedric Dark, assistant professor at Baylor College of Medicine and board member with Doctors for America.
According to Dr. Katelyn Jetelina, MD, 121,427 kids have tested positive for COVID, representing 18% of all reported COVID cases in the United States. Texas has the most pediatric cases, with 509 children hospitalized. Pediatric patients are growing exponentially in the United States, pushing children's hospitals to the limit.
On the current trajectory, Dr. Denise Dewald, MD, projects the United States will need 6,800 PICU staffed beds to meet the anticipated peak. The nation only has 4,500 beds, and unlike adults, PICU cannot be expanded simply by adding surge capacity in tent hospitals or moving patients to adult care units. Pediatric patients require specialized equipment, medical staff, and medications.
Pope Francis issued an appeal urging people to get vaccinated against COVID-19, saying the vaccines could bring an end to the pandemic.
"Thanks to God's grace and to the work of many, we now have vaccines to protect us from COVID-19," the Pope said in a video message made on behalf of the nonprofit U.S. group the Ad Council and the public health coalition COVID Collaborative.
"They grant us the hope of ending the pandemic, but only if they are available to all and if we work together."
The Pope was vaccinated back in March, declaring it was an ethical obligation.
EXTRA CREDIT: What does the Bible say about Christians seeing a doctor? Read this point of view from Compelling Truth.
President Joe Biden announced that staff members at nursing homes would now be required to be fully vaccinated against COVID-19, or those facilities would risk losing their Medicare and Medicaid funding. The President reported that since COVID started, 130,000 residents in nursing homes have passed away.
According to early August data from the Centers for Medicare and Medicaid Services, only 60 percent of staff members at long-term-care facilities have received the full course of the coronavirus vaccine.
The Delta variant is making a significant impact on air travel and tourism, with 54% of Americans reporting less interest in traveling and 27% postponing a planned trip. The number of people buying cancelable tickets has increased 37%, and trip cancelation is rising.
Alabama ran out of ICU beds on Tuesday night and added 4,465 new COVID cases. Dr. Don Williams, president of the Alabama Hospital Association, reported that the state is actually negative 11 for staffed ICU beds and has an additional 30 patients awaiting transfer to an ICU. Alabama has 2,723 people hospitalized with COVID, including 41 pediatric patients. Last week, Governor Kay Ivey announced a temporary emergency order enabling doctors, nurses, and pharmacists to practice in Alabama using expedited medical licenses.
In Florida, University of Florida researchers project the state will hit its peak in late August or early September. The report indicates that Florida would reach 33,000 new cases a day, 220,000 a week. The school reported that 94% of their hospitalized patients are unvaccinated. The university is caring for six pediatric patients, the most on record.
The Los Angeles, California City Council voted to require city employees to get the COVID vaccine. Employees will have until early October to get vaccinated.
COVID cases are spiking in Wisconsin, where 683 COVID patients are being cared for statewide. Dr. Ben Weston, the director of Medical Services for the Milwaukee County Office of Emergency Management, called attention to the steep increase in hospitalizations during a press call with Milwaukee County officials.
"For those who have not yet gotten vaccinated, now is the time," Weston said. "The delta variant is widespread, and the vaccine significantly decreases your risk of infection, the risk of severe symptoms, your risk of hospitalization, and your risk of death."
New COVID cases in Wisconsin have reached the highest levels since February.
According to Oregon governor Kate Snow, hospitals are at 93% of capacity, and 9 out of 10 ICU beds are full. Oregon has seen a surge of cases in the last ten days, with one of the fastest-growing rates in the country.
MISINFORMATION
A lot of digital ink has been spilled about the drug Ivermectin. On July 28, even the Wall Street Journal ran an opinion piece called, Why is the FDA Attacking a Safe, Effective Drug? The Wall Street Journal updated the op-ed piece recently with this disclaimer, "This article has been edited to remove a reference to a study of 200 healthcare workers by Ahmed Elgazzar of Benha University in Egypt. Messrs. Henderson and Hooper relied on a summary of studies published in the American Journal of Therapeutics. They learned after publication that this study has been retracted because of charges of data manipulation."
Neither David R. Henderson nor Charles L. Hooper, the writers of the articles, are medical doctors, medical researchers, or immunologists. Additionally, Mr. Hooper is president of Objective Insights, a firm that consults with pharmaceutical clients. Who is one of Objective Insights' clients? Merck, the maker of Ivermectin.
You might have seen videos out of San Diego County where several anti-vax, anti-mask, and COVID deniers took to the microphone. The BBC investigated how Russia is hiring American actors they are recruiting through YouTube and social media to create misinformation content and attend anti-vax protests.
Denver, Colorado actress Audra J. Morgan was identified as a speaker in San Diego by internet sleuths. After being identified, she was found in photos at several protests around the country.