Mykolaiv shattered in missile attack – July 31, 2022 Ukraine update
Mykolaiv hit by more than 40 missiles and rockets in biggest attack since the war started.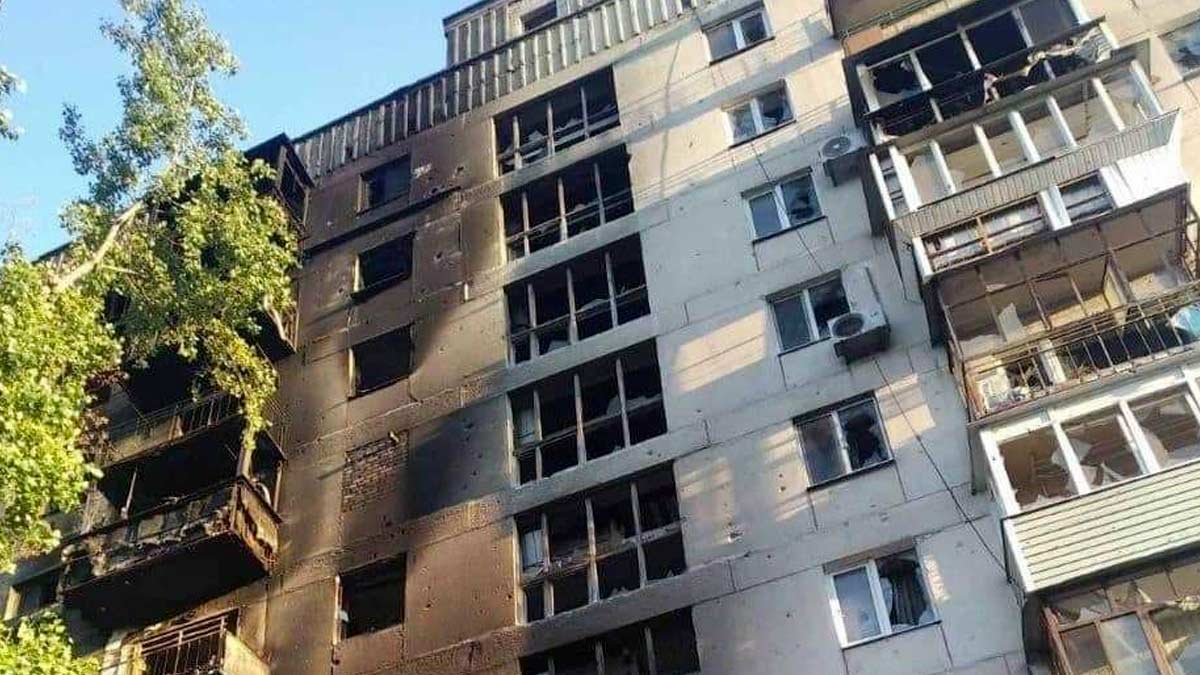 [UKRAINE] – MTN It has been 3,075 days since Russia occupied Crimea on February 27, 2014. Here is our latest update.
Northeast Donetsk – Russian forces did not attempt to advance toward Siversk from any direction. Neither Ukrainian nor Russian sources reported fighting in Spirne, Ivano-Darivka, or Berestove. A small Russian reconnaissance group was discovered in the area of Serebryanka and neutralized.
Bakhmut – Russian forces are attempting to gain full control of Pokrovske and fighting continued. The northern half of the settlement has turned into a no man's land where control is constantly shifting.

In the Svitlodarsk bulge, Russian forces continue to work on collapsing the pocket. The settlement of Semyhirya was attacked from three sides, with Russian forces advancing to the eastern edge of the town. Russian forces attempted to advance on Zaitseve and Travneve and were unsuccessful.
Southwest Donetsk – Zaporizhia – Elements of the 1st Army Corps of the Donetsk People's Republic (DNR) and the 2nd Army Corps of the Luhansk People's Republic (LNR) continue to attempt to advance on Kamyanka, Avdiivka, Opytne, Pisky, and Krasnohorivka. The General Staff reported that Russian forces had made some gains in Avdiivka but were non-specific. Russian sources had reported gains on July 30.
Russian forces made territorial gains north of Krasnohorivka, crossing the H-20 highway and reaching the railroad spur line. Ukrainian forces launched a counterattack from Opytne toward Spartak and successfully drove back the Russian advance.
Russian forces withdrew from the settlements of Verkhnii Tokmak and Chernihivka in Zaporizhia after their positions were shelled. The Ukrainian General Staff reports the roads have been mined. The Russian Ministry of Defense claims this is part of a planned troop rotation.
Kherson – In Kherson, the Antonivskyy Zaliznychnyy Mist Railroad bridge was attacked for a second time and is likely unusable through the rest of the war. The attack hit the bridge at the abutment, breaking the girders that connect the bridge girders and smashing the top deck.
Operational Command South reported that the Ukrainian air force flew multiple sorties on the settlement of Russian-controlled Beryslav and destroyed two ammunition depots.
Visit our Russia-Ukraine War Map
The Malcontent News Russia-Ukraine War Map is updated as events occur. Map not appearing in your RSS Feed or Google News App? You can review the most up-to-date information by visiting our custom Google Map.
Mykolaiv – Oleksandr Sienkevych, the Mayor of Mykolaiv, reported the city experienced "the strongest ever" missile and rocket attack of the war. The city was hit with at least 40 missiles and rockets fired by multiple launch rocket systems (MLRS). Oleksii Vadaturskyi, a Hero of Ukraine and the owner of the major grain trading company Nibulon, and his wife were killed when a rocket struck their house. Vadaturskyi was 74.
Zaporizhia – The Nikopolskyi District of Zaporizhzhia was struck by Grad rockets fired by Multiple Launch Rocket Systems (MLRS). One person was injured in the attack, which knocked out water and natural gas service.
Kharkiv – North of Kharkiv, neither belligerent launched any ground offensives north of Kharkiv as the front remained frozen. The Nemyshlianskyi District in Kharkiv city was hit by a missile overnight.
Izyum – Russian forces increased ground combat activity after an extended lull on the axis. A Russian reconnaissance unit moved along the line of conflict between Nova Husarivka and Husarivka but was repelled. Another recon group tried to scout Ukrainian positions in Dolyna but was unsuccessful, and a Russian advance into Dmytrivka failed.
The General Staff reported that Ukrainian positions "near" Andriivka [Kharkiv] were shelled. This information indicates that marginal gains have been made from the west, and we now consider the settlement contested. In Svatove, 65 kilometers east-northeast of Izyum, insurgents destroyed switching and control boxes for the railroad lines.
Sumy – Dmytro Zhivytsky, Sumy Regional Administrative and Military Governor reported that Velyka Pysarivka, Bilopillya, and Seredyna-Buda were shelled by mortar and artillery fire.
Odessa – A pilot boat hit an improvised explosive device at the mouth of the Bystroye Canal, causing significant damage. The vessel lost power and drifted out of the shipping canal but did not sink. The crew was rescued, but the canal used for the transit of Ukrainian grain was closed.
A Russian missile attack on the Odesa oblast hit a mine at a quarry. The specific location was not reported at press time.
Sevastopol – The Russian state media news agency TASS reported that Ukrainian forces used drones to attack the headquarters of the Black Sea Fleet in Russian-occupied Sevastopol. According to mayor Mikhail Razvozzhaev, five people were injured in the attack. Area officials canceled Navy Day festivities and advised all persons to stay home.
Daily Assessment
Russian forces are attempting broad but ineffective offensive operations to spread Ukrainian military resources and attempt to force a delay in pending larger counteroffensives.
Increased shelling and reconnaissance in the Chepil region of the Izyum axis likely is not a precursor to a larger offensive in this direction, given Russian failures at contested water crossings.
Russian forces continue to lose ground south of Izyum, reinforcing previous assessments that Russian combat power has reached a culmination point on this axis.
To read the rest of our report, become a Patreon! For as little as $5 a month, you get access to the daily Russia-Ukraine War Situation Report. The report provides analysis, maps, detailed information about all the axes in Ukraine, international developments, information about war crimes and human rights, and economic news. As an added benefit, you get access to flash reports, breaking news, and our Discord server.