Russians make little progress – August 1, 2022 Ukraine update
Russian forces use civilians as human shields in Kherson on the temporary ferry across the Dnipro.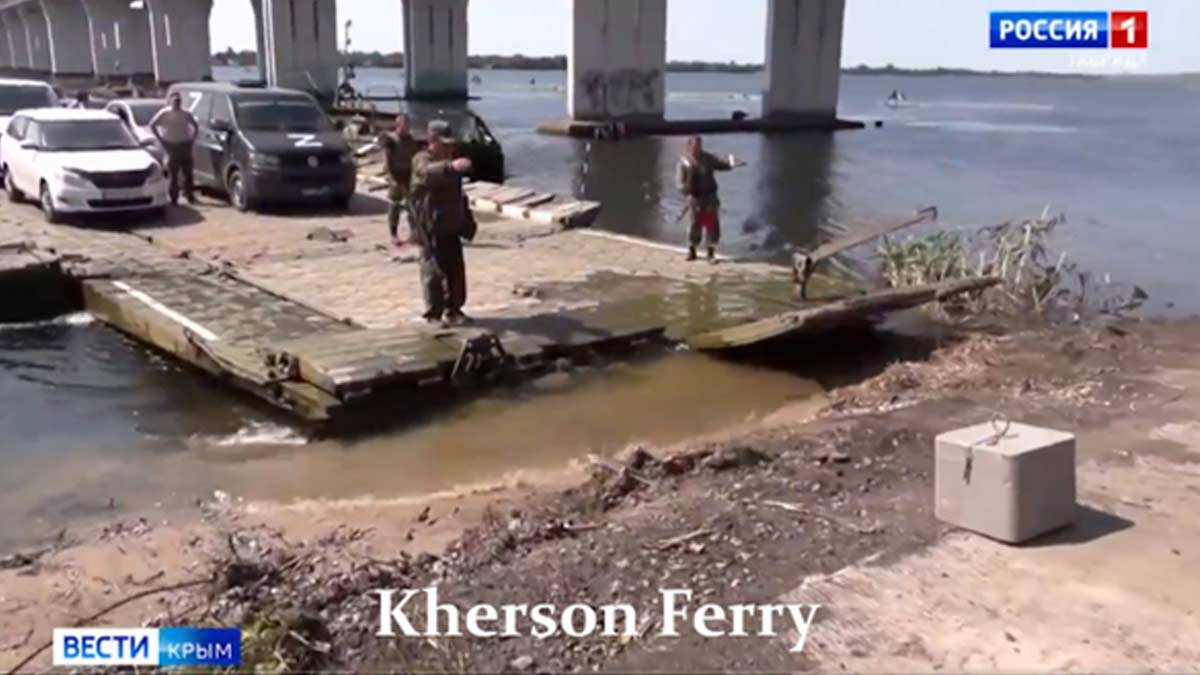 [UKRAINE] – MTN It has been 3,076 days since Russia occupied Crimea on February 27, 2014. Here is our latest update.
Northeast Donetsk – A Russian reconnaissance group probed Ukrainian positions in the Serebrianka area in the direction of Siversk. The unit was destroyed.
Bakhmut – Fighting continues in Stryapivka, with Russian forces attempting to advance on Soledar. Fighting has also continued in Pokrovske. We maintain the northern half of the settlement is a no man's land with neither belligerent able to hold control of the area.

Fighting continues in the Svitlodarsk bulge, where Russian forces did not make additional progress in Vershyna, Semyhirya, or Travneve.
Southwest Donetsk – Zaporizhia – Fighting continued west of Donetsk along a broad front, including Kamyanka, Avdiivka, Pisky, and Krasnohorivka. Russian forces made no forward progress after achieving gains on July 30 and small gains in Pisky on the morning of July 31.
There were reports that Ukrainian forces had launched a limited counteroffensive south of Hulyaipole last week, and fresh reports today that advances toward Polohy were made.
There were reports of a large explosion at the airbase northwest of Melitopol. The General Staff did not report they made a HIMARS strike at the Russian-controlled airfield.
Kherson – Ukrainian forces hit a large Russian ammunition depot using rockets fired by High Mobility Artillery Rocket Systems (HIMARS) in the settlement of Skadovsk. Residents reported that Russian troops had been bringing large quantities of the ammunition "for days" into the area.
An ammunition depot was hit in Russian-controlled Beryslav, also producing a large fire.
In Kakhovka, Insurgents destroyed the car of Russia-collaborator Vitaliy Efimenko. The vehicle he was driving was armored, with Efimenko suffering injuries in the attack.
In Kherson, Russian troops have dug trenches and defensive positions on the north bank of the Dnipro River at the entrance of the disabled Antonovskiy Bridge. Russian forces continue to mix civilian and military traffic on the military-operated ferry. Combat engineers have started repairs on the deck of the bridge.
At the Nova Kakhovka Dam, the railroad tracks that cross the spillway have been destroyed. The bridge has received a temporary repair using steel plates to cover the damaged area. The road is operational but reduced to a single lane.
There are reports that Oleksandrivka [Kherson] is under Russian control again.
Visit our Russia-Ukraine War Map
The Malcontent News Russia-Ukraine War Map is updated as events occur. Map not appearing in your RSS Feed or Google News App? You can review the most up-to-date information by visiting our custom Google Map.
Izyum – Russian forces launched an unsuccessful offensive on Husarivka. There continues to be an increase in activity northwest of Izyum along the Siverski Donets River.
Odesa – Two missiles were fired into the Odesa oblast, landing in a sparsely populated area near a quarry. The strike caused a brush fire, but there wasn't any additional information on damage or casualties.
The first boat carrying Ukrainian grain departed from an Odesa area port. The ship is carrying a load of corn that will arrive in Lebanon. The Ukrainian and Russian government declared the departure as a sign of progress.
Sevastopol – Russian authorities are now claiming the attack on the Black Sea Fleet Headquarters in Sevastopol was a locally launched attack using modified consumer drones.
Daily Assessment
The number of areas with an active insurgency in Ukraine is expanding with increasing attacks and assassination attempts in Russian-occupied territory.
A deficit in trained light infantry, disruption of logistics, and the continued destruction of ammunition depots are impacting Russia's offensive capabilities.
Russian troop movements indicate that offensive operations toward Bakhmut and Donetsk are being prioritized while defensive operations in Kherson and Zaporizhia are being reinforced.
To read the rest of our report, become a Patreon! For as little as $5 a month, you get access to the daily Russia-Ukraine War Situation Report. The report provides analysis, maps, detailed information about all the axes in Ukraine, international developments, information about war crimes and human rights, and economic news. As an added benefit, you get access to flash reports, breaking news, and our Discord server.