One year later, a community waits for justice for Summer Taylor
On the 4th of July, friends and family gathered together to remember Summer Taylor who died in a car attack.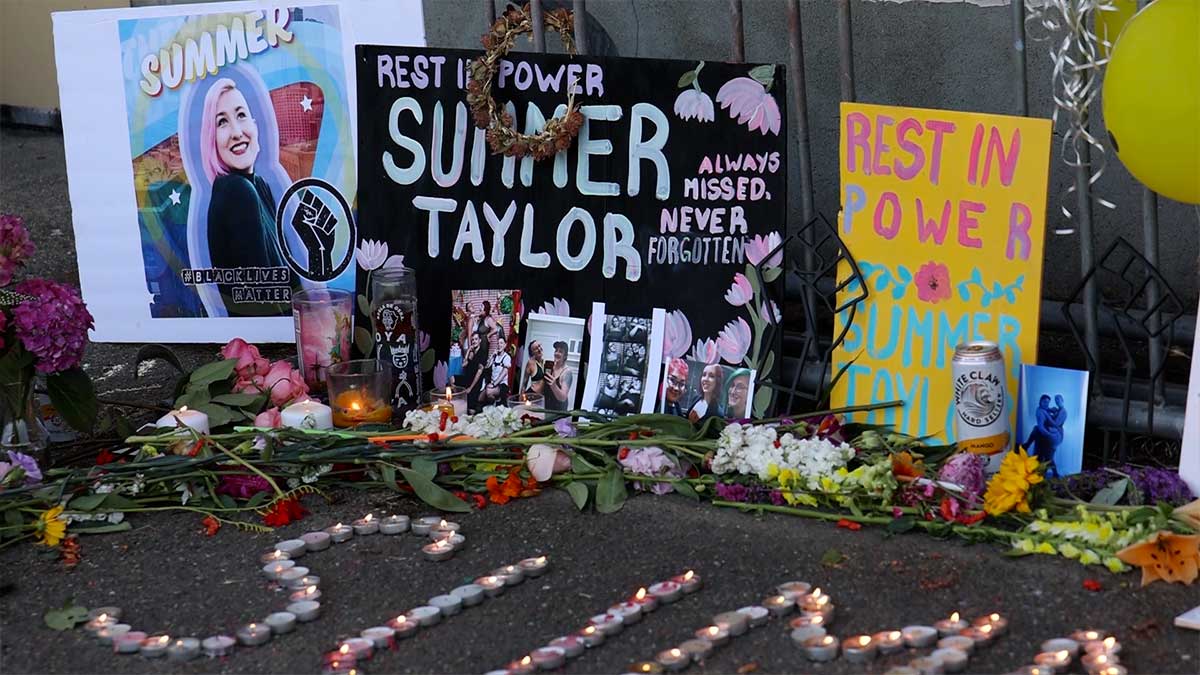 [SEATTLE, Wash] – (MTN) A year after Dawit Kelete, 28-years old, allegedly killed Summer Taylor with his vehicle, the community gathered to remember their legacy and wonder when there will be justice. Approximately 75 people gathered on July 4 to honor and remember Taylor, including former protest organizers and those on the freeway the night of the tragedy.
"Summer was the absolute life of the party," said Marilyn Manslam as she reflected on the events from last year, "Summer was a magnetic personality." That evening, a high point was the group dancing together in the northbound lanes before moving to leave the highway for the night. "Getting to dance with Summer that night was one of the best exchanges of my life," said Manslam through a quivering voice.
"I personally will never have the words to say how much Summer Taylor impacted my life."

Protesters had been marching on to Interstate 5 for 18 days in a row when July 3, 2020, had arrived. The Washington State Patrol, in coordination with the Washington Department of Transportation (WDoT), would shut down a stretch of I-5 and the Express Lanes between SH-520 and I-90, along with other access ramps. Protesters used spotters on bicycles and vehicles to form a blockade to protect the group further.
The Black Femme March group left Capitol Hill and moved onto the freeway as part of anti-police brutality protests in Seatle. The nighttime protests combined with COVID closures occurred during low traffic periods, making the closures more symbolic versus creating major traffic issues in the city. The highway was closed as in previous nights. As the group moved into the southbound lanes, horror was forming north of them.
Dawit Kelete is alleged to have entered I-5 driving the wrong way up the Olive Street off-ramp, avoiding the police and WDoT roadblocks. He then turned southbound on I-5 and started going at highway speed toward the group despite the closure.
Omari Salisbury of Converge Media spoke to the group that had gathered to remember Taylor a year later. "Seattle is maybe the only place in America that you can say you can see a straight line to people being in the streets to actual change," Salisbury reflected. "That's part and parcel to these young people who came out and made their voices heard, and in some cases, lost their lives."
"People were so impacted by this crime against humanity, against George Floyd, to get into the streets. It went from the streets to city hall, to county, and down to Olympia, where Governor Inslee signed 13 bills for police and police accountability."
In the weeks and months since Taylor's death, four police officers in Washington state have been charged with second-degree murder or first-degree assault in two separate incidents. From the establishment of Juneteenth as a holiday to mandatory reporting of police misconduct laws passed by the legislature, Washington state had more police reform measures than another state in the country. Before Jeff Nelson, a city of Auburn police officer accused of murdering Jesse Sarey in the line of duty, no officer had been charged in Washington for 30 years. Further, no officer in Washington state history has ever been convicted of killing a suspect in the line of duty.
Kelete approached two blocking vehicles that were positioned to prevent cars from moving past the travel lanes. Shocking video from a traffic camera shows he never slowed down, veered into the median, then veered again into a travel lane aiming at fleeing protesters. As they ran to the gore, he swerved at them, sending two into the air. Chaos erupted, and one of the block vehicles drove off to search for Kelete.
Kelete stopped about 3/4 miles away on I-5 and was initially confronted by a small group of protesters who blocked his vehicle from driving further. A short time later, the Washington State Patrol took him into custody.
Also hit that day was Diaz Love, who uses they/them pronouns. Both were rushed to Harborview Medical Center in critical condition. Taylor died from their injuries 16 hours later, and Love would spend almost a year in recovery.
Love's physical injuries were massive, but they also experienced a severe closed head injury amplified by PTSD and survivor's guilt, per their social media posts which provided an intimate and public window into their recovery. Love ultimately relocated to Portland, where they continue to recover and have regained much of their autonomy despite impossible odds.
Speaking at Taylor's memorial, TK, a high-profile and charismatic organizer, said, "Life is always going to knock you down. But when life knocks you down, are you going to get up again? Because you can get back up and keep going."
Balloons, flowers, signs, and candles punctuated the memories of Taylor, from a group that went from laughter to tears and back to laughter as the moments passed.
Kelete was charged on July 8, 2020, and arraigned on July 22. His bail was initially set at $1.2 million for vehicular homicide and reckless driving. Kelete alleged he was impaired at the time of his arrest, but he passed a field sobriety test and a blood draw did not indicate he was under the influence. Despite not making bail, Kelete was released on December 31, 2020, with adjusted requirements of a $100,000 bond. Love, the surviving victim of the attack, claims prosecutors never notified them of Kelete's pending release.
A trial date has not been scheduled.
Taylor, a Seattle native, would have been 25. Friends and family remembered them for being committed to racial justice, the LGBTQIA+ community, and a lover of animals who worked as a veterinarian assistant for Urban Animal in Seattle.
TK's words were met with applause on Monday when she said, "We can hurt and do nothing, or we can heal, and do a Hell of a lot more. We are the cornerstone of change."
"Let's keep going."
Renee Raketty contributed to this story.
Like, Share, Follow, Support