One year later, what has changed after Black Lives Matter protests swept Seattle
On May 30, 2020, peaceful protests erupted into riots. The weeks after forever changed Seattle.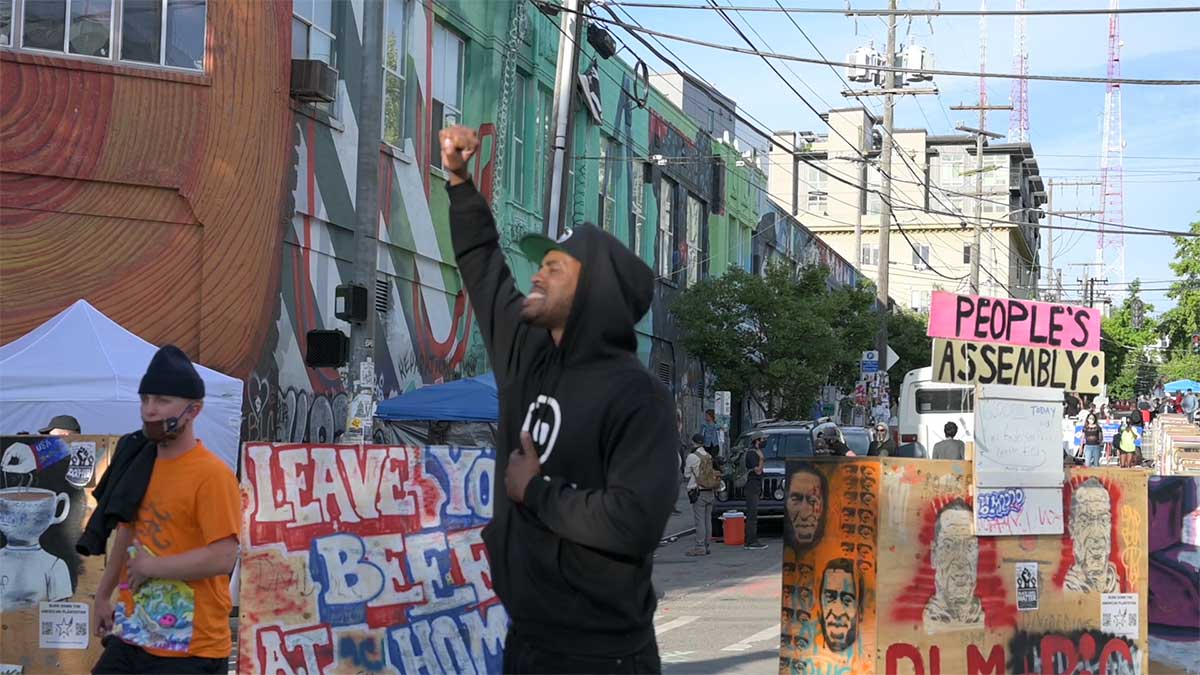 [SEATTLE] – (MTN) A year has passed since George Floyd protests ended in clouds of teargas, police cruisers set on fire, and downtown stores looted. Caught in the crossfire were thousands of peaceful protesters who were out to show solidarity with the family of George Floyd. Protests erupted across the United States after 8 minutes and 46 seconds of a video showed George Floyd under the knee of Minneapolis Police officer Derek Chauvin. Floyd would die, Chauvin was convicted for his murder, and the nation was forced into a racial reckoning.
In the year that has followed, the city of Seattle watched as Carmen Best resigned as Chief of Police and 200 officers left the force due to efforts to defund and improve oversight. Mayor Jenny Durkan did not seek reelection among growing calls for her resignation. Over 285 protesters were arrested during months of unrest, and many have ultimately never been charged by prosecutors. King County Executive Dow Constantine announced the construction of a new youth jail would stop.
Aubreanna Inda was shot at near point-blank range by a stun grenade on June 7 had her heart stop three times at Harborview Medical Center. Diaz Love and Summer Taylor were struck by an SUV driven by Dawit Kelete on July 4, killing Taylor and gravely injuring Love. Kelete is awaiting trial on multiple charges.

The protesters had five demands in the summer of 2020, and many questions remain unanswered a year later.
Defund SPD how much? Fifty percent, at least.
The first demand of protesters was to defund the Seattle Police Department by at least 50%. While the term "defund" creates an image of half the police force being removed, advocates for defunding don't have that expectation.
In Seattle, only 1.3% of 911 calls are for violent or major crimes. The remaining 98.7% are for property crimes, auto accidents, or petty situations such as neighbors arguing over parking spots. Despite this disparity, equally armed officers go to these calls, and 40% of sworn officers in Seattle received at least one complaint to the OPA in 2020, resulting in 145 open cases.
The Seattle Police Department was defunded just under 18% in November 2020 after political theater. The city council approved an earlier budget that called for defunding in August 2020 that Mayor Durkan vetoed – a veto overridden by the council.
Seattle Police Chief Carmen Best resigned, stating that she didn't want to fire officers as part of budget cuts. Adrian Diaz was named Acting Chief and remains in charge today.
Before June 2020, the Seattle Police Department was already losing officers. Since January 2020, 260 cops have resigned or gone on extended leave. The force has a budget to support up to 1,325 officers, and currently, 1,080 patrols the streets. Compared to other similar-sized west coast cities, even at 1,080 officers, staffing is at a comparable level.
As protests evolved through the fall of 2020, more demanded the abolishment of SPD. Abolishment falls into two camps – the ending of the Seattle Police Department as it is known today and a total replacement with a much smaller force focusing on community support. Others view abolishment as the ending of the police, courts, and prisons. For the most radical, when asked what would happen to those accused of violent crimes such as rape or murder, some say they support summary execution.
Where should that money go? To Black communities.
The budget cuts of approximately $80 million were partially created by moving numbers on balance sheets with certain functions removed from the department but still fully funded.
Budget Chair Teresa Mosqueda called in a win stating, "This council has stepped up in the midst of a historic crisis." Other members of the City Council were critical for various reasons.
Of the $80 million in cuts, $12 million went to a "people's fund" where the citizens of Seattle would have a voice on how to spend the money. The city had touted a $100 million investment program to support BIPOC peoples and communities before last year's protests, but the city didn't spend a single penny. That money sat trapped in review processes and red tape, with applicants advised to submit proposals subject to review and studies. The new "people's fund" is the 2021 budget totals $35 million.
Seattle Fire Department now has two units called Health One. Health One responds to mental health calls and provides an alternative to police response. Health One mirrors programs like STAR in Denver, Colorado, which started earlier in 2020. Six months after implementing STAR in Denver, the responding units have never had to request police intervention.
What should the city do? Free all the protesters.
Over 285 people were arrested during protest actions in the summer of 2020 for a range of crimes from pedestrian obstruction to arson and first-degree assault. According to the City Attorney's Office, most of those arrested have not been criminally charged and likely never will be.
City Attorney's and the Seattle Police Department got into frequent, and at times public, war of words over the handling of arrests. Seattle Police complained that protesters were being caught and released. In contrast, city prosecutors complained that SPD was not doing the necessary work to provide evidence to support arrests.
Of the most serious arrests and criminal charges, many were not from Seattle. Some had only recently moved into the area.
Jacob D. Little of Everett was arrested for stealing firearms from the Seattle Police Department on May 30, including silencers and an M4 assault rifle. The weapons have not been recovered. Little was later charged with an unrelated shooting of a 15-year old in Renton.
Margaret Aislinn Channon was a woman from Texas who had been reported missing and had recently started living in Tacoma. She was arrested for her role in setting Seattle Police cruisers on fire along 6th Avenue on May 30.
Thomas Kelly Jackson of Edmonds, Washington, was arrested for arson. In that case, police used his cell phone records and surveillance video to place him at the scene.
Marcel Levon Long was identified as the person who shot and killed Lorenzo Anderson on June 20, 2020, on the edge of CHOP, the Capitol Hill Organized Protest. The shooting was determined to be gang-related and not involving protesters. Anderson's family is suing the city in federal court for negligence and violating Anderson's rights in his death. That lawsuit blew the lid off of a simmering scandal in City Hall, revealing months of texts have disappeared from Mayor Jenny Durkan, former Police Chief Carmen Best, and current Seattle Fire Chief Harold Scoggins.
However, for every Little, Channon, Jackson, and Long, dozens were arrested for obstruction, trespass, and traffic violations. In other cases, suspects for the most severe crimes have never been identified.
In a gun battle, Antonio Mays Jr., 16, died in the early morning hours of June 29 in CHOP. Mays Jr. and an unnamed 14-year-old drove through street barricades and rammed the concrete blocks outside the East Precinct building in a stolen Jeep. A suspect has not been named in that case.
What do want for number four? No new youth jail.
King County had argued for a new youth jail facility for years. The current building in the Central District is crumbling with sanitary, heating, and water issues. In 2012 a levy measure was passed and was met with outrage by activists who sued the city in 2016, saying the ballot language was misleading.
In the nine years that have passed, public sentiment on youth incarceration and heightened awareness of the school-to-prison pipeline has shifted public opinion on the imprisonment of children. For a growing list of industrialized nations, the practice is no longer acceptable.
On July 24, 2020, King County Executive Dow Constantine vowed to end the incarceration of children at the Children and Family Justice Center by 2025. For protesters, the view is the demand has not been met, and they seek an immediate shutdown. The center is currently housing less than 40 people.
Don't forget number five. Jenny Durkan to resign.
A year later, Mayor Jenny Durkan's June 12 comment on CNN about "the summer of love" appears cavalier and cynical.
By September of 2020, Ted Wheeler of Portland, Oregon, and Durkan of Seattle was in an unofficial competition of the least liked mayors in the United States. For Mayor Durkan, her allies were dwindling on all sides. Conservatives felt she was too soft on protesters, should have never allowed the creation of CHOP, and directly blamed her for the evacuation of the East Precinct. The business community felt abandoned by the city between protests, COVID restrictions, and a culture war with their customers over the support of the police. Liberals viewed her as being heavy-handed, ordering the teargassing and beatings of mostly peaceful protesters. They were frustrated with broken promises on concessions and offers of cooperation. Moderates who supporter her based on her prior federal experience found her response to 2020 incompetent.
By the late fall, a growing chorus of city groups and members of the city government were calling for Durkan's resignation. On December 7, 2020, she announced she would not seek reelection. New calls for her resignation erupted in May of 2021 over her missing texts, but it appears she will ride out the final months as mayor of Seattle.
What is next
Although there have been changes, and the protesters achieved other victories beyond the five demands chanted in the streets in 2020, the foundations of Seattle's historical past remain.
The City Council has almost no visibility into the details of the police budget, while the Seattle Police Officers Guild, the police union, enjoys one of the most one-sided contracts in the nation.
As recently as May 29, 2021, the uneven policing in the city was on display. A small group of protesters was met with an aggressive response downtown during the day, while thousands challenged police authority on Alki Beach hours later. The Seattle Police Blotter was absent of any story about the events at Alki, which led to numerous arrests.
The foundational issues of systemic racism within Seattle and King County – zoning laws, infrastructure, schools, food and banking deserts – are entirely unchanged. In the aftermath of protests, the Seattle Office of Police Accountability has largely been impotent and incapable of enforcing police oversight by design.
At a broader level, the Washington state legislature passed several police accountability measures to provide more teeth to Washington I-940. Three Tacoma police officers were recently charged in the death of Manuel "Manny" Ellis, in a case eerily similar to George Floyd's. Juneteenth will become a state holiday in 2022, and the Confederate monument in Lake View Cemetery was smashed on July 4, 2020.
In the end, what was accomplished a year later is entirely in the eye of the beholder.
You can watch our documentary Can You Hear Us? on our YouTube channel. Our documentary traces the events in Seattle from May 29 to July 4, 2020 that shaped the Black Lives Matter movement in the city.