Port of Odesa hit by cruise missiles – Russia negotiated grain deal in bad faith – July 23, 2022 Ukraine update
Russia also hit the Kanatove air force base in Kirovohrad with 13 cruise missiles.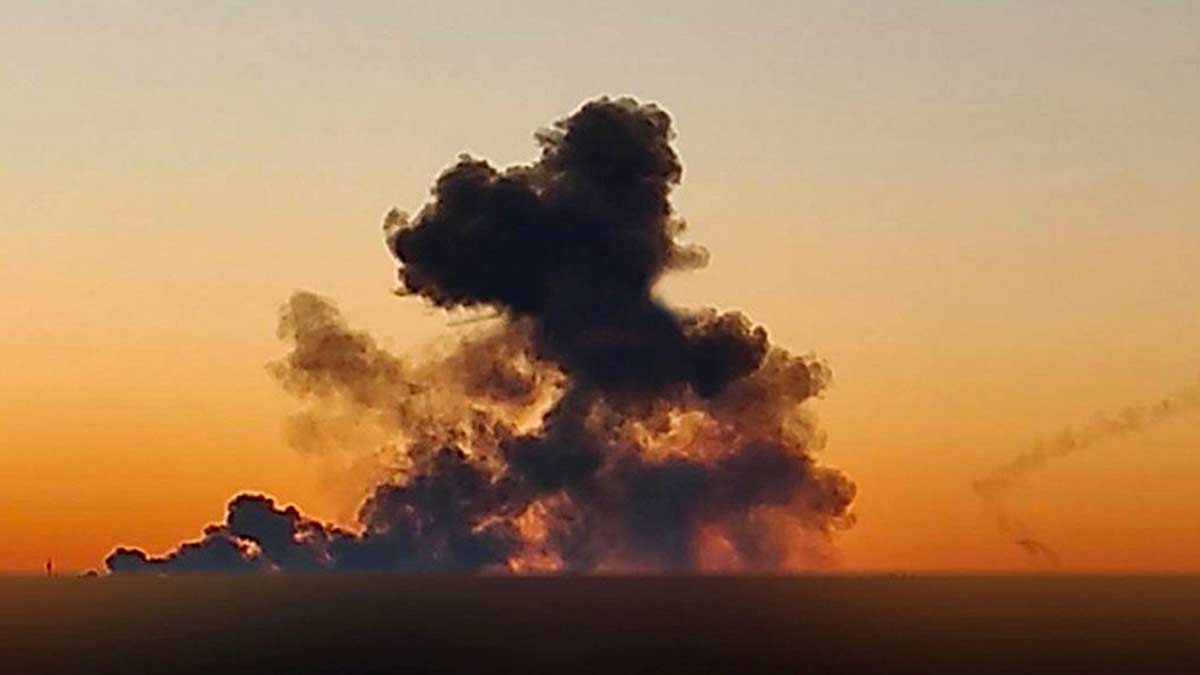 [KYIV, Ukraine] – MTN It has been 3,068 days since Russia occupied Crimea on February 27, 2014. Here is our latest update.
Less than 24 hours after Russia and Ukraine signed agreements with Turkey and the United Nations to permit grain exports from the Ukrainian Black Sea Port, Port of Odesa, and Pivdennyi [South] Port, Kalibr cruise missiles launched by the Russian Black Sea fleet slammed into the Port of Odesa.
Russia and Ukraine did not sign an agreement between the two nations, instead signing separate agreements with Turkey and the United Nations, which would permit Ukraine to export up to 20 million tons of grain over the next 120 days. The agreement did not specify that Russia could not attack Ukrainian ports explicitly. However, with continued attacks, civilian port operations with cargo ships entering and exiting will be impossible.

Insurance rates for cargo vessels operating in the Black Sea have already skyrocketed, with over a dozen commercial vessels seized, bombed, or hit by Russian missiles since February 25 and one bulk carrier striking a mine.
Luhansk – The General Staff of the Armed Forces of Ukraine reported that Russian troops tried to advance from the Verkhnokamyanka oil refinery toward Verkhnokamyanske and were unsuccessful. Serhiy Haidai, Luhansk Regional State Administrative and Military head, reported that Ukraine still controls two settlements in the Luhansk Oblast.
Northeast Donetsk – Under-powered Russian units attempted to advance on Ivano-Daryivka through Spirne and were unsuccessful.
Russian forces fired artillery at civilians, civilian infrastructure, and Ukrainian military positions in Siversk, Hryhorivka, Ivano-Daryivka, Vyimka, and Spirne. The Russian air force also attacked Sprine.
Russian forces fired artillery at Ukrainian positions in Berestove. Also, they launched an air strike, indicating that elements of the 1st Army Corps of the Donetsk People's Republic (DNR) were pushed out of the settlement or never captured it as claimed on July 21.
Bakhmut – Terrorists with the Imperial Legion affiliated with the Private Military Company (PMC) Wagner Group made small advances into the southern part of Pokrovske. Limited fighting occurred near the Vuhlehirskaya Power Plant.
Artillery was fired on Bakhmut, Berestove, Bilohorivka [Donetsk], Pokrovske, and Vesela Dolyna.
Southwest Donetsk – Zaporizhia – Near Donetsk, elements of the 1st Army Corps of the Donetsk People's Republic (DNR) attempted to advance on Vodyane from Vesele.
HIMARS rockets struck an ammunition depot within the machinery plant in Russian-controlled Horlivka, northeast of Donetsk. Secondary explosions thundered across the city as the ammunition stored in the factory started to cook off.
In the south Donbas, there were artillery exchanges from Donetsk city to Velyka Novosilka in the Donetsk Oblast and Hulyaipole to Orikhiv in the Zaporizhia Oblast.
Kherson – Russian state media claims Ukraine attacked the Antonovskiy Bridge for the third time, but there are no photos or videos to support the reports. Russian officials report they will not attempt to repair the bridge. Instead, they plan to build a pontoon bridge to the south. The bridge is reported to be severely damaged and will take too long to repair.
Ukraine, likely using HIMARS rockets, moderately damaged the Russian-controlled Darivka Bridge over the Inhulets River. The bridge is a critical water crossing on the 140-kilometer detour route for Russian armor and military supplies after the Antonovskiy Bridge was damaged in attacks earlier this week. Without the crossing, a large region of Russia-controlled Kherson will be cutoff from overland supply routes
Multiple reports are quoting different sources that up to 2,000 Russian troops are partially encircled in Vysokopillya.
Presidential advisor Aleksey Arestovych provided additional details during a television interview, which clarified the situation more. Arestovych reported that Russian forces are 75% encircled in Vysokopillya. On July 21, Russian forces attempted a breakout by heading south through the opening in the salient but were pushed back by Ukrainian artillery fire.
Arestovuch reported they are two Battalion Tactical Groups (BTG) trapped, with an estimated 1,000 troops blocked from leaving the town. He said that Ukraine would not offer a green corridor for evacuation but would likely demand their surrender.
Russian forces captured Oleksandrivka [Kherson] on the banks of the Dnipro River.
There are reports that Ukrainian forces have severed the T-2207 Ground Line of Communication (GLOC – aka supply line) south of Davydiv Brid.
Visit our Russia-Ukraine War Map
The Malcontent News Russia-Ukraine War Map is updated as events occur. Map not appearing in your RSS Feed or Google News App? You can review the most up-to-date information by visiting our custom Google Map.
Zaporizhia – A video showed Russian tent barracks on the grounds of the Zaporizhzhia Nuclear Power Plant in Enerhodar being attacked by kamikaze drones. The tents were located about 300 meters from the reactor blocks. Using a nuclear power plant for barracks and as a firebase to launch artillery and rockets represents a break from accepted military protocol, which considers nuclear power plants "no go" zones. Three Russian soldiers were killed and nine wounded in the attack. Additionally, a Grad Mulitple Launch Rocket Systems (MLRS), which was parked between two cooling towers for the plant, was damaged in the attack. The video and pictures published after the strike show that no part of the nuclear power plant was damaged.
Kharkiv – North of Kharkiv city, Russian forces attempted a ground assault on Udy and there were skirmishes in Tsupivka and Dementiivka.
Oleh Syniehubov, head of Kharkiv Oblast Military Administration, reported that Russian forces fired Urgan rockets from Multiple Launch Rocket systems into the Saltivka district of Kharkiv again, killing two.
Southeast of Kharkiv, the settlements of Chuhuiv, Stara Hnylytsia, Rtishchivka, Pushkarne, and Lebyazhe were shelled.
Izyum – For the second day in a row, Russian forces did not launch any offensive operations along the Izyum axis. In Prydonetske, Ukrainian artillery destroyed an entire artillery company, including eight 152mm towed howitzers, ammunition, and command and control. Prydonetske is located east of Izyum in the area Russians call "Sherwood forest."
Sumy – Dmytro Zhyvytskyi, head of the Sumy Military Administration, reported that Shalyginsk and Krasnopil were shelled.
Odesa – Four Kalibr cruise missiles fired by the Russian Black Sea Fleet targeted the Port of Odesa, with two striking the facility. Serhii Bratchuk, an Odesa Military administration spokesperson, said two missiles hit the port, and Ukraine's air defense shot down two. The port suffered moderate damage, and a fire broke out, but the missiles missed the grain silos. The attack came less than 24 hours after Russia and Ukraine signed an agreement with Turkey and the United Nations to provide safe corridors for grain exports. The reaction from officials was swift and furious.
The Secretary-General of the United Nations, Antonio Guterres "unequivocally" condemned the attack through a spokesperson.
"Yesterday, all parties made clear commitments on the global stage to ensure the safe movement of Ukrainian grain and related products to global markets. These products are desperately needed to address the global food crisis and ease the suffering of millions of people in need around the globe. Full implementation by the Russian Federation, Ukraine and Türkiye is imperative."
Ukrainian President Volodymyr Zelenskyy said, "This indicates only one thing: no matter what Russia says and promises, it will find ways how not to fulfill it. Geopolitically, with weapons, bloody or not, but it has several vectors, [this is] how it always acts."
"That's all you need to know about deals with Russia," Estonia's Prime Minister Kaja Kallas added on Twitter. The EU's High Representative for Foreign Affairs Josep Borrell said the bloc "strongly condemns" the attack.
People's Deputy Oleksiy Honcharenko wrote on Telegram, "There is a fire in the port of Odesa. Here is a grain corridor for you. These bastards are signing contracts with one hand and sending missiles with the other."
The Ministry of Foreign Affairs Oleh Nikolenko wrote, "It took less than 24 hours for the Russian Federation to launch a missile strike on the territory of the city of Odesa to question the agreement, and the promises it made to the UN and Turkey in the document signed yesterday in Istanbul."
"The Russian missile is Vladimir Putin spitting in the face of UN Secretary-General Antonio Guterres and Turkish President Recep Erdoğan, who made a huge effort to reach the deal, and to whom Ukraine is grateful."
The US Ambassador to Ukraine, Bridget A. Brink, called the Russian missile strike on the Ukrainian port city of Odesa "outrageous," writing, "Russia strikes the port city of Odesa less than 24 hours after signing an agreement to allow shipments of agricultural exports. The Kremlin continues to weaponize food. Russia must be held to account.".
Turkish Defense Minister Hulusi Akar said Saturday that Russia claimed it had "nothing to do" with the strikes.
"It really concerned us that such an event happened after we signed the deal on grain shipments. We are disturbed as well. But we continue to fulfill our responsibilities about this agreement, and we also expressed in our meetings that we are in favor of the parties to continue their cooperation here calmly and patiently," said Akar.
Kirovohrad – The Kanatove air force base on the outskirts of Kropyvnytskyi was hit with up to 13 Russian cruise missiles, causing significant damage, killing three and wounding nine. The attack was a joint operation between the Russian air force and navy, with five Kh-22 cruise missiles launched by Tu-22M3 strategic bombers and eight Kalibr cruise missiles fired by the Black Sea Fleet hitting the region. Cruise missiles also slammed into the railroad facilities at Ukrzaliznytsia. An electrical substation was also targeted, knocking out electrical power in parts of the oblast capital of Kropyvnytskyi.
Daily Assessment
Russian forces cannot assemble adequate combat strength to launch significant offensive operations in Ukraine.
Ground offensives by Russian forces have become fewer and smaller a week after the "operational pause" was declared over.
It is unlikely that Russian forces will be capable of taking the initiative in the next three to six weeks anywhere in Ukraine.
To read the rest of our report, become a Patreon! For as little as $5 a month, you get access to the daily Russia-Ukraine War Situation Report. The report provides analysis, maps, detailed information about all the axes in Ukraine, international developments, information about war crimes and human rights, and economic news. As an added benefit, you get access to flash reports, breaking news, and our Discord server.