Renewed Russian offensive sputters – July 21, 2022 Ukraine update
Russian forces have not made meaningful territorial gains in Ukraine since July 3rd.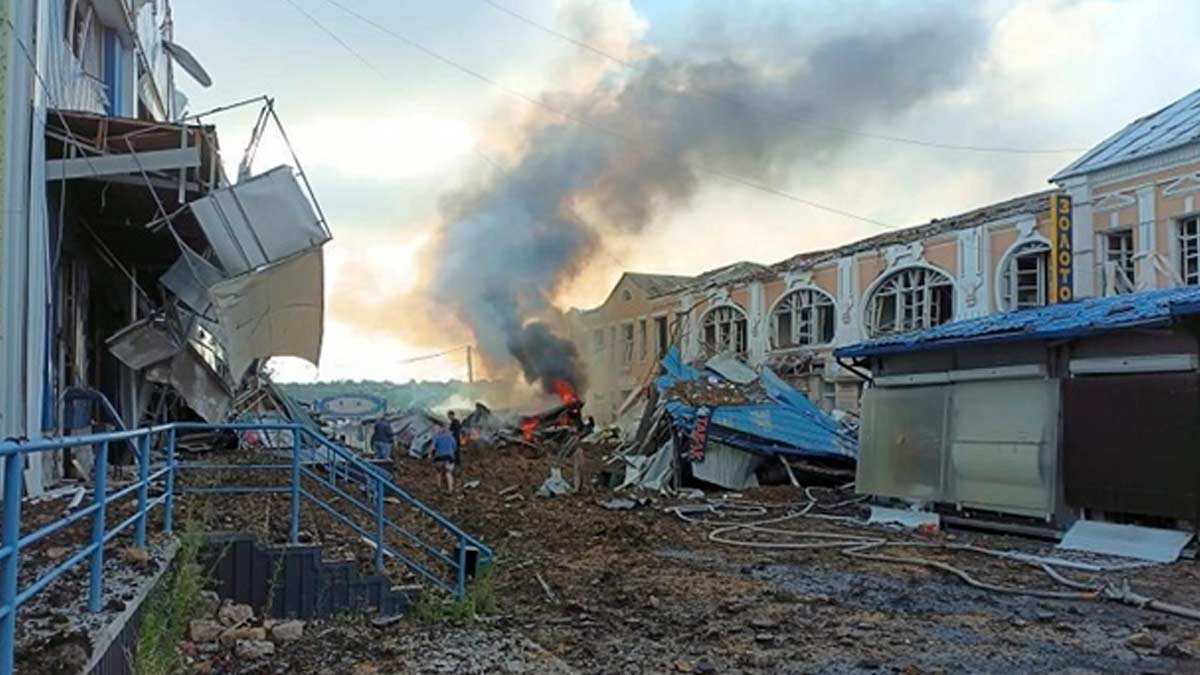 [KYIV, Ukraine] – MTN It has been 3,066 days since Russia occupied Crimea on February 27, 2014. Here is our latest update.
Luhansk – There was no change in territorial control in the Luhansk oblast. Bilhorivka and Zolotarivka remain contested.
Luhansk Regional State Administrative and Military Governor Serhiy Haidai reported that Russian forces shelled Bilohorivka for hours, hit the town with missiles, and launched an air strike. He stated that the rate of artillery fire increased significantly compared to the previous day.

Northeast Donetsk – The General Staff of the Armed Forces of Ukraine reported that Russian forces attempted to advance on Hryhorivka, likely from Zolotarivka, and were unsuccessful.
Russian forces attempted to advance on Spirne and were unsuccessful. The Headquarters of the so-called Donetsk People's Republic militia reported that elements of the 1st Army Corps had captured Berestove, located on the Bakhmut-Lysychansk T-1302 Highway.
Bakhmut – Russian forces did not attempt to advance on Bakhmut. The settlements of Bakhmut, Soledar, Vesela Dolyna, Yakovlivka, and Pokrovske were shelled. The Russian air force launched air strikes on Pokrovske.
Fighting continued in the Svitlodarsk bulge in the area of the Vuhlehirskaya Power Plant. Ukrainian and Russian sources reported continued fighting in the bulge. The Russian air force attacked the settlement of Kodema.
Southwest Donetsk – Zaporizhia – Russian forces attempted to advance on Novoselivka Druha, Novomykhailivka and continued to fight in the contested settlement of Mykilske. None of the advances were successful. Ukrainian forces liberated the settlement of Mykilske, where fighting continues.
Otherwise, there were scattered artillery exchanges from Horlivka to Donetsk city to Velyka Novosilka in the Donetsk Oblast and Hulyaipole to Orikhiv in the Zaporizhia Oblast.
Kherson – The damage to the Russian-controlled Antonovskiy Bridge over the Dnipro River is significant and will impact commercial and military traffic. Volodymyr Saldo, the self-proclaimed head of the administration of the Russian-occupied Kherson region, said that the bridge would only be open to car traffic due to the damage and to start repairs. Trucks and freight will have to cross the Dnipro River at the only remaining Russian-controlled bridge at the Kakhovska Hydroelectric Power Plant, about 45 kilometers east. Russian military supplies moving overland now have to take a 140-kilometer detour.
Rockets fired from HIMARS hit a Russian facility in Skadovsk on the Black Sea. It is unclear what the target was, but a large fire was burning after the strike.
Operational Command South reported that Russian forces attempted to push Ukrainian forces out of Andriivka and Lozove and were unsuccessful, indicating that Ukrainian troops had liberated Andriivka in the past three to ten days.
Mykolaiv – Mykolaiv Mayor Oleksandr Sienkovych reported that the city was hit by seven S-300 surface-to-air missiles being used as a surface-to-surface weapon. One missile hit a gas pipeline near a service station, and there was one casualty.
Kharkiv – Ukrainian and Russian sources reported that a small group of Russian troops attempted to advance on Pytomnyk, north of Kharkiv. The advance was unsuccessful. The settlements of Stary Saltiv, Petrivka, Ruska Tyshki, Dementiivka, and Tsyrkuny were hit by artillery.
Russian forces destroyed a mosque in Kharkiv during a rocket attack on July 20. There weren't any casualties, but the mosque was heavily damaged.
Oleh Syniehubov, head of Kharkiv Oblast Military Administration, reported that a Russian rocket hit a bus stop in Saltivka, killing three people.
About 80 kilometers southeast of Kharkiv, the settlement of Rtyshchivka was hit by a Russian air strike. Further north, the town of Pechenihy was hit by artillery.
Izyum – Russian forces attempted to advance on Bohorodychne, southeast of Izyum and were unsuccessful. The settlements of Dibrovne, Krasnopillya, Chepil, and Adamivka were hit by artillery fire. Russian forces also shelled Slovyansk, Kramatorsk and Kostiantynivka.
Sumy – Dmytro Zhyvytskyi, head of the Sumy Military Administration, reported that Shalyhyne was attacked by Grad rockets fired from Multiple Launch Rocket Systems (MLRS). One person was injured in the attack. The settlements of Esman, Bilopolska, and Novoslobidska were attacked by artillery and mortars.
Daily Assessment
Russian forces cannot assemble adequate combat strength to launch significant offensive operations in Ukraine, with combat power severely degraded after the battles for Severodonetsk, Lysychansk, and Hirske-Zolote.
Since July 4, Russian forces have made little progress in the Donbas while losing ground north of Slovyansk and in the Zaporizhia and Kherson oblasts.
Russian forces to the west of the Dnipro River are connected by two bridges – one for rail and one for road traffic – the intact bridge over the river is not a viable target due to the risk of damaging the hydroelectric dam, but there are other locations where interdiction is possible.
To read the rest of our report, become a Patreon! For as little as $5 a month, you get access to the daily Russia-Ukraine War Situation Report. The report provides analysis, maps, detailed information about all the axes in Ukraine, international developments, information about war crimes and human rights, and economic news. As an added benefit, you get access to flash reports, breaking news, and our Discord server.