Russia fires missiles from Belarus on Kyiv and Chernihiv – July 28, 2022 Ukraine update
Ukrainian forces make gains in Izyum as the counteroffensive in Kherson gains momentum.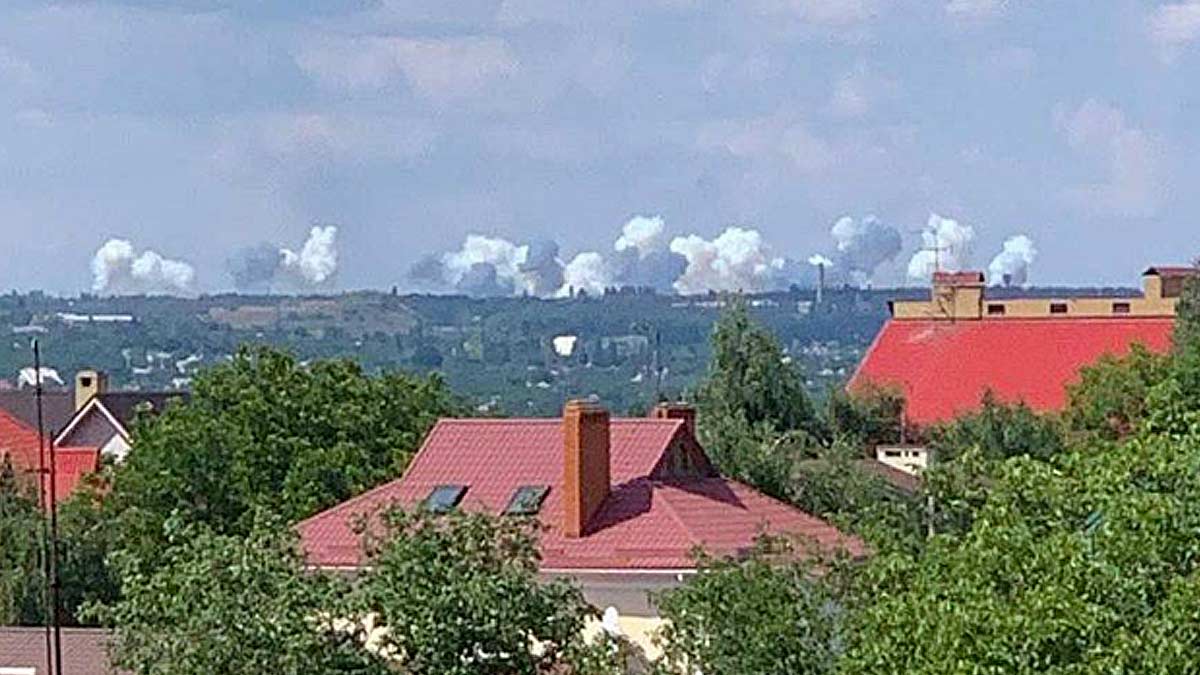 Updated 10:10 AM – There are reports of fatalities at Kanatove Air Base.
[UKRAINE] – MTN It has been 3,073 days since Russia occupied Crimea on February 27, 2014. Here is our latest update.
Kyiv – At least three Iskander-M missiles fired from Belarus struck an industrial facility in Vyshorod, northwest of Kyiv. Two large plumes of smoke were visible over the settlement. The missiles were fired from the Gomel area of Belarus. There were no casualties reported.

Luhansk – Fighting continued along the administrative border of the Luhansk. Russian forces attempted to advance on Verkhnokamyanske from Bilohorivka [Luhansk] and were unsuccessful. Russian forces remained stuck at the Verkhnokamyanka oil refinery and did not attempt any advances.
Northeast Donetsk – Russian and Ukrainian forces fought only skirmishes in Spirne and Ivano-Darivka with no change in territorial control. Ukrainian forces maintained control of Berestove.
Bakhmut – East of Soledar, fighting to control Stryapivka continued and was limited to small arms fire without armor support. Fighting within Pokrovske continued.
The fiercest fighting continues to be west of the Svitlodarsk bulge. Terrorists with the Imperial Legion fighting with the Private Military Company (PMC) Wagner Group attempted to advance on Kodema and Semyhrija but were unsuccessful.
Southwest Donetsk – Zaporizhia – Russian troops and the 1st Army Corps of the Donetsk People's Republic (DNR) separatist militia heavily shelled Avdiivka, Pisky, and Marinka. Avdiivka was continuously shelled for five hours. Self-declared Luhansk People's Republic Interior Minister Vitaly Kiselev claimed in Telegram that this was part of a larger offensive and a direct assault on Avdiivka. He labeled the activity as "preparation work" but was non-specific on the target of a ground offensive.
It was reported that Russian forces attacked in the direction of Hulyaipole, but the origination point was unspecified. The attempted advance was unsuccessful.
Kherson – Russian barracks in Chornyanka were struck in a rocket attack fired by HIMARS. Russian forces staying at the football stadium (soccer for Americans) and the buildings across the street practiced inadequate Operational Security (OPSEC) in mid-July, sharing pictures of the base.
In Kherson, Ukrainian forces disabled the Antonovskiyy bridge, Antonivskyy Zaliznychnyy Mist Railroad bridge, and the Nova Kakhovka bridge that goes over the Kahhovka Hydro Electric Dam. The Antonovskiyy and Antonivskyy Zaliznychnyy Mist Railroad bridges are irreparable until after the war.
Additionally, Russian forces built a pontoon bridge over the Inhulets River at Darivka and have attempted to camouflage it with foliage. To bypass the Antonovskiyy Bridge, A ferry was established using a bridging tug to tow four pontoon bridge sections. The "ferry" is hugging the damaged bridge as a shield and combines civilian and military traffic.
Russian forces attempted to advance on Andriivka [Kherson] from Novohrednjeve and were unsuccessful. Russian forces attempted to advance on Bilohirka from Bruskynske and were also unsuccessful.
Visit our Russia-Ukraine War Map
The Malcontent News Russia-Ukraine War Map is updated as events occur. Map not appearing in your RSS Feed or Google News App? You can review the most up-to-date information by visiting our custom Google Map.
Mykolaiv – S-300 antiaircraft missiles hit the city of Mykolaiv in a ground-to-ground capacity. A school was virtually destroyed, and the ship-building university was damaged. A security guard was injured in the attack.
Kharkiv – Neither belligerent launched any ground offensives. There were positional battles and reconnaissance in force near Sonivka-Kozacha Lopan, Dementiivka, and Tsupivka. The line of conflict remains frozen with Russian artillery, rockets from MLRS, cruise missiles, and SRBMs prioritizing civilians and civilian infrastructure.
Two S-300 antiaircraft missiles used in a ground-to-ground role struck the center of Kharkiv. There wasn't any significant damage, but a police officer was killed when one of the missile landed near a power plant.
The city of Chuhuiv, 65 kilometers southeast of Kharkiv, was shelled, with Russian forces targeting civilians and civilian infrastructure.
Izyum – South of Izyum, the General Staff of the Armed Forces of Ukraine, reported that Ukrainian troops had advanced to Pasika and attacked a Russian reconnaissance unit in the area. The settlement is 6 kilometers north of the previously known line of conflict. The General Staff also reported that Russian forces attempted to advance on Bohorodychne, were unsuccessful, and retreated.
The General Staff of the Armed Forces of Ukraine also reported that the settlement of Brazhvivka had been shelled. The exiled City Council of Borova reported that almost all Russian troops had left the settlement, with only a small security force remaining. The council claims that Borova came under artillery fire from the south, suggesting it came from Pidlyman, which we believe is still under Russian control. One civilian was killed.
Sumy – Dmytro Zhyvytskyi, Head of the Sumy Oblast Military Administration, reported mortars and artillery struck the settlements of Esman and Seredyna-Buda. There was no damage and no casualties.
Chernihiv – Operational Command North reported that up to 20 Iskander-M missiles were fired from Belarus into Ukraine, with nine landing near Honcharivs'ke in the Chernihiv Oblast. The missiles landed in the forest west of the settlement.
Kirovohrad – The Kanatove air force base on the outskirts of Kropyvnytskyi was attacked again on Wednesday morning with reports of significant damage, aircraft losses and many causalities. An updated report stated 5 were killed and 25 wounded, including 13 military personnel. Missiles hit two hangars for training aircraft and there were cadets on the base.
Daily Assessment
Ukraine has effectively severed all the Ground Lines of Communication (GLOC – supply lines) into the western part of the Kherson oblast and the eastern regions of the Mykolaiv oblast still occupied by Russian forces.
Russian forces appear to be continuing the operational pause in Izyum and could be redeploying troops to other axes.
We maintain that Russian forces cannot assemble adequate combat strength to launch significant offensive operations in Ukraine.
To read the rest of our report, become a Patreon! For as little as $5 a month, you get access to the daily Russia-Ukraine War Situation Report. The report provides analysis, maps, detailed information about all the axes in Ukraine, international developments, information about war crimes and human rights, and economic news. As an added benefit, you get access to flash reports, breaking news, and our Discord server.