WSF Cathlamet has 'significant damage' after hard landing at Fauntleroy ferry terminal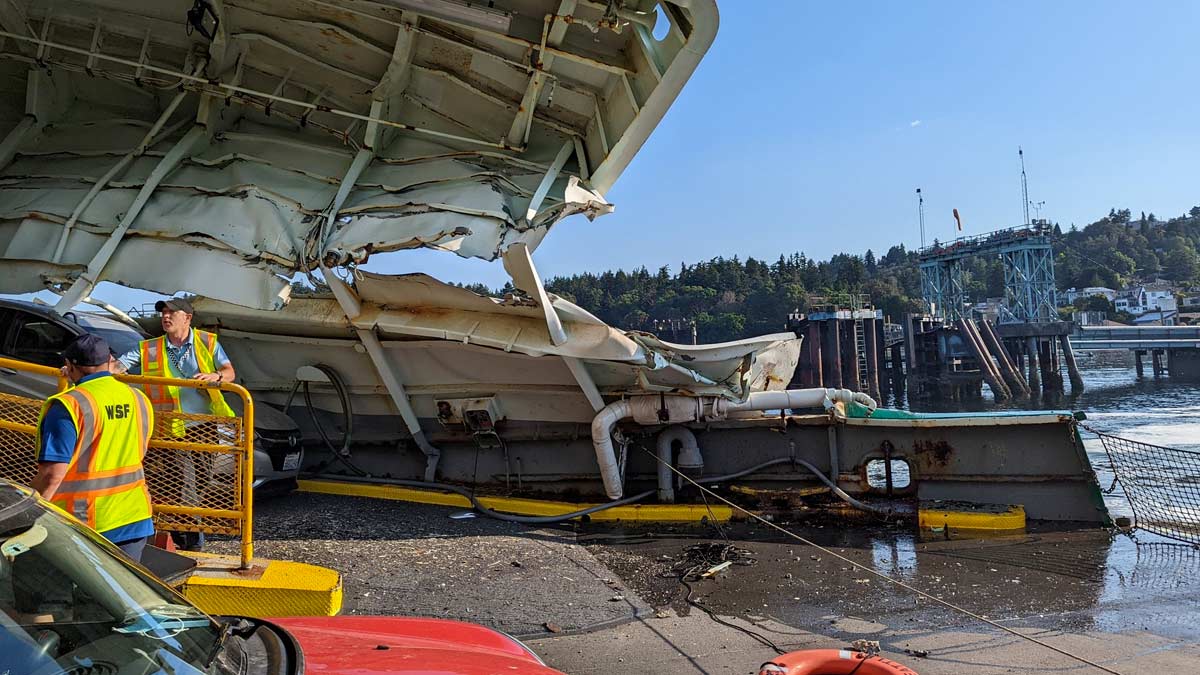 [WASHINGTON] – (MTN) The Washington State Ferry boat Cathlamet had a hard landing at the Fauntleroy ferry terminal in West Seattle, causing significant damage to the vessel and ferry terminal infrastructure.
The 7:55 a.m. sailing of the Cathlamet left Vashon Island and, on its approach to Fauntleroy around 8:15 a.m., it struck a group of pilings meant to protect the ferry dock and help stabilize the ferry while loading and unloading. The structure is called a dolphin. Photos from the terminal showed moderate damage to the structure, with at least two metal pilings buckled and the top structure badly damaged.
The impact caused significant damage to the superstructure, tearing the metal open like a can opener between the first and second car decks. One of the pickle forks, a favorite viewing point for ferry riders, was destroyed. Washington State Ferries reported that several cars were damaged due to the incident. There were no reports that the Cathlamet was in danger of sinking, and there were no reports of fuel leaks or other environmental impacts.

The Fauntleroy ferry terminal is closed until further notice while the United States Coast Guard conducts an investigation. Seattle police have blocked road access to the ferry terminal and are turning away traffic.
After the investigation into the incident is completed, the ship and ferry terminal infrastructure will be inspected. It is unclear when the ferry terminal will reopen. It is unlikely the Cathlamet can be quickly returned to service.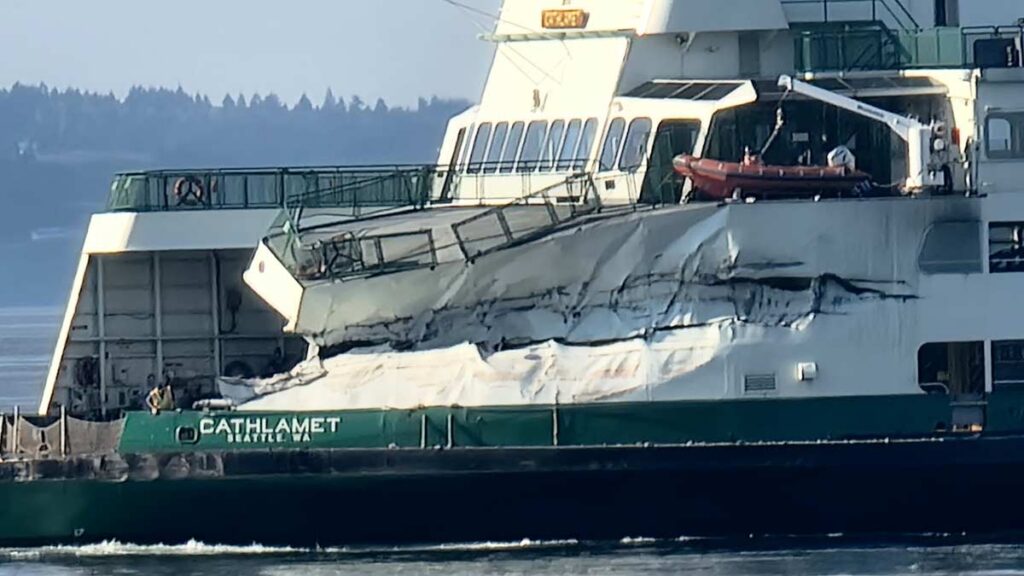 The WSF reported they were working with the Port of Seattle, King County Metro, and Kitsap Transit to find a solution to get commuters home this evening. Alternative service from the Seattle area to Vashon Island has not been established yet. The Chetzemoka will operate from Point Defiance in Tacoma at 12:35 p.m. daily in response to the incident. Normally, the route only operates Friday, Saturday, and Sunday.
There were no reports of injuries.