PMC Wagner Group tortures Ukrainian POW in shocking video – July 29, 2022 Ukraine update
Up to 50 Ukrainian POWs were killed on July 28 in a second alleged war crime ordered by PMC Wagner Group.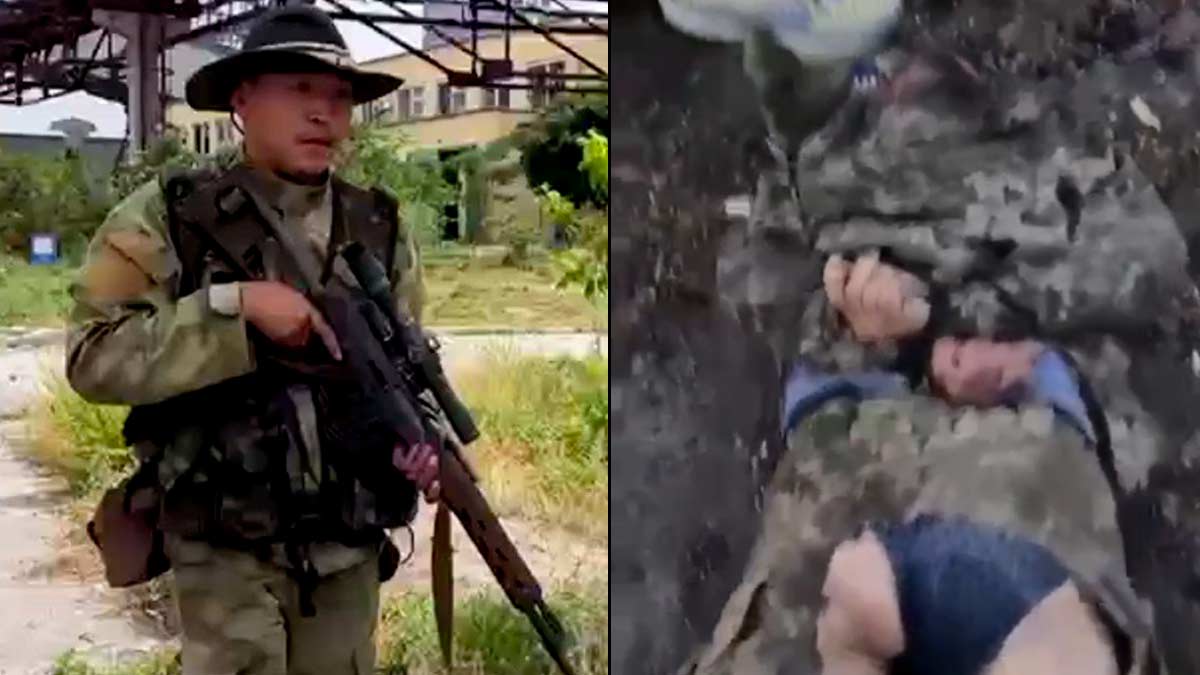 [UKRAINE] – MTN It has been 3,073 days since Russia occupied Crimea on February 27, 2014. Here is our latest update. Here is your daily Russia-Ukraine War summary
Luhansk – A disturbing video emerged of a bound Ukrainian POW being castrated with a box cutter and then stomped on by a terrorist with the PMC Wagner Group in Severodoentsk sometime in June. The POW was bound and restrained by multiple mercenaries and made blood-curdling screams as he was hacked for more than 45 seconds in the horrific video. After severing the genitals, the mercenary holds it up to the camera and tosses it on the ground by the man's head. The video was found on the cellphone of a dead soldier, analyzed by Ukrainian intelligence, and leaked to social media. The video has been deemed authentic, and the perpetrator in the video has been identified.
Ukraine's Ombudsman Dmytro Lubinets released a statement that his office was preparing a message to the United Nations Committee Against Torture.  "As the Verkhovna Rada [Ukrainian Parliament] Commissioner for Human Rights, I have applied to the Office of the Prosecutor General of Ukraine to verify the facts and to record a war crime and a violation of the norms of the Geneva Convention," he wrote in a statement.

"We will hold consultations with the International Committee of the Red Cross again to increase the pressure by the countries from around the world on the Russian side to fulfill its obligations regarding prisoners of war and to allow access of ICRC representatives to the POW to assess their health and conditions of detention."
Additionally, proceedings will be entered under Article 438 of the Criminal Code of Ukraine against the identified individual who committed the torture.
Russian forces did not attempt to advance from the administrative borders of Luhansk, instead relying on artillery, indirect fire from tanks, and airstrikes in northeast Donetsk oblast.
Northeast Donetsk – Russian forces attempted reconnaissance to determine the position and strength of Ukrainian forces in Berestove and Nahime. Neither advance was successful.
Bakhmut – Near Bakhmut, Russian forces attempted to advance on Yakovlivka and were unsuccessful. East of Soledar, fighting continued near the town. Russian forces attempted to advance on Bakhmut from Klynove along the M03 Highway and were unsuccessful. Russian forces also shelled Bakhmut and Vesela Dolyna. The Russian air force attacked Yakovlivka, Pokrovske and Vesela Dolyna.
West of the Svitlodarsk bulge, terrorist elements of the Imperial Legion with PMC Wagner Group, attempted to advance on Semyhira and were unsuccessful.
Southwest Donetsk – Zaporizhia – The Ukrainian Directorate of Intelligence (SBU) is accusing PMC Wagner Group of destroying a building at the Olenivka Penal Colony that held prisoners of war from the Azovstal Metallurgical Plant. Local officials in Donetsk report up to 50 POWs were killed on July 28 and claimed that Ukrainian forces shelled the prison camp. Ukrainian officials have demanded the United Nations, Red Cross, and Red Crescent perform an immediate investigation. The SBU claims the order to kill the prisoners was made by Yevheny Prigozhin, the head of PMC Wagner Group.
In a statement on Telegram, the SBU wrote, "The explosions in Olenivka are a deliberate provocation and an undeniable act of terrorism by the occupying forces side. According to the available information, they were carried out by mercenaries from the Wagner Group private military company (PMC) under the personal command of the nominal owner of the specified PMC, Yevheny Prigozhin. The organization and execution of the terrorist attack was not agreed with the leadership of the Ministry of Defense of the Russian Federation."
Elements of the 1st Army Corps of the Donetsk People's Republic (DNR) and the 2nd Army Corps of the Luhansk People's Republic (LNR) attempted to advance on Avdiivka and Pisky and were unsuccessful. In Pisky, Russian forces wore Ukrainian uniforms in an attempt to deceive defending forces.
Russian forces attempted to advance on Krasnohorivka from Donetsk and were unsuccessful. It was reported that Russian forces made small gains in Marinka, advancing a couple of hundred meters to a slag heap.
Russian forces launched a small offensive toward Velkya Novosilvika from Blahodatne and were unsuccessful.
Ukrainian forces fired rockets from High Mobility Artillery Rocket Systems (HIMARS) on a large ammunition depot in Illoviask. The attack produced multiple secondary explosions that continued hours after the strike.
Kherson – Russian combat engineers made temporary repairs to the bridge over the Inhulets River at Darivka, enabling light vehicle traffic to cross the bridge.
Ukrainian forces have likely made advances toward Novopetrivka, tightening the partial encirclement of Russian forces in Vysokopillya.
Ukrainian forces fired rockets from HIMARS, destroying an ammunition depot in Brylivka. This strike is the second Russian based on the Crimea Canal that has been attacked in the last 24 hours.
Visit our Russia-Ukraine War Map
The Malcontent News Russia-Ukraine War Map is updated as events occur. Map not appearing in your RSS Feed or Google News App? You can review the most up-to-date information by visiting our custom Google Map.
Mykolaiv – Russian forces fired up to six missiles into the city of Mykolaiv. Three hit the city, destroying School Number 47, damaging the Yacht Club, and destroying an agricultural warehouse in the main port. Early in the morning on July 29, a Russian S-300 antiaircraft missile used in a ground-to-ground role struck a bus stop in Mykolaiv, killing five and wounding 12.
Oleksandr Sienkevych, Mayor of Mykolaiv reported, "The strike was conducted with an anti-aircraft missile, so the affected area is very large. It covers several hundred meters. That is why there are so many casualties. There are still people with slight injuries who will recover at home after receiving medical attention."
Kharkiv – Neither belligerent launched any ground offensives north of Kharkiv. The line of conflict remains frozen with Russian artillery, rockets from MLRS, cruise missiles, and SRBMs prioritizing civilians and civilian infrastructure.
Russian and Ukrainian forces also exchange artillery and rocket fire from MLRS southeast of Chuhuiv. Russian forces shelled and fired rockets into Pechenihy, Bazaliivka, Lebyazhe, and Korobochkyne.
Izyum – Russian forces attempted reconnaissance in force near Brazhivka and were unsuccessful, suffering significant losses.
Sumy – Dmytro Zhyvytskyi, Head of the Sumy Oblast Military Administration, reported mortars and artillery struck the settlements of Krasnopillya, Shalyhyne, and Brusky. There weren't reports of injuries or significant damage.
Kyiv – Russian missiles hit a military base in Lyutizh, north of Kyiv. One building was destroyed and another was damaged.
Daily Assessment
Russian forces have initiated or are setting conditions for a significant offensive west of Donetsk but likely do not have the combat power to be successful.
The Russian Ministry of Defense appears to be abandoning attempts to secure Slovyansk and Siversk in favor of Bakhmut and areas west of Donetsk.
There are unconfirmed reports that Russian combat losses are becoming closer to losses suffered in April and the first week of May and disproportional to Ukrainian losses in the field.
To read the rest of our report, become a Patreon! For as little as $5 a month, you get access to the daily Russia-Ukraine War Situation Report. The report provides analysis, maps, detailed information about all the axes in Ukraine, international developments, information about war crimes and human rights, and economic news. As an added benefit, you get access to flash reports, breaking news, and our Discord server.