Night of the HIMARS – July 30, 2022 Ukraine update
The Russian military has shifted its focus from Slovyansk-Karmatorsk to the Donbas, west of Donetsk.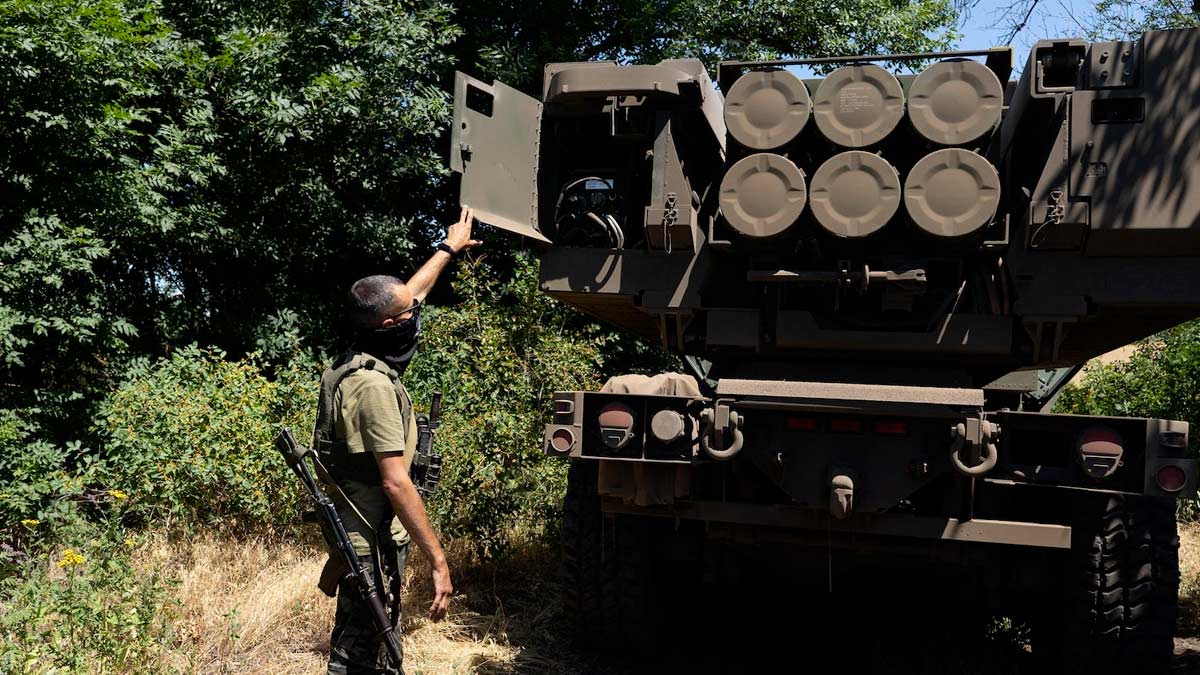 [UKRAINE] – MTN It has been 3,074 days since Russia occupied Crimea on February 27, 2014. Here is our latest update.
Luhansk – Russian forces did not attempt to advance from the administrative borders of Luhansk.
Ukrainian forces destroyed ammunition depots in Pervomaisk and Bryanka in separate strikes using rockets fired by High Mobility Artillery Rocket Systems (HIMARS). In Bryanka, a base for terrorist members of the Imperial Legion working with Private Military Company (PMC) Wagner Group was heavily damaged.

Northeast Donetsk – Russian forces made a reconnaissance in force advance toward Verkhnotoretske from the Verkhnokamyanka oil refinery, but they were unsuccessful.
Bakhmut – Russian forces gained ground in Pokrovske, moving northwest and closer to Bakhmut. In the Svitlodark Bulge, Russian forces attempted to advance on Vershyna and Semyhirya. Terrorists with the Imperial Legion working with PMC Wagner Group reached the eastern boundary of Semyhirya. The General Staff of the Armed Forces of Ukraine reported that Russian forces attempted to advance from the area of Travneve in two directions but did not gain new territory.
Southwest Donetsk – Zaporizhia – Russian forces have started a broad offensive west of Donetsk, attacking Ukrainian positions. Some marginal gains have been made.
Elements of the 1st Army Corps of the Donetsk People's Republic (DNR) and the 2nd Army Corps of the Luhansk People's Republic (LNR) continue to attempt to advance on Kamyanka, Avdiivka, Opytne, Pisky, and Krasnohorivka. Fighting continued in Marinka, with Russian forces repulsed.
Rockets fired by HIMARS destroyed ammunition depots in Alchevsk, Mospyne, and Yasynuvata.
In Zaporizhia, rockets hit a hotel complex used as barracks for Russian troops in Enerhodar. An ammunition cache cooked off, causing a larger fire. HIMARS rocket fire also destroyed a fuel depot in Kamyanka-Dniprovska.
Kherson – In Kherson, Ukrainian forces are setting conditions to advance on Bruskynske from the Inhulets River bridgehead established in Lozove.
There are unconfirmed reports that the situation for Russian forces in Vysokopillya and those remaining in part of Arkhanhelske is becoming increasingly difficult. Both settlements are cut off from their Ground Lines of Communication (GLOC – supply line), and the remaining forces are technically encircled.
Rockets fired by HIMARS struck two locations in Nova Kakhovka. A big box hardware store holding a large ammunition depot was hit, producing a massive secondary explosion. A second area to the east was also hit. Additionally, an ammunition depot in Semenivka was targeted and destroyed in a rocket attack.
Visit our Russia-Ukraine War Map
The Malcontent News Russia-Ukraine War Map is updated as events occur. Map not appearing in your RSS Feed or Google News App? You can review the most up-to-date information by visiting our custom Google Map.
Mykolaiv – Russian S-300 antiaircraft missiles in a ground-to-ground capacity struck a busy bus stop, killing five, hospitalizing 12, wounding dozens, and killing some dogs that people were walking at the time of the attack
Kharkiv – Neither belligerent launched any ground offensives north of Kharkiv. Russian forces targeted the Kharkiv University of Agricultural Studies in a missile attack using S-300 antiaircraft missiles in a surface-to-surface capacity. The school was heavily damaged.
Russian S-300 antiaircraft missiles also target a meat processing plant in Bohodukhiv, destroying the facility.
Izyum – Russian forces attempted to advance into Brazhivka and Dmytrivka and were unsuccessful. Russian forces also attempted to conduct reconnaissance in Schurivka and were unsuccessful.
Ukrainian forces destroyed another Russian battery of artillery north of Izyum. The artillery unit was clustered in the tree line south of Sukha Kamyanka and suffered heavy losses by drone-directed counterbattery.
On July 27, rockets fired by HIMARS destroyed a base for the terrorist organization Imperial Legion working for PMC Wagner Group in Izyum. Video shot by Russian State Media and PMC Wagner Group tried to portray the strike as an attack against a grade school. The video released by Wagner showed the building was sandbagged with firing positions and had trenches and defensive positions dug around it.
Chernihiv – Operational Command North reported the settlement of Semeniv on the Russian border was shelled, with the town administration building damaged. There were no casualties reported.
Daily Assessment
Private Military Company Wagner Group likely committed a war crime and violated the Geneva Convention for the trust and care of prisoners of war.
Ukraine continues to target ammunition depots, troop concentrations, and critical transportation infrastructure with HIMARS, crippling Russia's ability to wage war.
Russian forces have initiated or are setting conditions for a significant offensive west of Donetsk but likely do not have the combat power to be successful.
To read the rest of our report, become a Patreon! For as little as $5 a month, you get access to the daily Russia-Ukraine War Situation Report. The report provides analysis, maps, detailed information about all the axes in Ukraine, international developments, information about war crimes and human rights, and economic news. As an added benefit, you get access to flash reports, breaking news, and our Discord server.