Russia-Ukraine War Update for July 5, 2022
Russian President Vladimir Putin declares victory in Luhansk while Ukraine makes quiet gains in other parts of Ukraine.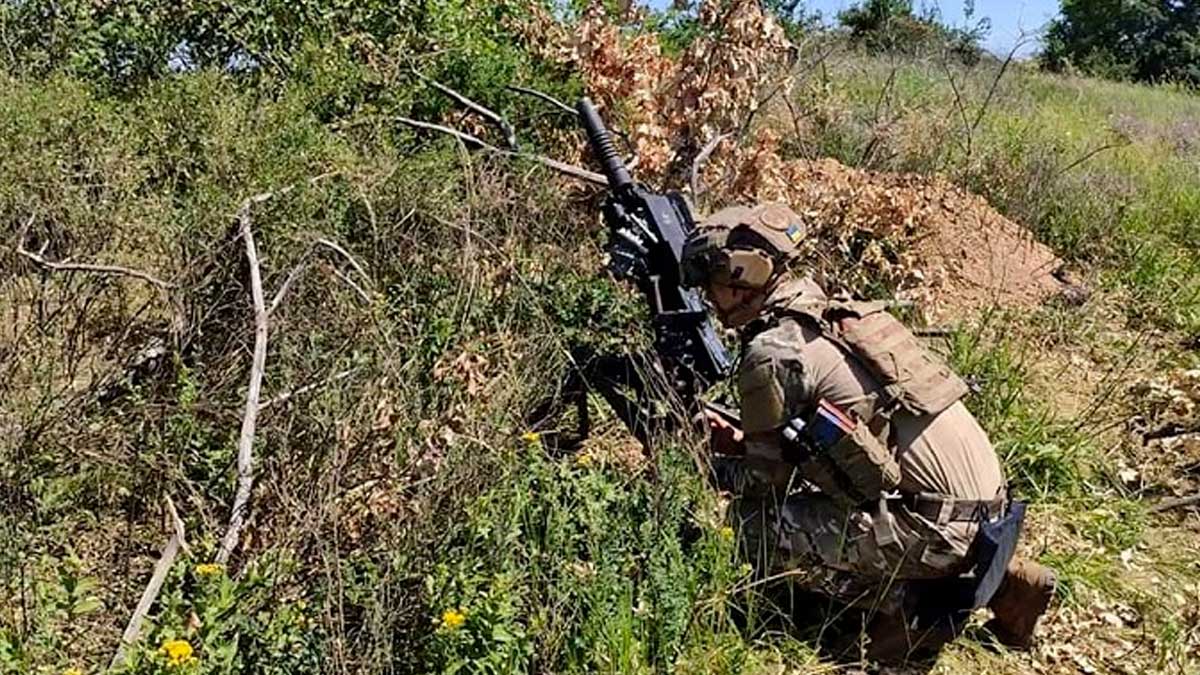 [KYIV, Ukraine] – MTN It has been 3,049 days since Russia occupied Crimea on February 27, 2014.
Severodonetsk – Lysychansk – Russian forces have secured the Luhansk oblast. Russian President Vladimir Putin declared victory after the Russian Federation Armed Forces secured the region 131 days after the widescale invasion of Ukraine.
Putin told Russian Defense Minister Sergei Shogui that the units in Luhansk "should rescue [and] increase their combat capabilities."

It took 100 days for Russian, Russian proxy forces, and Russia-backed militias to secure the last 7% of the Luhansk Oblast. The Russian military will likely start to work to establish administrative control of Severodoentsk and Lysychansk. The cities of Rubizhne, Severodonetsk, Lysychansk, and Popasna had a combined pre-war population of 293,500. It is estimated that 18,500 civilians remain, with the rest fleeing the area – some into Russia and others into Ukraine. Most of those who stayed behind supported the Russian invasion or were poor, disabled, or didn't want to leave their homes.
Northeast Donetsk – In the Siversk region, Russian forces have advanced over the T-1302 Highway and taken partial control of Spirne.
Widescale artillery barrages occurred through the region, including Bilohorivka [Donetsk] and Verkhonkamyanska. Other settlements shelled include Ivano-Daryivka and Berestove.
NASA FIRMS data suggest that the town of Raihorodok has been shelled.
In the Bakhmut-Soledar region, the settlements of Pokrovske and Soledar were shelled.
Fighting continued In the Svitlodarsk bulge for control of the Vuhlehar Power Plant and Russian forces shelling Kodema. Russian forces are attempting to take control of Novoluhanske, southeast of the power plant and on the reservoir's western shore.
Based on this intelligence, we maintain that Dolomitne is contested, and we are coding Novoluhanske as contested.
Southwest Donetsk and Zaporizhia – There were scattered artillery exchanges from Horlivka to Donetsk city to Velyka Novosilka in the Donetsk Oblast and Hulyaipole to Orikhiv in the Zaporizhia Oblast. There were reports of fighting near Rivnopil, but we could not verify the veracity of the reports.
We consider Bilohirya, Luhivske, Novopokrovka, Bahate, and Ukraniske, Rivnopil, Pyatkhatky, and Stepove [Zaporizhia] as contested.
Kherson – Russian forces continue to take a defensive posture and are attempting to slow the broad advance of Ukrainian forces.
Russian forces are attempting to interdict Ukrainian Ground Lines of Communication (GLOC – aka supply lines) and firing artillery, Grad, and Smerch rockets from Multiple Launch Rocket Systems (MLRS).
Russian forces shelled Myrne northwest of Kherson, which would indicate the settlement is contested. There are reports that Pravdyne was liberated, and Myrne and Parysheve are contested. We cannot verify the veracity of these reports. However, the report of Myrne being shelled supports the settlement is contested.
Ukraine shelled the Russian-controlled settlements of Shyroka Balka, Sofiivka, and Krytyi Yar.
In the northern region of Kherson, Topolyne, Ivanivka, Knyazivka, Potomkyne, Dobryanka, Trudolyubivka, and Osokorivka were shelled by Russian forces.
Ukraine shelled the Russian-controlled settlements of Sukhyi Stavok, Lozove, Davydiv Brid, Velkya Oleksandrivka, and Novopetrivka.
There are reports that Ukrainian forces are in Lozove. We cannot confirm the veracity of these reports. There was a drone video that showed Russian troops being killed by small arms fire. The distance from the Inhulets River was over 700 meters. There may be Ukrainian Special Operation Forces on the east side of the river, but we don't believe this indicates there is a more significant force in the immediate area.
Russian Ka-52 Alligator attack helicopters fired on Zarichne and Olhyne. On July 3, there was evidence of significant fighting in Olhyne, and we have coded the settlement as contested based on this intelligence update. If Ukrainian forces liberate Olhyne, it will represent the full collapse of the Vysokopillya salient.
Mykolaiv – The settlements of Lupareve, Shevchenkove, Chervona Dolyna, Kobzartsi, Partyzanske, and Bereznehuvate were shelled. There were no reports of cruise missile attacks.
Kharkiv – Northwest of Kharkiv, Ukrainian forces did reconnaissance in force toward Kozacha Lopan from Sosnivka, likely to harass Russian positions. There were no other offensive operations in the area. There was scattered artillery fire along the rest of the line of conflict.
Izyum – Russian forces attempted to advance on Dolyna and Mazanivka. In Dolyna, they were unsuccessful, and in Mazanivka, they moved the line of conflict to the settlement's northern border. Russian forces attempted to advance on Virnopillya and suffered heavy losses, including eight armored vehicles.
Sumy – Russian forces continue firing at settlements across the international border in the Sumy oblast. A school was destroyed in Esman, and public utility infrastructure was destroyed in Nova Sloboda. Bilopillia was hit with at least 25 mortar shells and five missiles, injuring two people.
Chernihiv – Russian troops fired across the international border at the settlements of Mkhy and Zalizniy Mist. There were no reports of injuries or significant damage.
Odesa – Black Sea – A Ukrainian flag was dropped on Snake Island, symbolically taking control of the strategically important dot in the Black Sea.
Daily Assessment
President Putin's declaration of "rest" is not a charitable order from a benevolent leader but a tacit admission that Russian, Russian proxy forces, and Russia-backed separatists of the Luhansk and Donetsk People's Republics have exhausted their combat strength and need to reconstitute.
Russian forces continue to be pressured in the Kherson oblast and struggle to hold the line of conflict.
Germany announced they are providing Ukraine with four additional M270 HIMARS systems and upgraded the software to work with the Ukrainian fire control systems.
Ukrainian forces are using NATO-provided guided munitions fired from HIMARS to destroy multiple military targets a day.
It is yet to be seen if Ukraine will hold a defensive position in Siversk or fall back to the Slovyansk-Karmatorsk-Soledar-Bakhmut line.
To read the rest of our report, become a Patreon! For as little as $5 a month, you get access to the daily Russia-Ukraine War Situation Report. The report provides analysis, maps, detailed information about all the axes in Ukraine, international developments, information about war crimes and human rights, and economic news. As an added benefit, you get access to flash reports, breaking news, and our Discord server.