Russia-Ukraine War Update for July 6, 2022
The Kremlin restates its intent to conquer all of Ukraine as Ukrainian forces gain ground in Kherson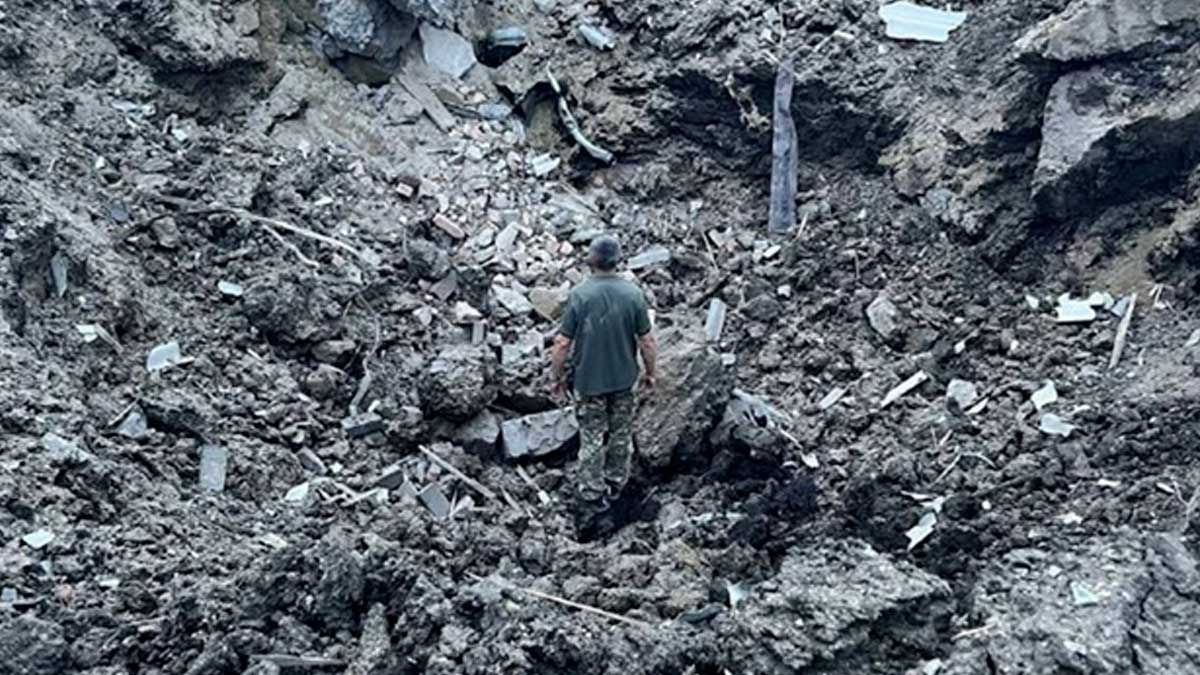 [KYIV, Ukraine] – MTN It has been 19 weeks since the Russia-Ukraine war started and 3,050 days since Russia occupied Crimea on February 27, 2014.
Russian President Vladimir Putin's previously announced scaleback of the war in Ukraine, limiting total victory to securing the Donbas, Zaporizhia, and Kherson, as well as securing the land bridge to Crimea, has been pushed aside. Russian Security Council Secretary Nikolai Patrushev and the Russian Ministry of Defense Sergei Shoigu declared the Russian army will continue the "special military operation" in Ukraine until the tasks set by President Putin are "fully completed."
Chairman of the Chechen Parliament Magomed Daudov declared a jihad in Ukraine to defend Muslims in Europe during a visit to Lysychansk.

Severodonetsk – Lysychansk – Russian President Vladimir Putin's declaration that the Luhansk oblast had been captured was spoiled less than 24 hours later, with Ukrainian forces contesting the settlement of Bilohorivka [Luhansk].
Pro-Russian accounts and the Kremlin reported that "cleansing" was continuing south of Lysychansk to clear the area of remaining Ukrainian troops. There continues to be no evidence that Russian forces captured significant numbers of Ukrainian troops, weapons, or ammunition in Severodonetsk, Zolote-Hirske, or Lysychansk.
There was limited fighting west of Popasna, with Russian forces likely securing the settlement of Spirne.
Northeast Donetsk – Private Military Company (PMC) Wagner Group, supported by the terrorist organization Imperial Legion and Russian artillery, captured Klynove, east of Bakhmut.
Russian forces are likely attempting to collapse the Svitlodarsk bulge, launching an offensive toward Vershyna. They were unsuccessful. Fighting continued in Novoluhanske and at the Vuhledar Power Plant.
Southwest Donetsk and Zaporizhia – The 1st Army Corps of the Donetsk People's Republic (DNR) recaptured the settlement of Novobakhmutivka, southwest of Horlivka.
Northeast of Donetsk city, a video from Russian state media showed that Ukrainian forces collapsed a small Russian-controlled salient south of Pisky and are in control of the Russian defensive positions.
In Donetsk city, a Russian ammunition depot stored in a heavy truck dealership was destroyed by a Ukrainian artillery strike. There were multiple secondary explosions. Ukrainian forces also destroyed a large ammunition depot near the railroad station in Donetsk, with multiple secondary explosions after the strike.
There were reports of fresh explosions in the port of Berdyansk. Russian and Ukrainian officials have stated this is related to unstable munitions exploding during an attempted recovery of the Large Landing Ship (LLS) Saratov, which sank on March 24. The Saratov was hit by a Tochka-U missile which damaged two more LLS vessels and heavily damaged a cargo ship.
In Zaporizhia, Ukrainian forces continue to advance on Polohy. Fighting and artillery strikes were reported in Novopokrovka.
Kherson – The Ukrainian counteroffensive continued in Kherson, with significant gains made. Ukrainian forces liberated Myrne, northwest of Kherson. Russian forces suffered significant losses near Tomyna Balka from artillery fire and air strikes.
Satellite images from July 5 show the airport and Russian base at Chornobaivka suffered heavy damage after two ammunition depots were destroyed days apart. The Russian base appeared abandoned.
Multiple videos showed fighting and artillery exchanges on the northern edge of Snihurivka, with Ukrainian forces 3 kilometers north of the city limits. The Ukrainian air force also attacked Russian defensive positions.
Ukrainian forces reestablished a wet crossing over the Inhulets River near Velke Artakove and Bila Krynytsya. The settlements of Lozove and Bilohirka are under Ukrainian control. Pro-Russian accounts reported that Ukrainian forces had pushed to Sukhyi Stavok, almost 10 kilometers south. There were reports of renewed fighting in Davydiv Brid. A Russian ammunition depot in Velkya Oleksandrivka was destroyed.
In the north region of the Kherson oblast, Ukrainian forces collapsed the Vysokopillya salient, liberating the settlement of Olhyne. Intense fighting in Arkhanhelske continued, with a Russian ammunition depot destroyed on July 5. Ukrainian forces fired artillery at Russian troops retreating from Olhyne, northeast of Novopetrivka.
Mykolaiv – Three Russian cruise missiles struck the city of Mykolaiv.
Kharkiv – Northwest of Kharkiv, Russian forces launched attacks in three directions from the stronghold in Kozacha Lopan on the settlements of Sosnivka, Prudyanka, and Dementiivka. None of the attacks were successful.
In Northeast Kharkiv, Ukrainian forces started interdicting the Russian Belgorod-Kupyansk Ground Line of Communication (GLOC – aka supply line) with an artillery strike on Velykyi Burluk.
Izyum – Russian forces attempted to advance on Dolyna and Krasnopillya and suffered heavy losses. Ukrainian artillery hit Russian positions in Dovhenke and Sosnove, destroying Main Battle Tanks (MBT), Multiple Launch Rocket Systems (MLRS), Infantry Fighting Vehicles (IFV), and support vehicles. Russian forces also attempted to advance southeast of Velyka Komyshuvahka and suffered significant losses.
In Northeast Kharkiv, Ukrainian forces started interdicting the Russian Belgorod-Kupyansk Ground Line of Communication (GLOC – aka supply line) with an artillery strike on Velykyi Burluk.
Chernihiv – Russian forces shelled and used MLRS on the border villages of Mkhy and Bleshnia in the northern region of Chernihiv.
Sumy – Russian helicopters fired rockets at the Esman in the Sumy oblast.
Odesa – Black Sea – Ukrainian air defenses intercepted three Russian cruise missiles near Odesa.
Western Ukraine – Three Russian cruise missiles struck the Yarmolyntsi in the Khmelnytskyi oblast.
Daily Assessment
Phase 2 of the Russia-Ukraine War is over.
Russian ground forces in eastern Ukraine appear to be in an operational pause.
We cannot determine if the significant reduction in artillery fire in the northeastern region of the Donetsk oblast is due to this pause or interdiction of Russian supplies.
Russian forces are struggling in Kherson, where Ukrainian forces are making steady territorial gains from the north, the west, and the southeast.
Russia's reset of its operational goals in Ukraine will be impossible to achieve without a formal declaration of war and full mobilization.
The Kremlin is likely hoping to wear down western support by extending the war and capitalize on a looming leadership change in the United Kingdom and politically driven unrest in the United States, which closely resembles the start of "The Troubles" in Northern Ireland.
It is yet to be seen if Ukraine will hold a defensive position in Siversk or fall back to the Slovyansk-Karmatorsk-Soledar-Bakhmut line.
To read the rest of our report, become a Patreon! For as little as $5 a month, you get access to the daily Russia-Ukraine War Situation Report. The report provides analysis, maps, detailed information about all the axes in Ukraine, international developments, information about war crimes and human rights, and economic news. As an added benefit, you get access to flash reports, breaking news, and our Discord server.