Seattle not maintaining Captiol Hill BLM mural as agreed
Citizens came together last week in a marathon session to clean the mural.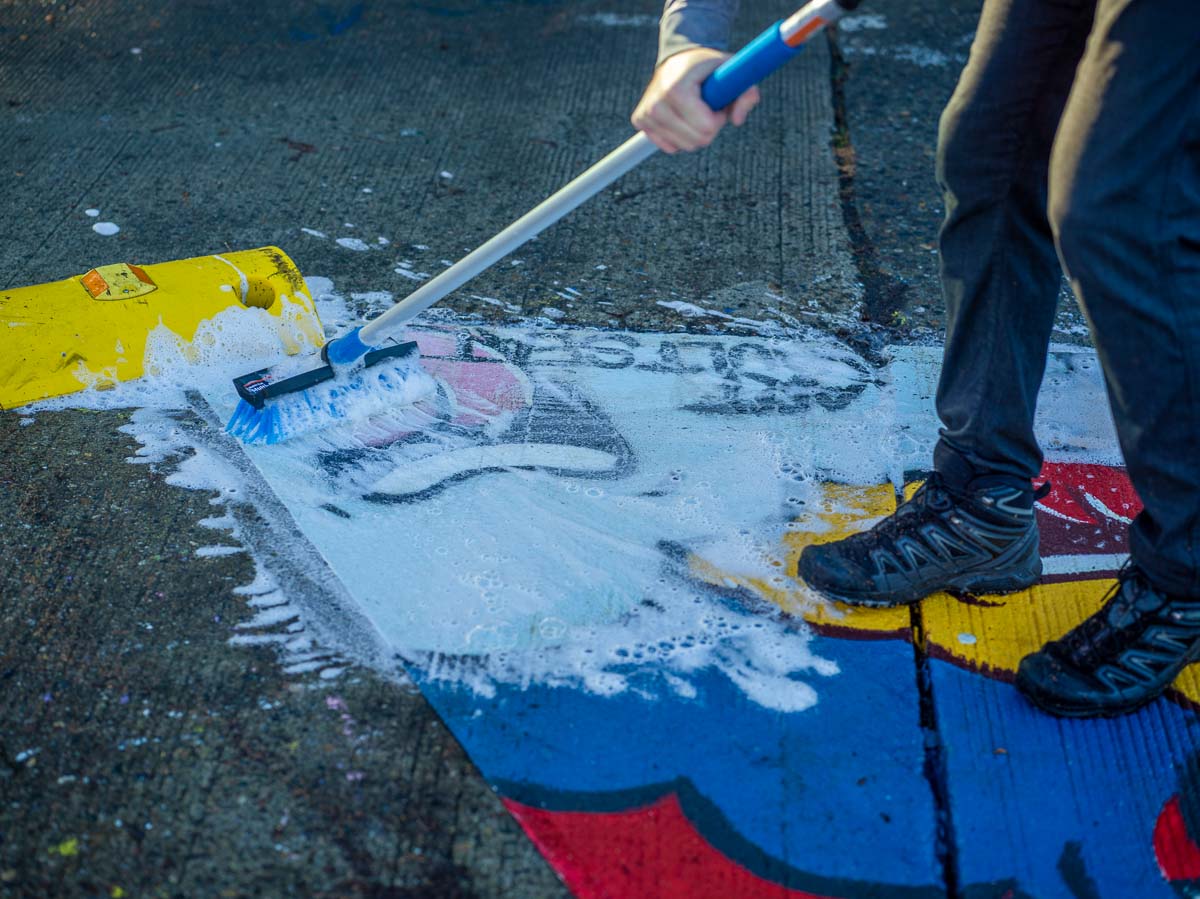 When the Seattle Police department swept CHOP on July 1, 2020, one of the first assurances was the Black Lives Matter mural on Pine Street would be protected and maintained. Before the city had finished cleaning out the remains of the protest, traffic barricades had been placed around the painting. Within days the road was restriped, eliminating the parking lanes on the east and west sides. Despite those efforts, the mural was already in a state of disrepair.
The first mural was never sealed and had been walked and driven over for almost a month, both intentionally and unintentionally. Road debris and gum pocked the mural which was further damaged by well-meaning community members who came to seal the painting but ended up sealing in the dirt and debris. The city commissioned a team of artists to redo the mural, with different groups or artists working on each letter within "Black Lives Matter." With the project completed over the summer and the painting sealed, the city had committed to maintaining the mural. That commitment has fallen through.
By the end of 2020, the concourse was streaked with road grime and debris. As questions arose about the promise to care for the mural about the city, local art gallery owner John Mitchell rallied the community into action. Last Saturday they took to the streets and cleaned the mural removing months of accumulated grime over the entire day.

More questions are starting to arise over the location, condition, and state of other art work the city gathered before and immediately after CHOP was cleared. In that effort, many pieces of art were removed from June 26 to June 28 for protection. As part of the July 1 sweep, more art was placed into a large container that was kept on site. So far a plan has not been presented on where and when the art will be displayed again, or who is curating it currently.
CHOP was formed on June 8, 2020, when the city of Seattle ordered the evacuation of the Seattle police from the East Precinct. The six-block area on Capitol Hill became known as CHOP and garnered international attention. After a series of high profile shootings on the fringes and within CHOP, the city of Seattle swept the area and reclaimed the East Precinct building on July 1, 2020.
Renee Raketty contributed to this story.