Seattle police arrest three, two for chalk art and one for obstruction at Daunte Wright protest
Pictures show chalk art graffiti on the sidewalk outside of the West Precinct.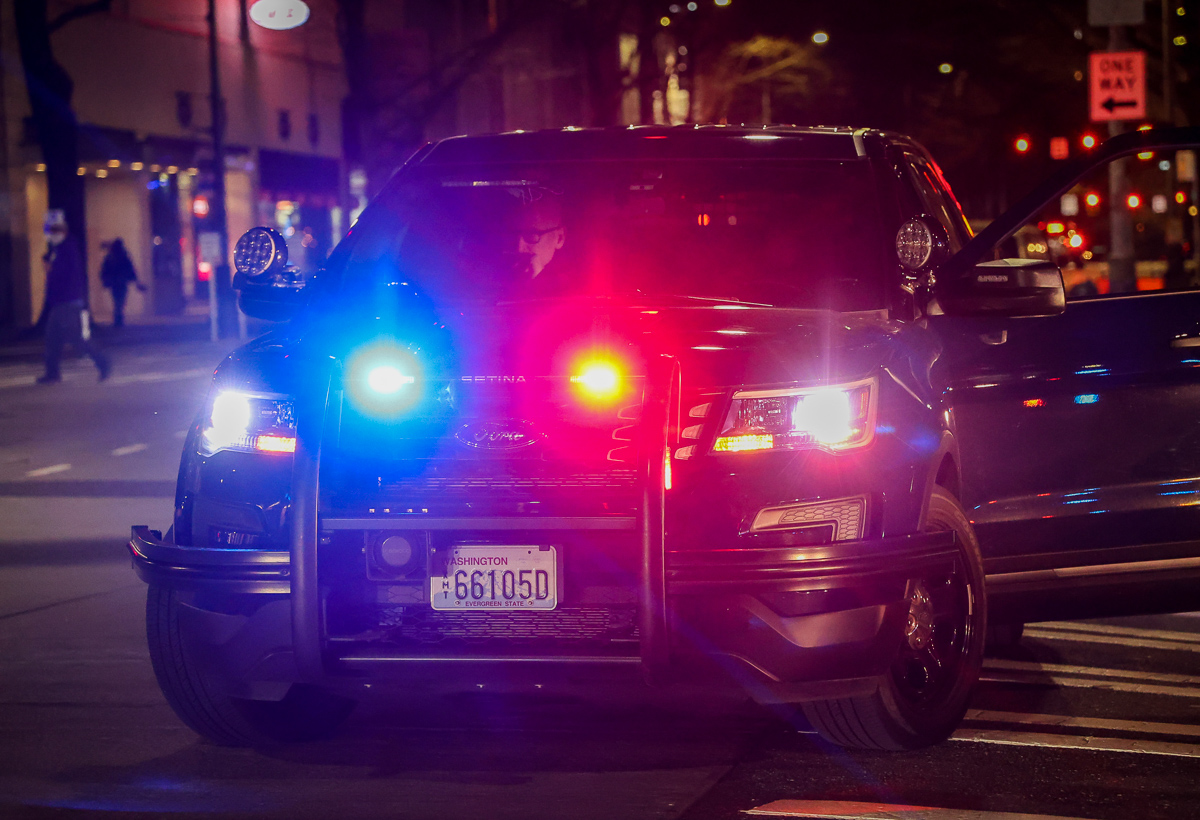 [SEATTLE] – (MTN) For the second night in a row, activists protesting the death of Daunte Wright gathered in downtown Seattle. Seattle police arrested three people last night, two for graffiti and one for obstruction. Activists and independent journalists report that the "graffiti" was chalk art and spray chalk.
On the Seattle Police Twitter, an image showed a couple of dozen people gathered outside of the West Precinct. The picture appears to have been taken from the rooftop using a cellphone while others in the group appear to be filming. A candlelight memorial with sidewalk chart art near the curb can be seen.
Wright was shot on Saturday in Brooklyn Center, Minnesota by police officer Kim Potter. The shooting opened raw wounds in Minnesota, which is gripped by the Derek Chauvin trial and the death of George Floyd. The Chauvin trial entered its fourteenth day with defense testimony starting earlier in the week.

Former Brooklyn Center Police Chief Tim Gannon, who resigned on Tuesday, stated that he believed the shooting of Wright was an accident, and that officer Potter had thought she was using her taser. Potter resigned from the Brooklyn Center police department on Tuesday in a two-sentence letter.
The Minnesota Bureau of Criminal Apprehension announced that Potter had been arrested for the death of Wright. The Washington County Attorney's Office will announce charges of second-degree manslaughter on Wednesday, and Potter is currently being held at the Hennepin County Jail. If found guilty she faces up to 10 years in prison and a $20,000 fine.
Wright's shooting comes just days after the video emerged of a police stop of Caron Nazario in Windsor, Virginia. Nazario, a US Army second lieutenant who was in uniform, was held at gunpoint, threatened, pepper-sprayed, and beaten to the ground before being released with no charges. The traffic stop was for no visible license plate. Nazario was driving a newly purchased vehicle with a dealer-issued temporary tag visible in the back window.
A $1 million civil rights lawsuit has been filed against the city of Windsor, and Lieutenant Joe Gutierrez was fired for his conduct. The traffic stops of Wright and Nazario illustrate the use of pretext arrest by officers, which statistically target minority drivers.
The Washington Post reports that Nazario is related to Eric Garner, who died in New York in 2014 by a police chokehold for selling individual cigarettes.
Seattle police have been particularly aggressive with chalk art graffiti arrest at both the East and West Precinct. Other municipalities in the state, including some police unions, have made decisions not to take enforcement action because of First Amendment right questions. In Washington state, it is protected speech to chalk art on public rights of way such as sidewalks. It is not considered legal to chalk art buildings, while the legality of chalk art on temporary structures such as the wall around the East Precinct is questionable.
All three arrested last night were arrested under Seattle Municipal Code. Due to COVID, jail capacity, and budget issues, the city prosecutor office has indicated they are not actively pursuing charges for these types of arrests.
Like, Share, Follow, Support