Seattle Police arrest two during protest march after Derek Chauvin conviction
Seattle police officers outnumbered a small group that marched through Capitol Hill and downtown.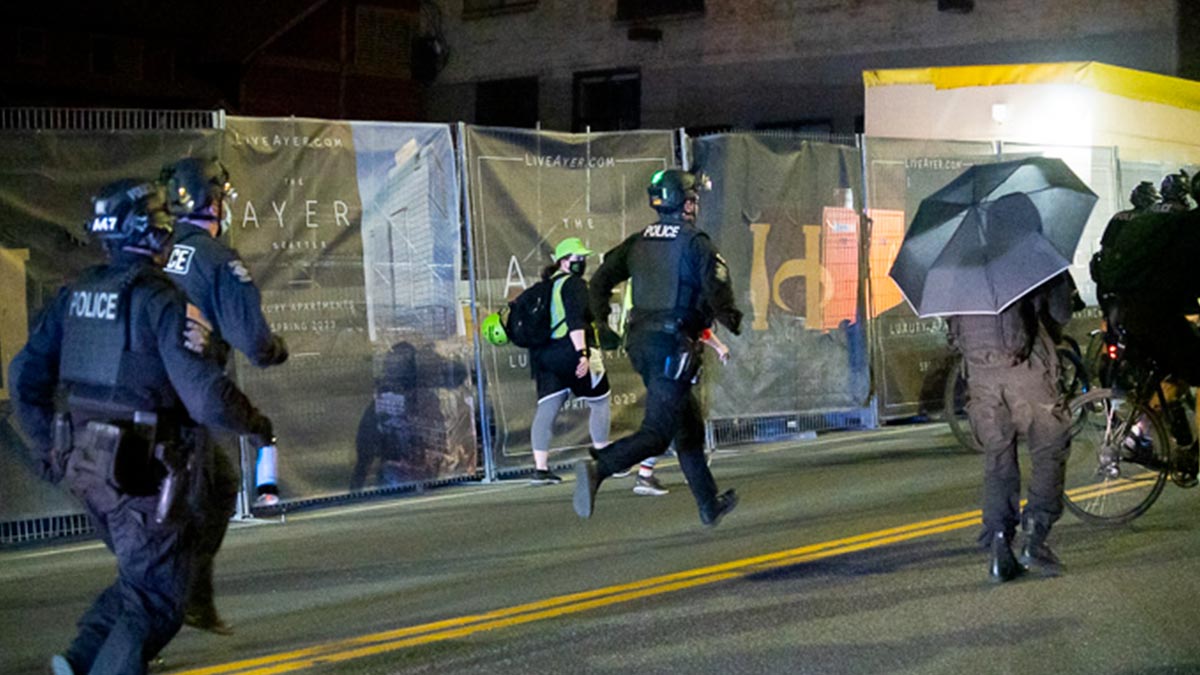 [SEATTLE] – (MTN) Seattle police used a large number of officers to shadow a small group of protesters, some in black bloc, in the hours after Derek Chauvin was convicted of murdering George Floyd in Minneapolis. In the moments after Derek Chauvin was found guilty of second degree murder, third degree murder, and second degree manslaughter, cheers erupted on Capitol Hill while fireworks went off on the eastside.
Protesters gathered at Cal Anderson Park and marched through downtown. The group was met by a couple of counter-protesters on Broadway, where words were exchanged when one person tried to drive through a car brigade. Seattle police appeared with a large contingent of officer, that was as large as the protest group.
Seattle Police repeatedly announced through LRAD for the protester to remain peaceful. There wasn't any apparent damage done by the group, with a few moving traffic cones and temporary signs into the roadway. Two targeted arrests were made for pedestrian obstruction. The group then marched back up Capitol Hill to Cal Anderson. Seattle Police bike officers moved the group at a faster pace before disengaging.

SPD shifted tactics in October 2020 ending the widespread use of pepper spray and flash-bang grenades to disperse protesters. Data from the city attorney's office indicates that pedestrian obstruction arrests will likely not end in criminal charges.
Earlier in the day, a consortium of city leaders and Black activists called for peace and calm at a hastily put-together press conference.
Derek Chauvin was filmed by a teenager holding a knee on the neck of George Floyd for more than nine minutes in May of 2020. The actions of Chauvin and the inaction of his fellow officers led to the death of Floyd, and Chauvin's conviction in that murder.
The death of Floyd reignited the Black Lives Matter movement started in 2014 and forced a civil rights reckoning in the United States.
Derek Chauvin had his bail revoked and will have his sentencing hearing in eight weeks.
Like, Share, Follow, Support