Seattle Police use aggressive tactics, arrest 3 during George Floyd memorial protests
Approximately 100 people marched in Seattle on the one year anniversary of widespread George Floyd protests.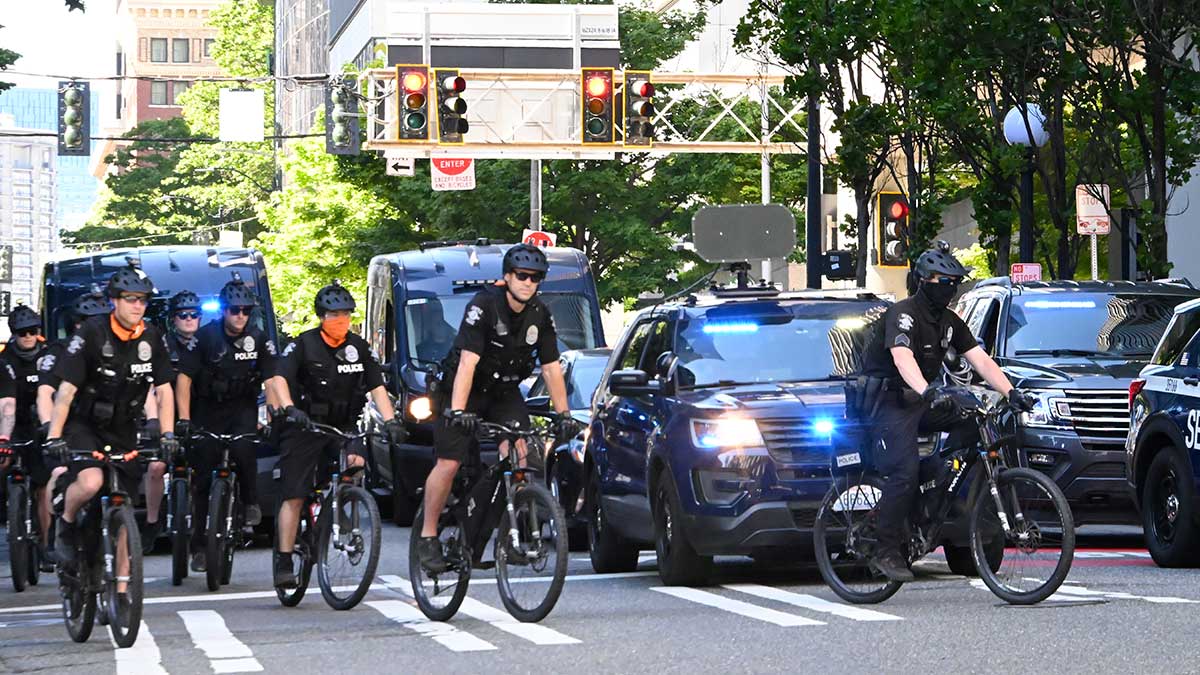 [SEATTLE] – (MTN) Seattle Police are reporting 3 arrests, and a fourth potentially unrelated arrest, in downtown Seattle today after two small groups marched on the one-year anniversary of widespread George Floyd protests. According to Seattle Police, two were arrested for pedestrian obstruction and resisting arrest, and one was arrested for pedestrian obstruction. Pedestrian obstruction is under Seattle Municipal Code and the City Attorney Office has said repeatedly they aren't prosecuting low-level non-violent cases.
Around 3:15 PM a group of approximately 40 protesters marched to City Hall from Occidental Park without incident. Just north of City Hall, another group that had assembled at Westlake and was marching south joined up. Seattle Police appeared to show bias in enforcement, making a female protester move out of the line while letting local agent provocateur and Turning Point USA evangelist Katie Daviscourt stay in the bike line. Daviscourt refused to answer questions about how she got a concussion on January 6, 2021, while in Washington D.C. with Turning Point USA, and why she posted about it on her Twitter account.
Seattle Police became increasingly aggressive, simultaneously telling people to stay out of the street and off the sidewalks, creating an untenable situation. Two were arrested at the intersection of 5th and James. One police officer appeared to have a small scrape on their elbow during the second arrest. A third arrest happened outside of the King County Courthouse. In that incident, a man on a bicycle had been riding repeatedly in the bike line of the police officers. Officers punched the man and several wrestled him to the ground.

The group marched back to Occidental Park together. There was another incident where an individual was pepper-sprayed and mutual threats were uttered, but both parties separated.
According to the Seattle Police, there was an additional arrest, "later," in downtown of an individual possessing a fixed blade knife, which is illegal in Seattle. The post did not say if that individual was part of the protests or their alignment.