Tacoma officer under investigation after hitting pedestrians with cruiser
Tacoma police have not released dashcam video from the officer who ran over two pedestrians on Saturday evening.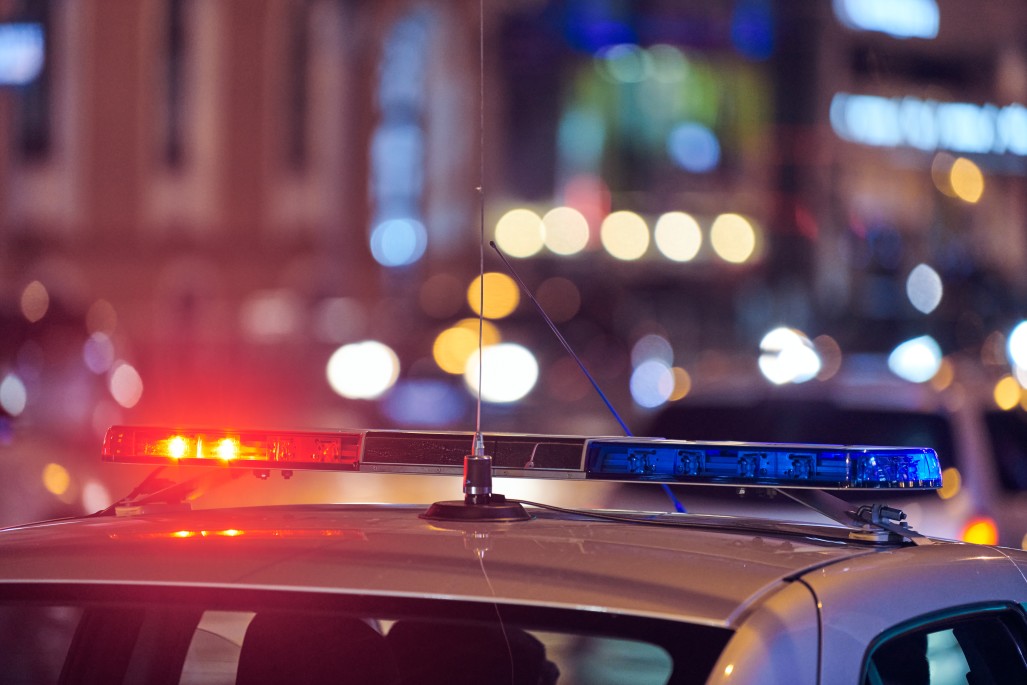 UPDATED 1/24/21 @ 1:37 PM PST: One victim has self-identified on social media
[Tacoma] – (Malcontent News) A chaotic scene erupted in Tacoma after a police officer drove through a group of pedestrians, sending two to the hospital. Tacoma police started getting calls at 6:19 PM about an automotive sideshow happening at 9th and Pacific. A group of approximately 100 people gathered to watch cars drift, do donuts, and burnouts in the intersection. Police arrived to clear the scene. A crowd gathered around a police cruiser, which suddenly raced ahead, plowing through a large group of pedestrians.
WARNING – THIS STORY CONTAINS GRAPHIC VIDEO
In two different videos, one from the driver side and the other from the passenger side, the police cruiser arrives and tries to push through a group of pedestrians into the intersection. The cruiser stops, and a crowd starts to gather. The video taken from the passenger side doesn't show the cruiser blocked from behind. The officer drives backward about three feet with their lights on, revs the engine, and then moves forward at high-speed. Bodies are seen cascading to the ground as others run. The cruiser runs over a person in the intersection, with both wheels rolling over the person, and then drives away. After the incident, pictures emerged of a Tacoma police cruiser with a broken back window on CNN and MSN.

The Tacoma Police Department released an initial statement declaring, "During the operation, a responding Tacoma police vehicle was surrounded by the crowd. People hit the body of the police vehicle and its windows as the officer stopped in the street. The officer, fearing for his safety, tried to back up, but was unable to do so because of the crowd. The officer had his lights and sirens activated. While trying to extricate himself from an unsafe position, the office drove forward striking one individual and may have impacted others. The officer stopped at a point of safety and called for medical aid. One person was transported to an area hospital."
At a sparsely attended press conference at 12:30 AM with the Tacoma police, they clarified that two had been taken to an area hospital, and one was released. No information has been released on the other victim's name or condition, and officials walked back their earlier statement that they received only minor injuries. KOMO News reported that there were no fatalities, and the individual in the hospital has non-life-threatening injuries.
Matthew Harrington self-identified himself as the person who was lightly injured last night in a Facebook post. In a comment on his post, a person wrote, "Cops did the right thing," and Harrington gave the comment a thumbs up.
Additionally, in a since edited story on Fox News, Tacoma police stated that the cruiser with a broken rear window arrived at the service call in that condition. Tacoma police did not explain why a police cruiser would be in service that night with a previously broken rear window. Tacoma police have not released nor stated if a dashcam video of the incident is available.
According to Tacoma police spokesperson Wendy Haddow, the officer has been placed on administrative leave and PCFIT will be handling the investigation and releasing further information.  Tacoma police have not identified the law enforcement officer. Pictures on CNN show a cruiser with clear shoe prints and damage on one rear quarter panel. There is no way to know if that damage happened when pedestrians surrounded the cruiser or as it lurched forward.
Confusion and misinformation rapidly took hold, with the right-wing media and online agent provocateurs attempting to make the incident political and racially charged. Pictures emerged of the police cruiser with the back window broken out. Accusations that the crowd was trying to climb into the cruiser and were rocking it in an attempt to roll it over crept into social media. Within minutes of the story being reported by Daily Mail UK, accusations that "protesters" were blocking police from getting to a 911 stabbing call were bubbling up on right-wing channels. Some even celebrated the running over pedestrians on social media in the Puget Sound area, calling it, "deserved."
A group of 40 to 50 vocal but peaceful protesters gathered at the scene of the incident, surrounded by police tape and officers. Independent media reported an individual associated with the Proud Boys arrived, maced some people, and then took refuge in a building.
This morning Andy Ngo, a right-wing blogger, author, and serial Twitter user, called out for his followers to disrupt a planned vigil and protest tonight at 7 PM. Protesters from Seattle to Portland are planning to attend the event.
Although Tacoma has been more peaceful than Portland and Seattle, there have been several incidents. The most high profile case involves Manuel Ellis, who died in police custody in March of 2020. In that incident, officers restrained Ellis, with his last recorded words being, "I can't breathe, sir." A coroner report listed Ellis's death as a homicide. A report from the Washington State Patrol indicated that two previous unidentified officers were involved in the Ellis incident. One was a Pierce County Sheriff's deputy. Pierce County was initially reviewing the Ellis case. When two videos emerged, calling into question the veracity of the official Tacoma police version of the story, the state took over the investigation.
In the fall of 2020, Black Lives Matter protesters shut down I-5 in Tacoma, resulting in arrests. In another incident, homeless advocates broke into an abandoned school building to open it up as a shelter. The police arrived in force wearing hazmat suits to remove the occupants and protesters. Over the holidays, protesters occupied a hotel in Fife to provide refuge to 40 unhomed people. Area police departments raided the hotel in hazmat suits, where the occupants left peacefully. 
The issue of street racing, drift shows, and sideshows has been a growing problem through Puget Sound since COVID-19 struck. Sparsely used roads, empty parking lots, and lax police enforcement have created opportunities that normally clogged Puget Sound streets wouldn't make possible.
Among some high profile incidents over the summer, street racers shut down SH-167 with up to 100 vehicles doing burnouts, drifting, and racing. The Washington State Patrol could only muster a single cruiser to respond. In another incident, street racers operated with impunity at the foot of the Space Needle in Seattle.