'White Lives Matter' rally in Seattle never materializes
One-hundred to 150 counter protesters found Westlake Plaza empty, and engaged in peaceful protest.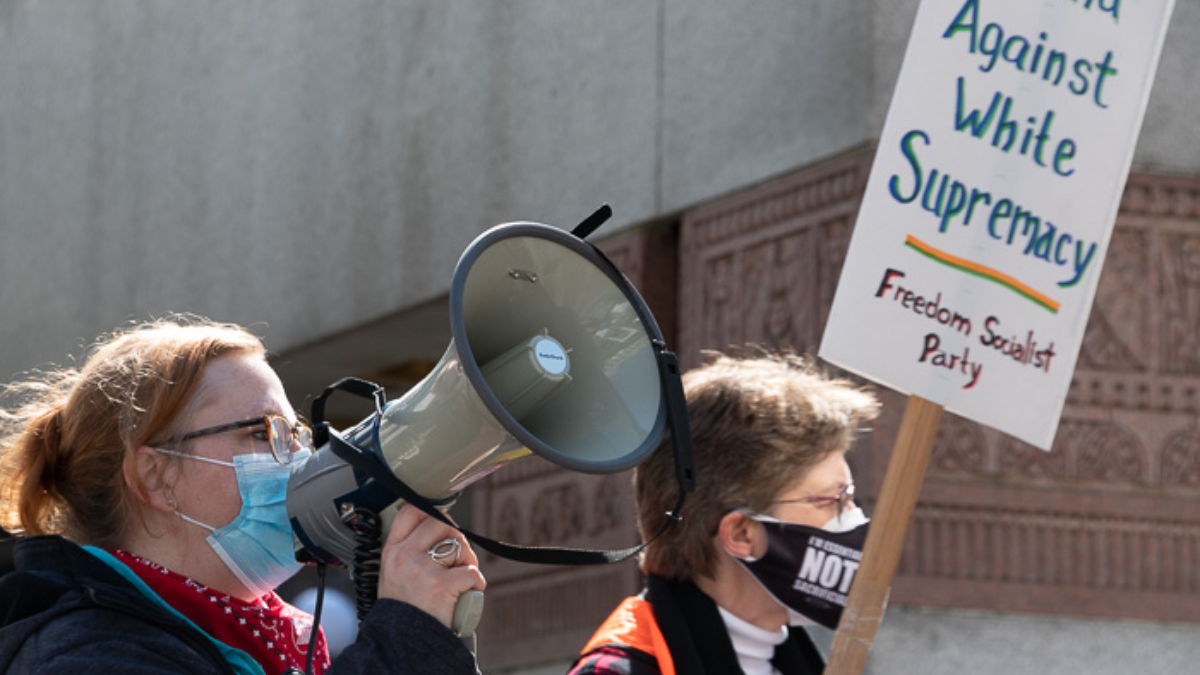 Update: Monday, April 12, 2021, 2:00 PM – a previous version of this story had misspelled Annaliza's name. We apologize for the error.
[SEATTLE] – (MTN) Right-wing groups backed by extremists and neo-fascist organizations attempted to organize nationwide 'White Lives Matter,' rallies, including in Seattle, but were mostly no shows. In Seattle, a diverse group organized by Stand Against White Supremacy Coalition rallied in resistance to the ideas of white supremacy. In addition, the Youth Liberation Front in black bloc and Falun Gong protesters flanked the protest holding their own rallies.
"When we heard that there were folks planning white lives matter, you know we're here to say that Black Lives Matter," said Annaliza of the Comrades of Color Caucus. "We're in a time where so many Asian-American people are being attacked, that is not acceptable to say, other lives don't matter."

Seattle police had no presence at the counter-protest. A single person from white lives matter drove by, with their vehicle followed by approximately 25 people dressed in black. That person drove their Chevrolet Suburban up onto the sidewalk at Westlake and 4th and turned northbound squealing their tires.
By 1:45 PM it became apparent to the group that no one else was coming in support for White Lives Matter, and the group started to thin. Members of the Youth Liberation Front discussed marching in the street but moved back into Westlake before dispersing.
In many cities, white lives matter rallies didn't materialize or were vastly outnumbered by counter-protesters. The one exception was in Huntington Beach, California, where a large group of counter-protesters met a smaller, but more aggressive group of white live matters protesters. The police declared an unlawful assembly and made several arrests.
Social media showed members of the Proud Boys, a neo-fascist group with over a dozen members arrested for the January 6 insurrection, with police officers. The rally in Southern California was organized by California KKK Grand Dragon William Quigg. Quigg was imprisoned in 2016 for stabbing multiple individuals at a different Klan rally and was spotted in the crowd.
Like, Share, Follow, Support