COVID cases fueled by Omicron skyrocket globally, nationally, and in Washington
Seattle joins Miami and New York as new COVID cases surge 32% over the weekend.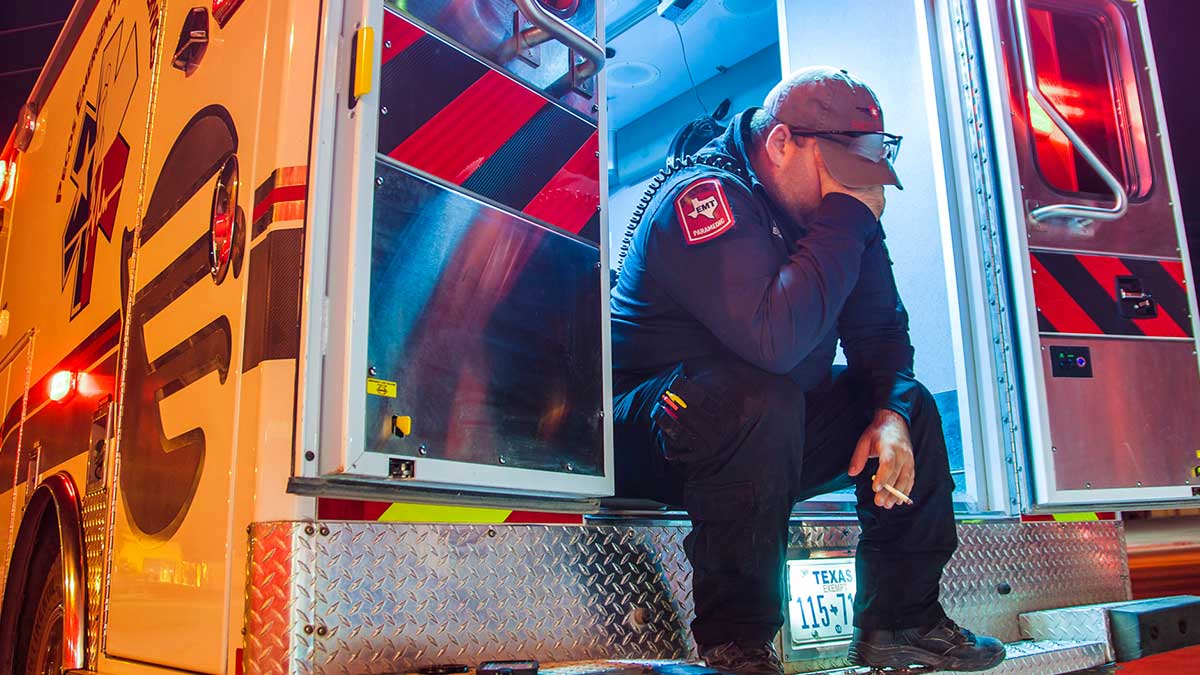 Texas officials report the first Omicron related fatality in the United States
Editor's Note: As a policy, Malcontent News does not quote or publish data from pre-print studies. The transmission rate of the Omicron SARS-CoV2 variant is so high it is spreading at a rate faster than the scientific review process. For this reason, we are using pre-print studies in our reporting and analysis for the Omicron variant. We will continue to backlink to all quoted sources to support transparency in reporting.
Updated: Story edited to report first Omicron death in the United States
[KIRKLAND, Wash.] – (MTN) Washington state moved back to high transmission risk for COVID as new cases fueled by the Omicron variant grew 32 percent over the weekend. The highly contagious variant was discovered in South Africa, spreading to over 90 countries in six weeks.

The United States was reminded how serious Covid-19 is this evening, with Texas reporting the first Omicron-related death in the nation. Judge Lina Hidalgo of Harris County, Texas, tweeted that a man in his 50s had died of Omicron. He was unvaccinated and had health issues. It is reported he was treated with monoclonal antibodies, which have been rendered ineffective against the Omicron variant.
The U.S. Centers for Disease Control (CDC) reported 73% of new COVID cases across the United States are the Omicron variant, swamping Delta cases. The World Health Organization estimated cases are doubling every 1.5 to three days.
The CDC estimates that Omicron is 90% of new COVID cases in the New York City area, the Southeast, the Ohio River Valley and Great Lakes states, and the Pacific Northwest. Omicron cases have been detected in 48 of 50 states, with Montana, Indiana, and Vermont confirming cases this afternoon.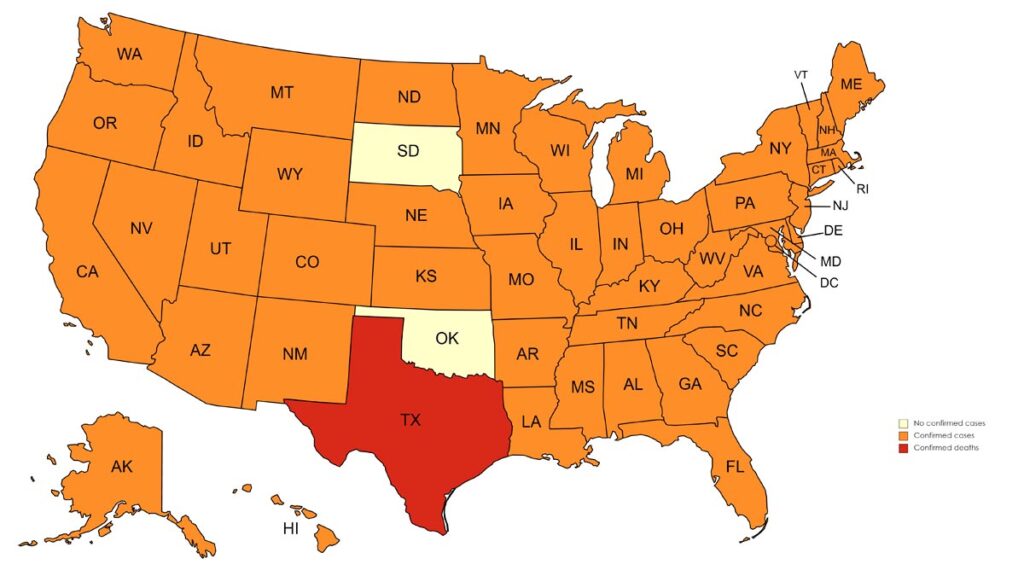 In Miami, lines of cars waited for hours to get COVID tests. Governor Ron DeSantis had boasted Florida had conquered coronavirus on Oct. 27, using data from the New York Times. On Monday evening, Florida reported more than 7,000 new cases a day, an increase of almost 300% in two weeks – second only to Hawaii.
The Washington State Department of Health (WSDoH) reported a sharp increase in COVID cases. The counties with the highest rates were distributed across Washington from the Olympic Pennisula to the Palouse. Only Wahikakum County reported low community spread on Monday.
| Percent of Total Population Fully Vaccinated | Percentage of Vaccinated People with Booster Dose | Total Population in Group | Average 7-Day New Case Rate |
| --- | --- | --- | --- |
| 70.00% or above | 39.15% | 2,343,250 | 170.1 |
| 60.00% to 69.99% | 35.36% | 1,669,300 | 136.0 |
| 50.00% to 59.99% | 32.23% | 3,339,300 | 111.6 |
| 40.00% to 49.99% | 29.41% | 268,975 | 77.6 |
| 32.70% to 39.99% | 35.38% | 151,850 | 85.5 |
7 Day New Covid-19 Cases per 100K average by Vaccination Rate for Total Population, Adjusted for Population by County, Booster percentage is based on totally fully vaccinated, not eligible, Average 7-day New Case Rate <25 normal, =>25 to 99.9 moderate, => 100, high transmission
Federal officials believe the actual case count is much higher due to asymptomatic carriers and home testing, which isn't reported to county and state health departments.
According to the University of Washington Virology Lab, the genomic sequencing of SGTF COVID test samples was 70% positive for Omicron on Dec. 16. Data provided by Pavitra Roychoudhury, MSc, Ph.D., of the University of Washington Virology Division, showed Omicron cases had been lab-confirmed in Benton, Franklin, King, Pierce, Snohomish, Thurston, Walla Walla, Whatcom, and Yakima Counties.
Researchers had looked at test samples as far back as Nov. 7 from Idaho, Oregon, and Washington.
Frustration was building on social media as Western Washington residents tried to find rapid COVID antigen tests, booster shots, and appointments for children 5 to 11 to get vaccinated. People waited for hours in long lines to get lab tested for Covid-19 and worried about travel plans as the time to get test results back grew past 72 hours.
Seattle Mayor Jenny Durkan announced that the Rainier Beach and West Seattle vaccination clinics will remain open for boosters and vaccinations into January 2022. Tests sites across the city run in cooperation with the University of Washington are expanding hours to try and meet growing demand. There are fixed test sites at Aurora, SODO, Rainier Beach, and West Seattle, as well as seven Curative kiosks placed throughout the City. In partnership with the City of Seattle, UW Medicine has also opened a site at City Hall, which is available to the public. Appointments are encouraged at all locations, and sites will be closed on Christmas Day.   
Area hospitals are at capacity even though COVID hospitalizations are low
The number of hospitalized COVID patients in Washington has slowly dropped through December. The WSDoH reported there were 640 hospitalized Covid-19 patients on Sunday, and 81 were on ventilators. The numbers are significantly higher than the end of the Fifth Wave in late May, and area hospitals are already filled with non-COVID patients.
Data from the U.S. Health and Human Services (HHS) found regional hospitals have scant resources to manage another surge. Almost half of the regional hospital beds available are at Swedish on Broadway in Seattle and St. Joseph's Medical Center in Tacoma. The report indicated there were 730 beds available, but that includes resources for pediatric patients and neonatal incubators. Available ICU beds include NICU incubators, PICU beds, and critical care resources for post-surgical, transplant, trauma, and burn patients.
| Hospital | City | Acute Care Total | Acute Care Available | ICU Total | ICU Available |
| --- | --- | --- | --- | --- | --- |
| Overlake | Bellevue | 264 | 17 | 34 | 4 |
| Swedish – Cherry Hill | Seattle | 170 | 2 | 42 | 16 |
| Seattle Children's | Seattle | 308 | 29 | 96 | 12 |
| U.W. Medical Center | Seattle | 641 | 58 | 139 | 98 |
| Swedish – Broadway | Seattle | 568 | 90 | 79 | 55 |
| Harborview | Seattle | 400 | 9 | 97 | 10 |
| Virginia Mason | Seattle | 238 | 20 | 33 | 13 |
| EvergreenHealth | Kirkland | 251 | 8 | 37 | 2 |
| Swedish – Issaquah | Issaquah | 100 | 8 | 30 | 26 |
| Valley Medical | Renton | 292 | 36 | 50 | 27 |
| St. Anne's | Burien | 161 | 44 | 31 | 23 |
| Swedish – Edmonds | Edmonds | 173 | 14 | 9 | 5 |
| Harrison Memorial | Bremerton | 281 | 36 | 49 | 6 |
| MultiCare | Auburn | 138 | 31 | 16 | 1 |
| St. Francis | Federal Way | 155 | 45 | 15 | 1 |
| St. Anthony's | Gig Harbor | 108 | 0 | 16 | 3 |
| Providence | Everett | 611 | 47 | 77 | 8 |
| Tacoma General | Tacoma | 310 | -9 | 46 | 2 |
| Mary Bridge Children's | Tacoma | 83 | 34 | 11 | 4 |
| St. Joseph's | Tacoma | 573 | 234 | 76 | 14 |
Data is through December 9, 2021, as reported to the U.S. Health and Human Services for all hospitals with more than 50 beds and ICU resources within 30 miles of downtown Bellevue – acute care beds include adult, pediatric, and neonatal, ICU beds include NICU, PICU, and specialized critical care units for post-surgical, trauma, and burns
In a worrying sign from New York, officials reported on Monday night that while many people are experiencing breakthrough cases and having mild symptoms, unvaccinated individuals were 11 times more likely to be hospitalized.
More data released on vaccine and monoclonal antibody effectiveness against Omicron
In an announcement early Monday, Moderna said preliminary data from lab testing found that a booster of the currently available vaccine increased antibody levels to an effective level. The drugmaker said its currently FDA-approved 50 microgram booster increased neutralizing antibody levels 37-fold against Omicron and 83-fold with a 100 microgram "full dose" booster.
An independent study released last week that evaluated the effectiveness of the Pfizer, Moderna, and Johnson & Johnson vaccines had similar results. Vaccine effectiveness appears to be significantly impacted by how long ago someone received their final dose or booster. Multiple studies have found the Johnson & Johnson vaccine is significantly less effective.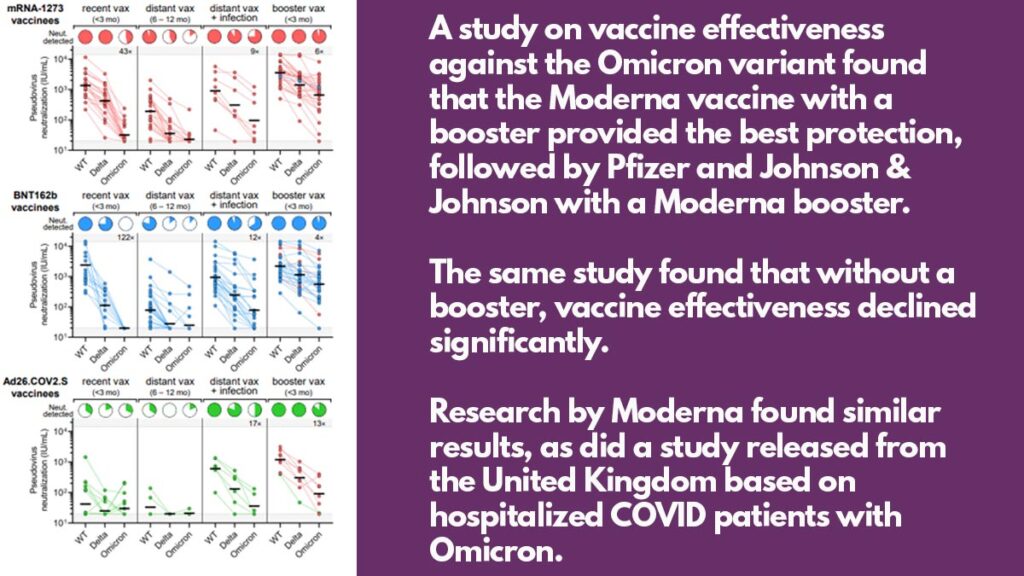 A study from the U.K. found that relying on immunity from a previous COVID infection was only 19 percent effective against preventing symptomatic reinfection and 20 percent when relying on vaccination without a booster. The same study found that a booster dose increased protection by 50 to 85 percent. Overall the risk for reinfection was 5.4 times greater than Delta. The study done by the Imperial College of London used PCR test data from Nov. 29 to Dec. 11.
In New York, hospitalists at Mount Sinai Hospital were advised to stop administering monoclonal antibodies because they were ineffective against Omicron. The memo reported that most people seeking treatment had breakthrough infections with mild symptoms that didn't warrant hospitalization.
Washington state is waiting for the first 552 doses of the monoclonal antibody sotrovimab. Granted Emergency Use Authorization (EUA) by the U.S. Food and Drug Administration (FDA) in May, it is the only remaining effective early treatment for Omicron in the United States.
Concern grows as the hopes of Omicron being "only a cold" fade away
South Africa officials reported 105 COVID-related deaths across the nation on Monday. The number of ICU patients has increased 144 percent since Nov. 25. Omicron appears to have peaked in Gauteng Province but continues to spread rapidly across the nation of almost 60 million.
United Kingdom officials reported another five Omicron COVID-related deaths, bringing the total to 12. Hospitalizations of children under 5 increased 39% week over week, and thousands of healthcare workers have been stricken with Covid-19 infections, causing staffing issues.
A study by the University of Texas Austin for the CDC was made public on Dec. 16. It looked at 18 different scenarios for the spread of Omicron. In ten of those scenarios, the healthcare system in the United States is overrun by patients.
President Joe Biden will address the nation on Tuesday to outline the administration's new steps to aid states and communities while trying to curb the spread of COVID.
Yesterday, former President Donald Trump addressing a crowd of admirers in Dallas told the audience he had received his booster. A smattering of jeers and boos rippled across American Airlines Center.
"Don't, don't, don't, don't …" he said.
"There's a very tiny group over there," the former President added.