Western Washington White Christmas chances are fading but historic cold lies ahead
Record breaking cold will be dangerous for the unhoused with highs only in the low 20s early next week.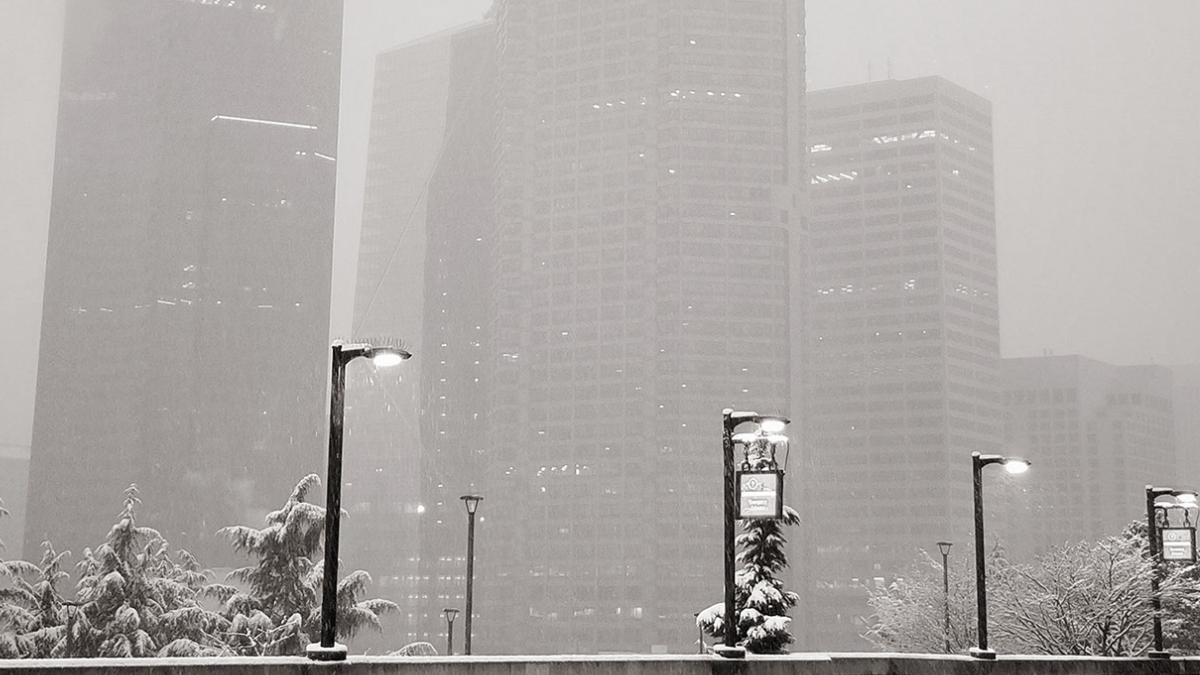 [KIRKLAND, Wash.] – (MTN) Record low temperatures are coming to Western Washington even as the promise of a white Christmas along the I-405 corridor is fading away.
A weak low still promises to bring some snow into the Puget Sound lowlands late on Christmas Eve and Christmas Eve Night. After Saturday, dangerously cold air will settle into the region six months to the day after Seattle experienced three days of record-shattering heat.
Christmas Eve looks promises to be a typical December day in Washington – cold, wet, and dreary. There is a weak low currently at the very southeastern tip of Alaska that is moving along the British Columbia coast, and that will be our snowmaker later in the weekend. Winds will be breezy and from the south, as high temperatures struggle to reach 40 degrees. Rain will fall through most of the day.

Friday night temperatures will drop close to freezing in the Bellevue-Kirkland-Woodinville area, with the lowest temperatures at the highest points and away from the water. Lows will be 33 to 35 and drivers should be cautious for icy patches especially on bridges and overpasses. The center of low pressure will be around the southern tip of Vancouver Island.
The forecast for Christmas Day is complex. That weak low will drift across the Olympic Penisula and park over the Olympic Peninsula. Cold air will start to spill into Western Washington, with temperatures rising to 36 to 39 degrees, peaking around 11 a.m. Cold air is dry air, and there isn't a lot of moisture or energy in this system to produce a lot of precipitation. Areas below 500 to 1000 feet should expect a mix of rain showers, graupel, and wet snowflakes. The highest hills in our region could see more flakes. By 5 p.m, temperatures will be approaching freezing, and snow showers will transition to rain. Side streets, overpasses, and highway ramps could get icy during this transition.
Saturday night the low-pressure area will have drifted further south and will be located off the northeast tip of Washington. The center of circulation will pump coastal moisture into the Puget Sound region as cold air starts to spill in from the Fraser Valley, causing widespread snow showers to form. Expect 1 to 2 inches of snow overnight. Convergence Zone forecasts are extremely difficult to make, however, there isn't a lot of moisture nor wind dynamics that point to heavier snow bands being widespread. Temperatures will be 23 to 25 degrees. The record low at SeaTac Airport is 22, so it's possible the record will get tied or broken.
Sunday will see snow showers moving out of the area by 8 a.m. to 10 a.m. as the low dissipates and moves into southwest Washington. It will remain cloudy with high temperatures reaching 28 to 30 degrees. There is a chance slight chance for a few stray flakes late in the day as the temperature drops and wrings out the remaining moisture from the low-pressure system. As it weakens and moves south, the floodgates for cold Fraser Valley air will open.
On Sunday night our region will experience record-breaking cold. The skies will partially clear allowing for radiational cooling and winds will shift out of the north pulling cold air from Canada into our region. Lows will be 13 to 16 degrees. The record low at SeaTac is 20 and doesn't stand a chance. If the record low reaches 13 or colder, the difference between the high temperature of the year and the low temperature of the year will be 100 degrees or greater!
Monday will be one of the coldest days in years. The high temperature will only reach 19 to 22 degrees under partly cloudy skies. Winds will be light at 7 to 10 MPH, but enough to make the air feel like it can cut like a knife.
Monday night will be clear and cold, with temperatures from 12 to 14 degrees. The record low at SeaTac Airport is 12, so a tie isn't out of the realm of possibility.
The outlook for next week is bitter cold through Thursday, which is the first day where high temperatures might reach freezing. Your weather apps might be showing a snowflake on that date too, but it's too far out to make a prediction.
Temperatures this low are life-threatening to the houseless and Seattle's Human Services Department is opening two overnight shelters from Dec. 25 to Dec. 29. One shelter will be located at Seattle Center Exhibition Hall and can serve about 100 people, 18 and older including pets. The other is located in Pioneer Square and can serve 80 people, 18 and older. Additionally, the Salvation Army can accommodate up to 240 people at its shelter in SODO.
If you have children and live in King County, you can Parents can call the King County Emergency Family Shelter Intake Line at 206-245-1026 between 8 a.m. and 11:30 p.m. for assistance.
Temperatures this low will be a danger to pets and backyard livestock. Cats and dogs will need places to escape the cold, ideally inside your house. Water bowls for animals will freeze up in this weather.
Outside faucets should have hoses disconnected and be covered or wrapped to protect them from freezing. Setting your faucets to the slowest trickle keeps water moving in your pipes preventing freezing. For sinks that face outside walls of your home, open the cabinet doors to allow warm air to circulate. Know where the water shutoff valve is for your house and make sure if you need a tool to use it, that you have one.
Extended cold is also hard on your car's batteries. If the starter battery in your car is over four years old, the cold snap could spell the end of its useful life. Hybrid and electric vehicles can lose effective range when it is this cold. This happens due to physics impacting battery performance and the increased draw from the cabin heater, window defrosters, and comfort accessories like heated seats. If you find your range is deteriorating turning off the cabin heat and using heated seats to stay warm uses less power.