EXCLUSIVE VIDEO: Carjacking suspect drives through Black Lives Matter protest in Seattle
Seattle police arrest the accused carjacker several blocks away after they struck several parked cars.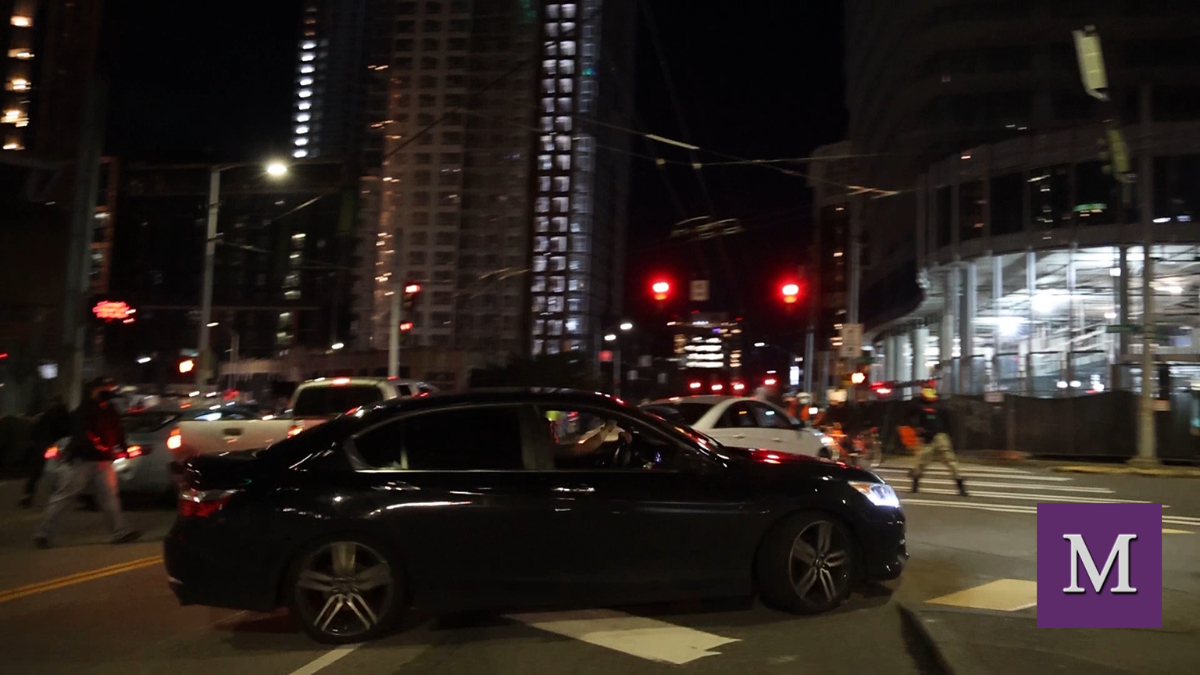 [SEATTLE] – (MTN) A person is in custody after carjacking a black Honda, driving it through a group of protesters, and colliding with multiple parked vehicles. Two different events converged in downtown Seattle as Black Lives Matter protesters marched from the West Precinct into the Amazon South Lake Union campus.
The march was to commemorate 300 days of continuous protest in Seattle and started at Cal Anderson Park. About 200 peaceful protesters marched to the West Precinct, where several speakers addressed the group, including City Council candidate Nikkita Oliver. The group was followed by a heavy police presence, with over a dozen police vehicles visible on the surrounding blocks and many bike officers just out of sight.
As the group approached the intersection of Virginia, Fairview, and Boren, the carjacker attempted to turn on Virginia, finding it blocked. The carjacker struck a cyclist as protesters scattered. Seattle police bike officer following the protesters rode into the intersection to a scene of chaos. Police officers asked if anyone was injured. A destroyed bicycle lay on the ground, but there were no reported injuries to the officers' amazement.

Video captured on the scene shows protesters running in two directions while a car brigade moves to protect the group. Another video shows a person narrowly missed by the fleeing car as it makes a u-turn on Boren. The driver then collides with several parked vehicles before wrecking at Denny and Fairview.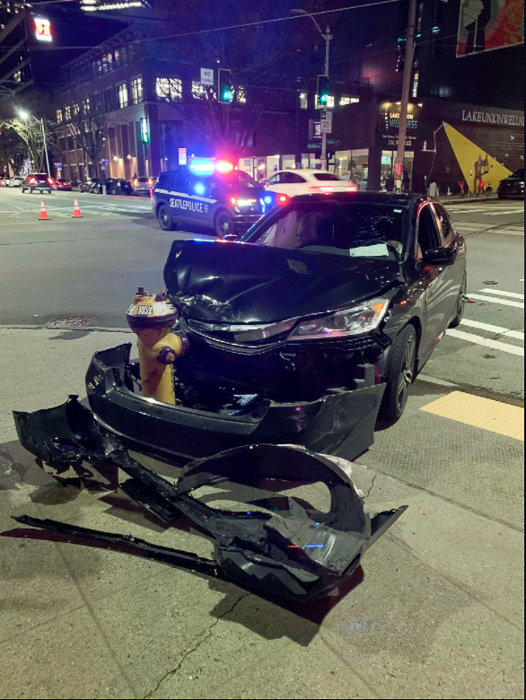 A diverse group of protesters representing Black Lives Matter, Antifa, and insurrectionary anarchists have been marching and engaging in direct action since May 2020. The three groups at times march together using different tactics and seeking a variety of goals. Last night's march was Black-led, with organizers admonishing those in the group trying to take direct action.
Like, Share, Follow, Support