Exhausted Russian army struggles to make gains in Ukraine
Ukrainian armed forces can't take advantage of degraded Russian forces as the front becomes frozen.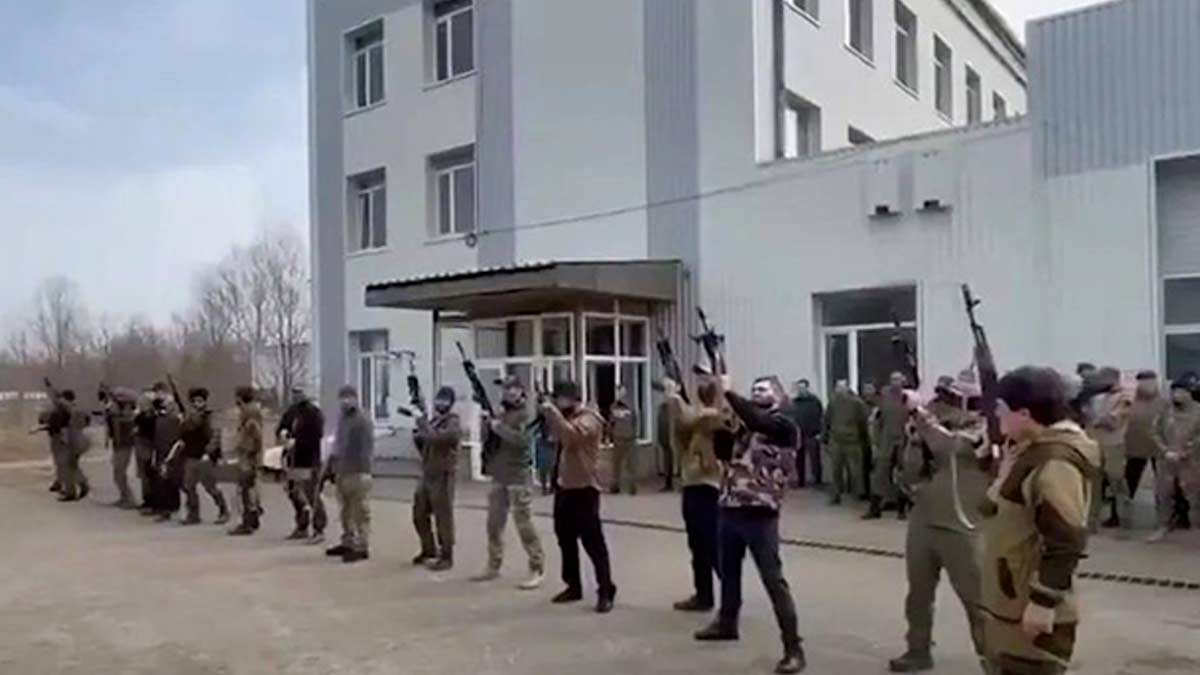 August 27, 2022, Russia-Ukraine War Update
[UKRAINE] – MTN It has been 3,103 days since Russia occupied Crimea on February 27, 2014. Here is our latest update. You can visit our Russia-Ukraine War Center to find more news about Ukraine. You can also listen to our in-depth podcast, Malcontent News Russia Ukraine War Update, hosted by Linnea Hubbard.
Luhansk and Northeast Donetsk
Russian forces attempted to advance on Hryhorivka from Bilohorkiva. They suffered heavy losses, and their defensive line was overrun as they retreated.
Settlements around Siversk were shelled by artillery and rockets, with the Russian air force attacking Siversk and Spirne.

The August 26 HIMARS strike on Kadiivka killed up to 200 Russian airborne (VDV) troops, according to Serhiy Haidai, exiled Luhansk People's Republic Administrative and Military Governor.
In Staroblisk, Askyar Laishev, a Ukrainian defector and the head of security for occupied Luhansk, was killed when a bomb planted in his SUV exploded.
Russian forces have set up an airbase for Mi-8 transport and Mi-52 attack helicopters in Luhansk.
Bakhmut
Chechen Kadyrovites reappeared, claiming to have an active role in the fighting for Soledar. The Russian air force, PMC Wagner, the 2nd Army Corps of the Luhansk People's Republic (LNR), with Kadyrovites taking the distant rear but claiming glory, launched a large attack on Soledar and Bakhmutske. Neither advance was successful, and it was reported that Russian troops suffered major losses.
A significant attack was also launched on Bakhmut from the east. It was reported that Russian proxy forces suffered severe losses.
In the Svitlodarsk bulge, Russian forces continued their attack on Kodema, supported by artillery and the Russian air force. Russian troops also tried to advance on Zaitseve. Fighting around the railroad yards continued in Mayorsk.
Southwest Donetsk – Zaporizhia
The Donetsk People's Republic 1st Army Corps only tried to advance on Nevelske, making two attempts – positional fighting to improve their tactical positions and then an advance, which failed.
Marinka was shelled and repeatedly hit by air strikes. Video released by Russian state media shows that DNR separatists were pushed out of the center of Marinka, with Ukraine holding most of the city again.
Pavlo Kyrylenko, Donetsk Oblast Administrative and Military Governor, reported that Pisky was shelled. We maintain the settlement is contested.
Near the Donetsk-Zaporizhia administrative border, Russian forces tried to advance on Prechystivka and were unsuccessful.
In Berdyansk, gauleiter Alexander Kolesnikov, the deputy police chief and head of traffic enforcement, was killed when a car bomb exploded in his vehicle.
Kherson
North of Kharkiv, Russian forces attempted to capture Dementiivka – again – and ended with the same result as the last four attempts, returning to their starting point.
The Azov Battalion shelled Russian positions in Ternova, destroying an ammunition depot.
Russian missiles hit the central district of Kharkiv city and the suburb of Derhachi.
Visit our Russia-Ukraine War Map
The Malcontent News Russia-Ukraine War Map is updated as events occur. Map not appearing in your RSS Feed or Google News App? You can review the most up-to-date information by visiting our custom Google Map.
Izyum
A small group of Russian infantry attempted to advance on Karnaukhivka, over 7 kilometers south of the established line of conflict. They were met with small arms fire and retreated.
The General Staff reported that Russian forces had reestablished electronic warfare arrays near Izyum that disrupt GPS signals.
Russian forces fired artillery and rockets south of Izyum from Brazhkivka to Tetyanivka, while the Russian Ministry of Defense claims that Ukraine fired rockets from HIMARS into Izyum.
Kherson
Ukraine struck the Kahkovka, Antonovsky, and Dariivsky bridges with rockets fired by HIMARS. The same section of the Antonovsky bridge has been repeatedly targeted by Ukraine, causing progressively worse damage. The Dariivsky bridge appeared cratered in a low-resolution satellite image, and Russia reinstalled the pontoon bridge across the Inhulets River.
The Kahkovka Bridge, which was already badly damaged, was struck while a Russian military convoy was crossing the structure. An extremely graphic video showed multiple body parts and torsos in Russian uniforms scattered across the bridge, with the smoking remains of military vehicles in the distance.
Russian forces have dug in defensive positions in Blahodatne [Mykolaiv] and are heavily shelling Ukrainian positions north of the Inhuletskyi Channel.
Dnipropetrovsk
The Russian Ministry of Defense reported that Ukraine shelled the Zaporizhzhia Nuclear Power Plant twice but didn't provide evidence.
Valentyn Reznichenko, Dnipropetrovsk Oblast Administrative and Military Governor, reported that Nikopol was hit with seven artillery shells knocking out power to 5,000 and damaging a school and several homes. Marhanets was hit by 20 Grad rockets, and an area of dachas (second homes, typically a cottage) was badly damaged in Zelenodolsk.
The International Atomic Energy Agency reported that they would be sending a team of inspectors to the Zaporizhzhia Nuclear Power Plant in the coming week.
Sumy and Chernihiv
Dmytro Zhyvytskyi, Sumy Oblast Administrative and Military Governor, reported that Russian forces shelled the settlements of Esman, Shalyhyne, Khotin, Myropillia, and Bilopillia. Four civilians were wounded in Bilopillia and required hospitalization.
Daily Assessment
Our assessment in early July that Russia had an inadequate number of troops to provide security and administration in occupied Luhansk was accurate, as an increasingly violent insurrection across a third of the oblast is gaining momentum.
The mood of the Russian milblogger community has notably shifted to quiet resignation in the last 24 hours after a series of devastating HIMARS attacks this week and the realization that the Russian military has no solution for their "as advertised" performance.
We maintain that Russian forces within Ukraine are combat destroyed – two small attempted advances in Donetsk and Kharkiv ended in failure, and Russian positions were overrun when they retreated, resulting in a territorial loss.
To read the rest of our report, become a Patreon! For as little as $5 a month, you get access to the daily Russia-Ukraine War Situation Report. The report provides analysis, maps, detailed information about all the axes in Ukraine, international developments, information about war crimes and human rights, and economic news. As an added benefit, you get access to flash reports, breaking news, and our Discord server.