Russian state media news report shows military hardware at Zaporizhzhia nuke plant
Across the rest of Ukraine, Russian offensives sputter out as combat strength is exhausted.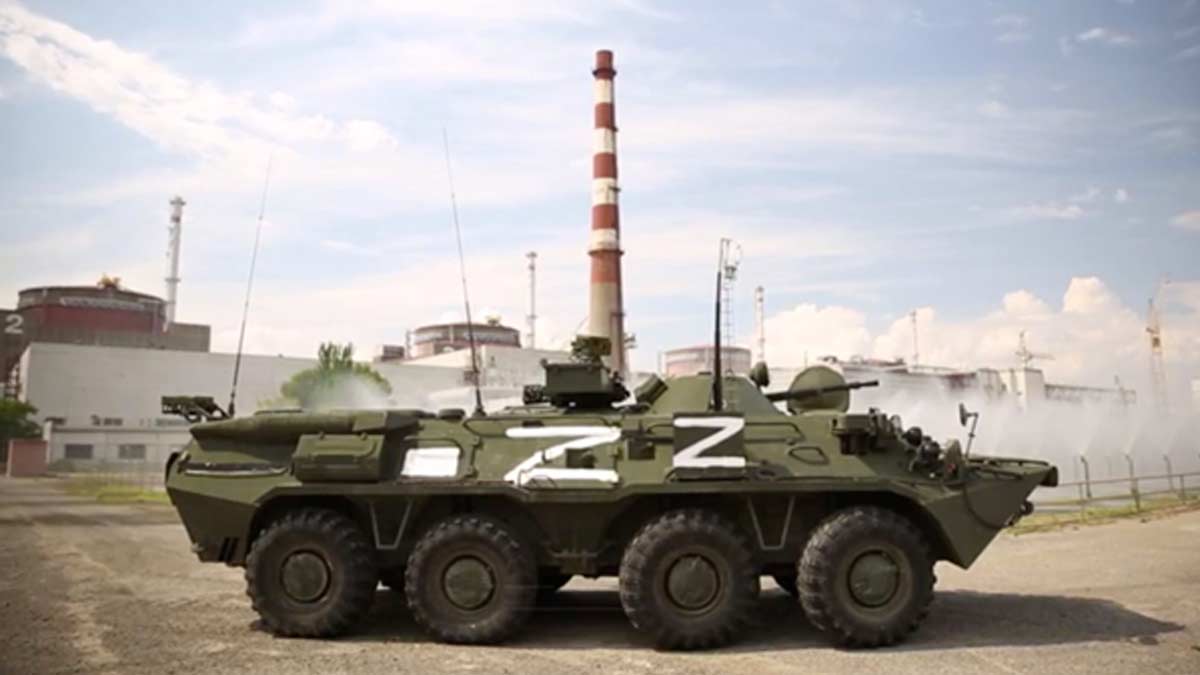 August 25, 2022, Russia-Ukraine War Update
[UKRAINE] – MTN It has been 26 weeks since Russia's widespread invasion of Ukraine and 3,100 days since Russia occupied Crimea on February 27, 2014. Here is our latest update. You can visit our Russia-Ukraine War Center to find more news about Ukraine. You can also listen to our in-depth podcast, Malcontent News Russia Ukraine War Update, hosted by Linnea Hubbard.
Bakhmut
Private Military Company Wagner Group, supported by terrorist elements of the Imperial Legion, fought positional battles near Soledar and Bakhmutske. Lacking armor support, they were unsuccessful.
In the Svitlodarsk bulge, Russian forces fought positional battles south and east of Kodema but did not improve the tactical situation. There were reports of fighting around the train station at Mayorsk.

Southwest Donetsk – Zaporizhia
The 1st Army Corps of the Donetsk People's Republic (DNR) lost control of parts of Pisky. Separatist troops attempted to push Ukrainian forces out of their positions in the direction of Pervomaiske but were unsuccessful.
Russian forces tried to advance on Nevelske using main battle tanks and infantry fighting vehicles with inadequate light infantry support. After suffering losses, separatist troops had to retreat.
Unable to advance further into Marinka, Russian forces attempted to flank Ukrainian positions but failed to advance into Pobieda.
On the Donetsk-Zaporizhia administrative border, Russian forces attempted to advance on Pavlivka and continued to press toward Velyka Novosilka but did not move the line of conflict.
Visit our Russia-Ukraine War Map
The Malcontent News Russia-Ukraine War Map is updated as events occur. Map not appearing in your RSS Feed or Google News App? You can review the most up-to-date information by visiting our custom Google Map.
Izyum
Russian forces attempted to advance on Dolyna. Due to diminishing artillery support, lack of fire control, and the advance conducted mainly by conscripts and unskilled forces, the attack was unsuccessful. There was an attempted advance in the direction of Nova Dmytrivka by a small Russian force, but they were sent back to Sherwood Forest.
Kherson
Ukraine struck the Kakhovka Bridge again with rockets fired by HIMARS. The bridge was severely damaged. The Antonovsky Bridge was attacked twice overnight. Its condition is unknown.
Several sources reported that Russian airborne troops (VDV) attempted to advance north from Oleksandrivka [Kherson] but could not traverse the open fields.
Russian troops tried to expand their area of control north of Blahodatne [Mykolaiv]. Due to the canal north of the town, only a small force could advance through a chokepoint and suffered heavy losses.
Russian forces attempted to break through Ukrainian lines near Arkhanhelske, trying to advance in the direction of Mykolaivka [Kherson] and were unsuccessful.
Dnipropetrovsk
The situation at the Zaporizhzhia Nuclear Power Plant is unchanged, with rhetoric and accusations continuing by both belligerents.
In a stunning news report on August 24, Russian state media released a video that shows Russian BTR-80 infantry fighting vehicles within the power plant compound by Reactor 2. Russian occupiers claim they arrested two Ukrainian spies working for Energoatom. Leaders of the military garrison at the power plant allege that the duo documented military troop movements and equipment located at the plant and was sharing the information with Ukrainian officials.
Nikopol and Marhanets were shelled again by rockets fired by MLRS from across the Dnipro River. The attack was much smaller than at the start of the month, with 11 Grad rockets damaging homes.
Russian missiles struck the railway station in Chaplyne, which was full of civilians at the time The attack killed 25 and wounded 31. Just before midnight and about 20 kilometers away, Russian missiles crashed into the town of Velykomykhailivka, wounding eight as they slept in their homes.
Sumy and Chernihiv
Dmytro Zhyvytskyi, Sumy Oblast Administrative and Military Governor, reported that Russian forces shelled the settlements of Esman, Znob-Novhorod, Krasnopillia, and Bilopillia.
Kyiv
Two Russian missiles struck the Vyshhorod area north of Kyiv just after midnight. There were no reports of injuries.
Poltava
At least one Calibr cruise missile launched by the Black Sea fleet slammed into the ground near Myrhorod in the Poltava oblast. The Russian Ministry of Defense claimed they hit the Ukrainian air force base outside of the city, but video after the attack showed the missile successfully carved out a six-meter-deep crater in the middle of a dirt road.
Khmelnytskyi
Russian cruise missiles landed in Shepetivka, according to Serhiy Gamaly, Khmelnytskyi Oblast Administrative and Military Governor. Damage was reported to "critical infrastructure," and three people were wounded.
Daily Assessment
Unfortunately, our assessment that there would be punitive strikes on civilians and civilian infrastructure on Independence Day was accurate, with 25 people killed and 47 hospitalized in missile attacks across Ukraine.
We anticipate more attacks on civilians, civilian infrastructure, and government decision-making centers over the next 24 to 72 hours.
The Russian military within Ukraine has become combat ineffective theaterwide, with ground attacks becoming smaller along the entire 2,450-kilometer-long front.
To read the rest of our report, become a Patreon! For as little as $5 a month, you get access to the daily Russia-Ukraine War Situation Report. The report provides analysis, maps, detailed information about all the axes in Ukraine, international developments, information about war crimes and human rights, and economic news. As an added benefit, you get access to flash reports, breaking news, and our Discord server.