War in Ukraine six months later, frozen front, Russian terror attacks, and more US aid
Twenty-two people dead and up to 50 injured from missile attack on railroad station in Chaplyne.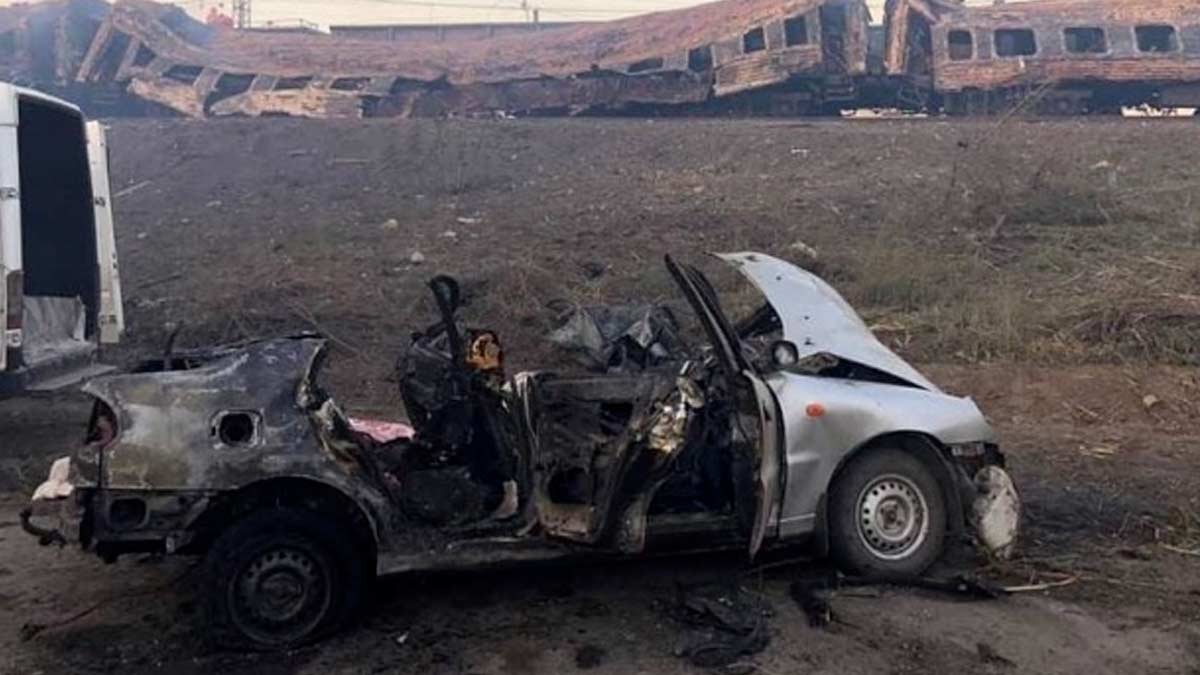 August 24, 2022, Russia-Ukraine War Update
[UKRAINE] – MTN It has been 26 weeks since Russia's widespread invasion of Ukraine and 3,100 days since Russia occupied Crimea on February 27, 2014. Here is our latest update. You can visit our Russia-Ukraine War Center to find more news about Ukraine. You can also listen to our in-depth podcast, Malcontent News Russia Ukraine War Update, hosted by Linnea Hubbard.
Breaking News
Widely expected Russian terror attacks on Ukrainian civilians, civilian infrastructure, and government centers came to be on Ukrainian Independence Day as the war entered its seventh month.
Ukrainian President Volodymyr Zelenskyy announced that 22 people were killed and up to 50 others were injured during a missile attack on the Chaplyne railway station in the Dnipropetrovsk oblast. The strike destroyed at least four passenger railcars, and searchers are scouring the rubble for more victims.

The attack was one of many missile strikes across Ukraine and came two days after the United States Department of State advised Americans to leave Ukraine due to specific intelligence of planned attacks on civilians and government decision-making centers.
"The Department of State has information that Russia is stepping up efforts to launch strikes against Ukraine's civilian infrastructure and government facilities in the coming days," according to the embassy's website.
Bakhmut
Private Military Company Wagner Group, terrorist elements of the Imperial Legion, and the 2nd Army Corps led by the 6th Cossack Tank brigade of the Luhansk People's Republic (LNR) attempted advances throughout the Bakhmut region and were unsuccessful.
Assaults were led on the settlements of Soledar, Bakhmutske, and Bakhmut. A reconnaissance in force attack was made on Zaitseve, with Russian proxy forces suffering heavy losses.
In the Svitlodarsk bulge, Russian forces led attacks on Kodema, Zaitseve, and Kurdyumivka.
Southwest Donetsk – Zaporizhia
North of Avdiivka, Donetsk People's Republic separatists attempted to advance on Krasnohorivka but did not gain any new territory.
Separatist troops repeated attempts to advance on Pervomaiske from the south and occupy the village of Nevelske. Video from Russian state media showed renewed fighting had erupted in Pisky, where DNR forces continued to struggle to hold control over the small village.
Ukraine was accused of shelling the government center for Donetsk in what was likely a false flag attack by Russian forces. DNR officials report three people were killed and nine injured.
South of Donetsk, Russian forces continue attempts to advance into Novomykhailivka. On the Donetsk-Zaporizhia administrative border, Russian forces attempted to advance on Zolota Nyva again but did not move the line of conflict.
In Russian-controlled Tokmak, an ammunition depot was destroyed by rockets fired from HIMARS.
Visit our Russia-Ukraine War Map
The Malcontent News Russia-Ukraine War Map is updated as events occur. Map not appearing in your RSS Feed or Google News App? You can review the most up-to-date information by visiting our custom Google Map.
Izyum
Russian forces attempted to advance on Bohorodychne using reconnaissance-in-force with support from the Russian air force, failed to improve their position, and retreated.
Kherson
The Russian Ministry of Defense claimed that the settlement of Blahodatne [Mykolaiv] was captured. Based on the available intelligence, we have coded Blahodatne as captured.
Dnipropetrovsk
The situation at the Zaporizhzhia Nuclear Power Plant is unchanged, with rhetoric and accusations continuing by both belligerents.
Anatolii Kurtiev, secretary of the Zaporizhzhia City Council, reported that Russian forces shelled the city overnight. Six apartment buildings were hit, but there was only light damage to facades and broken windows.
The city of Marhanets and Nikopol was shelled from across the Dnipro River, with reports of two injured.
Sumy and Chernihiv
Dmytro Zhyvytskyi, Sumy Oblast Administrative and Military Governor, reported that Russian forces shelled the settlements of Esman, Myropillia, Krasnopillia, and Velyka Pysarivka. There were no reports of significant damage or casualties.
In Chernihiv, the settlements of Zaliny Mist and Mykolaivka were shelled. There were no reports of damage or injuries.
Beyond Ukraine
A second blast tore through the Russian town of Timonovo, with ammunition exploding. Local officials released a statement after the explosion explaining that the sun caused it.
The Biden Administration announced a $2.85 billion military aid package for Ukraine that will provide long-term assistance and increase domestic defense production.
Daily Assessment
The United Kingdom Ministry of Defense validated our assessment from August 21 and 22 that Russian forces are running low on ammunition, causing combat operations to become ineffective.
The Kremlin's attempt to explain the slowdown in combat operations as going "all part of the plan" defies the reality that the Russian advance came to a near complete stop a week after NATO-provided HIMARS were deployed in Ukraine.
Our assessment that the Kremlin and Alexander Dugin would use the death of Darya Dugina to bolster support for the "special military operation" was correct, with her hastily prepared funeral turned into an anti-Ukrainian spectacle.
To read the rest of our report, become a Patreon! For as little as $5 a month, you get access to the daily Russia-Ukraine War Situation Report. The report provides analysis, maps, detailed information about all the axes in Ukraine, international developments, information about war crimes and human rights, and economic news. As an added benefit, you get access to flash reports, breaking news, and our Discord server.