I wanted to love you Stroopwafel McFlurry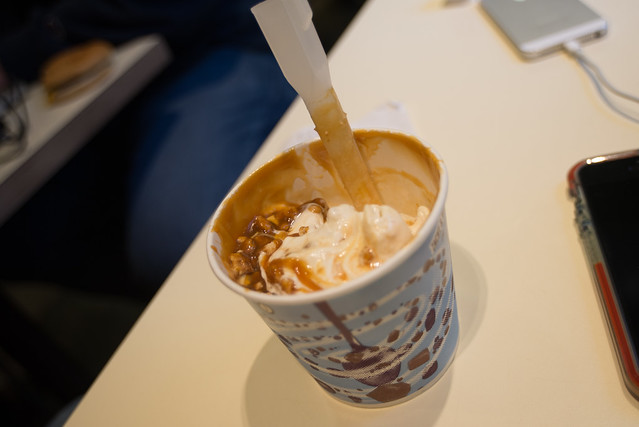 I have to admit that McDonald's international menu promotion ongoing in the United States intrigued me. As part of my fitness journey I've done some menu hacking at McDonald's when on road trips or squeezed for time. You can cobble together some delicious and nutritious options.
The technically five items that McDonald's brought to the United States include the above mentioned Stroopwafel McFlurry from the Netherlands, a Grand McExtreme Bacon Burger from Spain, a Tomato Mozzarella Chicken Sandwich from Canada (both grilled and fried) and Cheesy Bacon Fries from Australia.
The buzz has been around the Stroopwafel McFlurry, which multiple reports put head and shoulders above the other offerings. I've been in maintenance for four months now, holding a steady 173 to 179 pounds depending on the day (my basement is 172 and my oh shit is 180, so doing a good job of keeping it between the lines). Surely a a Stroopwafel McFlurry could be made to fit in as a treat on a day accented by heavy salad consumption.

Then I visited the McDonald's site for nutritional information – what was I signing myself up for? Yikes! First, 650 calories. That isn't awful with a target calorie burn of 3,000 a day, I can make 650 calories fit. But what kind of calories are they? Eighteen grams of fat, not surprising but 11 grams of saturated fat and a half-gram of trans fat. Any trans fat is bad, and that McFlurry has 85% of the recommended saturated fat for the day. One-hundred-and-eight grams of carbs and 78 grams of that is sugar. That is 28 more grams than the recommended maximum for added sugar for the day. Five different sugars, corn syrup, high fructose corn syrup, glucose syrup, molasses, and "sugar," are in the list of ingredients. The 310 milligrams of sodium is just enough to light up the tastebuds. This is a pleasure bomb for the brain targeting fat, sugar, and salt receptors.
Just…say…no. I'm not anti-McDonalds (as mentioned above) and I will on occasion visit for breakfast, I also think their drip coffee is downright – passable. When on a highway road trip or squeeze for time, my go to is a large coffee with an extra espresso shot and a single shot of cream. I like my bitter flavors. If you must have a Stroopwafel McFlurry, then at least make a point to have no other added sugar (good luck with that) for the rest of the day. Better yet, find someone to half that with. At least at 39 grams of sugar and 313 calories, it is a bit more acceptable.