Local and national COVID update for August 25, 2021
A critical patient dies in Eastern Washington waiting for an ICU bed as the state sets another hospitalization record.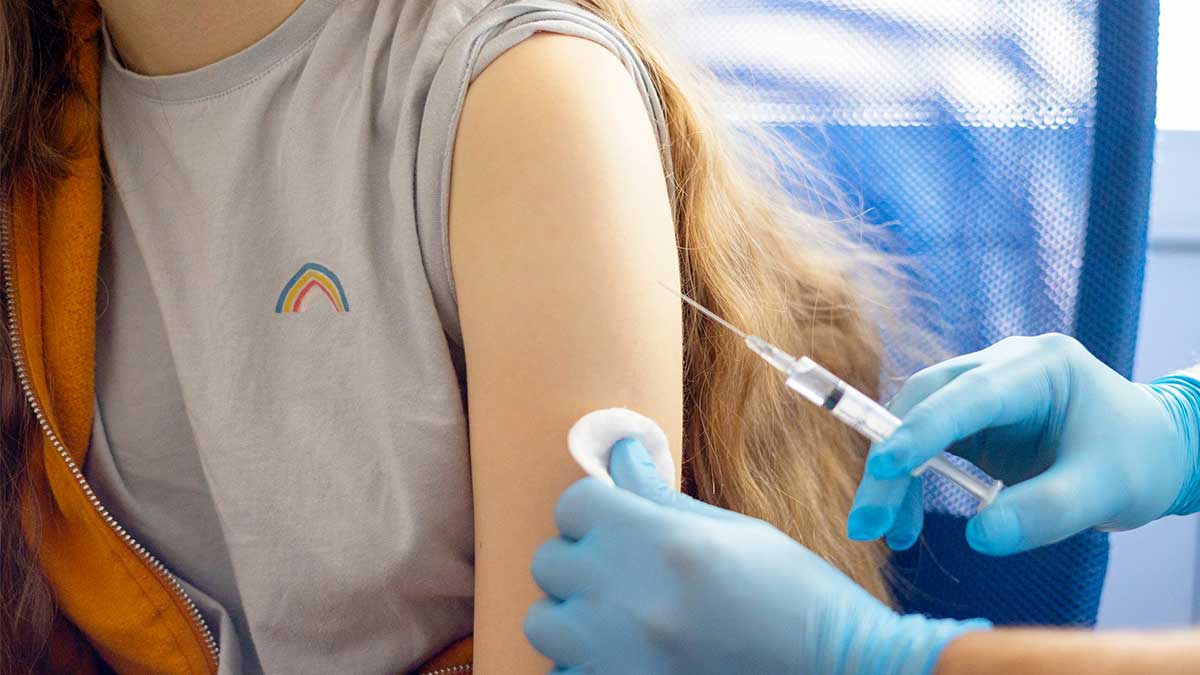 Knowledge is the best tool to fight against fear. A wise person chooses to be informed so they can make sound decisions. To join the fight against COVID misinformation, you can share this update through your social media platform of choice.
[KING COUNTY, Wash.] – (MTN) Moderna has completed their FDA full approval request, Johnson & Johnson booster shot shows a good response, your author got a COVID test today, and COVID numbers keep growing in Washington state.
This is an abbreviated update because I feel like lukewarm death today.

This update uses the latest data from the Washington State Department of Health released on August 25, 2021.
---
Washington State Update for August 25, 2021
Washington state COVID update
There are some signs Washington state is hitting a plateau with new cases slowing down. Hospitalization and deaths are trailing indicators, so expect both to continue to rise quickly over the next 3 to 6 weeks, with fatalities leveling off last. Through August 17, the 14 day rolling average Washington grew again to 514.2 COVID cases per 100K, which is another record. Benton (1,099.7 per 100K), Cowlitz (1,040.7 per 100K), and Franklin (1,206.1 per 100K) continue to have an extreme number of new cases. Asotin, Grant, Lewis, and Lincoln counties are not far behind. Garfield County now has 13 active cases, beating yesterday's record. The USA Today COVID Tracker had not been updated when we prepared this story.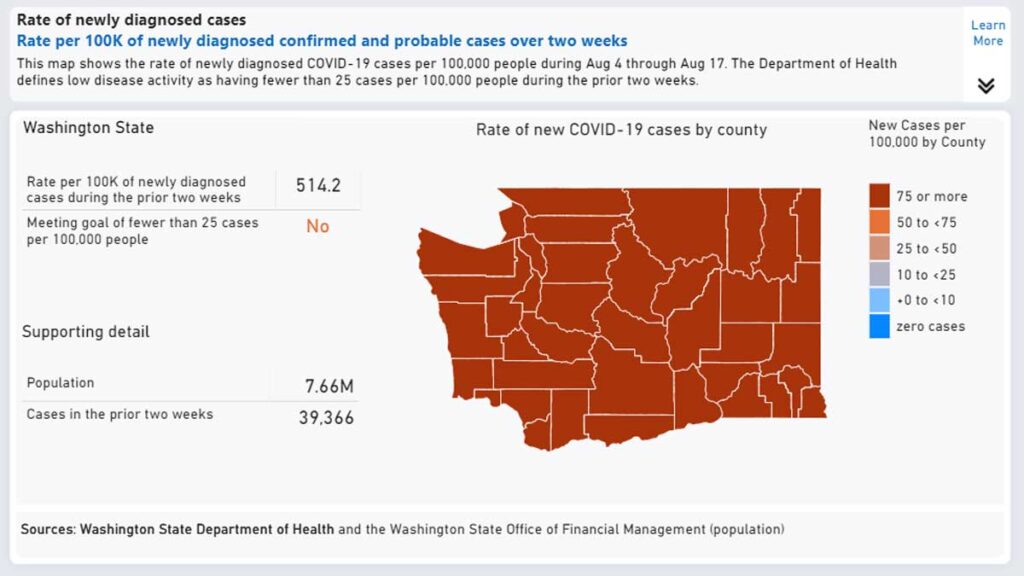 The Washington State Department of Health reports a data backlog for test positivity, with the published number 14 days old. According to Johns Hopkins University Medicine, the positivity rate for the last 30 days is 11.97%, and over the previous 7 days, 12.86%. This is almost unchanged from yesterday. These numbers indicate continued widespread community transmission, driven by the unvaccinated.
USA Today is no longer showing the 7-day moving average for COVID-related deaths and is now reporting a total number. According to the USA Today COVID tracker Washington reported 34 deaths statewide on August 24.
72.4% of Washington residents 12 and up have had at least on dose of the COVID vaccine
As of August 22, 72.4% of all Washingtonians age 12 and up, have received at least one dose of the COVID vaccine. Employer and college mandates along with Delta bringing a harsh reality to vaccine hold outs is driving the increase. The concept of "herd immunity" comes from veterinarian medicine. Epidemiologists believe that you need a vaccination rate of 85% to 90% of a total population to end community transmission.
Critical patient dies in Eastern Washington due to no ICU beds available
KOMO News is reporting that an unidentified person died at a rural Eastern Washington hospital. The person, who was not brought to the hospital for COVID, required intensive care but no beds were available The patient died before an available facility could be found.
At least one woman died while waiting for an ICU bed, said Dr. Steve Mitchell, medical director of the emergency department at the Harborview Medical Center in Seattle.
"This patient who was severely ill and unfortunately she actually did pass away in this small hospital when after eight hours of trying, we were unable to find an ICU bed that could help sustain her life at that point," Mitchell said at a press conference with state health officials.
Another patient had to wait six hours for a lifesaving surgery, and one patient had to be transferred to a hospital in Idaho that had a bed available, he said.
"Sadly for large periods of time now, we have reached a point where there are actually no critical care beds that are able to accept those patients throughout our entire state," he said. Hospitals are short on all levels of staff, from janitors to clinical staff, he added.
At current rates, hospitalized COVID patients are doubling every 18 to 19 days in Washington.
Join the conversation on Facebook and share your thoughts
Vaccination
Moderna announced today it has completed the rolling submission process for its Biologics License Application (BLA) to the U.S. Food and Drug Administration (FDA) for the full licensure of the Moderna COVID-19 Vaccine in individuals 18 years of age and older.
"This BLA submission for our COVID-19 vaccine, which we began in June, is an important milestone in our battle against COVID-19 and for Moderna, as this is the first BLA submission in our company's history," said Stéphane Bancel, Chief Executive Officer of Moderna. "We are pleased that our COVID-19 vaccine is showing durable efficacy of 93% through six months after dose 2. I want to thank the people who participated in our clinical studies, as well as the staff at clinical trial sites who have been on the front lines of the fight against the virus. I would again like to thank our partners at NIH, NIAID, and BARDA who have helped us advance the clinical development of our mRNA COVID-19 vaccine. I would also like to thank the U.S. FDA for their hard work and guidance through the BLA submission process and the entire Moderna team for their relentlessness in pursuing our mission of delivering on the promise of mRNA science."
The FDA Fast Track designation received on May 12, 2020, has permitted Moderna to submit sections of the BLA on a rolling basis and Moderna announced the initiation of the BLA submission on June 1, 2021. The completed submission includes clinical data from the Phase 3 COVE study of the Moderna COVID-19 vaccine, which enrolled more than 30,000 participants in the U.S. and was conducted in collaboration with the National Institute of Allergy and Infectious Diseases (NIAID), part of the National Institutes of Health (NIH), and the Biomedical Advanced Research and Development Authority (BARDA), part of the Office of the Assistant Secretary for Preparedness and Response at the U.S. Department of Health and Human Services.
The Moderna COVID-19 vaccine showed 93% efficacy, with the efficacy remaining durable through six months after the administration of the second dose. In the COVE study, reported adverse reactions included pain at the injection site, fatigue, headache, myalgia, arthralgia, chills, nausea/vomiting, axillary swelling/tenderness, fever, swelling at the injection site, and erythema at the injection site.
Join the conversation on Facebook and share your thoughts
Hospital Status
On August 23, 87.0% of available adult staffed acute care beds in Washington state have patients. The data indicated there were 1,158 acute care beds available statewide and 267 in King County. The state has gained 42 staffed beds since yesterday. The Northwest, North Central, and South Central Regions were over 80% utilization, and the West, Central, and East Regions are now over 90%. According to the Washington State Department of Health, there are 1,376 adult COVID patients in acute care, an increase of 31 from yesterday, which is 15.4% of all acute care patients.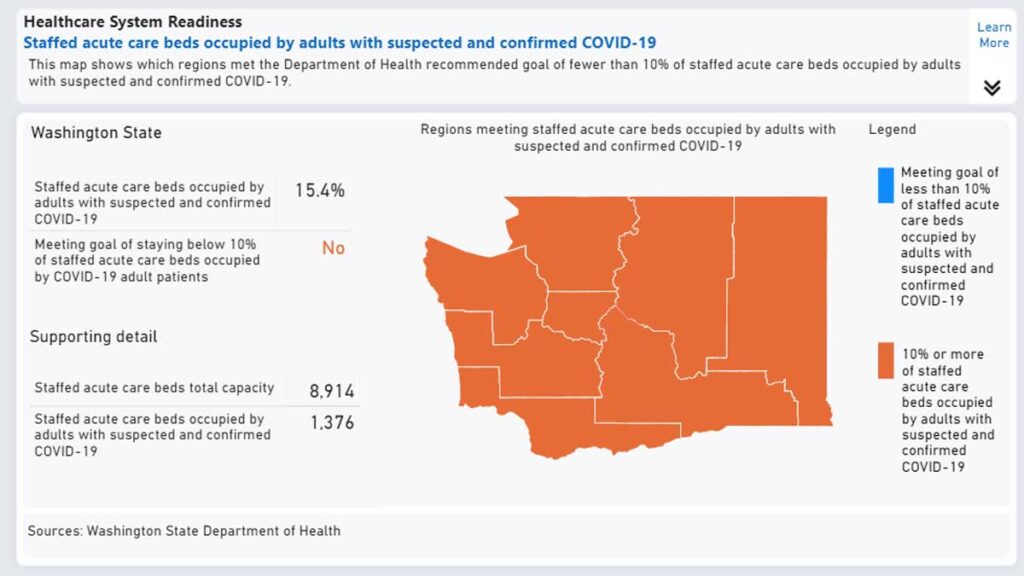 Statewide ICUs were 88.1% occupied with 144 staffed beds available, 46 located in King County. The number of COVID patients statewide in the ICU dropped to 344 and the state gained 3 staffed ICU beds. A combined 1,720 adult patients are hospitalized in Washington state, breaking yesterday's record.
A hospital is considered to be under "extreme stress" when more than 20% of their total patients have COVID, according to the Institute for Health Metrics and Evaluation at the University of Washington. Another factor is how many ICU patients a hospital has. If COVID is impacting more than 30% of patients in intensive care, a hospital is considered to be under "high stress," and at 60% it is considered to be under "extreme stress."
Apply this measurement to Washington State Hospital Regions, only the East Region, which includes Spokane, was not stressed. The West, North Central, and South Central regions are under extreme stress with acute care patients and the remainder of Washington state is under high stress due to ICU patients.
Washington state continues to have a critical shortage of blood, with a less than 24 hour supply for five out of eight blood types. The situation has deteriorated since August 3. There will be a blood drive in Kirkland on August 30 and 31. We will publish additional details when they become available.
The West Region, which includes Tacoma, and the East Region, which includes Spokane, remains critically low on ICU capacity. Each region has 11 ICU beds available as of Monday morning, which is little changed from Friday.
Join the conversation on Facebook and share your thoughts
Back to School
No update
Kirkland-Bellevue-Woodinville
It was negative.
National Round-Up
Johns Hopkins University reported over 134,245 new cases and 1,405 deaths yesterday. The number of reported deaths is the highest since the summer surge began.
Delta Airlines became the largest employer in the nation to announce that they are passing on premium hikes to the unvaccinated. The airline told employees in a memo that stating at the end of September, unvaccinated employees will have to pay $200 more a month for healthcare premiums. In addition, guaranteed pay will not be granted for COVID-related job absences if an employee is unvaccinated.
Arkansas
Eva Madison, a county elected official, raised the issue of jail inmates being given the drug ivermectin during a finance and budget committee meeting Tuesday night. Jail officials were presenting their 2022 budget, which included the jail's physician, Dr. Rob Karas, asking for a 10% increase in the medical services contract.
Madison informed committee members and the jail officials that a county employee, who has opted to stay anonymous to the public, told her that he had been sent to the jail's clinic to get tested for COVID-19. When the person tested negative, they were given a $76 prescription for ivermectin. He was concerned about the prescription and asked his primary care physician about it, and the physician told him to "throw that in the trash," Madison said.
Sheriff Tim Helder defended the decision and said that Dr. Karas "has been regularly prescribing ivermectin at the jail during the pandemic," according to Madison. 
Madison said that when she spoke to Karas, he confirmed he had been prescribing the medicine to detainees at the jail, and that he and his family members were also taking it.
This has serious Constitutional implications as it is forcing inmates to take an off-label drug that has specific guidance to not use as a COVID treatment by the FDA and the drug manufacturer Merck.
District of Columbia
Attorney John Pierce, a fierce anti-vaccination advocate whose client list included Kyle Rittenhouse and a number of January 6, insurrectionists, is in the hospital with COVID and on a ventilator. Pierce's failure to appear in court today, and a flood of his clients filing requests to change lawyers created speculation on his condition.
When Pierce failed to appear at a Wednesday court hearing for Capitol riot suspect Shane Jenkins, his colleague Ryan Marshall told the judge, "Mr. Pierce is in the hospital, we believe, with COVID-19, on a ventilator, non-responsive."
Florida
Another county in Florida has decided to go against Governor Ron DeSantis and mandate masks in school. Orange County, Florida, which includes the city of Orlando, mandated masks in schools after 400 students tested positive for COVID in a single day.
The crisis in Florida continues unabated with the state reporting 26,203 new cases on Wednesday, setting a new record.
An emergency room physician who charged $50 for opt-out letters to Leon County parents who don't want their kids to wear masks in school has been removed from Capital Regional Medical Center following a social media outcry for his ouster.
As a stricter mask mandate requiring a medical excuse took hold Sunday in Florida's capital county, Dr. Brian Warden posted a notice on a statewide anti-mask site inviting Leon County parents to contact him if they need a medical exemption letter. In another post, Warden said he'd provide a medical opt out letter on signed stationery for $50. Screenshots of the posts ricocheted around social media.
Hawaii
The state's top health official on Maui, Dr. Lorrin Pang, has been clandestinely treating COVID-19 patients with drugs that the Food and Drug Administration has repeatedly warned.
Dr. Pang, who has served for more than two decades as the Maui district health officer for the state Department of Health, is co-founder of the Pono Coalition for Informed Consent.
His state job entails administering state public health programs and acting as the principal public health representative for the director of the state Department of Health, who is currently Dr. Libby Char.
Pang, in an interview with the Honolulu Star-Advertiser, said that as a member of the Pono Coalition for Informed Consent, he is speaking as a private citizen and doesn't always agree with views espoused by other members of the group. He stressed that he supports the state's efforts to increase vaccinations against COVID-19.
He outlined his treatments in a videotaped discussion with Pang that was moderated by Travis and recently posted on the group's Rumble account. It involves using hydroxychloroquine and ivermectin as early treatment options, drugs that the FDA has warned people not to take to treat COVID-19.
Idaho
Yesterday we reported that Idaho was on the brink of moving to its "crisis care" plan. This article explains what that means and how patient care would be prioritized and rationed.
Mississippi
Mississippi now has at least 2,000 fewer nurses than it did at the beginning of the year, according to the Mississippi Hospital Association's Center for Quality & Workforce. The staff shortages add to the growing strain on the state's hospital system — both due, in large part, to the Covid-19 pandemic. When asked if the health care system is reaching a breaking point, Singing River Nursing Manager for Personal Care Buddy Grager said, "I think we already broke."State Epidemiologist Dr. Paul Byers said Tuesday that Mississippi set a new record of Covid-19 related deaths. And of the 875 staffed ICU beds across the state, more than 93% are in use and more than 63% of those beds are occupied by Covid-19 patients.
New York
Incoming New York Governor Kathy Hochul adjusted the number of COVID deaths the state has suffered by 12,000. Disgraced former governor Andrew Cuomo, had been accused of underreporting the number of deaths from nursing homes during the opening months of the pandemic. The addition of 12,000 fatalities aligns with the CDC for how COVID deaths are counted..
Oregon
Oregon will deploy "crisis teams" of hundreds of nurses, respiratory therapists, paramedics, and nursing assistants to regions of the state hardest hit by a surge in COVID-19 hospitalizations that have stretched hospitals to the limit, Gov. Kate Brown said Wednesday.
The state has finalized a contract with a medical staffing company that will send up to 500 health care providers to central and southern Oregon, where hospitals have been slammed by a surge in coronavirus patients, most of them unvaccinated. Smaller teams will also head to long-term care facilities around the state.
COVID-19 hospitalizations have increased 990% in Oregon since July 9, according to health officials.
South Dakota
Yesterday we reported on the impact of the Sturgis Motorcycle Rally and how the numbers eight days after didn't look good. Data came out today now that 14 days have passed and it looks worse.
Two weeks after the annual motorcycle rally in Sturgis, South Dakota, reported Covid infections in the state have risen nearly sixfold.
South Dakota counted 3,819 new cases in the past two weeks, including seven deaths, up from 644 cases in the 14 days preceding it. That makes it the state with the largest percent increase in Covid cases in the past two weeks.
The state's rate of Covid-19 infections per capita in the past two weeks is in the bottom half of the country, but it's the sharp and sudden increase in case counts that sets it apart.
Texas
Texas Gov. Greg Abbott on Wednesday doubled down his banning of coronavirus vaccine mandates by issuing another executive order "maintaining the current policy prohibiting the mandating of any COVID-19 vaccinations by any government entity" in the Lone Star State. 
The new order blocks governments from mandating vaccinations, even if the COVID-19 vaccine is fully approved by the Food and Drug Administration.
The FDA approved Pfizer's COVID-19 vaccine earlier this week, casting doubt on whether Abbott's previous July executive order – which said businesses and government entities cannot mandate COVID-19 vaccines under "emergency use authorization" – would apply.
Join the conversation on Facebook and share your thoughts
Misinformation
Taking the day off.
Like, Share, Follow, Support