Local and national COVID update for August 24, 2021
Washington hospitalizations set another new record as school board meetings across the state heat up.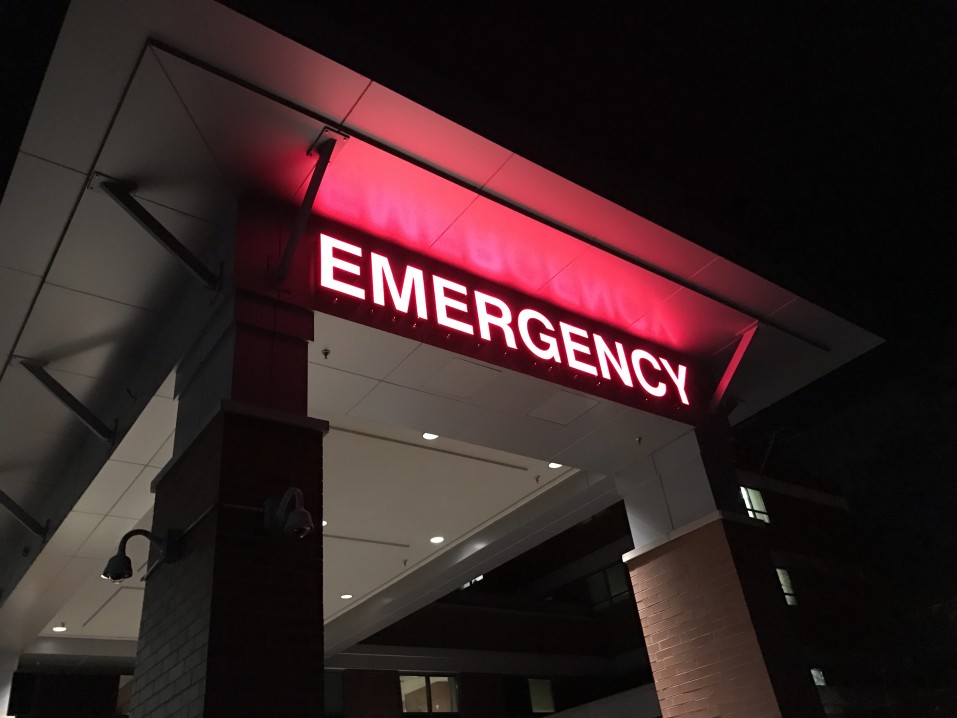 Knowledge is the best tool to fight against fear. A wise person chooses to be informed so they can make sound decisions. To join the fight against COVID misinformation, you can share this update through your social media platform of choice.
[KING COUNTY, Wash.] – (MTN) King County becomes the most populous area in the United States to have 70% of eligible people vaccinated as the Delta variant continues its relentless march through the Pacific Northwest. More information is becoming available about breakthrough cases and the protection vaccinated individuals receive, and school board meetings in Western Washington were derailed by antimask and anti-vaccine advocates.
This update uses the latest data from the Washington State Department of Health released on August 24, 2021.

---
Washington State Update for August 24, 2021
Washington state COVID update
If there was any good news in the most recent report, the data is indicating a continued slowdown in the rate of growth for new cases. Through August 16, the 14 day rolling average Washington grew again to 501.3 COVID cases per 100K, which is another record. Benton (1,106.5 per 100K), Cowlitz (1,010.9 per 100K), and Franklin (1,218.5 per 100K) continue to have an extreme number of new cases. Lewis and Grant County are not far behind. Cases continue to grow even in sparsely populated Garfield County with 11 active cases, a new record for the Plumbus shaped rural Southeast Washington county. The USA Today COVID Tracker indicated that on Friday, Washington reported 8,361 new COVID cases on Monday. That would include cases documented over the weekend, and should not be used as an indicator of a sudden surge in new cases.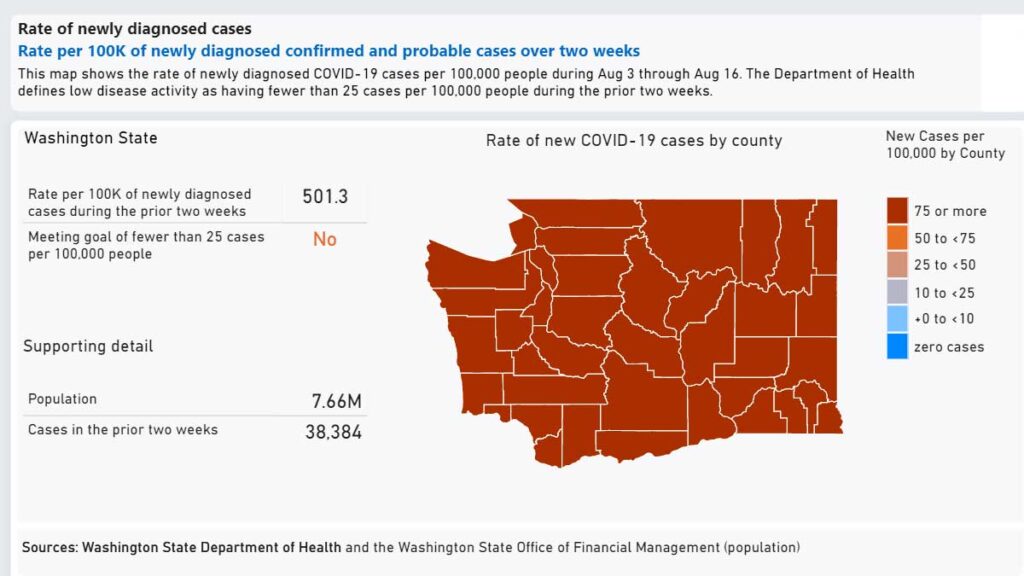 The Washington State Department of Health reports a data backlog for test positivity, with the published number 14 days old. According to Johns Hopkins University Medicine, the positivity rate for the last 30 days is 11.98%, and over the previous 7 days, 12.49%. This is an improvement from yesterday. These numbers indicate continued widespread community transmission, driven by the unvaccinated.
The 7-day moving average for COVID-related deaths has increased again to 10 per day and the USA Today COVID tracker is showing increasing deaths as COVID runs its course. The number of deaths being reported in Washington hospitals is starting to rise and is at both April and February 2021 levels. It is important to note that fatalities are a trailing indicator that usually increases two to four weeks after hospitalizations begin growing. We are at least four weeks away from peak mortality with cases continuing to grow.
Land Commissioner Hilary Franz requiring firefighters to be vaccinated by October 18
Hilary Franz, Commissioner of Public Lands, issued a directive requiring all Washington State Department of Natural Resources employees, including firefighters, to be vaccinated by October 18. The call comes as crews working wildfires outside of Yakima and Winthrop have become sickened by the virus. This has included grounding aircraft and removing fire trucks from the battle lines.
King County first large county to reach 70 percent with one vaccine dose across all age and racial groups
King County Executive Dow Constantine today announced more than 70 percent of all eligible King County residents across all age and racial/ethnic groups have received at least one dose of a COVID-19 vaccine based on data tracked by Public Health – Seattle & King County. King County is the first large county to achieve this milestone. More than 1.6 million residents have received at least one dose, and more than 3 million doses have been administered to King County residents.
"As I've said all along, this pandemic will end one shot at a time, and no community would be left behind. Our community outreach, school clinics, and partnerships across King County have helped save lives and keep more people safe from the Delta variant," said Executive Constantine. "From young people to community organizations that reach communities of color, everyone in King County is stepping up to do their part and keep one another safe from this dangerous virus."
More than 71 percent of all residents in King County have received at least one dose – one of the highest rates of any large county in the nation. And now reaching 70 percent in every eligible demographic and age group, and with the full approval of the Food and Drug Administration of the Pfizer Biotech vaccine, that number is expected to continue to grow in the weeks ahead.
"This is an important milestone and remarkable achievement, but as the current Delta surge shows, we still have too many eligible and unprotected," said Dr. Jeff Duchin, Health Officer for Public Health – Seattle & King County. "The full approval of the Pfizer mRNA vaccine by FDA should reassure anyone who has been reluctant to be vaccinated with the emergency use authorization. This vaccine now officially meets the same safety and effectiveness standard as all other routinely available vaccines."
Among Washington's five largest counties, King has the lowest rate of new COVID cases during this ongoing surge. Every age and racial group is now over the 70% threshold, but progress still needs to be made among Black and Hispanic/Latinx groups.
10 corrections deputies in Whatcom County sickened with COVID
A COVID outbreak in the Whatcom County Jail has sickened 10 deputies after an "uncooperative" detainee refused to be tested during booking. The individual was placed into quarantine following protocol on August 14 and required several deputies who were in close proximity. A few days later one of the deputies became ill, and that number has climbed to 10. The inmate agreed to be tested, and also came back positive.
Children now make up 18% of new COVID cases
Children ages birth to 19 now make up 18% of all COVID cases in Washington state, and 2% of all hospitalizations, less than two weeks before school is scheduled to start. Seattle Children's Hospital is reporting there are seeing the same number of PICU patients as they had during the January 2021 spike. A majority of the PICU patients are old enough to be vaccinated but are not.
Join the conversation on Facebook and share your thoughts
Vaccination
The CDC Morbidity and Mortality Report included the study, Effectiveness of COVID-19 Vaccines in Preventing SARS-CoV-2 Infection Among Frontline Workers Before and During B.1.617.2 (Delta) Variant Predominance on Tuesday. The study involved 4,217 healthcare workers from December 14, 2020, to August 14, 2021. There were 3,483 vaccinated participants, most with mRNA vaccines from Pfizer or Moderna.
The study indicated that vaccine effectiveness in preventing a COVID infection declined from 91% to 66% among the participants. Vaccinated individuals were 5X less likely to get COVID but more critically, were 29X less likely to require hospitalization. The decline in overall effectiveness may have been driven partially due to declining overall protection from the vaccine and was another point of data that led to the decision to start booster shots in September.
Data out of Israel is showing very encouraging news about the effectiveness of COVID booster shots. On July 30, the nation started providing a third dose to anyone over 60 years old. By August 13 the R0, the number of people infected by someone who becomes infected with COVID had dropped to below one among the age group. Officials believe the booster shots, and people with vaccine hesitancy getting their first shot have helped control the numbers. Israel has expanded booster shots to people 40 and older.
Washington state is providing COVID vaccine booster shots for moderately and severely immunocompromised residents. People who received an mRNA vaccine are eligible for the booster. People who received the Johnson & Johnson vaccine do not require a booster at this time.
Almost two million Washingtonians who are vaccine eligible remain unvaccinated. The group Find a COVID Shot WA can assist anyone who needs help making an appointment. The group of 75 volunteers has been operating since the beginning of 2021 and offers support in 20 languages.
Join the conversation on Facebook and share your thoughts
Hospital Status
On August 23, 84.8% of available adult staffed acute care beds in Washington state have patients. The data indicated there were 1,258 acute care beds available statewide and 292 in King County. The state lost 52 staffed beds total yesterday due to healthcare workers with COVID no longer being able to provide patients care. The Northwest, Central, and South Central Regions were over 80% utilization, and the West and East Regions are now over 90%. According to the Washington State Department of Health, there are 1,345 adult COVID patients in acute care, an increase of 61 from yesterday, which is 15.2% of all acute care patients.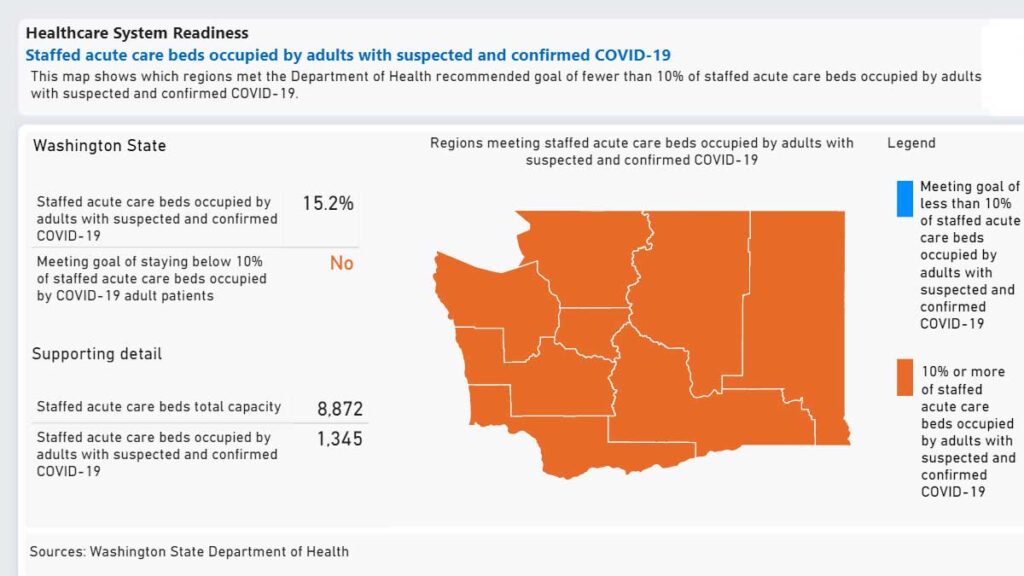 Statewide ICUs were 85.0% occupied with 181 staffed beds available, 68 located in King County. The number of COVID patients statewide in the ICU climbed to 364 and the state lost 10 staffed ICU beds due to COVID infected healthcare workers. A combined 1,648 adult patients are hospitalized in Washington state, another new record.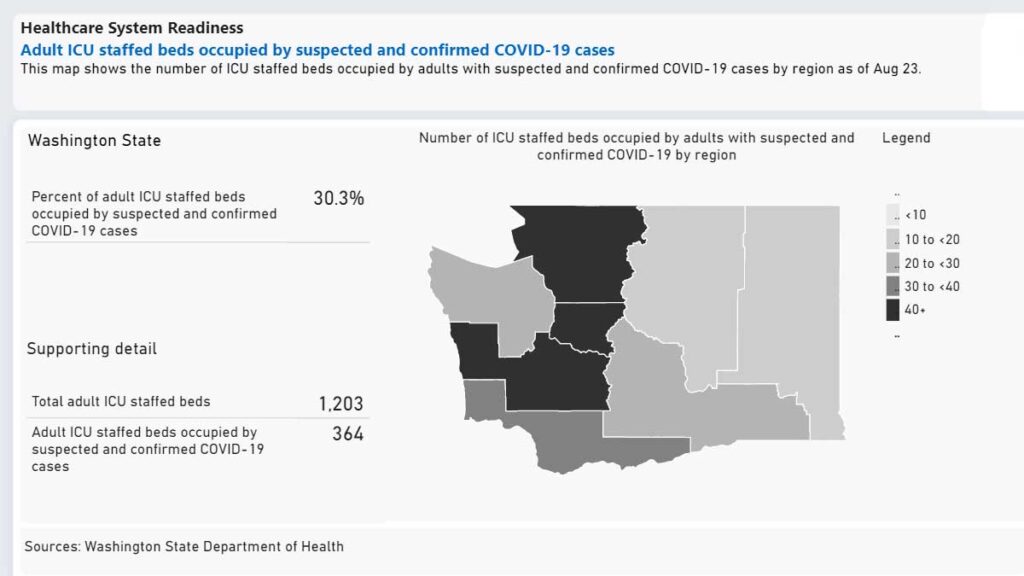 A hospital is considered to be under "extreme stress" when more than 20% of their total patients have COVID, according to the Institute for Health Metrics and Evaluation at the University of Washington. Another factor is how many ICU patients a hospital has. If COVID is impacting more than 30% of patients in intensive care, a hospital is considered to be under "high stress," and at 60% it is considered to be under "extreme stress."
Apply this measurement to Washington State Hospital Regions, the West, North Central, and South Central regions are under extreme stress with acute care patients and the remainder of Washington state is under high stress due to ICU patients.
Washington state continues to have a critical shortage of blood, with a less than 24 hour supply for five out of eight blood types. The situation has deteriorated since August 3. There will be a blood drive in Kirkland on August 30 and 31. We will publish additional details when they become available.
The West Region, which includes Tacoma, and the East Region, which includes Spokane, remains critically low on ICU capacity. Each region has 11 ICU beds available as of Monday morning, which is little changed from Friday.
Join the conversation on Facebook and share your thoughts
Back to School
School Board meetings from Oroville to Monore to Redmond descended into chaos as antimask and anti-vaccination activists used public comment time to spread misinformation and conspiracy theories. In the Lake Washington School District, a group of activists refused to wear masks, forcing the school board to delay the meeting by 30 minutes to move to a virtual setting.
Several people on Twitter and Tik Tok have been working to identify people who show up at school protests and events across the country and have identified a core of approximately 20 to 25 actors. They criss-cross the country and appear at different meetings. One of the presenters at the San Diego County Board of Supervisors last week was identified as an actress who has been at numerous protests and school board meetings across the United States.
The BBC ran a report on a group of YouTube influencers that were approached to spread COVID misinformation via a marketing firm. The company offered to compensate creators as much as 2,000 Euros to spread misinformation and link to dubious articles about vaccine safety.
Washington Governor Jay Inslee and the state schools chief, Chris Reykdal, appealed to state residents to take up their grievances on the student mask mandate with their offices and not at the local level.
In Franklin County, holder of the worst positivity rate in the state, a County Commissioner refused to wear a mask, derailing the meeting. "In defiance of the Governor's mask mandate, one of the Commissioners showed up without a mask, causing the meeting to not happen. What happened, instead was several campaign speeches from local candidates as well as public comments from several Franklin County residents."
Join the conversation on Facebook and share your thoughts
Kirkland-Bellevue-Woodinville
As noted above in the Back to School section, the Lake Washington School District board meeting was disrupted last night by antimask and anti-vaccination protesters. A video on the School District's website shows the board asking the audience to wear masks, and individuals off-camera refusing. The board calls a 30-minute recess to move to a different location, per Washington state law.
Most people left but several refused, and argued with a female police officer that she could be fined $250,000 for making them leave. Outside in the parking lot, several parents reported they were intimidated and threatened, with people taking pictures of license plates.
Classes are scheduled to start in the Lake Washington School District on September 1, 2021.
Join the conversation on Facebook and share your thoughts
National Round-Up
Johns Hopkins University reported over 229,831 new cases and 908 deaths yesterday, but it is important to note that would include a weekend's worth of data from a number of states. Nationwide, 11.29% of COVID tests are coming back positive.
With the Pfizer vaccine receiving full FDA approval, a tidal wave of vaccination mandates roll in
A growing list of companies and colleges have mandated their employees receive the COVID vaccination as part of their terms of employment unless they can provide a medical or deeply held religious belief.
Most notable is Disney World, which has a unique regulatory relationship with the state of Florida. Governor Ron DeSantis has banned vaccine and mask mandates in his state and is battling a number of cruise lines, including Disney, on requiring proof of vaccination before sailing.
The Service Trade Council Union and Disney reached an agreement to require vaccines for all employees with the union by October 22.
CVS Health is requiring all employees to be vaccinated by October 31 and new hires to have received their first vaccine dose before beginning employment, effective September 15. These are the most recent major additions that already included:
Amtrak
Anthem
Ascension Health
AT&T
Bank of America
BlackRock
Capital One
Cardinal Health
Centene Corporation
Chevron
Cisco Systems
Citigroup
CNN
Delta Airlines
Deloitte
Facebook
Ford Motor
Frontier Airlines
Google
Hawaii Airlines
Hess
Jefferies Financial Group
Johnson & Johnson
Lyft (office employees)
McDonald's (office employees)
Microsoft
Morgan Stanley
Netflix
Northwestern Mutual
Pfizer
Saks Fifth Avenue
Tyson Foods
Uber Technologies (office employees)
Union Square Hospitality Group
United Airlines
UPS
Walgreens (office employees)
Walmart (office employees and employees who travel)
Over 750 colleges and universities are now requiring vaccinations for faculty and/or students. New mandates were announced by the University of Minnesota, Ohio State University, Louisiana State University, and the University of Louisiana.
Alabama
Labor and Delivery nurse Haley Richardson, 32, lost her unborn child and died of COVID on August 20, in a report from her family. Richardson was unvaccinated and became ill at the end of July. She made a final Facebook post on August 9 and lost her unborn child on August 18. Doctors initially had her as a candidate for ECMO, but her condition continued to deteriorate and there was no available equipment. Richardson's surviving more, and first child, have since been vaccinated. Dr. Akila Subramaniam reported there were ten pregnant women in the ICU at UAB hospital, and 7 on ventilators.
Arkansas
In a press conference on Tuesday, Arkansas Governor Asa Hutchinson reported the state had run out of ICU beds. He states that hospitals are trying to put more ICU beds online. He also appealed for residents to stop taking Ivermectin stating the Arkansas Poison Control Center is taking an increasing number of people asking for assistance after taking the livestock medication.
California
Los Angeles County officials are reporting that COVID hospitalizations appear to be leveling off, with only two new patients admitted yesterday. The county, which has a population larger than most states, has 1,724 COVID patients in the hospital.
Florida
Doctors and nurses in South Florida are reporting multiple facilities only have a 6 to 12-hour oxygen supply to support patients. Shippers are struggling to supply liquid oxygen to hospitals throughout the state. Trucking companies are blaming Governor Ron DeSantis, who has refused to declare a state of emergency. A limited state of emergency declaration would enable trucking companies to bypass some motor transport rules, allowing them to increase shipments.
Hawaii
Hawaii is reeling from the worst surge in COVID cases since the first case came to the state. The governor is now asking tourists to stay away, is limiting the number of available rental cars, and curbing the number of people who can go into restaurants.
It's "a risky time to be traveling right now," David Ige warned on Monday, asking visitors and residents to limit their travel to essential businesses only. "I encourage everyone to restrict and curtail travel to Hawaii. It's not a good time to travel to the islands," he said.
Idaho
Idaho hospitals are in danger of being run as officials openly talk about having to move to "crisis standards of care" which could result in some people not receiving medical treatment. In less than a month, the number of people in Idaho hospitals with COVID went from 8% to 20%. The state has sent a request to FEMA for emergency staffing.
"Idaho is experiencing a surge in COVID-19 cases and hospitals are at, or quickly nearing, capacity in ICU and Critical Care Units across the state and hospitals are reporting significant staffing challenges," said a request sent Friday from the Idaho Office of Emergency Management to the Federal Emergency Management Agency.
"Multiple Idaho hospitals are asking for help…they don't have enough nurses, nursing assistants, or respiratory therapists," it said.
Today the state issued a second request for 235 full-time health care workers. Historically, Idaho has transferred their sickest patients to hospitals in Washington, Oregon, and Utah, but all three states are dealing with their own surges.
Louisiana
LSU will require proof of vaccination or negative COVID-19 PCR tests for anyone 12 and older to attend a game at Tiger Stadium. Children 5 to 11 years old will have to show a negative COVID-19 PCR test, and LSU is the first school in the SEC to create this policy.
Louisiana set a grim record on Tuesday, joining Florida in setting a new all-time daily record for deaths.
Nebraska
The Lincoln-Lancaster County Health Department is reinstating an indoor mask mandate as cases surge in the heartland. The mandate will go into effect on August 26 and is set to expire on September 30. the mandate includes Nebraska's second-largest city, Lincoln, Lincoln Public Schools, and the University of Nebraska – Lincoln.
"It's sobering to think about two months ago I was celebrating with our hospital teams that we were finally pulling out of this pandemic," said Derek Vance, President of CHI Health St. Elizabeth and Nebraska Heart. "After more than a year of intense strain and stress on our healthcare system, our hospitals were beginning to feel back to normal. And today, we find ourselves right back in the middle of the pandemic. The number of COVID patients at St. Elizabeth's has risen exponentially in recent weeks, to the point that we have reopened and filled a dedicated COVID unit."
Oregon
Governor Kate Brown issued the strictest mask mandate in the nation. The state already required masks indoors but will now require masks outdoors starting August 27, regardless of vaccination status. This includes large outdoor events where physical distancing is not possible but does not include casual encounters like two people passing on a sidewalk. Children under 5, people eating, drinking, sleeping, camping, the houseless, people practicing competitive sports, providing a speech or entertainment in an outdoor public setting, are exempt which doing these activities.
Another 63 people are hospitalized for COVID in Oregon, with 1,000 patients now under care in hospitals. The state reported 30 deaths including a 31-year-old, and 283 individuals in the ICU.
South Carolina
Chief Medical Officer Dr. Crhis Lombardozzi of the Spartanburg Regional Health Care System, told WYFF Channel 4 that over 90% of their COVID patients are unvaccinated, and "we are struggling."
"Like a lot of hospitals, particularly in the southeast, we are seeing a mega surge in COVID-19 cases."
At the beginning of July, the hospital system was treating three COVID patients, they are now treating 210. The hospital is at 96% capacity and the average age for COVID patients is 53 years old.
South Dakota
The Sturgis Motorcycle Rally ended eight days ago and COVID cases have started to increase dramatically. COVID cases are now up 352% and Meade County is seeing a test positivity rate of 36.1%, the highest in the state. State officials are working on contract tracing now and plan to issue a report.
Texas
The small Texas town of Iraan, has essentially been shutdown as almost half of COVID tests are coming back positive. The school district shut down after five days because 25% of the staff and 16% of the students were sick with COVID. School won't restart until August 30, and the town doesn't have enough healthy teachers to do virtual education.
Hermann-Memorial Hospital, the largest public hospital system in Texas, had to close three emergency rooms in suburban areas of the sprawling city.
"Earlier [Monday] afternoon, Memorial Hermann made the difficult decision to temporarily close three of its off-site 24-hour Emergency Rooms at its Convenient Care Centers in Kingwood, Spring, and Sienna. As COVID-19 continues to rapidly surge in the Greater Houston area, and with hospitalizations exceeding prior surge volumes, our workforce is being pushed to the limit. We are actively pursuing all solutions to help ease the burden on our hardworking frontline staff and ensure that we continue providing safe, high-quality care to all those who need it.

Closing these locations allows us to reassign the staff to other Memorial Hermann locations where their help is critically needed. It also eliminates the need to transfer these patients to the main hospital for admission, if necessary.
Wisconsin
University of Wisconsin interim president Tommy Thompson says he will ignore Republican lawmakers who say he needs statehouse approval to enact COVID regulations on campuses across the state.
"We believe under (state law), we have complete authority to regulate, to control, supervise and maintain the structures on our campuses, but also at the same time, provide for the safety and the welfare of all of our faculty, our employees and of course, our great students," Thompson told reporters.
Thompson, a four-term Republican former governor of Wisconsin and former U.S. Department of Health and Human Services secretary, said he doesn't want to "pick a fight" with the Republican-led Legislature, but will stand his ground if his actions are challenged.
We reported last week about Wisconsin state senator Andre Jacque, who has been an outspoken critic of masks and COVID vaccines, who is hospitalized with COVID. No further update has been given since last week, but state Rep. Shae Sortwell asked his Facebook followers to pray for Jacque.
"He is in serious need of your prayers tonight," Sortwell said. "He is in the hospital with Covid induced pneumonia."
As we were writing this update, it was reported that Jacque is on a ventilator.
Join the conversation on Facebook and share your thoughts
Misinformation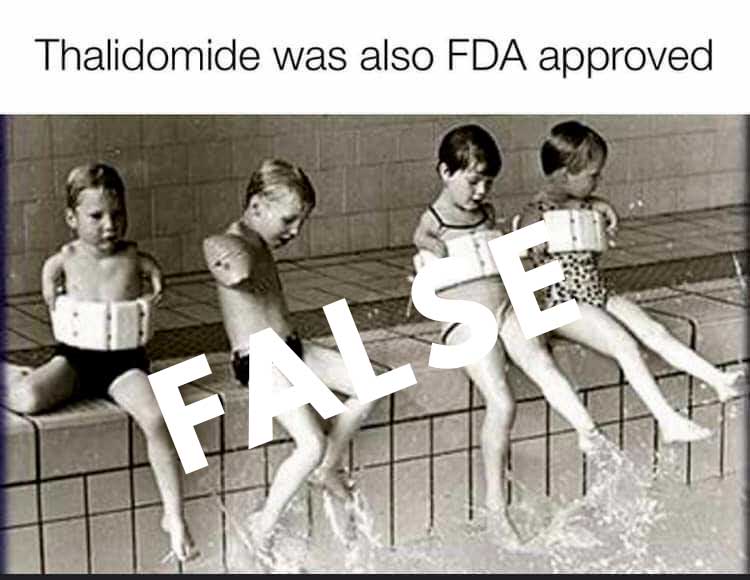 The drug Thalidomide rose in popularity in post-World War II Europe and was marketed as a non-barbiturate sleep aid. In 1957 the drug was sold over-the-counter in Germany, based on the drug makers' safety claims.
Three years later, the drug was being sold in 46 countries, mostly as a prescription, and was almost as popular as aspirin. Australian OBG/YN Doctor William McBride observed that the drug alleviated the symptoms of morning sickness among pregnant women. He started making "off-label" prescriptions.
Off-label is when a drug is prescribed to be used as a treatment not outlined by the drugmaker. The success in Australia sent demand for the medication through the roof.
Just a year later, Dr. McBride started observing horrible birth defects among children born by the women who took the drug. The drug interfered with the babies' normal development, causing many of them to be born with phocomelia, resulting in shortened, absent, or flipper-like limbs. A German newspaper soon reported 161 babies were adversely affected by thalidomide, leading the makers of the drug—who had ignored reports of the birth defects associated with it—to finally stop distribution within Germany.
In the United States, FDA Inspector Frances Kelsey was under tremendous pressure to approve the drug, and she steadfastly refused. She refused to provide authorizations specifically because there were no U.S. clinical trials or safety data provided by the manufacturer.
Thalidomide was never approved by the FDA for any use in the United States. We rate this meme completely false.
Join the conversation on Facebook and share your thoughts