Local and national COVID update for August 23, 2021
A renewed mask mandate begins in Washington and the Pfizer vaccine receives full FDA approval.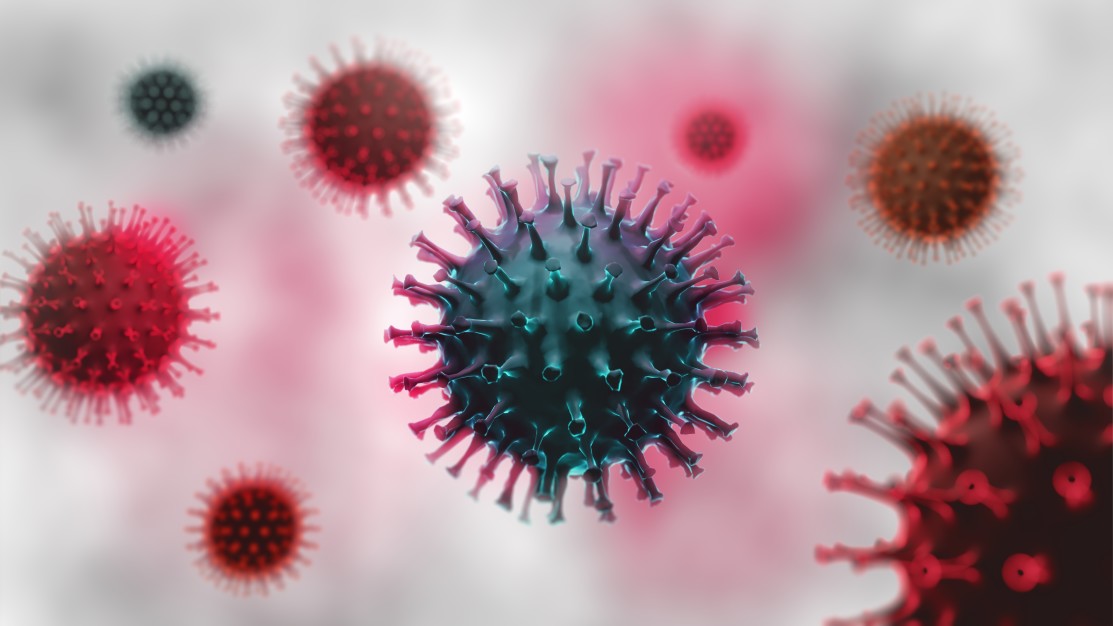 Knowledge is the best tool to fight against fear. A wise person chooses to be informed so they can make sound decisions. To join the fight against COVID misinformation, you can share this update through your social media platform of choice.
[KING COUNTY, Wash.] – (MTN) On Monday, Washington state's renewed mask directive went into effect, the FDA gave full approval to the Pfizer COVID vaccine for people 16 and over, and Washington hospitals remain extremely busy. Shortly after the Pfizer vaccine was approved, the Pentagon announced that military personnel will be required to get the jab.
Over the weekend former President Donald Trump was booed after encouraging rally-goers in Alabama to get vaccinated and Mississippi issued an emergency order instituting the harshest laws in the country for people who break quarantine.

This update uses the latest data from the Washington State Department of Health released on August 23, 2021.
---
Washington State Update for August 23, 2021
Washington state COVID update
If there was any good news in the most recent report, the data is indicating a continued slowdown in the rate of growth for new cases. Through August 15, the 14 day rolling average Washington grew again to 482.1 COVID cases per 100K. This breaks the record high that was set on Friday. Benton, Cowlitz, and Franklin continue to have an extreme number of new cases. Tiny and sparsely populated Garfield County had 9 active COVID cases through the period, the most ever reported. The USA Today COVID Tracker indicated that on Friday, Washington reported 3,780 new COVID cases.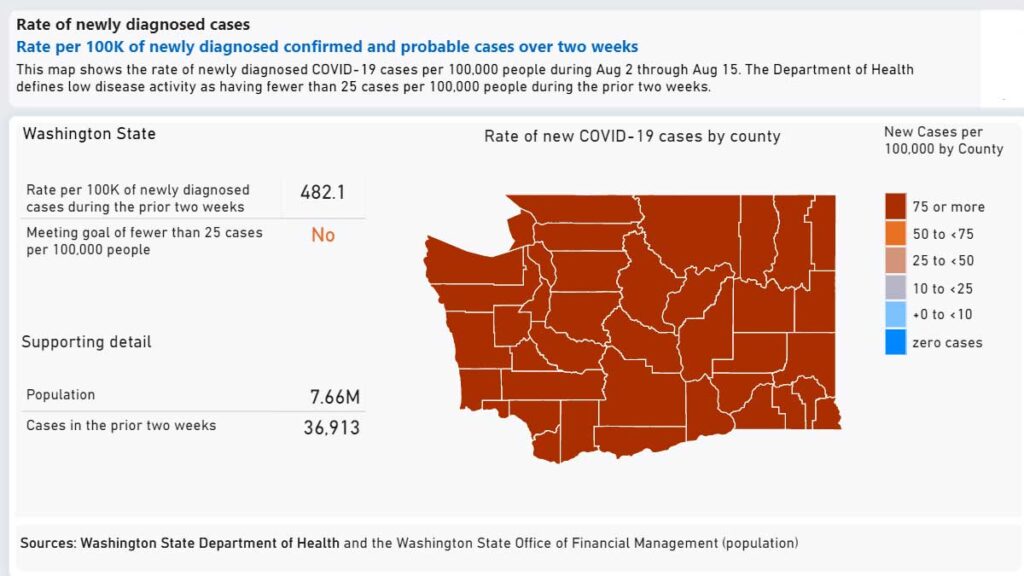 The Washington State Department of Health reports a data backlog for test positivity, with the published number 14 days old. According to Johns Hopkins University Medicine, the positivity rate for the last 30 days is 12.28%, and over the previous 7 days, 13.25%. This is a significant jump from last week and could indicate that the flattening of the curve was an aberration. Other states such as Arkansas and Louisiana saw the same trend. These numbers indicate continued widespread community transmission, driven by the unvaccinated.
The 7-day moving average for COVID-related deaths has increased again to 8 per day and the USA Today COVID tracker reported 33 deaths in Washington state Thursday. It is important to note that fatalities are a trailing indicator that usually increases two to four weeks after hospitalizations begin growing. The growing number of fatalities would align with the spike in hospitalizations that started two weeks ago.
Seattle Mariners announce new mask requirements
In compliance with the new mask mandate, the Seattle Mariners are requiring all person over 5, regardless of vaccination status to mask up in the indoor areas of T-Mobile Park.
"Masks are required for all fans and employees regardless of vaccine status while in indoor areas at T-Mobile Park such as elevators, bathrooms, indoor clubs or restaurants, and the Team Store. Those who are not fully vaccinated are required to wear a mask at all times. Masks must cover both nose and mouth. You are welcome to remove your mask when actively eating or drinking, or when seated in your seat."
Proof of vaccination is no longer required to enter Mariners' games at T-Mobile Park. The next home game for the M's is on August 26, 2021, at 7:10 PM.
COVID outbreak hits Pierce County Jail, and Benton County offers commisary for vaccinations
The Pierce County Jail is dealing with a COVID outbreak that has sickened 30 inmates and put hundreds more in isolation. The outbreak is hampering operations at the jail, preventing the release of some quarantined prisoners, and forcing officials to book only individuals arrested for suspicion of violent crimes. That includes crimes such as murder, manslaughter, first-degree assault (equivalent to attempted murder under RCW), rape, child molestation, kidnapping, child assault, domestic violence, and possessing explosive devices.
COVID ravaged Benton County has come up with a novel, albeit controversial way to encourage inmates to get vaccinated. Officials are offering packages of ramen, a popular commissary item for inmates nationwide, in exchange for getting vaccinated. Officials explained that anyone who is held at the jail for any period of time is eligible, as long as they were not previously vaccinated. The program has proven to be successful, with 90 inmates getting their vaccination.
Join the conversation on Facebook and share your thoughts
Vaccination
The Food and Drug Administration (FDA) provided full approval for the Pfizer-BioNTech COVID vaccine on Monday. The Pfizer vaccine will be marketed under the brand name Comirnaty, and the generic version will be distributed under the name tozinameran.
The vaccine was given full approval for individuals 16 years of age and older, according to the FDA, and will continue to be distributed under an emergency authorization to individuals 12 to 15 years old. Additionally, the FDA has given full approval of a third dose to people with certain immunocompromised individuals.
"The FDA's approval of this vaccine is a milestone as we continue to battle the COVID-19 pandemic. While this and other vaccines have met the FDA's rigorous, scientific standards for emergency use authorization, as the first FDA-approved COVID-19 vaccine, the public can be very confident that this vaccine meets the high standards for safety, effectiveness, and manufacturing quality the FDA requires of an approved product," said Acting FDA Commissioner Janet Woodcock, M.D. "While millions of people have already safely received COVID-19 vaccines, we recognize that for some, the FDA approval of a vaccine may now instill additional confidence to get vaccinated. Today's milestone puts us one step closer to altering the course of this pandemic in the U.S."
Phase I testing of the German developed Pfizer vaccine began in May of 2020, jumpstarted by prior research on SARS and MERS vaccines. The vaccine received formal emergency authorization approval on December 11, 2020, and distribution started in the United States on December 14, 2020.
Specifically, in the FDA's review for approval, the agency analyzed effectiveness data from approximately 20,000 vaccine and 20,000 placebo recipients ages 16 and older who did not have evidence of the COVID-19 virus infection within a week of receiving the second dose. The safety of Comirnaty was evaluated in approximately 22,000 people who received the vaccine and 22,000 people who received a placebo 16 years of age and older.
For some of the Phase III trial members, the final authorization will close the door on the question of whether they received the vaccine or the placebo.
The agency reviewed over 340,000 pages of information and data as part of the authorization process. This included reviewing a small number of adverse events that included myocarditis and pericarditis following administration of the vaccine. People who were biologically assigned male gender at birth and under 40, had the most risk, with 12 to 17-year-olds having the highest observed number of incidents. There were a handful of hospitalizations and no reported deaths.
The Moderna vaccine remains under review for full approval, which is expected to come in October. The Johnson & Johnson vaccine has not been submitted for full approval at this time. Full approval of the Pfizer vaccine for children 12 to 15 is expected to come early next year, and emergency approval for children 5 to 11 should happen before the end of 2021.
Washington state is providing COVID vaccine booster shots for moderately and severely immunocompromised residents. People who received an mRNA vaccine are eligible for the booster. People who received the Johnson & Johnson vaccine do not require a booster at this time.
Almost two million Washingtonians who are vaccine eligible remain unvaccinated. The group Find a COVID Shot WA can assist anyone who needs help making an appointment. The group of 75 volunteers has been operating since the beginning of 2021 and offers support in 20 languages.
Join the conversation on Facebook and share your thoughts
Hospital Status
On August 23, 84.7% of available adult staffed acute care beds in Washington state have patients. The data indicated there were 1,368 acute care beds available statewide and 275 in King County. The Northwest and South Central Regions were over 80% utilization and the Central, West, and East Regions are now over 90%. According to the Washington State Department of Health, there are 1,284 COVID patients in acute care, an increase of 63 over the weekend, which is 14.4% of all acute care patients.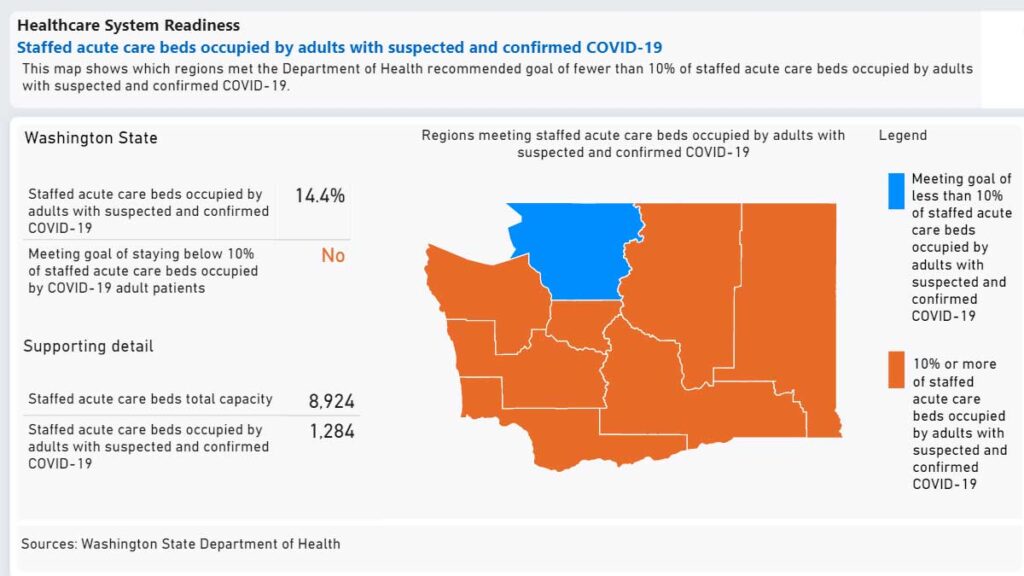 Statewide ICUs were 85.7% occupied with 173 staffed beds available, 64 located in King County. The number of COVID patients statewide in the ICU climbed to 332. A combined 1,616 adult patients hospitalized is a new record.
The Washington Hospital Association is indicating a lower number, and we have requested the Washington State Department of Health to review the disparity between the two data sources.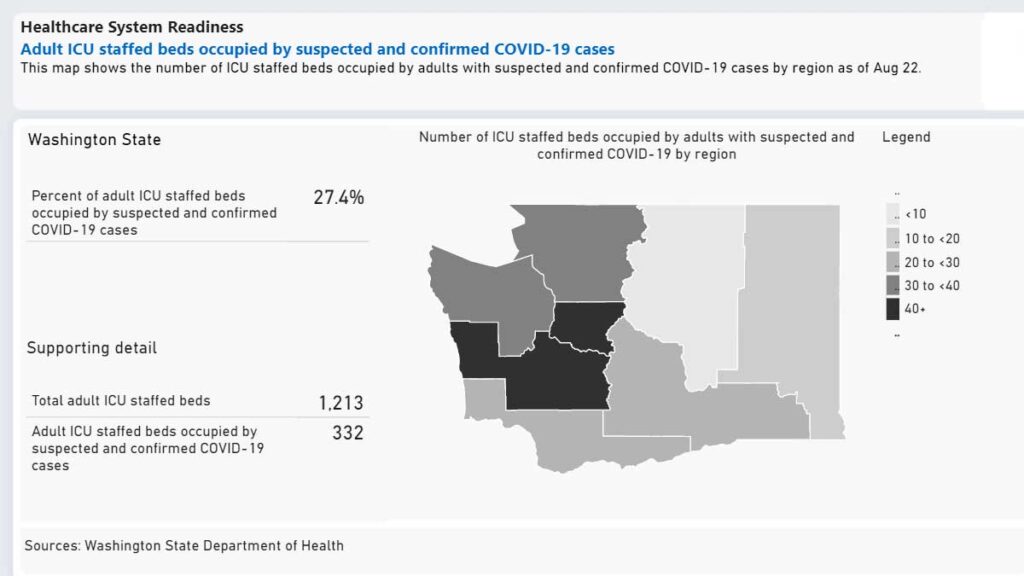 Washington state continues to have a critical shortage of blood, with a less than 24 hour supply for five out of eight blood types. The situation has deteriorated since August 3. There will be a blood drive in Kirkland on August 30 and 31. We will publish additional details when they become available.
The West Region, which includes Tacoma, and the East Region, which includes Spokane, remains critically low on ICU capacity. Each region has 11 ICU beds available as of Monday morning, which is little changed from Friday.
The state reported 26 new COVID deaths over the weekend.
Join the conversation on Facebook and share your thoughts
Back to School
No update
Kirkland-Bellevue-Woodinville
Locally, the number of COVID patients at EvergreenHealth facilites in Kirkland and Monroe increased from last week. Kirkland was reporting 36 patients hospitalized, up from 26 last week. Monroe reported 6 patients hospitalized, up from 5 last week. The 36 patients is nearly the peak set in January 2021, but well below March 2020 when the Kirkland hospital became the first facility in the United States to face a major outbreak.
Join the conversation on Facebook and share your thoughts
National Round-Up
Johns Hopkins University reported over 36,692 new cases and 200 deaths yesterday, but it is important to note that 70% of states no longer report data over the weekend (including Washington). Nationwide, 11.46% of COVID tests are coming back positive.
Pentagon to mandate COVID vaccines for all active duty troops
The Department of Defense intends to mandate the Pfizer vaccine for all active duty servicemembers, according to a Pentagon announcement.
"Now that the Pfizer vaccine has been approved, the department is prepared to issue updated guidance, requiring all service members to be vaccinated. A timeline for vaccination completion will be provided in the coming days, John F. Kirby said at a press briefing.
Of the 1.4 million active-duty service members, Secretary of Defense Lloyd Austin stated that slightly more than one million are fully vaccinated, and another 237,000 were partially vaccinated at the start of August. Resistance to the vaccine is particularly strong for the estimated 160,000 servicemembers who have not started vaccination. Depending on their rank, servicemembers could face a variety of disciplinary actions, including court-martial.
The Pentagon also announced that COVID testing was being provided to any evacuee from Afghanistan who exhibits or reports COVID-like symptoms before boarding an evacuation aircraft. All persons are then screened upon their arrival at temporary safe havens in Qatar and Germany.
Former Presidents advocates for vaccination and gets booed in Alabama
On Saturday at a GOP-led political rally in Cullman, Alabama, former President Donald Trump was booed by the audience when he told them to get vaccinated.
"You know what? I believe totally in your freedoms. You got to do what you have to do, but I recommend: Take the vaccines. I did it – it's good," the former President said. The audience fell silent as a wave of boos emerged from the crowd.
"That's alright. You got your freedoms. But I happen to take the vaccine. If it doesn't work, you'll be the first to know. I'll call Alabama say, 'Hey you know what?' but it is working."
The unvaccinated are costing American hospitals a lot
A report from the Kaiser Family Foundation indicated that 113,000 preventable COVID hospitalizations in June and July have cost United States hospitals $2.3 billion, and that is likely an underestimate. It is estimated that 98.3% of all COVID patients hospitalized in the two-month period were unvaccinated.
Alabama
Former President Donald Trump is holding a rally in Cullman, Alabama tomorrow, forcing the city to declare a COVID state of emergency. Alabama added 3,800 new COVID cases on Wednesday and the state ran out of ICU beds the day before. The declaration of the State of Emergency allowed the city to provide the additional personnel and equipment for this weekend's political rally after it was requested by Cullman Regional Hospital, which is overwhelmed with patients.
Arizona
The election audit being conducted by Cyber Ninjas took another strange turn on Monday, with the Arizona Senate President Karen Fann reporting that two of the five members of the election audit team, including Cyber Ninjas CEO Doug Logan, are "quite sick" with COVID. The final report, which was supposed to be submitted today was not issued. No timeline has been given on when a final report will be submitted to the Arizona GOP.
Florida
Seventy-five doctors at a Palm Beach Gardens Hospital staged a symbolic walkout over working conditions and the number of unvaccinated patients flooding the facility. "We are exhausted. Our patience and resources are running low and we need your help," said Dr. Rupesh Dharia from Palm Beach Internal Medicine.
Now, these doctors are sounding the alarm and pleading for the community to get vaccinated. They said it's not a political move, but a call for help.
The number of pediatric patients continues to grow in Florida, with children from birth to 19 years old showing the highest rates of positivity for the first time. From August 13 to August 19, children 12 and under that were tested for COVID had a positivity rate of 23%. Those age 12 to 19 were nearly 25% positive. Florida Government Ron DeSantis has defunded school districts that instituted mask mandates. The United States Department of Education has stepped in to fill the funding gap.
Five police officers in South Florida have died of COVID in the last week, including 27 years old Jennifer Sepot of the Fort Lauderdale Police Department. In Sarasota County, officials are dealing with a critical staffing shortage with 94 staff members, almost 10% of the force, out of work with COVID symptoms.
Georgia
As many school systems in the Peachtree State enter their fourth week of school, COVID cases continue to surge. The Metro Atlanta area, with 14 school disticts, has reported 6,300 new cases among students during the previous week. Students five to 12 years old are the most impacted. Two faculty members also died last week. Both were sick before the start of the new school year.
WSB is reporting more than 2,000 children a day are testing positive for COVID.
In Marietta, Georgia, former surgical technician Jessica Renzi was fired over the weekend after posting a video on Tik Tok many deemed anti-Semitic. In the video which went viral and was shared across multiple social media platforms, Renzi suggested having her vaccination number tattoed to her arm, in an apparent mockery of Holocaust victims. Renzi, who deleted her social media accounts, also had created numerous videos sharing COVID misinformation while wearing her hospital scrubs.
Hawaii
With hospitals in Hilo and Honolulu at or near collapse, the archipelago is considering a return to travel restrictions for domestic travelers. State officials are considering people showing their vaccination cards to get into gyms, restaurants, and other public spaces, as well as implementing curfews. The remote state has 392 people in the hospital, almost 100 more than the January 2021 peak.
Tutu Man Kawaikapu Hewett — a founding member of Hawaii Quarantine Kapu Breakers is calling for stricter measures, including stricter enforcement of Hawaii's existing COVID restrictions.
"I'm a great-grandfather, a grandfather, a father. I want to make sure that everyone survives this. I'm going to support anything and everything that makes us safer," Hewett said.
Kentucky
COVID is starting to sweep northward into Appalachia, including the Bluegrass State. Kentucky Governor Andy Beshear reported the state has a record number of patients in acute and ICU care, with more than 20 hospitals facing staffing shortages and converting space to build COVID ICUs.
State officials reported there are 1,890 people hospitalized with 529 in intensive care and 301 on ventilators. Despite the surge, the Kentucky legislature is working on limiting the power of the governor to remove safety protocols in place.
Maine
Although Maine has a relatively low number of COVID patients, the numbers in ICU and on ventilators are in a word, alarming. Officials reported on Monday there are 123 COVID patients hospitalized, with 61 in the ICU and 25 on ventilators.
"This is what's happening right here, and it's pretty stark," Liechty said. "We're still doing better as a state than most other places, but delta has highlighted the geographic disparities in uptake of the vaccine in our state."
The statewide vaccination rate is about 62 percent, but there are wide differences between counties.
Massachusetts
Cases are starting to grow in the New England state where only 3.7% of residents report they will never get vaccinated. Massachusetts state officials reported 3,335 new cases with 550 people hospitalized, and 139 in the ICU. The positive test rate is elevated in the state, but nowhere near peak levels set in April 2020 or January 2021.
Mississippi
The Mississippi State Department of Health on Friday raised eyebrows nationally, issuing the strictest COVID quarantine laws in the United States.
All persons, including fully vaccinated individuals, infected with COVID-19 must remain in the
home or other appropriate residential location for 10 days from onset of illness (or 10 days from
the date of a positive test for those who are asymptomatic). A negative test for COVID-19 is not
required to end isolation at the end of 10 days, but you must be fever-free for at least 24 hours with
an improvement of other symptoms. Mississippi K-12 schools are required to exclude all students
and faculty diagnosed with COVID-19 from the school setting during the isolation period (as
above).
The failure or refusal to obey the lawful order of a health officer is, at a minimum, a misdemeanor
punishable by a fine of $500.00 (41-3-59) or imprisonment for six months or both. If a life-threatening disease is involved, failure or refusal to obey the lawful order of a health officer is a
felony, punishable by a fine of up to $5,000.00 or imprisonment for up to five years or both.
New Hampshire
New Hampshire COVID test positivity has reached the highest level since January with 82 people hospitalized.
Oregon
Oregon continues to grapple with rising cases with officials reporting there are only 47 ICU beds available statewide. The governor has activated 2000 National Guard members to supplement the medical system and has requested more than 500 medical professionals to help support the state. Rural counties are feeling the brunt of the epidemic due to political polarization, misinformation, and low vaccination rates.
South Carolina
Chief Medical Officer Dr. Crhis Lombardozzi of the Spartanburg Regional Health Care System, told WYFF Channel 4 that over 90% of their COVID patients are unvaccinated, and "we are struggling."
"Like a lot of hospitals, particularly in the southeast, we are seeing a mega surge in COVID-19 cases."
At the beginning of July, the hospital system was treating three COVID patients, they are now treating 210. The hospital is at 96% capacity and the average age for COVID patients is 53 years old.
Texas
A 77-year old Carnival Cruise Line passenger died last week after catching COVID on a ship sailing out of Galveston. According to her family, Marilyn Tackett, 77, started to feel unwell when the ship arrived for a port of call visit to Roatan, Belize. When her family returned from a shore excursion, Tackett was having difficulty breathing. The ship's doctor notified the family that Tackett would need to be put on a ventilator immediately.
Belize hospital officials initially refused to treat Tackett without a $5,000 cash payment. Tackett was placed on a ventilator but her insurance would not cover her overseas medical treatment or an air ambulance to return her to the United States. A GoFundMe was set up to raise $30,000 and she was flown to Tulsa, Oklahoma, but Ms. Tackett died on August 14. Tackett was vaccinated.
Carnival reported a total of 27 cases on the ship during the sailing among 26 crew members and Ms. Tackett.
On our social media channels, we shared the story of David Cruz Meza, 38, of Corpus Christi, Texas. Meza tested positive for COVID on July 7 and was hospitalized on July 14. The father of three was unvaccinated and turned to social media to encourage others to get vaccinated.
His condition had deteriorated by July 22, and his family was reported he was placed on a ventilator on July 25. His wife made a public appeal for any hospital that would be willing to take him as an ECMO patient, and another appeal on August 11.
His family reported this morning that Meza passed away on August 16. In the final video he made, he appealed for people to get vaccinated.
Utah
The state reported another 2,731 cases on Monday, with 20% of new cases among children from 5 to 18 years old.
Join the conversation on Facebook and share your thoughts
Misinformation
This isn't misinformation as much as it is a misunderstanding. There have been nine major studies about how a person's blood type may limit or increase their risks of catching COVID, and if certain blood types provide additional protection.
There is solid evidence that type O and Rh-negative blood groups might benefit some degree of extra protection from COVID infection and severe symptoms. Additionally, the same data supports that blood type A may increase the susceptibility to infection.
The misunderstanding comes from some people believing that type O blood instills a higher degree of natural immunity than it truly offers. In some darker corners on the Internet, there are some memes that try to convince people on social media that type O is a shield to symptomatic COVID – that isn't true.
The National Institutes of Health published a study on July 19, 2021, explaining the Relationship between blood types and outcomes following COVID-19 infection. The report stated in the conclusion, "At this point in time, there does not appear to be any relationship between blood type and COVID-19–related severity of illness or mortality. Current literature does not support blood type as part of a predictive model of viral illness or mortality, and ABO/Rh screening should not be used as a triage mechanism. Future investigations can focus on the creation of a global COVID-19 database to account for population-based differences in blood types and testing protocols."
This isn't to say that people with type O blood gain no benefit, or that people with type A should take extra precautions. The evidence that exists today does not indicate type O provides a wall of substantial extra protection.
Join the conversation on Facebook and share your thoughts